This post is also available in:

Español
Gay Charro Alberto Cuevas to Perform at Mercurio, Frida's and Chachacala
Puerto Vallarta will celebrate Mexican Independence Day on Sep 15, 2023, in many different ways, including fireworks, parties and the municipal president giving the annual "cry of the Grito."
Technically, Independence Day is Sept. 16, 2023, but celebrations will begin on the evening of Sept. 15, as they lead up to 11 p.m. and the "Grito de Delores".
Each colonial is planning their own celebrations, but if you want to participate in the largest festival, you can go to the Malecon, near the presidential palace.
Activities start at 6:15 p.m. on Friday, Sept. 15, with Azucena Campos, followed by Martín Rodríguez "El Auténtico de Nayarit" at 6:45 p.m.. Then, at 7:20 p.m. the group Mía Dance Studio will take the stage. At 7:45 p.m. the Komander MR Group will enliven those present to make way for Grupo Zafiro at 9:45 p.m.. At 10:30 p.m. the Mariachi Tierra Jalisciense will perform and at 11 PM the municipal president, Luis Alberto Michel Rodríguez, will go out to the presidency box to give the Grito de Dolores.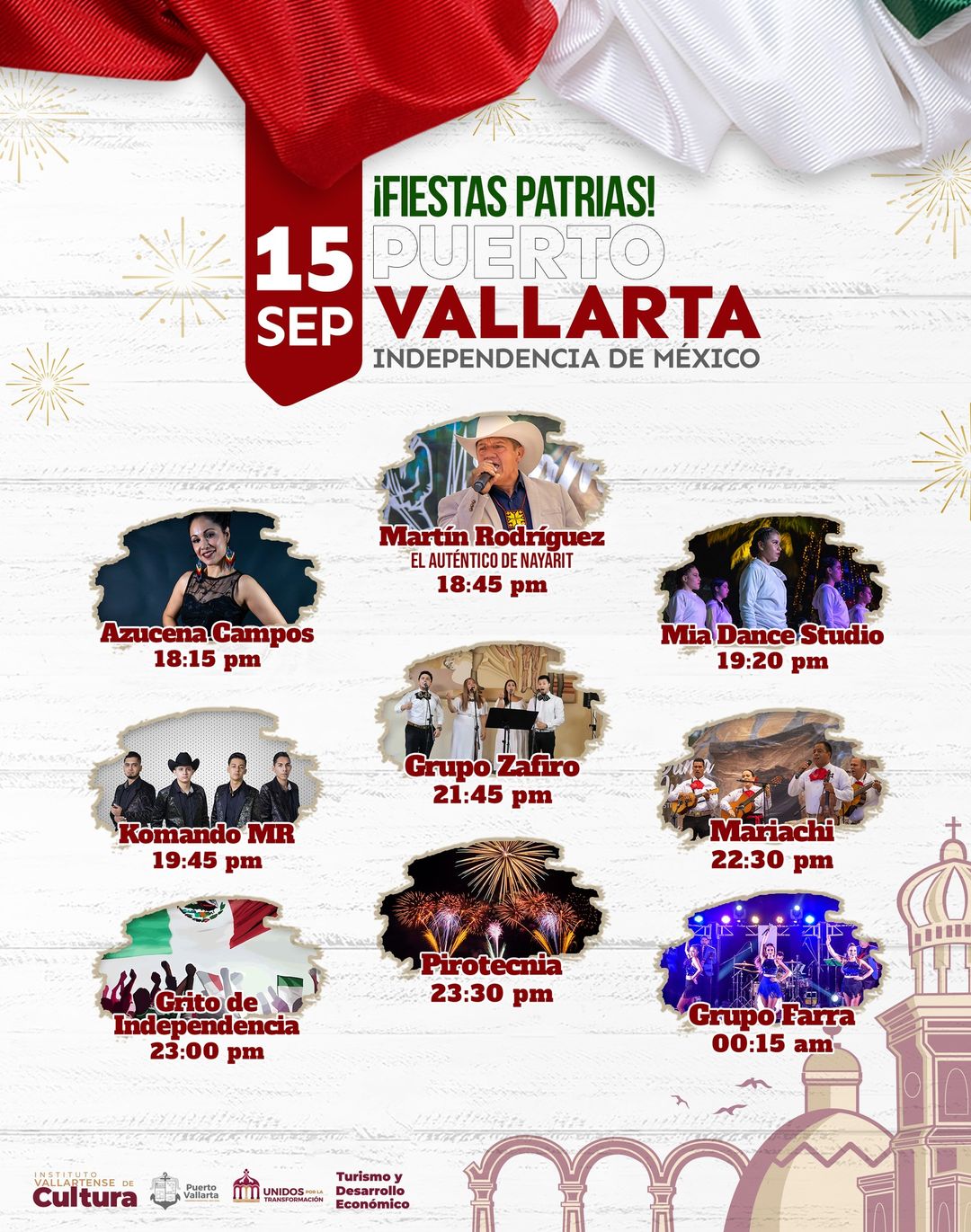 At 11:30 p.m. the fireworks show will begin, which is expected to last for at least 30 minutes. And then around 12:15 p.m, Cinthia Urtiaga, the singer of Grupo Farra, will perform.
The "El Grito" (or Dolores Cry) is a tribute to the battle cry that launched a rebellion in 1810 that led to the end of the Spanish colonial rule in Mexico.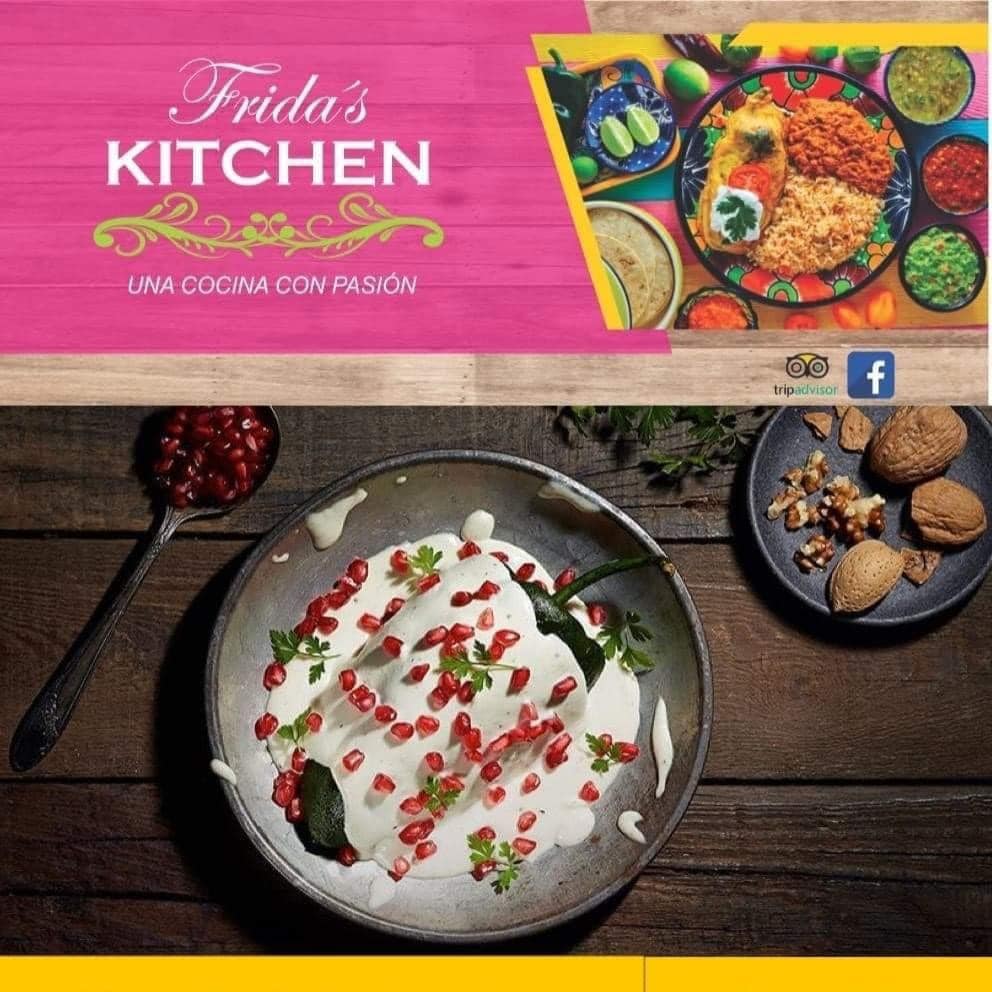 And if you are a fan of the Mexican dish Chilli in Nogada, many restaurants are offering the dish during the month of September, including Frida's Restaurant 4.0,for $259 pesos.
September 14 is Charro Day, and you can enjoy watching the Mexican Charros (Mexican cowboys) parade through Puerto Vallarta in the morning wearing traditional charro outfits with beautifully decorated jackets, pants, and sombreros. There are traditional displays of roping and bullfighting plus plenty of good food and dancing.
You can also enjoy watching Puerto Vallarta's own gay Charro, Alberto Cuevas, known as "El Diamante", perform at the following venus as part of the weekend celebrations:
Friday, Sept. 15, 2023 – 4:30 p.m. (approx) – Hotel Mercurio
Hotel Mercurio
The very popular Beers, Boys and Burgers that is normally held on Sunday will host a celebration on Friday September 15th for Mexico Independence Day Celebration. No cover to enter! All-Mexican show with local talent! Mexican Kermés (buffet of Mexican favorite foods) all FREE! Choose the optional "Unlimited Beer Bracelet" for just $350 pesos; or order your favorite cocktail. And don't forget your Mercurio Swim swimsuit because the best party is always in the pool!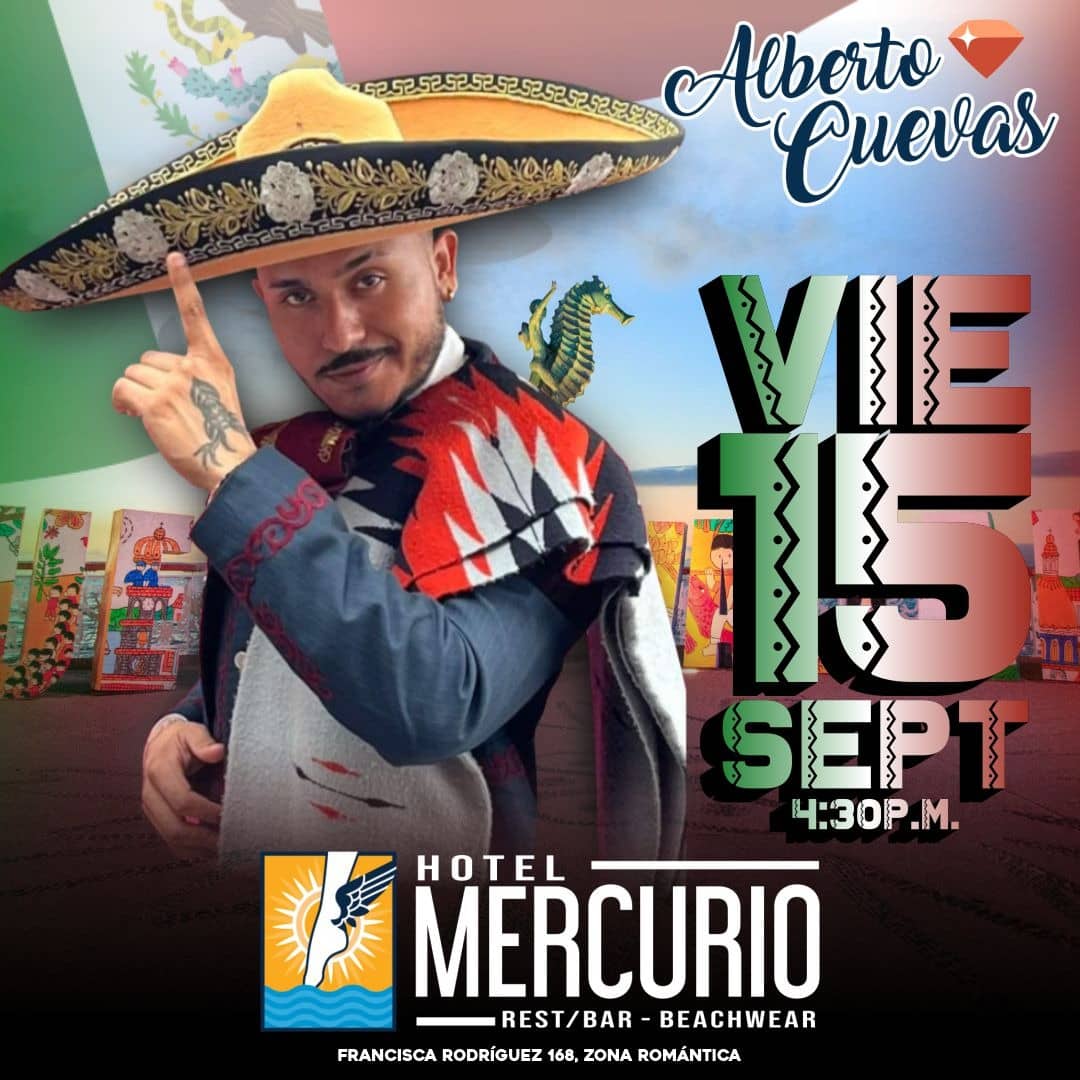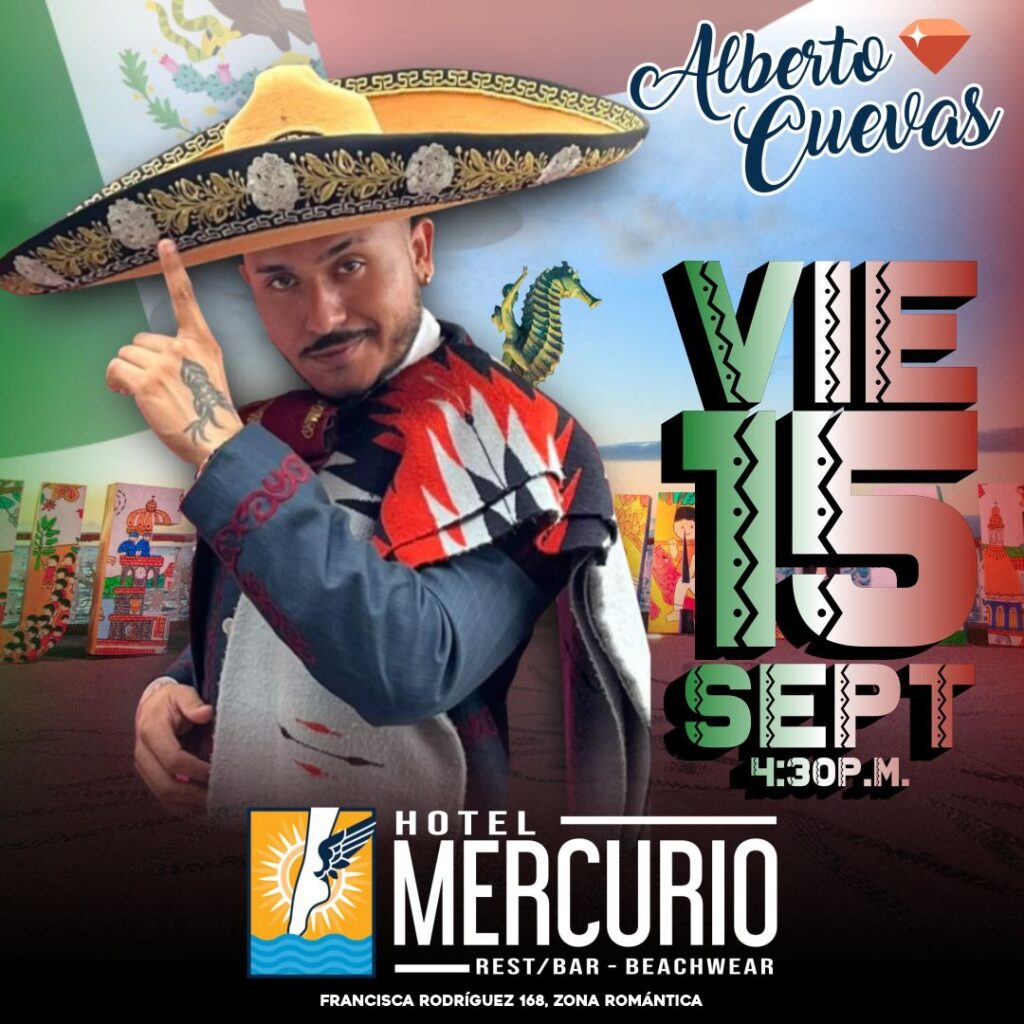 Friday, Sep 15, 2023- Shows at 9 and 10:15 p.m. (approx) – La Chachalaca Bar
Starting at 9 p.m., Miss Joya will perform, followed by Alberto Cuevas at 10:15 p.m. There is a $70 pesos cover that includes a shot of tequila.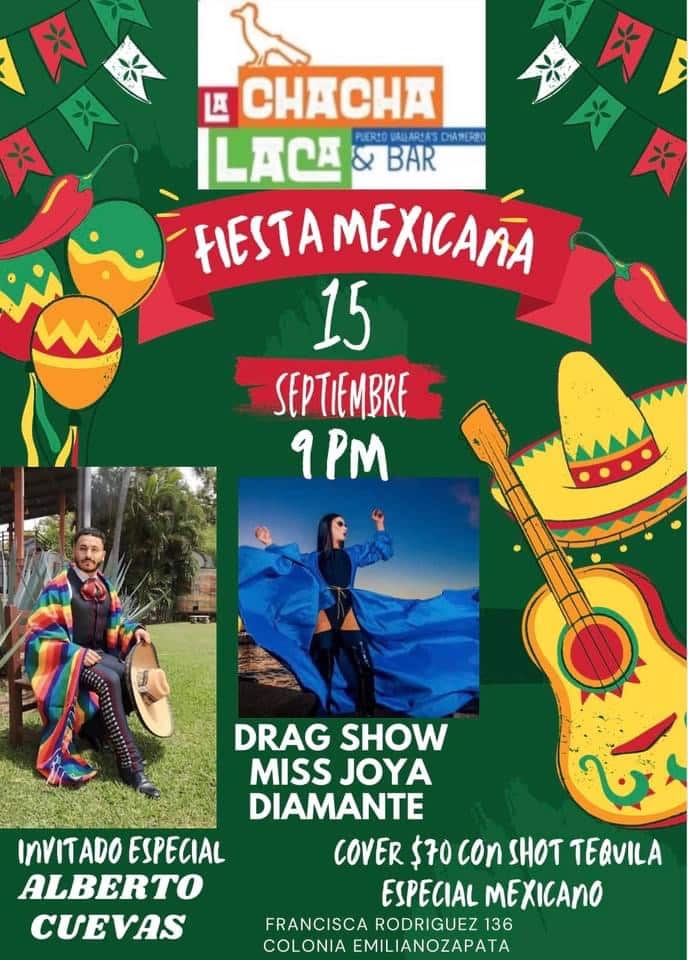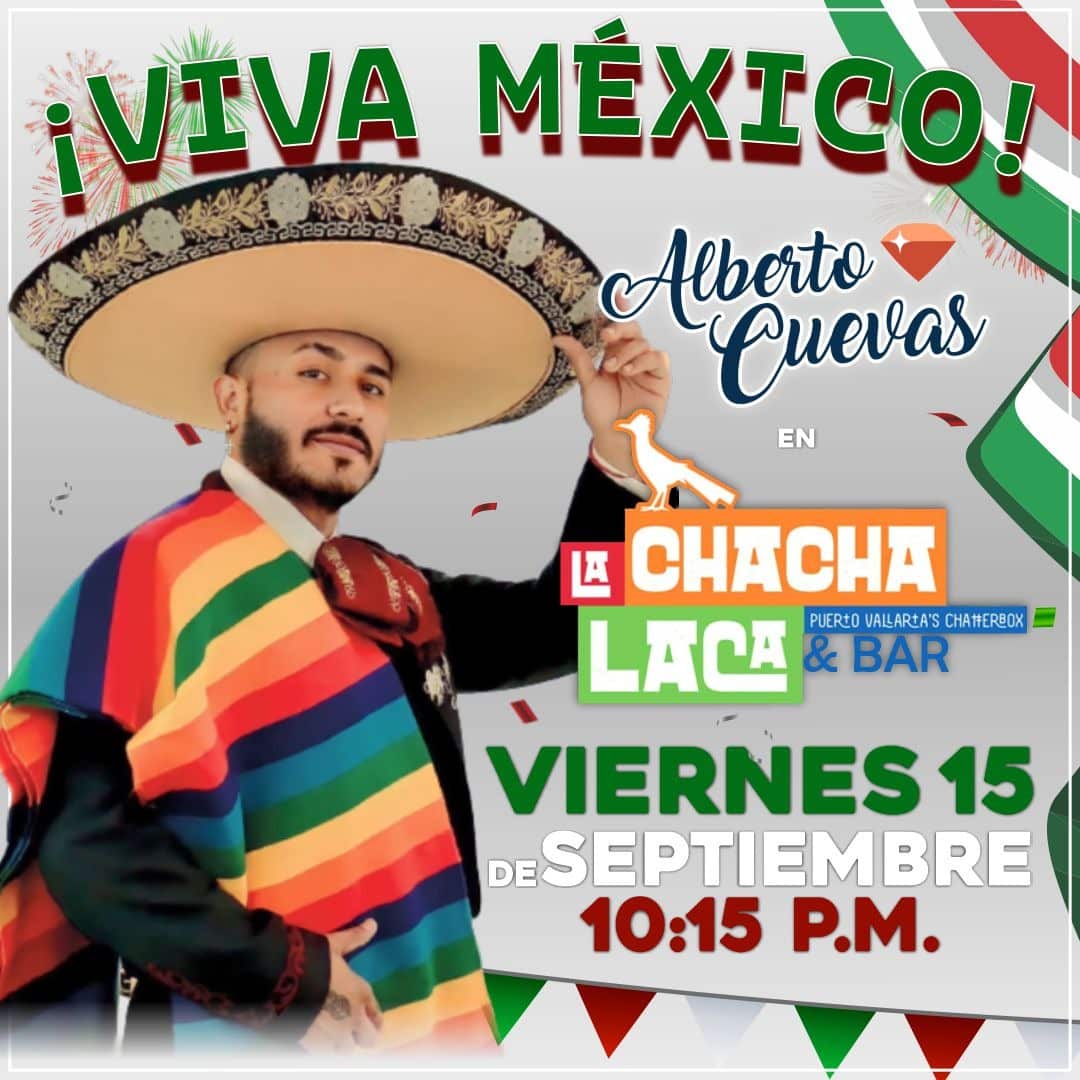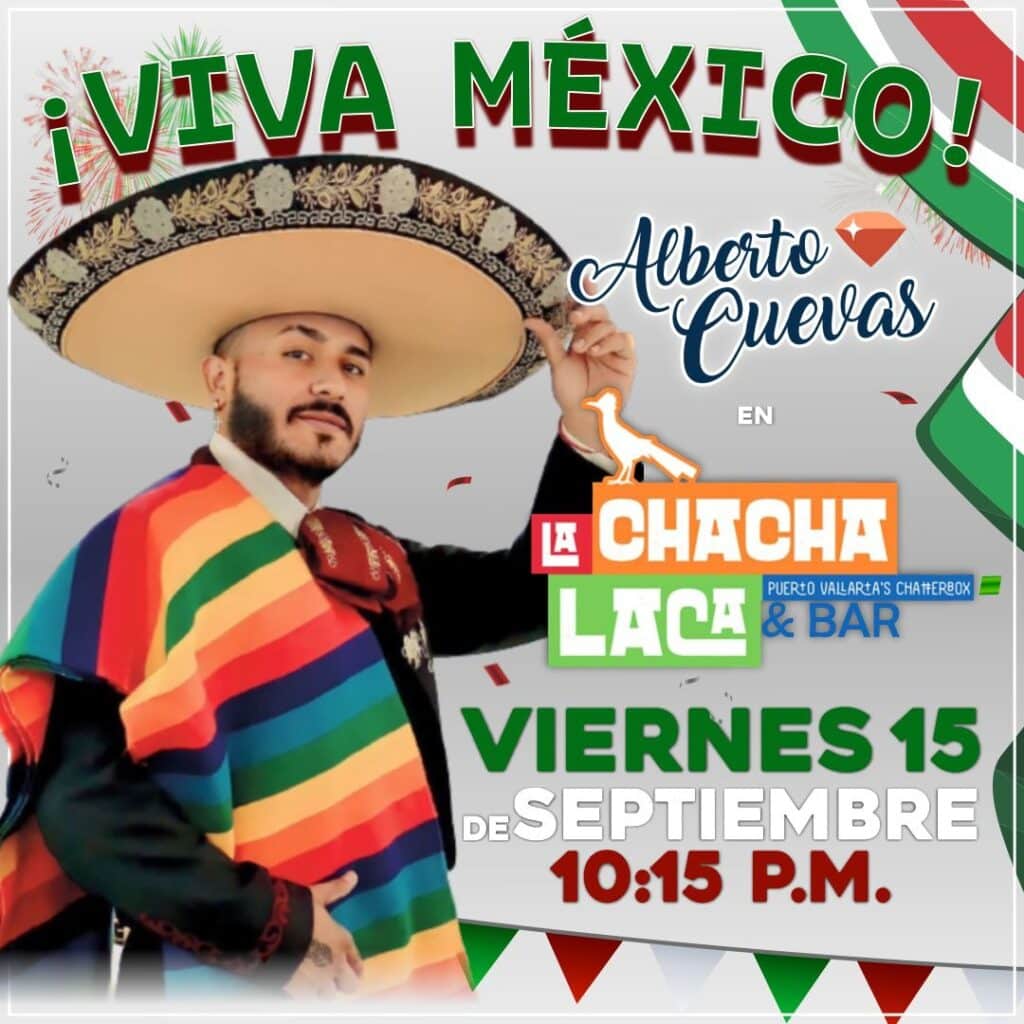 Saturday, Sept. 16, 2023 – 8 p.m.  – Bar Frida 4.0
Come help us celebration Mexican Independence day! Starting on Friday, September 15th we gather to celebrate "El Grito de Independencia" by the President of Mexico at 11:00 pm and on Saturday, September 16th, we will have a special no-cover performance by Alberto Cuevas, El Diamente, at 8:00 pm. Seating is limited.
Join us for fun and fiestas all this week! Drink specials Friday and Saturday all day are the Big Mexican Margarita (Chabela Glass) for 100 pesos and Frida Tequila Shots at 25 pesos. Frida's Kitchen specials will include Chiles en Nogades, Tamales and Pozole.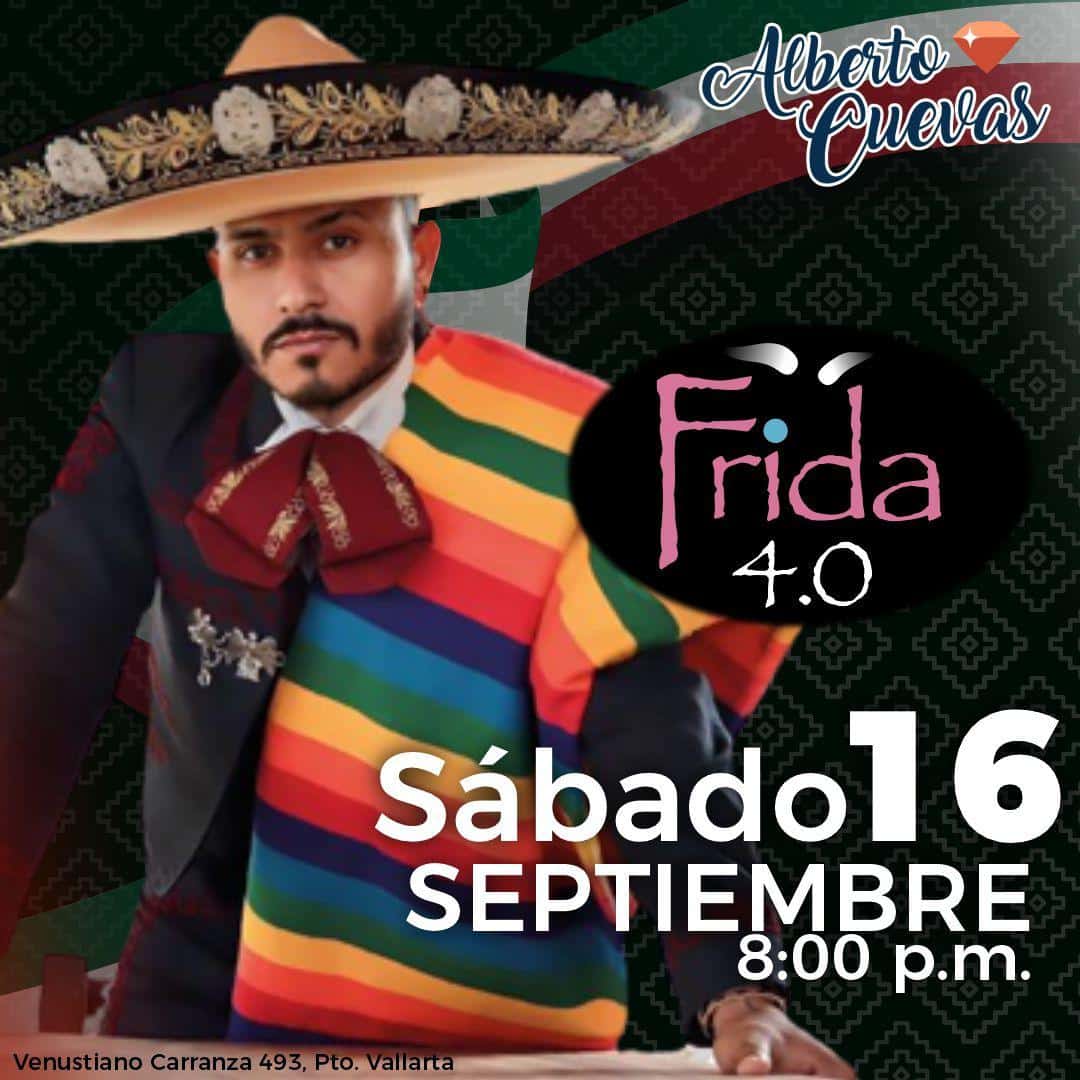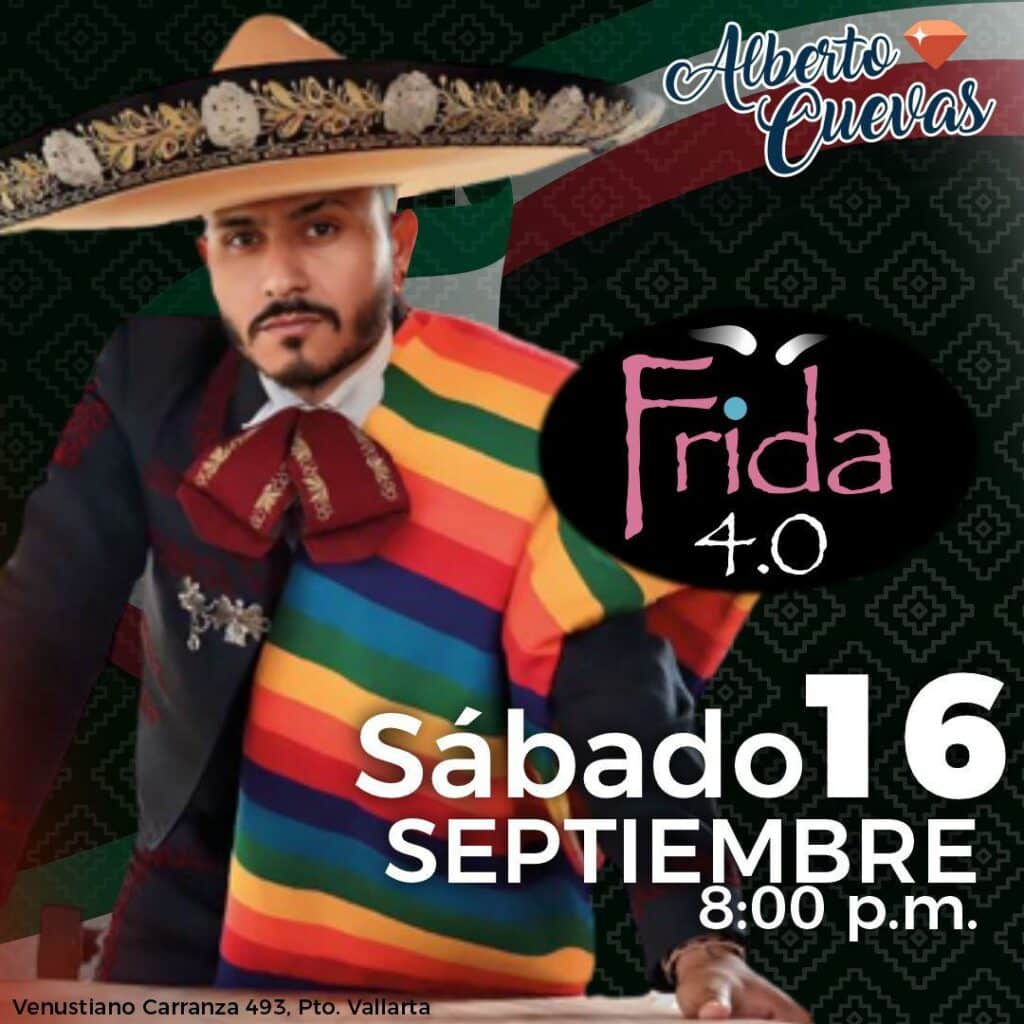 La Catrina Cantana has a full evening of entertainment planned, including
Mexican Flag Shot for only $50 pesos.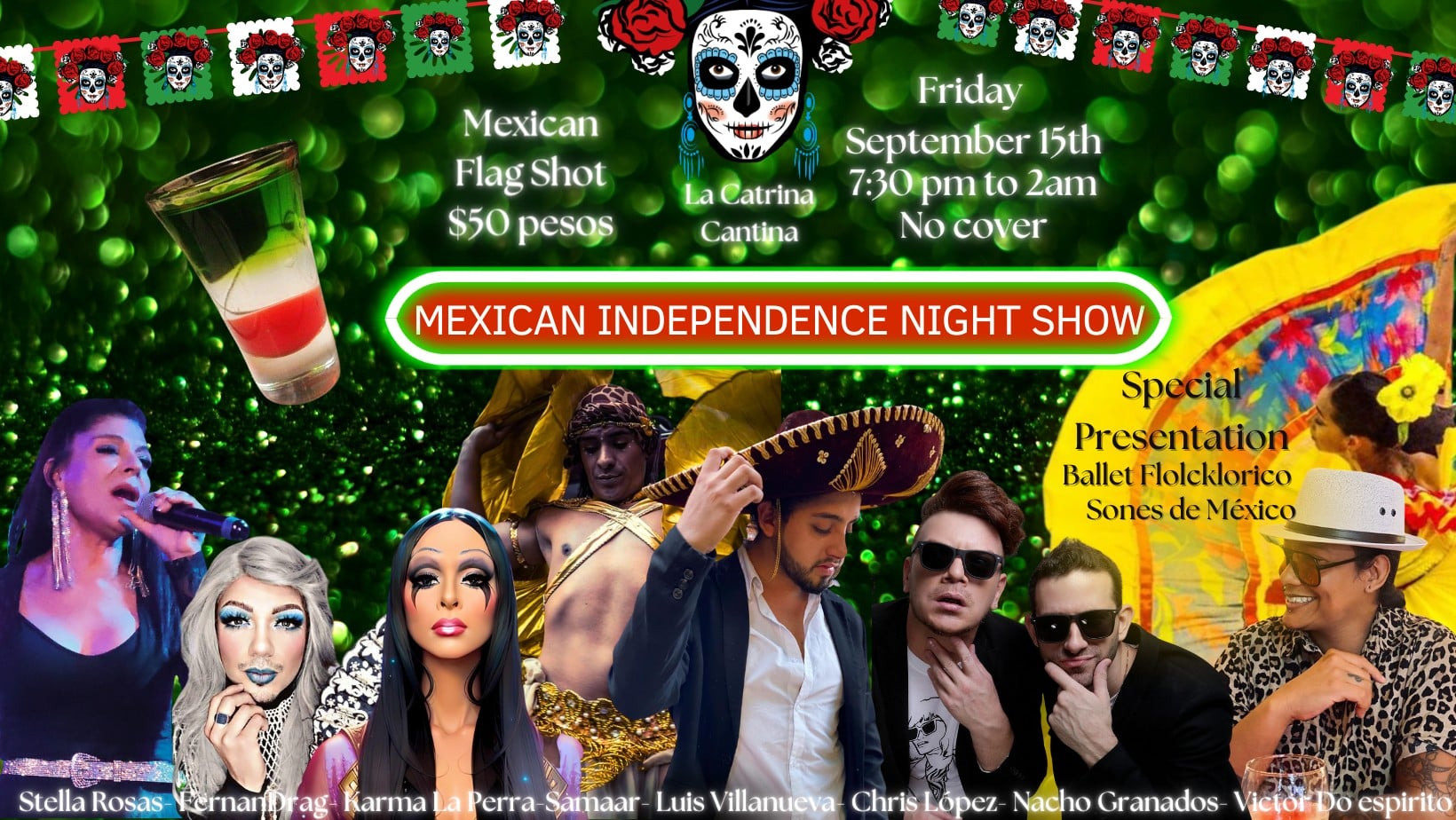 The Tunnel Bar
The Tunnel Bar in East Emiliano is offering the following for Independence Day:
🇲🇽 Drink Specials All Day
🇲🇽 Sugarbaker's Famous Chili
🇲🇽 Hot Dogs and Bloody Mary's
🇲🇽 AC for days!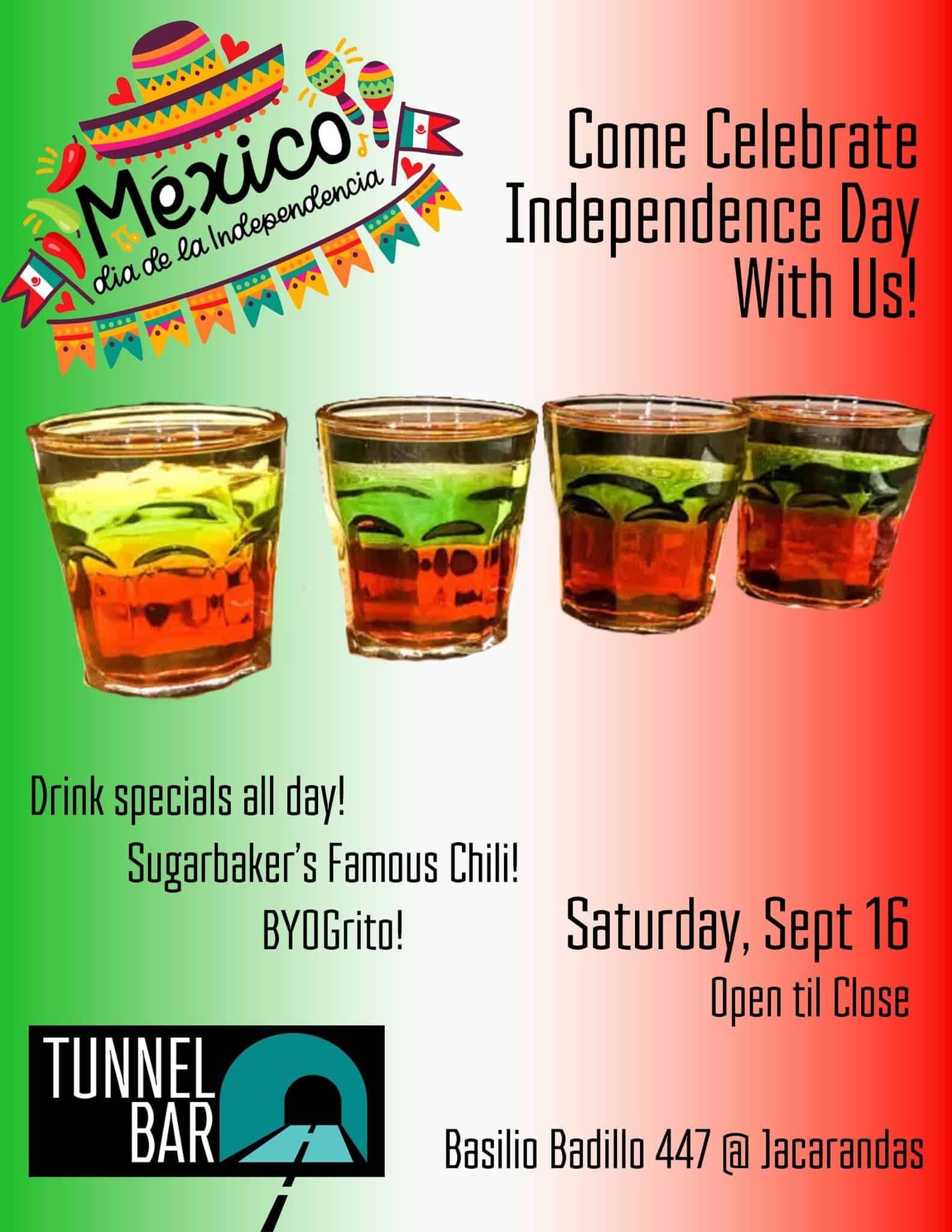 Oculto – By El Arrayán is offering a Mexican Independence dinner starting at 7 p.m. Tickets are available here on Eventbrite for $1,200 pesos. The event starts with a selection of cocktails and three pass around appetizers. Then, at around 8 pm enjoy a three-course dinner showcasing Mexico's regional specialties. Two glasses of selected Mexican wine will be paired with each savory course.

OCULTO is the exciting newest dining venture born from the beloved El Arrayán restaurant in Puerto Vallarta. Led by the talented trio of Chef Diego, Claudia, and Carmen, who were the heart and soul of El Arrayán. Now OCULTO offers different food experiences.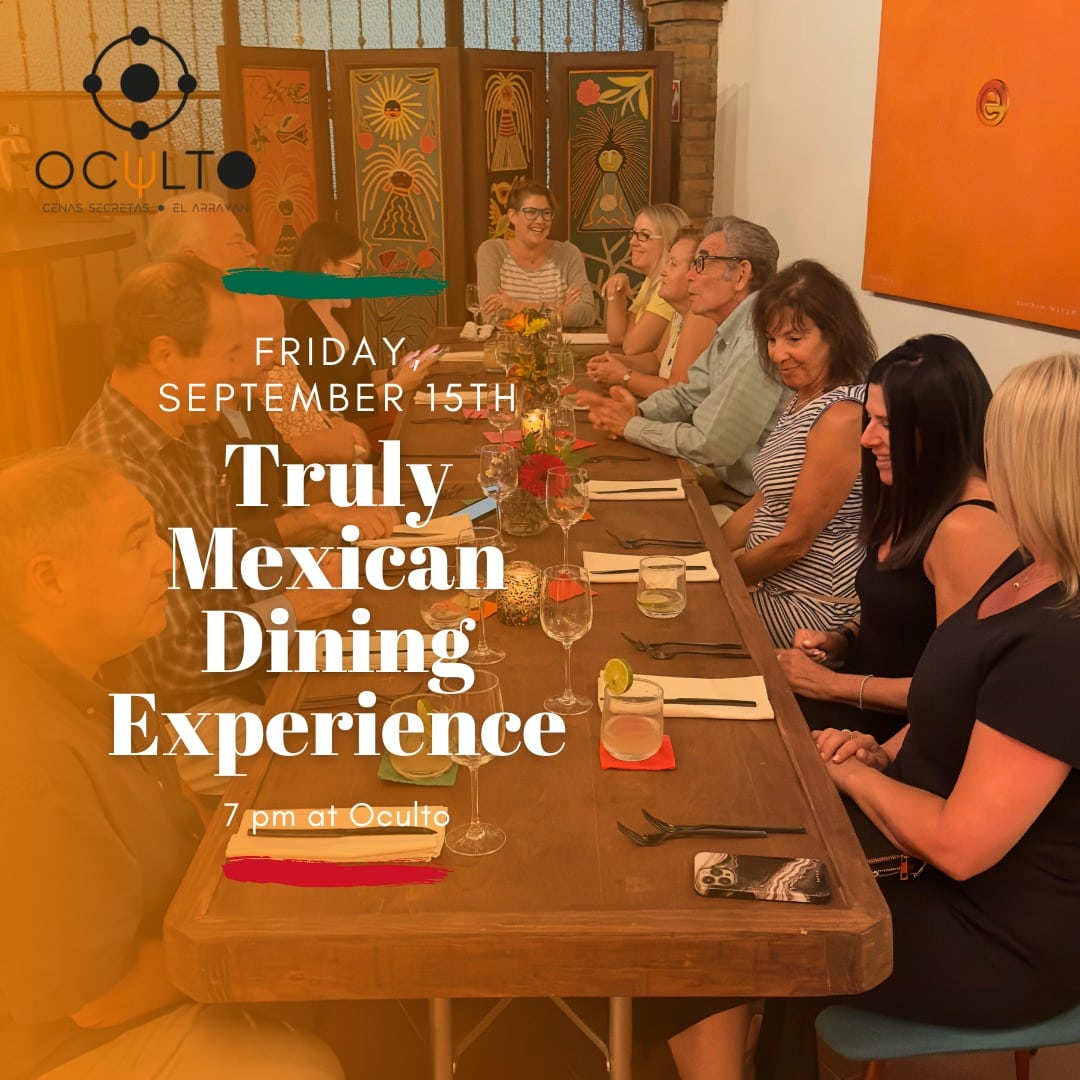 Paco Ojeda will host Viva Mexico! at the Joint Coworking Hotel on Sept. 14 from 5 to 6:45 p.m. The special presentation highlights our country's iconic music, deeply intertwined with this significant time of year. Alongside, we're sharing short stories aimed at fostering a greater appreciation for what makes our country special. Click here to learn more.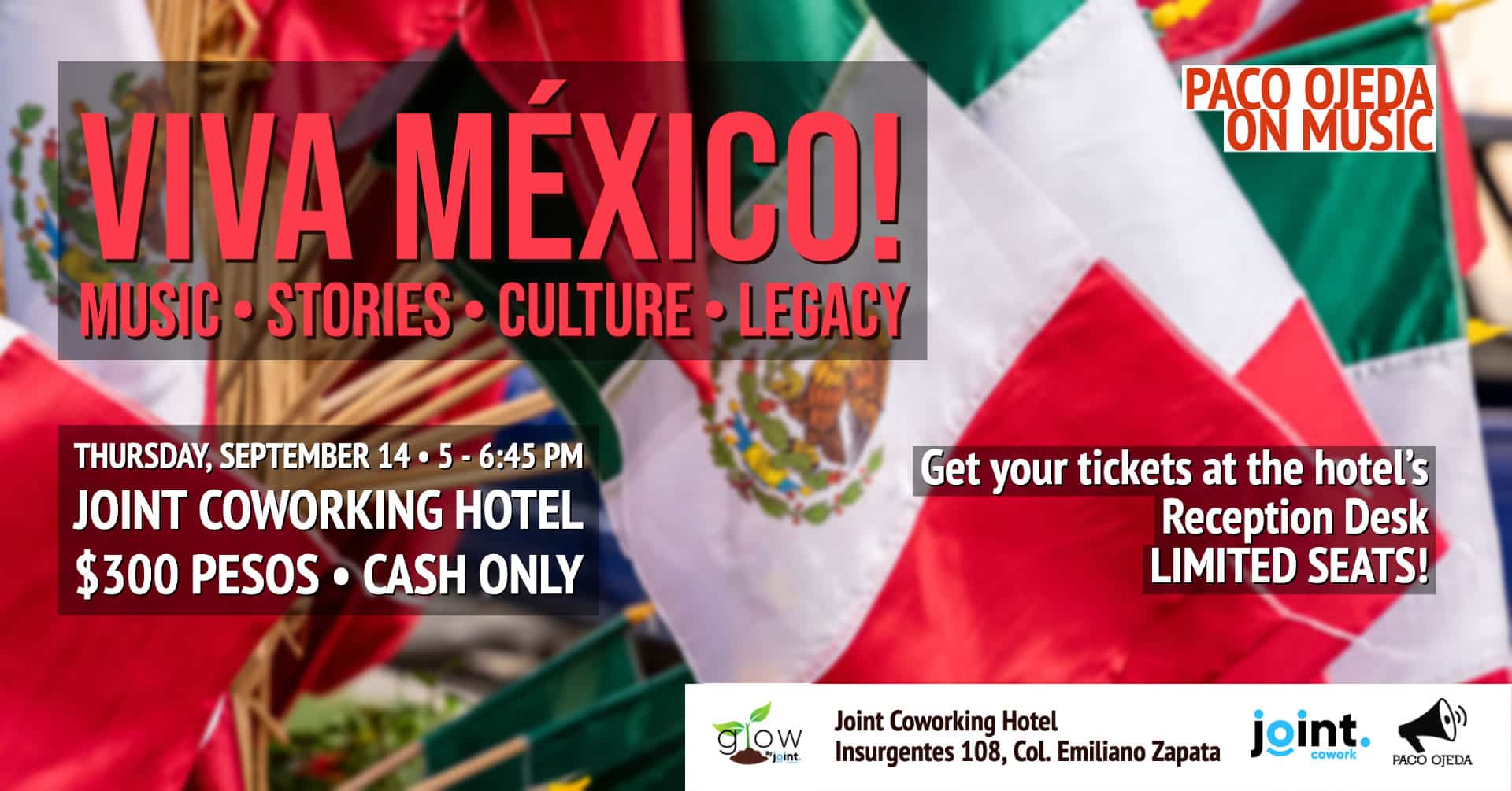 Related Stories: