This post is also available in:

Español (Spanish)
Taylor Swift is back with her album Lover and the video of her second single, You Need To Calm Down is full of surprises...
Pacos Ranch recently held "manager's night" where the staff from various bars, clubs and hotels dress in drag and entertain the guest. It's all...
We wanted to share with you this interview that Joseph did last year to Lady Zen where she talks about jazz, blues, her hopes...
At the "Music Fight" event organized by All-Access Sports Bar there were cool drinks, live music and a hardworking woman behind the bar: Asminda...
When buying any kind of product , it is expected from the buyer to make inquires before paying for that product. A smart buyer...
Yesterday I was at Hotel Mercurio waiting for two actors to make an interview, they told me they where an hour late so I...
According to the information provided by Mayor Arturo Dávalos Peña, a commander of the municipality's police was suspended from his duties for reports of...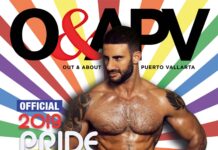 The digital version of our newest edition of Out & About PV is out! With the hottest news of the LGBT+ scene in Puerto...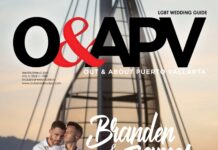 Check out our Winter/Spring 'LGBT Wedding Guide' Issue featuring powerhouse musical duo Branden & James. The couple got married in Puerto Vallarta a year ago...