This post is also available in:

Español (Spanish)
According to the information provided by Mayor Arturo Dávalos Peña, a commander of the municipality's police was suspended from his duties for reports of...
The Puerto Vallarta Gay Men's Chorus presented their show named the rainbow connection & other songs from the movies at Act II Entertainment Stages...
Brian Peters, the one who gives life to the amazing Mama Tits, left everything behind in the US to come to live in Puerto...
Carl Timothy moved to Puerto Vallarta in 1999 from Los Angeles where he was a broker in Beverly Hills. He used to visit Vallarta...
Could you tell us about how you became involved with ACT LGBT and Vallarta Pride? VM: I am Vidal Meza. I'm 44 years old and...
Where are you from? Michoacán How long have you been in Vallarta? I've been here 16 years What brought you to Vallarta?  My sister lived here so I decided...
Editor's Note: This article was originally published in 8/2018. We are reposting it today (4/1/2019) as we celebrate the life and the art of...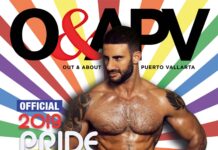 The digital version of our newest edition of Out & About PV is out! With the hottest news of the LGBT+ scene in Puerto...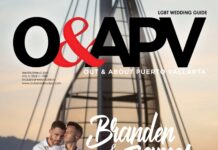 Check out our Winter/Spring 'LGBT Wedding Guide' Issue featuring powerhouse musical duo Branden & James. The couple got married in Puerto Vallarta a year ago...