This post is also available in:

Español (Spanish)
The good news in terms of air connectivity continues for Puerto Vallarta, which remains a highly sought after destination, which is reflected in the...
Moving to Puerto Vallarta... how it all came about was very unexpected and fast. It was one of those moments in life where things...
New year's resolutions... A lot of people say that they hate making them, and I get it, but it is also important to know...
Don't have any plans this coming Sunday? Why not watch the Oscars? Everyone is! This is going to be the 91st Academy Awards Ceremony...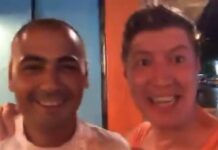 Derek Carkner spoke with Chanan Kamen at the opening of his new establishment, Don Chava Taqueria Cantina. It is located at Lazaro Cardenas 288,...
No events were found
Tom Finley doesn't care if you dispute any part of his recollection from the gay Vallarta of yore. "Other people are going to question what...
Facebook Live video interview with new O&APV Editor Alex Chavez. https://www.facebook.com/outandaboutpv/videos/288911585092104/

TV star Ross Matthews (a regular judge on RuPaul's Drag Race) will be a part of a bigger and more visible Puerto Vallarta pride...
Casa Cupula to begin 15th anniversary with "Desperate Princesses" Watch the videos! Mexico's premiere LGBT boutique hotel is about to embark on its 15 season, and...
Bonnie Kilroe is in Puerto Vallarta for her one-woman show 'Country Queens'! For more info on Bonnie, check out her page Celebrity Imposters.
We visit Posters International, an art gallery located in centro of Puerto Vallarta. Martin Rosenberg, the owner, tells us a little about the Polish Posters...

The Puerto Vallarta Gay Men's Chorus hosted its annual fundraiser on the evening of Friday, March 23 at Casa Karma in Conchas Chinas. The nighttime...