This post is also available in:

Español (Spanish)
Puerto Vallarta Police and business officials recently held a town park meeting to assure residents of the LGBT community that it was the police...
O&APV (Out & About Puerto Vallarta),  S.DE R.L. C.E. DE, is seeking a new Editor/General Manager and a salesperson. O&APV is a LGBT magazine (with associated website)...
It was a beautiful, not too sunny or cloudy or humid or rainy day in mid-October at the Pinnacle Resorts' Sky Bar when we...
Nestled in the hillside on the outskirts of town, Kalí Ecopark offers both a respite from the city and the potential adrenaline rush to...
Enjoy a magical evening at No Way José! in the company of old friends, new friends and your loved ones in Spirit. Witness amazing connections as...
Fabian Reyes opened Warique (pronounced Wah-Ree Kay) last September and it quickly became a popular destination through positive word of mouth. After years of...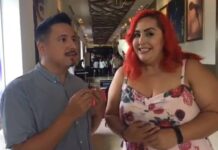 Chef Claudia Sandoval was in Puerto Vallarta this week. The season 6 winner of MasterChef USA and now a judge on the new MasterChef...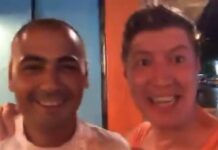 Derek Carkner spoke with Chanan Kamen at the opening of his new establishment, Don Chava Taqueria Cantina. It is located at Lazaro Cardenas 288,...
Casa Cupula to begin 15th anniversary with "Desperate Princesses" Watch the videos! Mexico's premiere LGBT boutique hotel is about to embark on its 15 season, and...
We take you on a tour of the newly expanded Anónimo Bar with Duviel, one of the bartenders.

Out & About Puerto Vallarta Publisher Jerry Jones spoke with longtime Vallarta resident Paul Crist—the owner of Hotel Mercurio and host of the O&APV...
Welcome to Puerto Vallarta! A quick overview of the beauty of Puerto Vallarta, provided by the Puerto Vallarta Tourism Board.

Singer/songwriter Spencer Day concluded a month-long run at Incanto on December 12 with the Frank Sinatra classic, "One For My Baby (and One More...