This post is also available in:

Español
Alberto Cuevas's path to a musical career as Mexico's El Diamante (The Diamond), a singing gay charro (cowboy), has been anything but straight and narrow.
His path has included monkhood, conversion therapy (which is now outlawed in Mexico), family ostracization, and finding a balance between his spiritual life and his life as a gay man.
Along the way he has found some success – in 2020 he appeared on La Voz Mexico (The Voice of Mexico), and he's hosted radio and television programs. He's also hosted and performed at various pride festivals in Mexico.
Singing has always come naturally to Cuevas – his ability was inherited from both his mother and father, who met as young singers. His mother was singing Ranchera music, and his father, Bolero. Both genres are types of mariachi music. His father also played a requinta (a musical instrument similar to a guitar but one that produces higher pitched sounds).
He started singing when he was 13-years-old at a birra restaurant in his hometown colonia of Ixtapa, Puerto Vallarta.
Alberto Cuevas isn't his real name – it's a stage name that he selected from the two musicians who he admires the most – Juan Gabriel and Aída Cuevas.
Juan Gabriel became a symbol of change and tolerance of sexuality in Mexico, as a songwriter of rancheras, ballads and boleros. Gabriel believed that Mexicans need to accept the fact that a homosexual, an affectionate man, could be the successful image of the mariachi, most commonly seen as a macho man. It was a slow process of Mexican society to approach tolerance and assimilate sexual diversity that continues to this day.
Aída Gabriela Cuevas Castillo is a Mexican singer and actress with more than 46 years of professional artistic career in the mariachi genre and is one of the most admired singers in the country.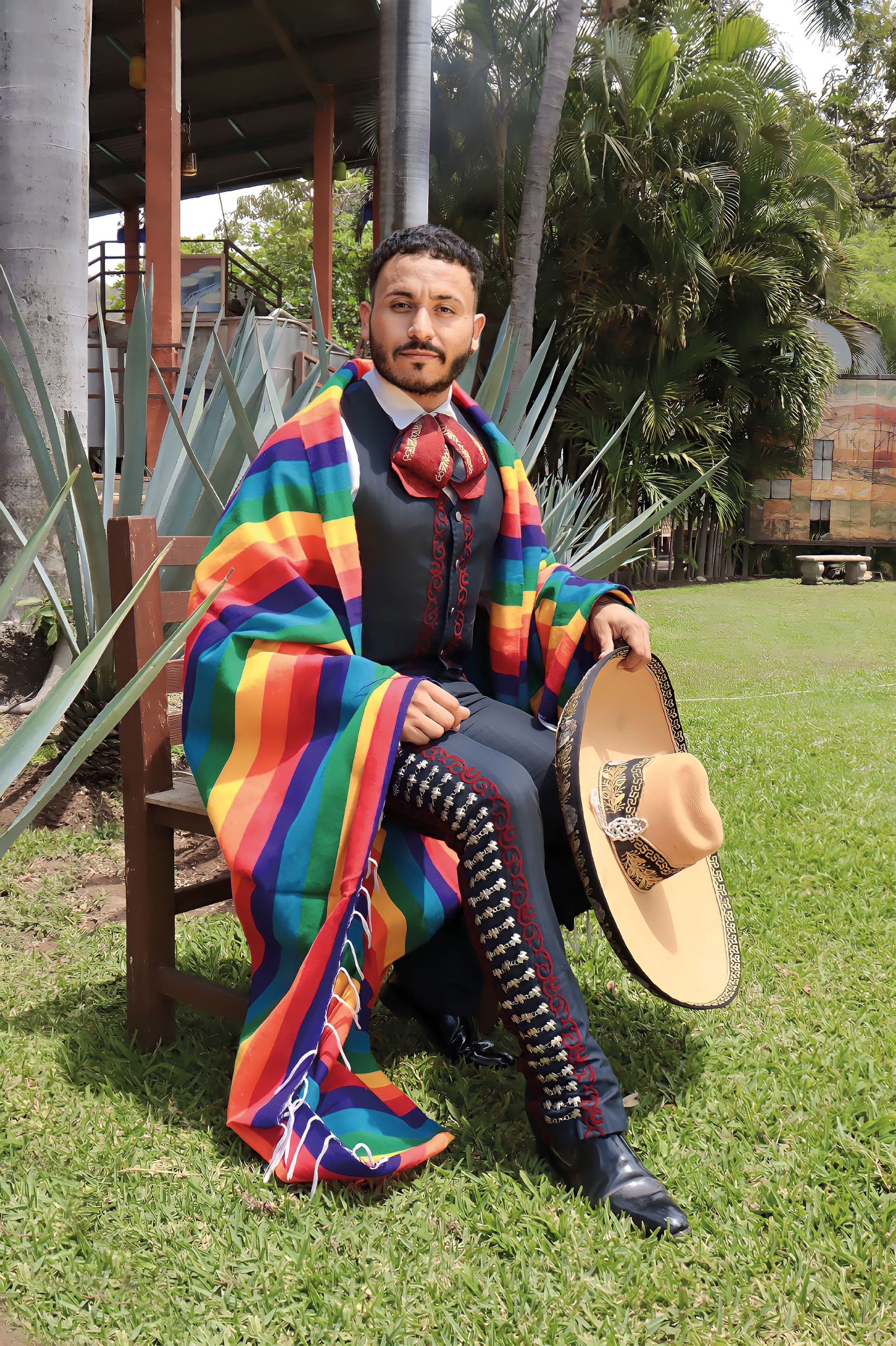 Coming Out
Coming to terms with his sexuality was, at best, a difficult process for Cuevas. He knew at a very early age that he was "different." Those feelings were confirmed when he was in junior high school, around the age of 15. He knew he was gay – and it was something that he struggled with for several years. He came out to his mother when he was 18, and her initial reaction was shock and acceptance didn't come immediately.
"It was a difficult time, we didn't talk for at least two weeks," he said. "She is now a strong LGBTQ+ ally. But it was very hard for her. She just didn't expect it. She was and is my best friend."
Cuevas is the youngest of four children, three boys and a girl. He and his sister remain close, but he's not close to his other brothers, nor his father, who left the family when Cuevas was around five-years-old. Now he is the family caretaker, and lives with his elderly mother and helps raise his sister's two daughters – responsibilities he takes very seriously.
After graduating from high school at the age of 18, he entered the seminary to become a monk. And for three years he lived and studied the religion that he believed in so deeply.
"I loved, and still do, studying religion," he explained. "I became interested in it when I was 13-years-old. But it did make my coming to terms with my sexuality very complicated. To say the Church is homophobic would be an understatement."
After three years in the Monk Seminary, he left. He needed to work and make money for his family. It was then, at the age of 22, that he was reunited with his first love, a boy from his past that he had secretly dated. They went on to become long-term lovers for several years until his music career took him on a different path and they separated.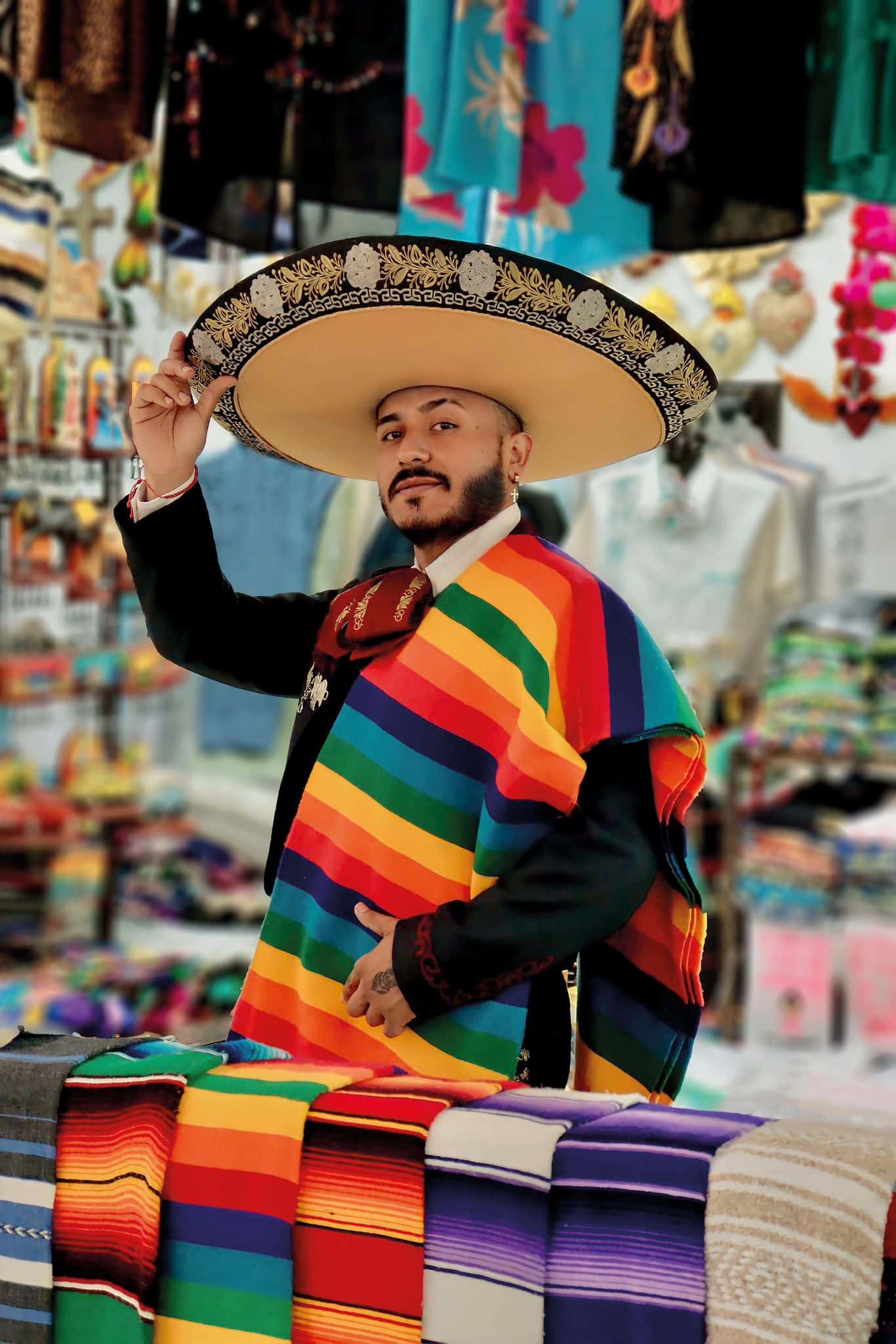 Mexico's Gay Cultural Ambassador
Cuevas sees himself as one of Mexico's gay cultural ambassadors, breaking down the stereotypes of the macho man.
When he was 23 he made his first public appearance in a Puerto Vallarta gay bar – Los Equipales – where he would sing every weekend honing his image in this gay mexican cantina (Los Equipales was located on Lazaro Cardenas where the current bar of Kooky Karaoke is now).
As he built his name and reputation, he was able to expand his appearances to more mainstream audiences. And as he did, he would include drag queens, female impersonators and female artists, as well as gay folklore dancers.
"It was during this time period that I grew and discovered my career as the gay charro," he said.
He went on to point out that the term "charro" is Mexican for a horseman, or cowboy. Charro's are skilled riders and more importantly, a symbol of Mexico's patriotic past. Mariachi is a type of music that originated in Cueva's home state of Jalisco – Mariachi music is performed by a group of people who dress in the typical charro outfit – wide-brimmed hats and colorful embroidery on an elegant jacket, tight and fitted pants,and a tie.
He points this out because while he dresses as a charro, he sings a variety of types of music. His charro outfit is symbolic, to show that yes, a Mexican cowboy can also be a gay cowboy.
Cuevas has used his music and dress to advance LGBTQ+ rights, and to challenge the mainstream way of thinking on these types of issues. At the young age of 24 he hosted a radio show called La Jaula on 105.1 FM, in which he addressed all types of cultural issues.
"One of the most rewarding things about heading that kind of program was to be able to sow a seed of knowledge in the listeners by talking about different themes like sexuality," he said. "On one occasion, same sex couples debated at the round table with members of the Church clergy about equal marriage, something never heard before on the local radio."
That show also opened the door for him to meet all types of people – from local and national politicians, to community leaders.
He also helped launch some LGBTQ+ specific television program called Punto G, on the local channel TV MAR (channel 10).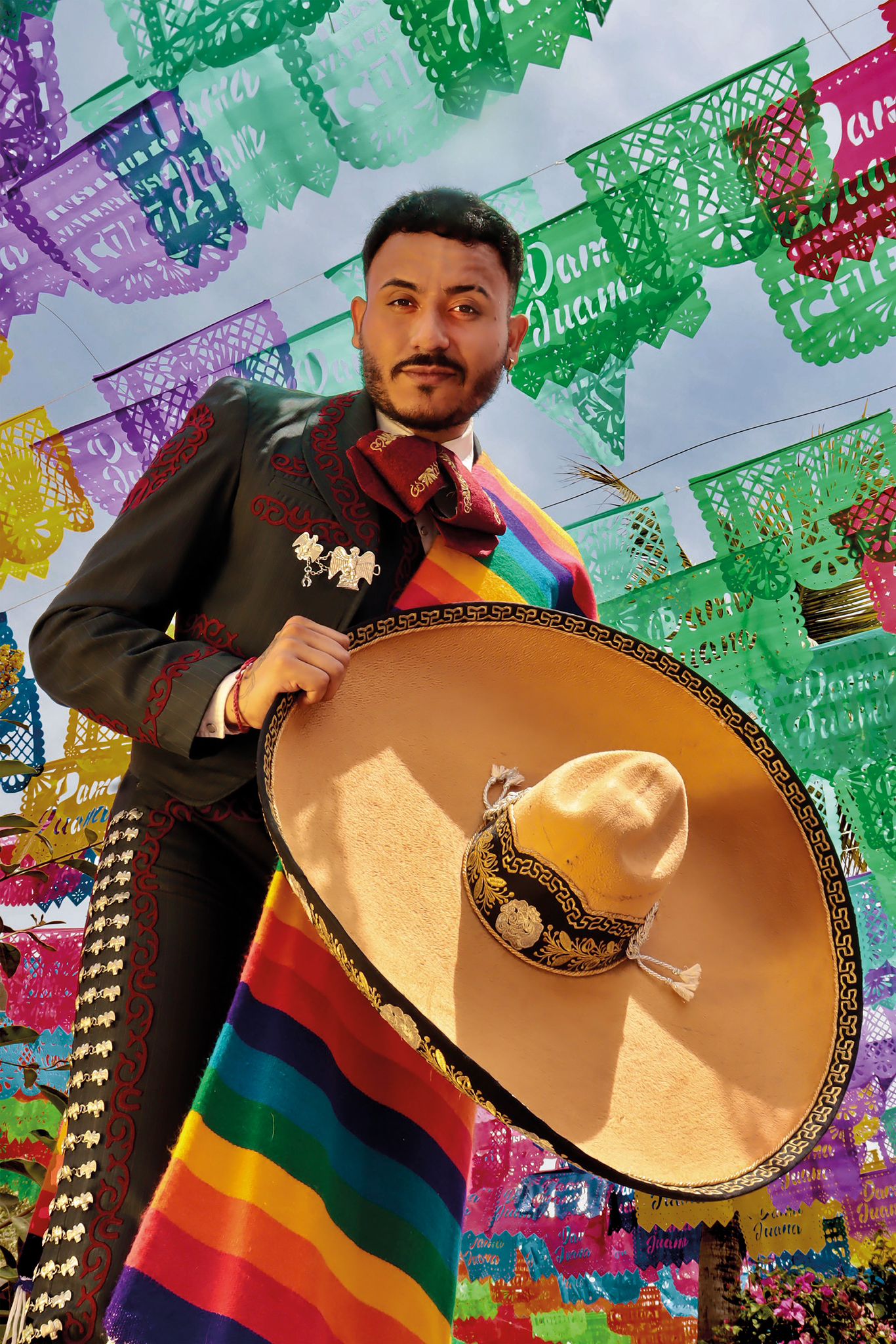 Discrimination Still Exists
But being a gay cultural ambassador isn't easy, and Cuevas has found that it has hamped his career in many ways.
One instance had him set to perform in Guadalajara at the county fair. He was booked to perform for seven nights, but one of the leaders of the fair (who also owns the restaurant Tipico) was horrified that a gay man dressed as a charro would perform.
"I ended up washing dishes and only performed two of the seven nights," he said. "Nor would they allow me to perform in my charro outfit. This was in 2018/2019 but it was a stark reminder to me that discrimination is alive and thriving in Mexico."
He wears a cross earring in his left ear as a symbol of his defiance to the macho wold often viewed as the charro. And that small symbol often causes strong emotions in other Mexicans.
"My earring has opened the door to many conversations and conflict," he said. "To me, it is empoowering that two Mexican charros can sing to each other romantically. The earring is a symbol of the love that two charros can have for each other."
The Future
Cuevas hopes to record more music in the future, and he'd love to do more music videos. He has two singles available on all music platforms including Spotify – "Te Amare" and "Ataud".
"The song talks about a happy couple, together since they were very young, so their love became eternal," he explained. "It is about that kind of relationship that despite reaching a certain age or having gone through hard situations, they will always count on each other and the day that one of them is missing the death of the soul will come."
He also runs his own production company – Mendoza Productions. His company organizes shows, provides artists, sounds systems, whatever the venue or event needs.
But for Cuevas, the future is simple. He wants El Diamante to continue to shine as a symbol to continue to break the stereotypes of traditional Mexican music and the hypermasculinity of the charro.
For More information:

Facebook: https://www.facebook.com/AlbertoCuevasElDiamante
Instagram: https://www.instagram.com/albertocuevas_eldiamante/
Website: https://albertocuevas.mx
WhatsApp: 322 189 3151
Email: albertodiamantecuevas@gmail.com