This post is also available in: Español
Puerto Vallarta will resume in-person events for the upcoming Mexico Independence Day as Mexico citizens celebrate their 212th anniversary of Independence.
The Vallarta government resumes face-to-face events after two years of absence due to the pandemic that the country was going through, which avoided crowds and public events.
Mexican Independence Day celebrates the beginning of the war that ended Spain's colonial rule of Mexico. On September 16, 1810, Miguel Hidalgo y Costilla, a Roman Catholic priest, rang the bell of his church and proclaimed the call to arms that began the Mexican War for Independence.
Puerto Vallarta festivities will began on Tuesday, September 13.
On Wednesday, September 14, as part of the National Charro Day, at 11 a.m. participants from the 12 Charras associations of the municipality will parade. The parade will begin in the Emiliano Zapata neighborhood, at the intersection of Basilio Badillo and Ignacio L. Vallarta, they will advance north along this road to continue along Morelos Street, continue along the Malecón and Mexico Avenue until they finish on Nicaragua Street.
On Thursday, September 15, at 11:00 p.m., the municipal president, Prof. Michel, will perform from the central balcony of the Municipal Palace, the Cry of Independence in front of the Plaza de Armas, where thousands of vallates and visitors are expected to be present. The Cry for Independence is one of the country's most important historical events, as it marks the beginning of Mexico's struggle for independence and is commemorated on September 15 every year.
6:00 pm to 10:30 pm – Las Fiestas Patrias street party with authentic food stalls, live music, folkloric dances, a beauty pageant and the coronation of the Ambassador of the National Holidays, on the Malecón.
11:00 pm: Ceremonia del Grito de Independencia – Traditional El Grito Ceremony – Puerto Vallarta Mayor Professor Luis Alberto Michel Rodríguez will deliver "El Grito," reenacting the historic cry for independence from the City Hall balcony.
11:20 pm: The singing of Mexico's national anthem.
11:30 pm: Castillos and Fireworks, downtown Puerto Vallarta
11:35 pm: Baile Popular – Public Street Dance in Puerto Vallarta's Main Square
And on Friday, September 16, the traditional civic-military parade is scheduled, alluding to the beginning of independence, with the same route of approximately two kilometers of the charro parade.
All government offices and banks will be closed on Friday, Sept. 16, and many businesses will close.
Traffic Affected
Traffic will be affected by the different parades planned, and the increased number of visitors in the city. On Wednesday, Sept. 14, the day of the Charreria Parade will close Morelos Street starting at 10:00 a.m., from Lazaro Cardenas Park, going through Paseo Diaz Ordaz, Mexico Avenue, arriving at Uruguay Street, until 13:00 hours.
For the September 16 parade, traffic will be restricted on Mexico Avenue, starting at Panama Street. In the case of public transportation, it will enter through Perú Street up to Panamá Street, to resume its return route towards the north of the city through Colombia Street.
The urban trucks that go through the tunnel will take Lázaro Cárdenas Street up to Aguacate Street, to take Basilio Badillo Street back to the highway beltway.
Local Businesses Plan Events
With hotels near capacity for the weekend, many businesses are planing special events as part of the celebrations. Here is a short list, but check social media for your favorite place to see what they have planned.
Arriba Restaurant Bar
The Mexican dish of Independence, is the Chili Nogada, and its the special at Arriba Restaurant Bar from Thursday, Sept. 15 to Sunday, Sept. 18.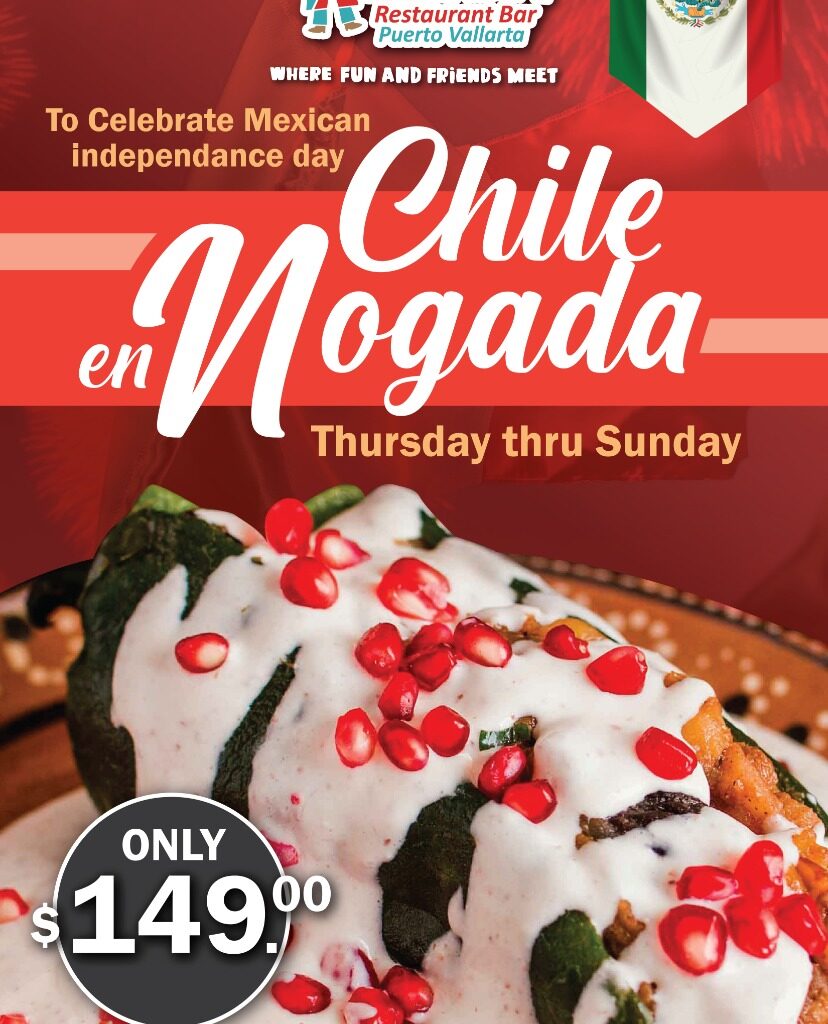 La Catrina Cantina
Thursday the 15th at La Catrina Cantina! we have a full lineup of Entertainers including a Mexican Karaoke Competition and a "Grito" (Scream for Independence) competition at Midnight! Free shots for Mexican Costumes or decorations. Entertainers include:
Effie Passero , Lossana Diaz , Armando Chakam and Alberto Ponce, Balet Folcorico Sones de Mexico, Angela y Mariana Ponce, and Luis Villanueva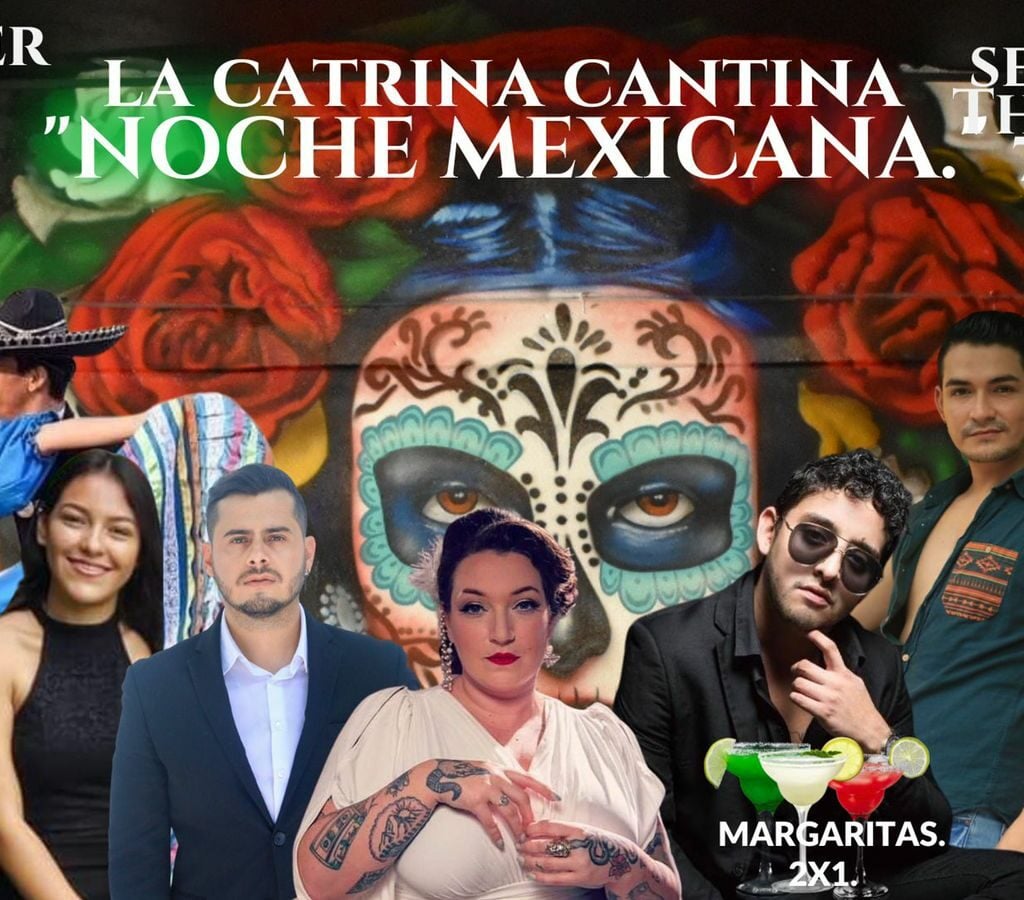 Chacalaca Bar
Special shows Friday and Saturday that are all themed independent. Beer and shot specials throughout the weekend.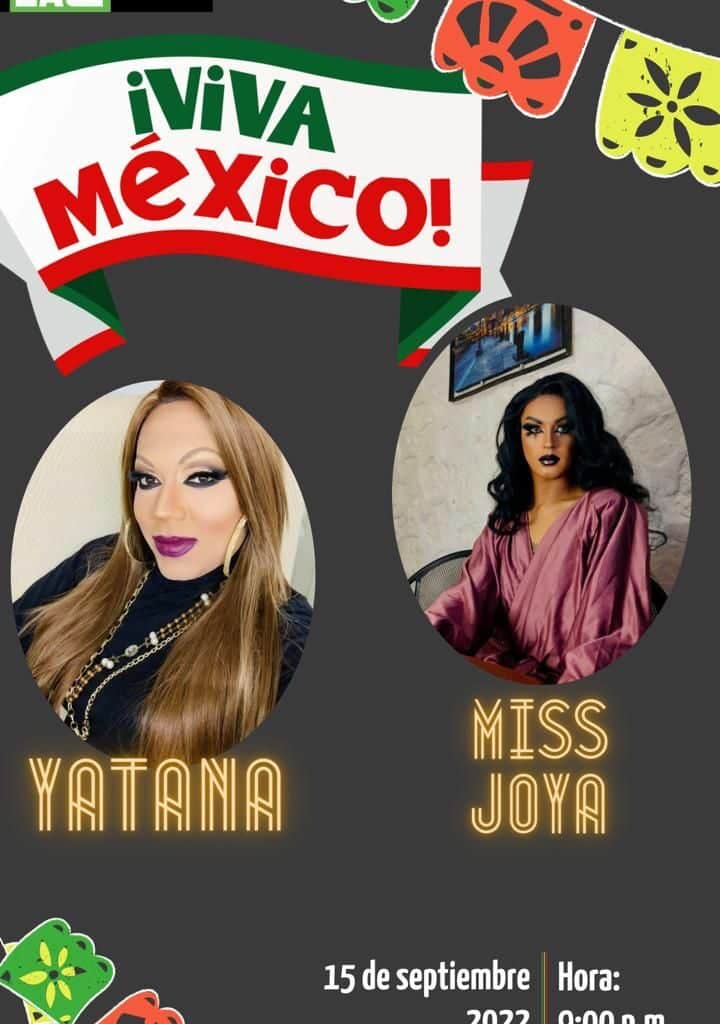 Mantamar Beach Club
Celebrate Independence Day at Mantamar with a weekend full of fun and surprises with special guests.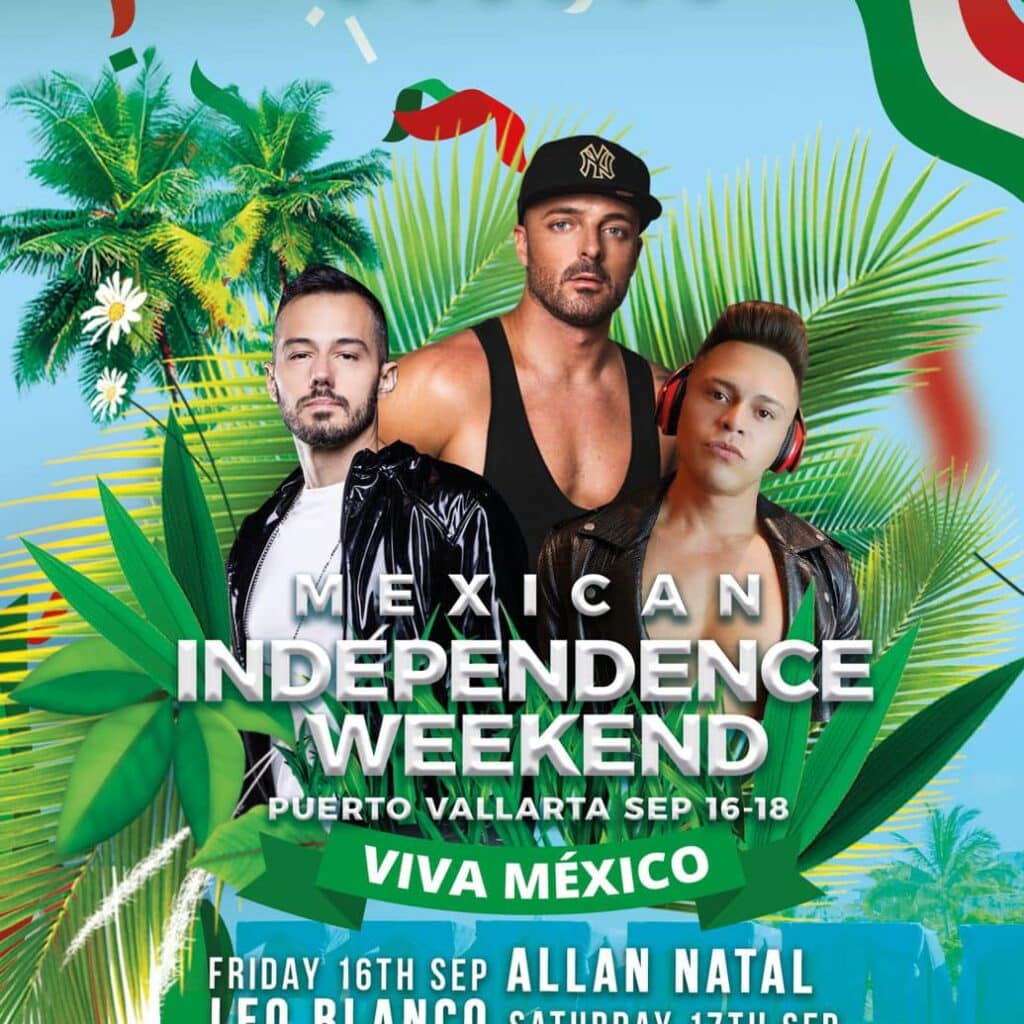 Hotel Mercurio
The very popular Beers, Boys and Burgers that is normally held on Sunday will host a celebration on Friday September 16th for Mexico Independence Day Celebration.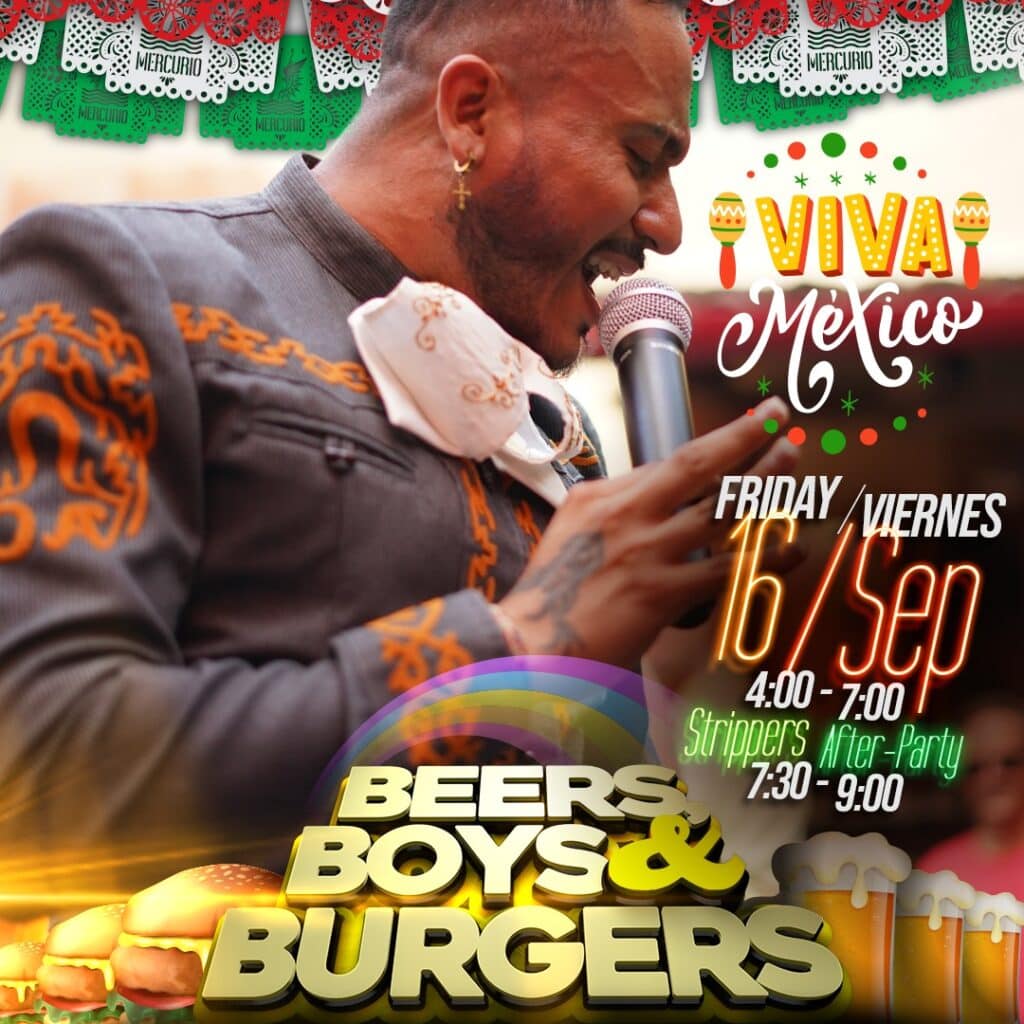 Therapy Bar
You're invited to Therapy Bar's MEXICAN PARTY. Celebrate your Mexican pride with live music, lots of tequila, Mexican antojitos and typical sweets | All you can eat for $10 USD ($200 pesos). The REMAKE boys will be singing with the most famous ones of Luis Mi and Alejandro Fernández and then DJ Ramses takes on the floor with the best dance music to dance. 2×1 Tequila and Vodka Shots. Thursday September 15th from 8:00pm to 4:00am | NO COVER. Basilio Badillo 283, Romantic Zone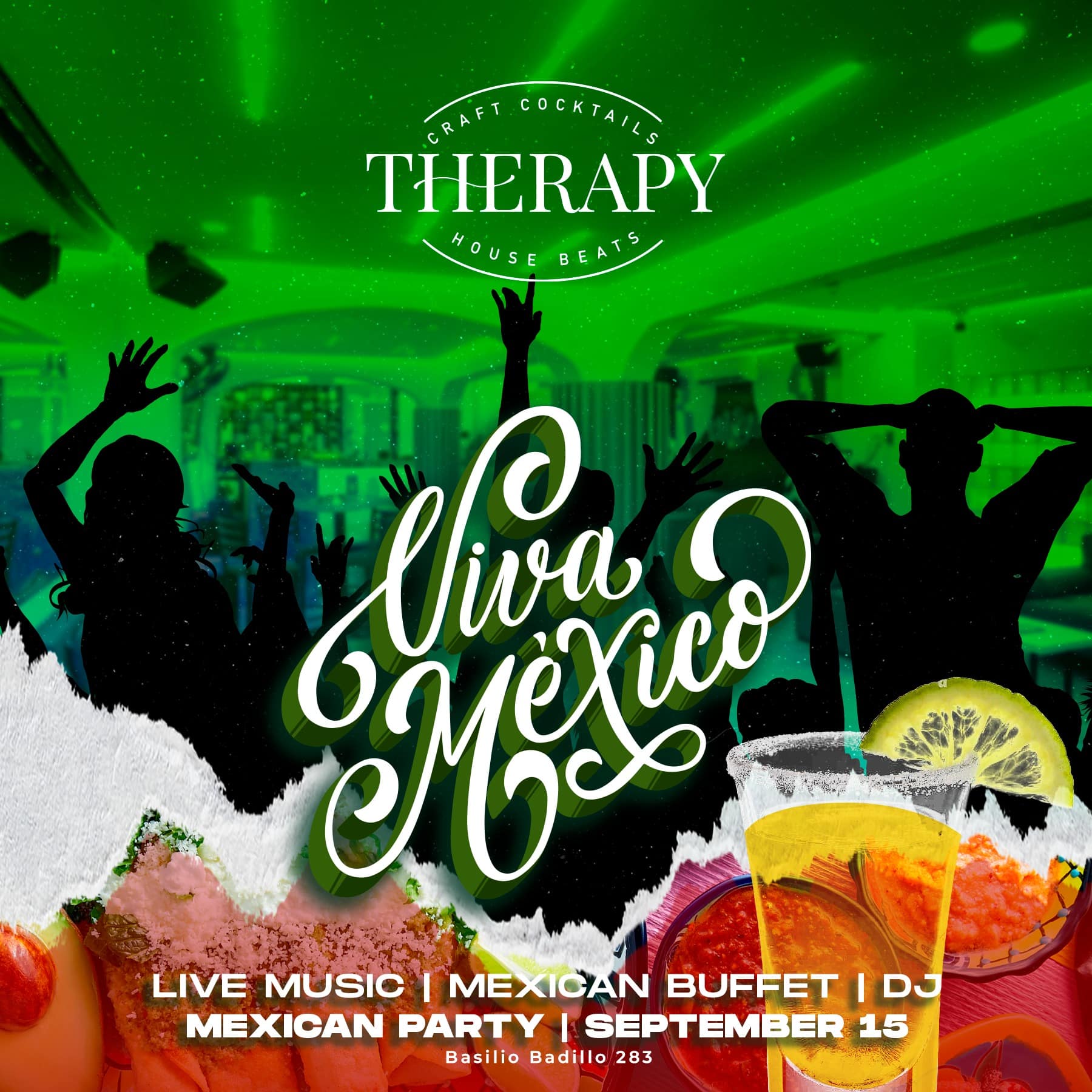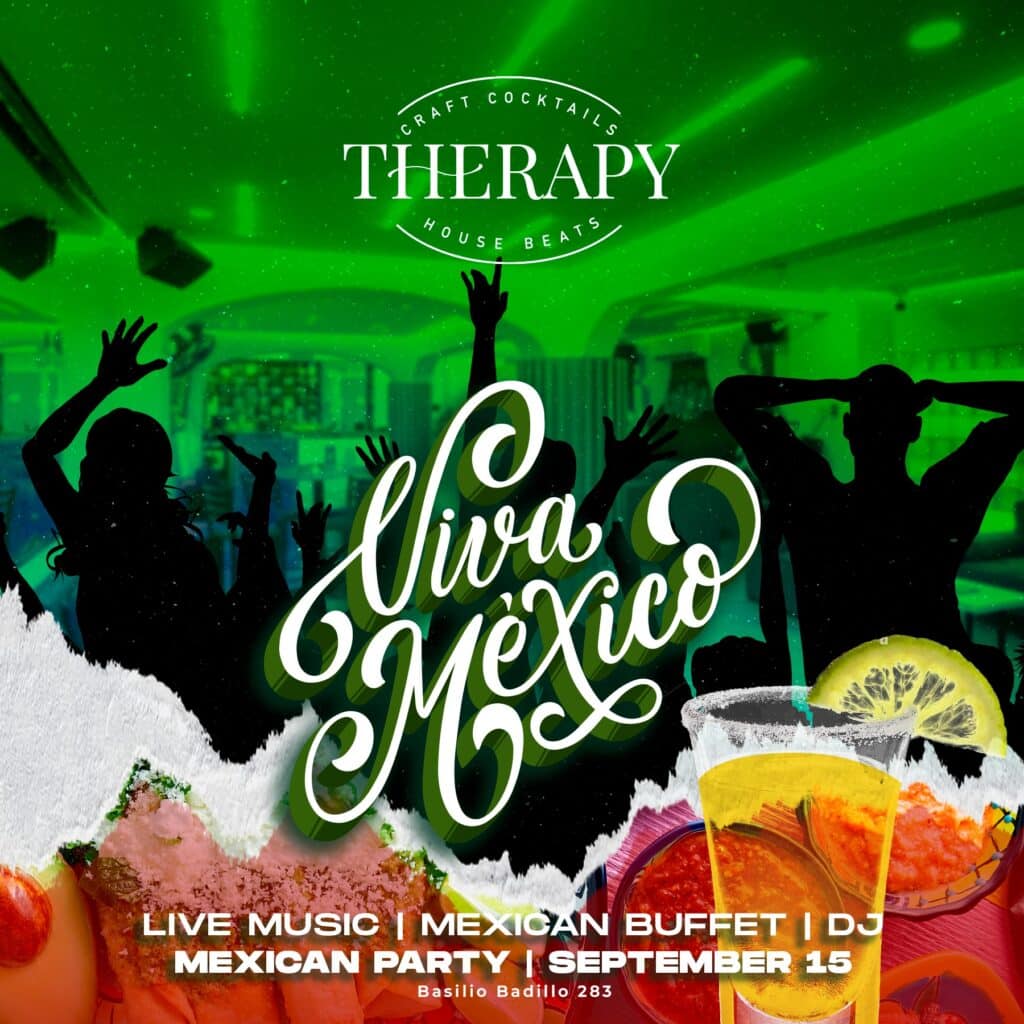 Blue Bar
On Sept. 15, you will be able to have 2 x 1 house tequila; Banderas for $80 pesos.
Top Sky Bar
Top Sky Bar has a special show with Ariel on Friday, Sept. 16 at 9 p.m. No Cover. Enjoy Sunday Drag Brunch from 10 a.m. to 2 p.m. on Sept. 18.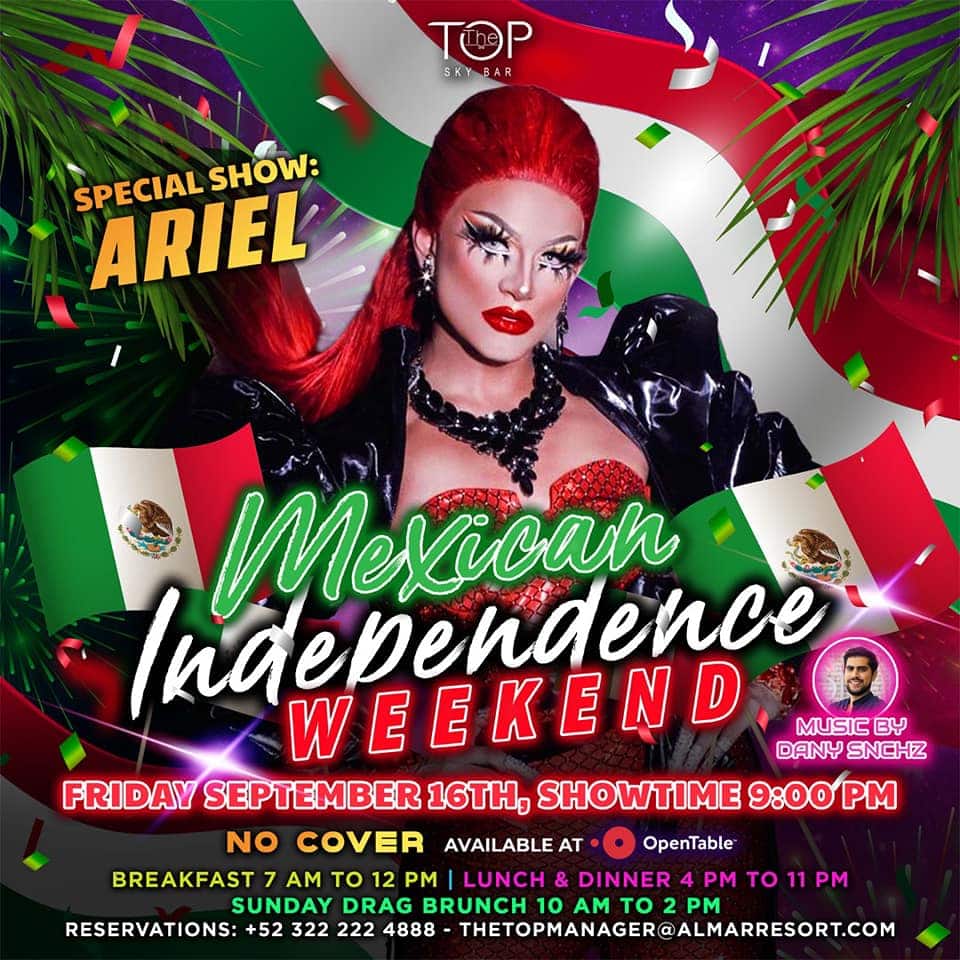 Marriott Puerto Vallarta Resort and Spa
Noche de Karaoke & Cantaritos
THURSDAY AT 8 PM – 11:59 PM
Celebra el Grito de Independencia con una Noche de Karaoke & Cantaritos en Champions, a partir de las 8 pm y hasta las 12 am.
Celebrate Mexican Independence with a Night of Karaoke & Cantaritos at Champions, from 8 pm to Midnight