Esta publicación también está disponible en:

Español
Chef Roman Ventura's business has grown but he knows he still has a lot to learn. So the chef and his assistant, Edward Potocek, hosted a dinner recently to learn about how others got their starts in Puerto Vallarta and to discuss ideas on how best to reach locals and tourists about the services and experiences that Chef Ventura, and other small businesses, have to offer.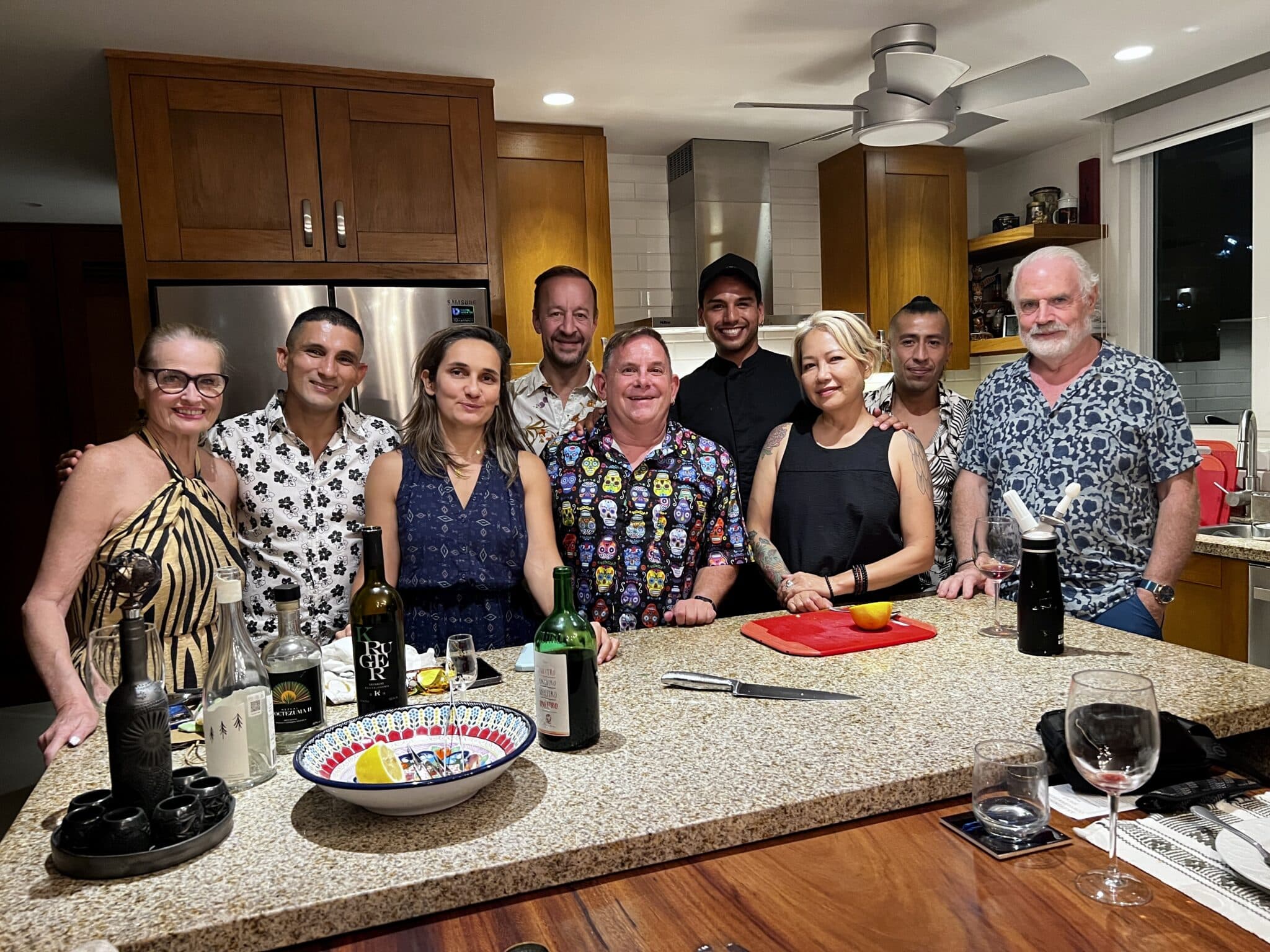 Dinner guests included Francie Nguyen, owner of Bonito Kitchen and Casita & Garden; Isaac Carachure and Joey Martínez, publishers of Gay Guide Vallarta; Vanusa Pedrozo, co-owner of Uncork Mexico; Mike and Tricia Lyman, founders and moderators of the Facebook group "Puerto Vallarta Everything You Need or Want to Know"; Gerwin Rutten, sales manager with Out & About PV Magazine and Jerry Jones, editor/publisher of Out & About PV Magazine.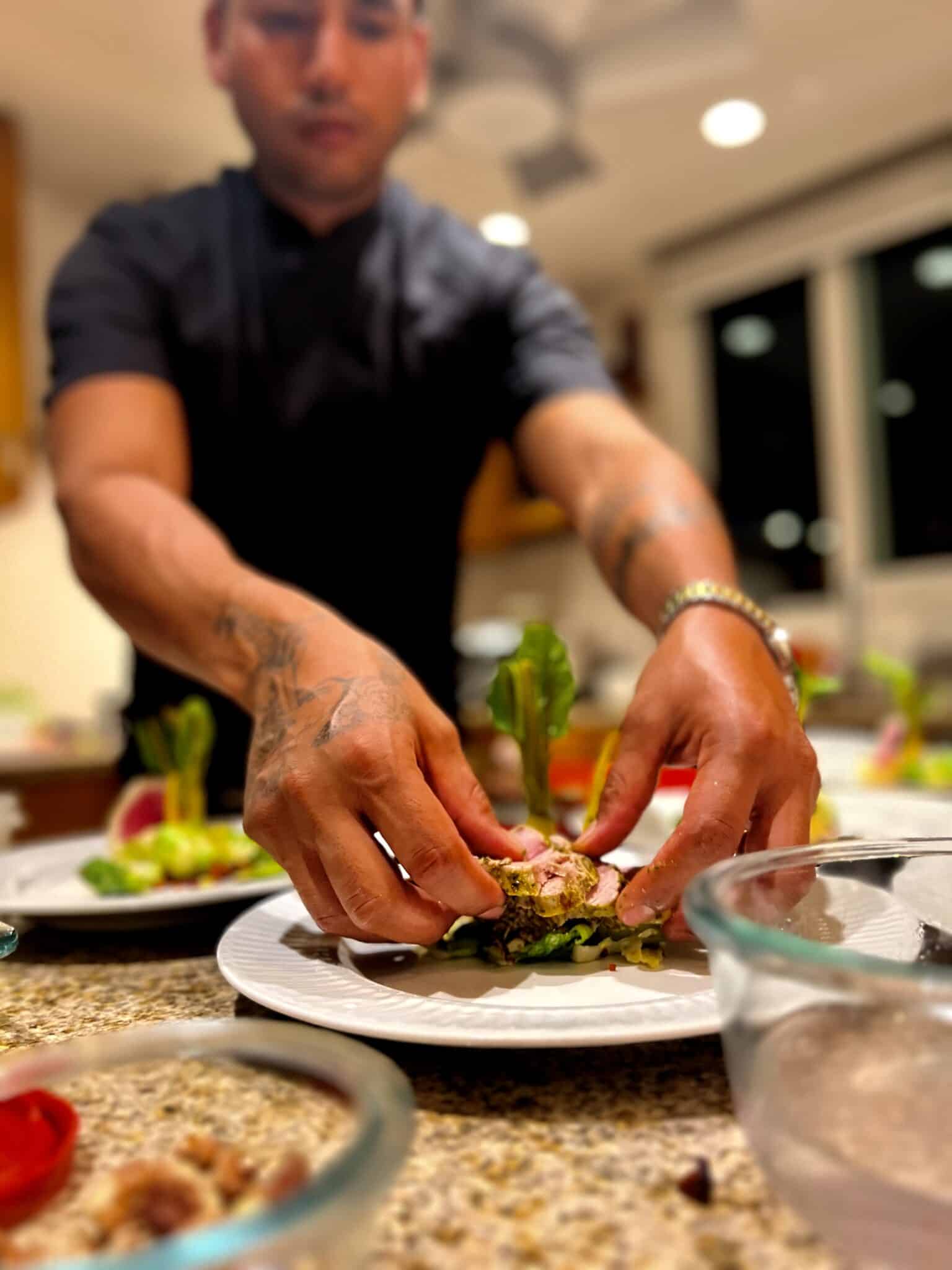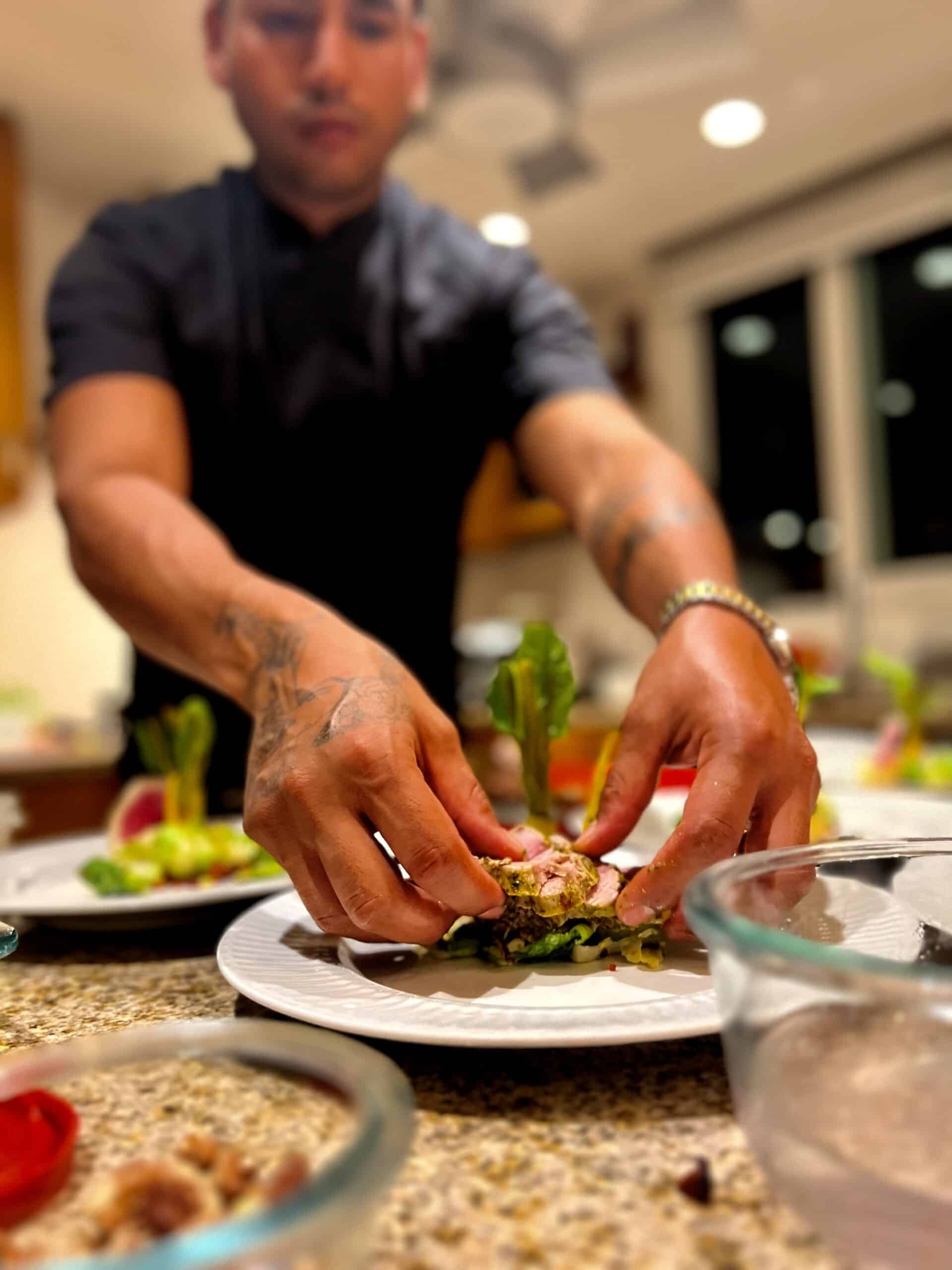 In addition to his private chef/catering business, Chef Ventura has cooked at five Casita & Garden Chef's Table events. These "pop-up" dinners provide great exposure for Chef Ventura, introducing more people to his food. The events are fun and interesting because at the start of the dinner, people may be strangers but after sharing food and drinks, they're friends by the time dinner is over.
The next Casita & Garden Chef's Table event is May 23 where Chef Ventura will feature a menu highlighting the food of Sonora Mexico. You can purchase tickets here.
Potocek has participated in "Pop-Ups" in different cities in the US and loves that this type of event is occurring here in Puerto Vallarta and is especially excited that Roman has been a featured chef at Casita & Garden.
Chef Ventura is originally from the little town of Mascota, Jalisco, but grew up in Esperanza, Sonora and later adopted Puerto Vallarta as his home. His passion for cooking began as a child – when his father was always cooking and little Roman had a spoon in hand to taste soups, sauces or other dishes that he prepared.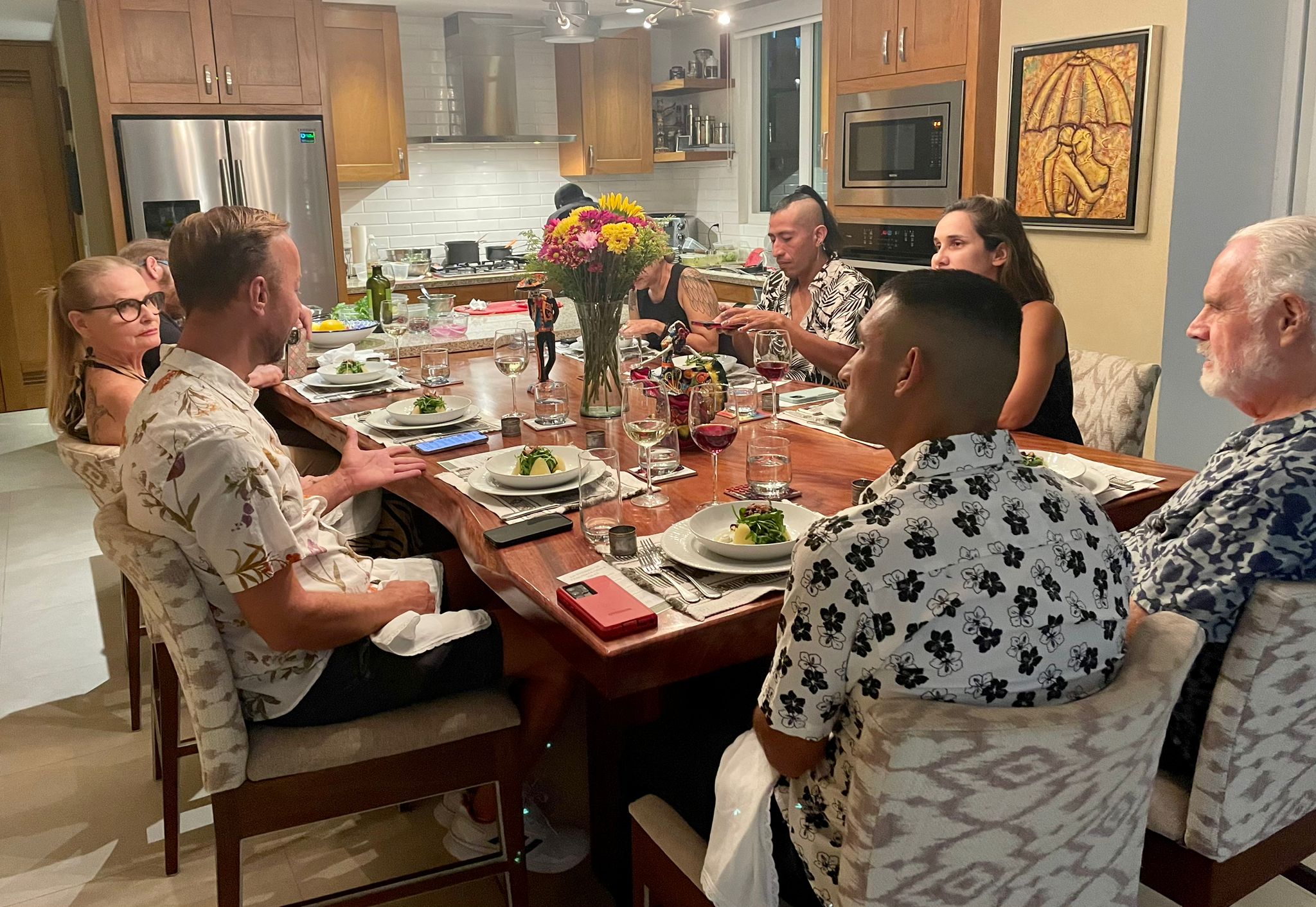 Having studied to be a chef at the ISIMA Institute of Higher Studies in Puerto Vallarta, Chef Ventura told the group at dinner, "I do not use recipes but I let my taste and passion be my guide for my creations and menus."
Having worked at a number of restaurants after finishing school, Chef Ventura served his first private chef dinner in September 2019.
Edward, a self-described foodie, met Chef Roman in December of 2020 after moving here from Chicago, IL. He asked Roman to cook for a few dinner parties and recognized that Ventura had a special gift for cooking. A friendship grew and a few months later, wanting to grow his business, Roman asked Edward if he could help him do that.
One and a half years later, Ventura Chef Services has grown from doing a few dinners a month to 3-4 dinners per week as well as catering special events and weddings. Chef Ventura is especially excited by the number of repeat customers, some booking dinners months in advance.
Ventura Chef Services offers different menu items and the costs range from $1,300 pesos and up depending on the menu, type of event, number of courses, etc.
Edward works closely with clients to help plan their events so they have a unique, memorable experience highlighting Chef Ventura's food. Potocek said, "Our clients love the experience because they are excited to try the food of a local chef in the comforts of their home or vacation spot in Puerto Vallarta. Many of our guests are celebrating birthdays, anniversaries, or other special events and want a more private experience for their family and friends."
Many customers ask where they can buy wine for their dinners and Ventura Chef Services recommends, UnCork Mexico because not only do they have a great selection of wine, they also deliver. And sometimes with a 5 or 6-course dinner for 10 people…you need a lot of wine. It's a great example of two small businesses helping each other.
The menu for the dinner for this group of media and small business guests included:
Roasted Tomato and Garlic Soup – A pureed tomato and garlic cream soup with caramelized onions, goat cheese and crouton. Accented with chili ancho oil and parmesan air.
Wine Poached Pear Salad – Pear poached in white wine and orange juice tossed with baby spinach and arugula, spicey cranberries, caramelized walnuts, goat cheese and dressed with an agave honey and lemon vinaigrette.
Chimichurri Pork Loin – Chimichurri marinated pork loin, dressed with a bell pepper and habanero sauce served with mashed potatoes, sauteed brussel sprouts with crispy bacon and pickled baby carrots.
Sunset Panna Cotta – Coconut panna cotta dessert topped with a citrus sauce, toasted coconut, and brandy foam.

"The evening was great fun with a lot of eating, drinking and conversing," said Gerwin Rutten with O&APV. "We were able to experience a dinner by Chef Ventura as well as learn a little more about each other, understanding we all share the common goal of making Puerto Vallarta a great place for everyone."
Information to Know:
Email: venturachefservices@gmail.com
Website: venturachefservices.com
Facebook: Ventura Chef Services