Esta publicación también está disponible en:

Español
Hotel/Swimwear Brand Search For Next Ambassador
Hotel Mercurio and Mercurio Swim are looking for their next brand ambassador, Mr. Mercurio 2023, and will crown a winner on Sunday, February 5, 2023.
The selection of MR. MERCURIO 2023 will begin this Sunday January 8, 2023 at the upcoming 'Beers Boys & Burgers Pool Party'. Each week, two semifinalists will be chosen to compete for the crown during the big finale.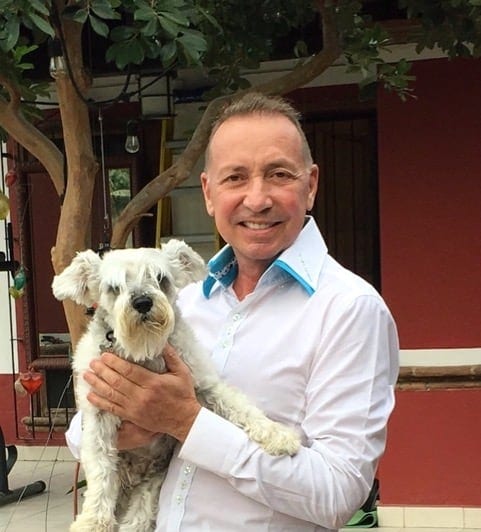 The contest will run each Sunday until January 29 (four consecutive Sundays) – judges will be selecting two semifinalists each week to compete for the title of Mr. Mercurio 2023. The final selection of the winner (1st, 2nd and 3rd place) will take place on Sunday, February 5.
"Each week, the two semi finalists selected – based on talent, looks, charisma, dance, and fantasy outfit – will win $500 pesos and a Mercurio Swim swimsuit," explained Paul Crist, owner.
He went on to add that the winner will receive $5,000 pesos, Mercurio Swim clothing, and opportunities for paid modeling work with Mercurio during the year 2023. The winner will be selected on Feb. 5.
Crist said he was working with Sebastian Coronel from the popular male burlesque group Boys on Fire, to help produce the contest. Semifinalists will be selected by a panel of judges and by applause from the audience.
"There will be prizes for every contestant," he explained. "The semifinalist will receive $1000 pesos cash and Mercurio Swim products, plus the chance to win the crown."
During the grand finale on February 5th, the semifinalist will receive a cash prize of $500 pesos and Mercurio Swim products. The winner of the third place will receive $1,000 pesos, the winner of the second place will receive $2,000 pesos, and the MR. MERCURIO 2023 title winner will get $5,000 pesos, Mercurio Swim products, and the opportunity to be a regular dancer at Beers, Boys & Burgers, being the face of Hotel Mercurio & Mercurio Swim during 2023 and representing them at the Puerto Vallarta's LGBT+ Pride Parade in May 2023.
"MR. MERCURIO might not be the stereotype many expect," Christ explained, encouraging all to enter. "So, don't be shy!"
He said the event is from and for the Sexual Diversity community.
"All its adult members and allies, that live in Puerto Vallarta all year round, are encouraged to participate," he said. But he cautioned, "The number of contestants is limited."
For more information and to schedule your pre-selection interview, call or text: Hotel Mercurio 322-105-8669, or Sebastian Coronel 998-144-8346.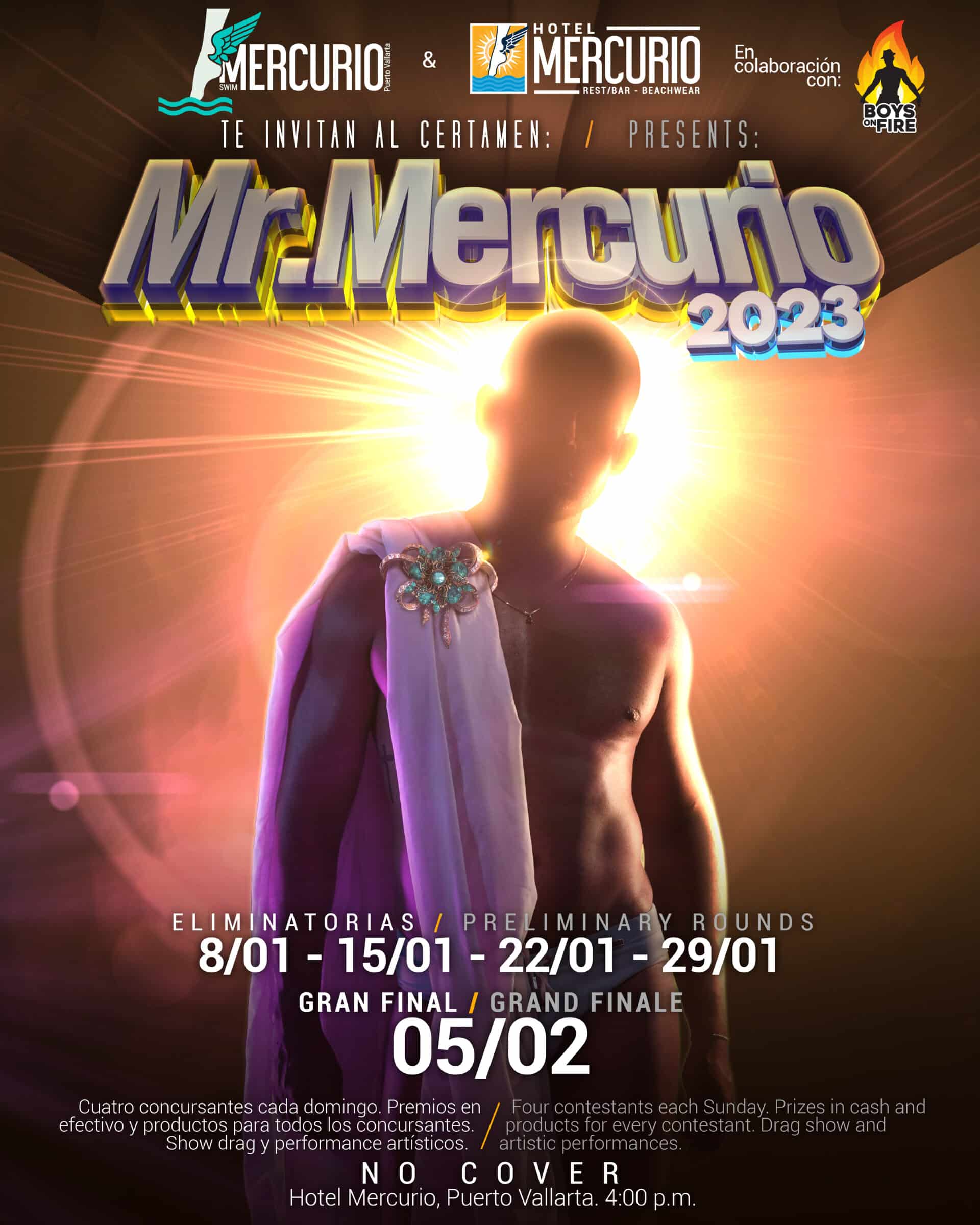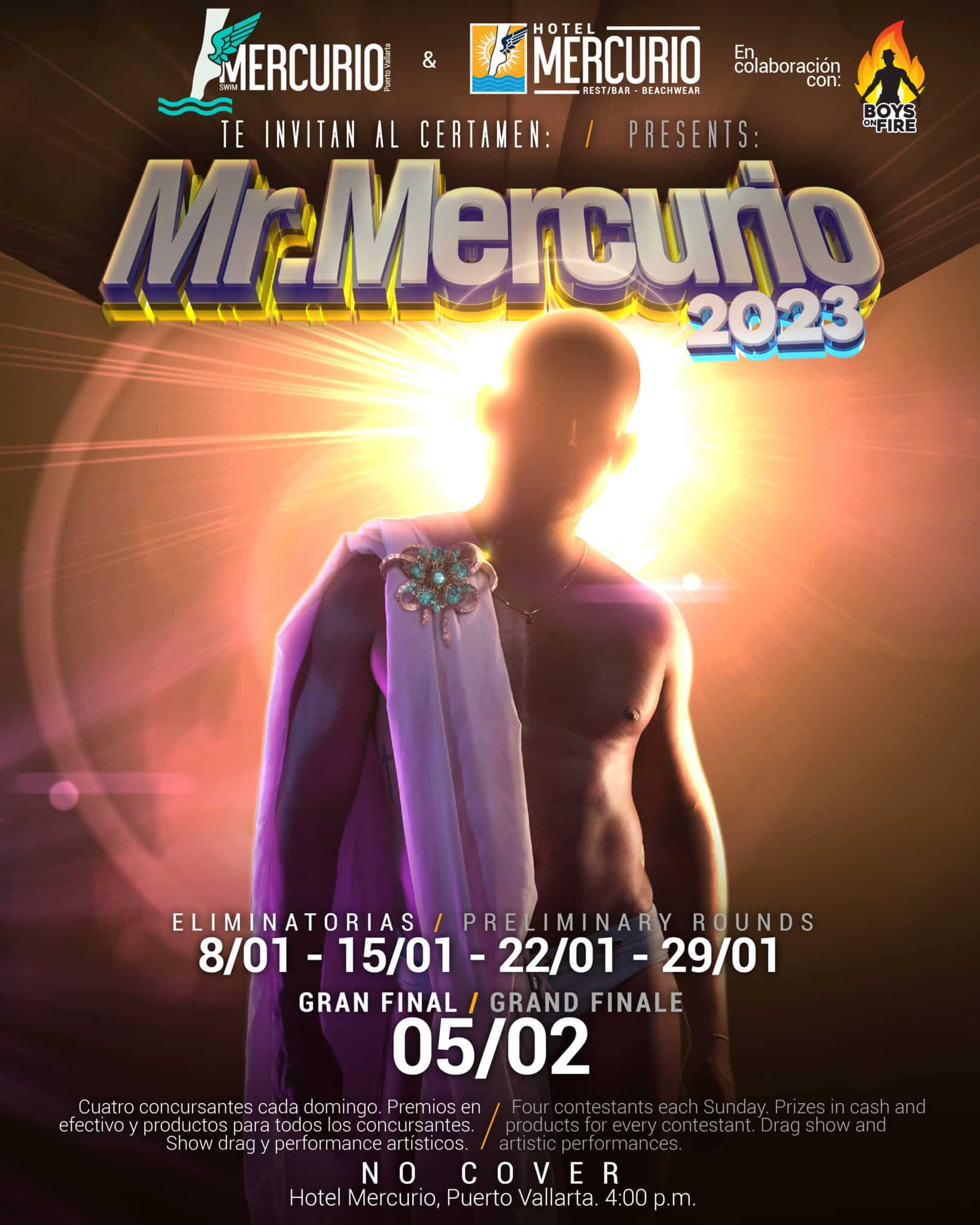 Related Stories: