This post is also available in: Español
THE CATEGORY IS explores how the vogue scene and ballroom culture are evolving and shaping queer spaces outside of New York City. Further developing the story that was first introduced in the GLAAD-awarded INTO editorial episodic, HOUSE OF MAMIS, Revry acquired the series and expanded the concept into the first season of a broader anthology docuseries. A real raw international version of the FX Show POSE, each episode averages 7 minutes.  Watch now the first episode here.
"Genuinely authentic…providing an unfiltered look at the flourishing Mexico City ballroom scene…dynamic queer performers.  An unflinching look at how a group of very different people can come together and save each other, nurture each others' talents." 
– INSTINCT MAGAZINE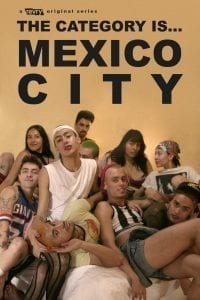 Created By:
Ocean Vashti Jude & Lauren E. Zubia Calsada
"Chock full of history, intellectual debate, splendid cinematography and curious characters to ogle over… a heck of a good docuseries.  MANDATORY watching for the young and older LGBTQ+ crowd. It's a great social experiment and filled with witty characters."  
-QUEERtimes
Synopsis
Revry's newest Original anthology docuseries, THE CATEGORY IS explores how the voguing scene and ballroom culture has evolved beyond New York City and is shaping queer communities throughout the world. The first season, THE CATEGORY IS…MEXICO CITY, highlights the "House of Mamis" and examines themes of cultural and gender identity, LGBTQ discrimination in Latin America, and self-expression and advocacy through dance.  Providing an unfiltered look at the flourishing Mexico City ballroom scene, the episodes showcase a chosen family of dynamic queer performers including house mother, Mendoza; trans-activist, Negraconda; dance enthusiast and dreamer, Ponyboy; and more.

Creator's comments
Voguing is something in U.S that feels exciting and something to marvel, but voguing at its core has always been raw and about family. We traveled to Mexico City to film a voguing house that goes by the name of House of Mamis. It was inevitable that we would tell this story about these beautiful humans. We both are Latinx filmmakers who have always been othered, yet we have a strong love for the Latina Mother and what she represents in a household. So immediately, when we were invited into their spaces (the subculture), we were welcomed by the glue of the house, House Mother Mendoza, who has the holiness of a saint but the presence of a warrior. Crammed into a tiny apartment were 7-8 Mamis. Some painting their nails others smoking by the window and a few preparing food for the house. It a cozy ecosystem.
It is quickly apparent that Mexico City is truly a queer epicenter and I use that word specifically. In the states voguing is a sport, it is lucrative and sadly it is very binary. Young lgbtq folx leave their small towns and come to Mexico City to join houses and live authentically. People don't make a living off voguing and drag, but they are seen here. Sometimes in the most brilliant spaces like museums and opera houses. Places that once held the attention of kings and queens now gives space to trans women and gay boys that love a good heel. Our mission as filmmakers with this series is to show people an unflinching look at how a group of very different people can come together and save each other, nurture each others' talents and present them with something they never had, all while being authentic – that is family. Mexico City on the surface is very traditional and a proud place, but if you go looking down the smaller streets, you will find a familiar beat and extravagant dancing and mind blowing energy with faces of glitter welcoming you into some kind of paradise.


REVRY
Stream out loud with Revry–the first global Queer TV network! Watch live and On Demand LGBTQ+ film, series, and music videos highlighting the best of queer culture from around the world. Revry is currently available in almost 100 million households and devices on seven OTT, mobile, and online platforms and our VOD and 24-hour live TV channels on Comcast Xfinity X1, XUMO TV, Zapping TV and TiVo+. Headquartered in Los Angeles, Revry is led by a queer and diverse founding and execute team who bring decades of experience in the fields of tech, digital media, and LGBTQ+ advocacy.  Follow on Facebook, Twitter, and Instagram @revrytv. https://revry.tv.