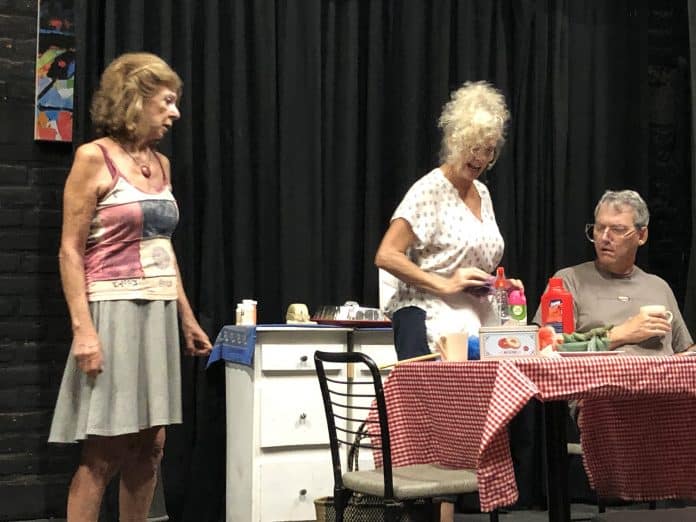 Esta publicación también está disponible en:

Español
By Thomas Carroll
The Boutique Community Theater, situated above the well known Tex-Mex bar-restaurant-music hall, Nacho Daddy on Basilio Badillo announced the two comedies that have attracted hundreds of people to this year's performances: Gladys in Wonderland and In The Time Of Old Age.
Gladys in Wonderland, which played in November, is a comedy by Rosemary Frisino Toohey, features an 87 year old woman for whom death calls. The only problem is she is NOT sure she's ready to go! Gladys, played by Cat Meders, has to be convinced by her Angel Of Death, Mort, it really is time. Mort, played by Rick Bodensteiner, brings several visitors, friends, and family along to show her why it's time. The play was directed by Thomas Carroll.
By popular demand, Gladys in Wonderland will return to the stage for lots last four performance on Fridays and Saturdays February 21-29.
Sylvia, which played in January, is an award winning Broadway comedy by A. R. Gurney, introduced the audiences to a talking dog, played extremely convincingly by Lydia Damato, brings new life, and almost divorce (!) to a marriage. Greg, played by Ron Skeffington, and his wife Kate (Josie Magillivray) clash, argue, and finally face a major ultimatum in this hilarious comedy. The play was directed by Lynne Dellinger.
…In The Time Of Old Age… opening in March, is a comedy by Gordon Carruth, features Reuben (Thomas Carroll), an elderly Jewish bankrupt widowed tailor, his best friend, Mickey (Rick Bodensteiner), an Irish-American handicapped veteran, and Isolde Trampler (Cat Meders) as his German born housekeeper and nemesis. When the two two friends win a million dollar lottery, the fun begins. Sweet revenge, mutual admiration, and the development of friendships fill this play with broad humor and poignancy. The play is directed by Roger Vickery.
The theater was established almost 10 years ago by Ken and Karrie Sebryk. Now in its fourth location, the theater was specially designed and built by the Sebryk family to serve Puerto Vallarta as the the center of community theater for English-speaking audiences. All of its actors and directors are volunteer and tremendously committed and talented.
This past year, the theater found new owners/producers in Tammy Carruthers and Sean Moore of Nacho Day and is managed by Craig Szczepanski, long time friend and collaborator with the Sebryks.