As a 31-year-old native from Las Vegas, Nevada, USA, he now considers Puerto Vallarta his  home. Steven Retchless talks with O&APV about his profession, his passion for dancing  and his new career in acting.
My name is Steven Retchless I'm 31 years old, I'm from Las Vegas Nevada and I think of myself as a dancer, entertainer and artist. I came to pole dancing having grown up in Las Vegas admiring the exotic dancers and showgirls. Strip clubs are a staple in Vegas but going even further back I realize my fascination with exotic dance began with the movie ​Showgirls.
At the tender age of 8years old the character Nomi Malone became my idol and consequently subconsciously ingrained an interest in the power of seduction through dance. Then later on in high school my best friend dropped out our senior year to become a stripper. Among many crazy and rebellious things we did, I would go to the clubs she worked at and watch her dance. It reignited my desire to dance provocatively and brought to my attention this amazing apparatus, the Pole.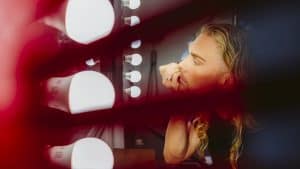 How have you come to pole dance?
I have an early memory of watching an episode of ​Queer as Folk where in a night club scene men aerial dancing with fabrics above a crowd and I thought to myself, "oh wow! I want to do that!" I want to dance with the silks or the hoop or whatever and be up in the air. After checking out some classes I found them to be too expensive and I simply gave up on the idea of ever learning an Aerial Art. It wasn't until after discovering pole that I found out I could buy my own and teach myself! When I turned 21 and moved to NYC I was surprised to find Pole Dance classes being offered at Crunch, the local gym. I quickly got a membership and it was there that I met my future employers who eventually opened up a successful studio called, Body and Pole.
What is your biggest challenge being a male pole dancer and how you overcame it?
The answer I think most people would expect is that it's difficult to participate as a man in a female dominated sport or that it's gender specific, suited only for women, that breaking the mold would be a challenge. Not for me, right from the start I came to class with my 7inch fuckme pumps and enjoyed myself the way I wanted to. I never had to try and fit in. Which is the true beauty of the pole community. There's room for all different styles, shapes, sizes and gender identification. Everyone supports everyone, there's no division, we are all in it together struggling to overcome the next level of our practice. Of course I've always had my haters who throw around negative comments about a man in heels but it never bothered me, I always thought of them as secondary fans.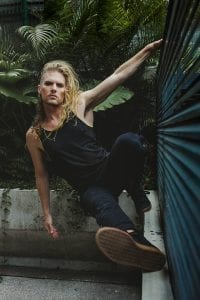 My own personal challenges as a male were in the competition circuit because in that setting you're trying to please a panel of judges and fit into a mold that the organization is looking for in a competitor. Typically they're looking for the strongest, most acrobatic or most flexible person and for me that was a challenge because my superpower had always been my androgyny and performance quality. Competitions in our world are a way to get your name out  there and to have an opportunity to perform.. I've won national and international titles including the well sought after title of Pole Theatre World Champion where I competed against men and women.
Besides Pole Dancing, are you involved in any other activities?
Yes, I love being active and exploring new ways to express myself. Besides working out at the gym and jogging I started climbing and dancing on trees! They're like a natural pole and many moves can be translated to the branches and tree trunks. I'm a nature queen and enjoy the odd stares from passerbyers who see me swinging like a real life Tarzan from tree to tree with my mane of hair blowing in the wind. I'm also very excited to transition my performance abilities back to some of my original passions of acting, singing and dancing. I'll be in two shows this season at ACT II as well as hopefully performing my very own ONE MAN show.
What and who inspired you when creating your own style?
I like Michael Jackson, Amy Winehouse, Al Green, Sound Garden, Marlyn Manson, Britney Spears and all kinds of music. I like Burlesque, Strippers, Hip Hop, Ballet, Jazz, Tap and all kinds of dance. I defenitely resonate with androgynous artists like Prince, Boy George, David Bowe and Michael. I like to sing Jazz, RNB and POP songs. When I dance I like slow, seductive dark songs with hard accents. My style bends gender norms, really just embracing the parts of me I like. My long hair, strong muscles, High Heels, beard, made up face and bare chest. I love when an audience can fall in love with my performance without focusing so much on what to label it.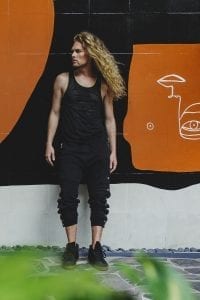 Have you made sacrifices for Pole Dancing and what were those?
Yes, I´ve sacrificed for one my body, it's a really hard sport, my shoulder has never been the same, my hip has never been the same, it might just be my own genetics and the way I train but nobody argued that it's hard on the body. It's extreme levels of strength and flexibility which are hard to balance but that's what you're required to have when you pole dance. Travel is constant when you're a Pole Star and one day my boyfriend at the time told me "I don't have a boyfriend anymore because you're not here". I choose my career over the relationship. Basically, I just felt like this is a once in a lifetime opportunity to travel the world and to do what I love, so I'm going to do that and if you don't want to support me. . .and he didn't so we broke up.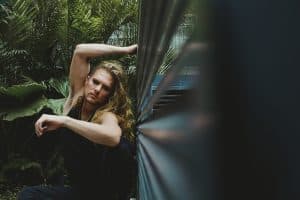 -So, you think it was worth it to make that sacrifice…
Yes, I like this quote by Lady Gaga, "When you're faced to have to have to choose between a career and a lover, just know that your career isn't going to wake up one day and say they don't love you anymore" and it's true.
Do you regret anything in your life?
No regrets; maybe I could have been kinder to myself, not worry so much, enjoyed the flow a little more…
Where do you see yourself ten years from now?
Ten Years? I see myself HAPPY and JOYOUS surrounded by a loving family, circle of trusted friends and colleagues. Well established in the performing Arts. Having won an Oscar for a leading role in a major motion picture and with money in the bank. Owning my own home/homes. Living in a peaceful world where the focus is on taking care of each other and this beautiful planet. With my husband and our 2 or 3 kids, a backyard for our animals and a dark room for my passion for photography. Giving back through community service. Having a strong foundation mentally, physically and spiritually that feeds my ability to express myself creatively. What's your type of guy?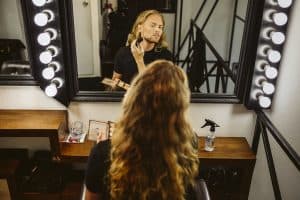 Tall, dark, handsome, moderately hairy, top, emotionally secure physically available and financially secure. Someone who accepts all of me the good and the bad, believes in me and supports my dreams. Smart, who I can share my thoughts fears and ideas with. Wise, light hearted and makes me laugh.
What do you like the most about Puerto Vallarta?
I love the locals, the Mexican culture, the weather, the nature, where I'm living because I feel like I'm in the middle of the jungle, the beach, I love that my
family is close by, I love that it's a small town but it's also a big vacation destination. I love the gay community, art scene, resturants/food and hospitality.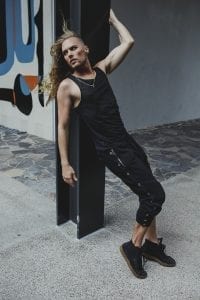 What do you enjoy most about pole dancing now?
I enjoy the person it's made me today. It's taught me to be resilient while going against the grain. To choose me before pleasing others for acceptance. I teach those principles in my dance classes. It's about loving yourself, being comfortable in your own skin, letting go of self judgement, showing up and stepping into your own power. I love to share that message to my students because it's important. I recently posted an advertisement for a class of mine and one of the first comments I got was, "weirdo you should be paying them for this." A perfect example of why I'm here because normally that would trigger me or anyone to reply in defense and perpetuate hate… but I know who I am, I accept and love myself. That comment was a direct reflection of who typed it, that's their baggage it has nothing to do with me. I hope to inspire people to have that perspective, to recognize and be aware that you're allowed to love and accept yourself even when others don't.