This post is also available in: Español
Spirit Airlines began its service to the Puerto Vallarta International Airport (PVR) offering direct flights to three cities in the United States, starting on July 1, 2021.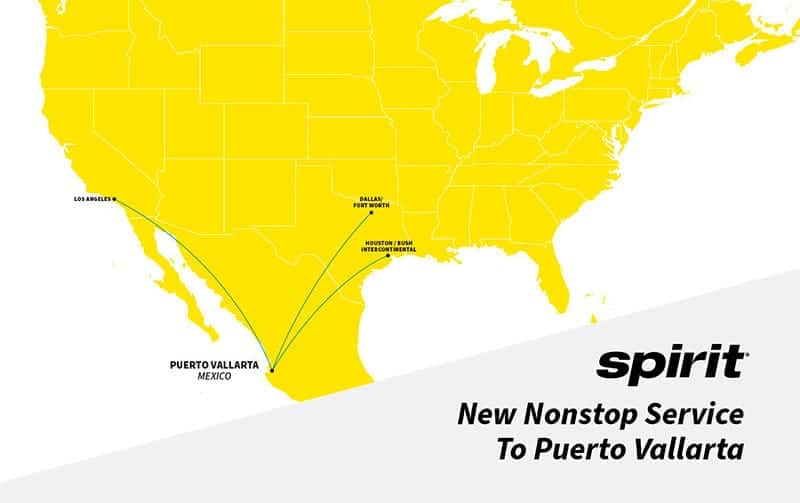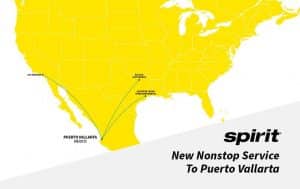 "We are very excited to officially begin our flights to Puerto Vallarta and to continue increasing our presence in Mexico," said Camilo Martelo, Director of International Airports for Spirit Airlines. "Offering our passengers convenient flights at low prices and to new destinations is what our airline is all about. We are very proud to welcome our new passengers from Puerto Vallarta. "
The airline will offer daily flights between Puerto Vallarta and Los Angeles International Airport (LAX), along with three weekly flights from Houston's George Bush Intercontinental Airport (IAH) and Dallas-Fort Worth International Airport (DFW), operating the Tuesdays, Thursdays and Sundays.
"The new offer from Spirit airline from these three major metropolises in the United States adds favorably to the international connectivity of the Puerto Vallarta Airport, providing direct connections and a better travel experience for passengers," said Cryshtian Amador Lizardi, Airport Director Puerto Vallarta International. "The Airport also contributes to the travel experience, with comfort and safety. That is why 3,600 million pesos (180 million dollars approx.) Is currently invested in a project that highlights the construction of an Airport Terminal that doubles the existing surface and takes care of the environment with a zero carbon footprint ( Net Zero). "
Spirit Airlines flights from Puerto Vallarta
Destination:
Available Flights: 
Start date:
  Los Angeles (LAX)
Daily
  1st of July
  Dallas – Fort Worth (DFW)
3x Week
  1st of July
  Houston (IAH)
3x Week
  1st of July
"We are very excited to welcome the new Spirit Airlines flights from Dallas, Houston and Los Angeles," said Luis Villaseñor, Director of the Puerto Vallarta Public Trust for Tourism Promotion and Advertising. "Los Angelinos and Tejanos are among our most frequent visitors, and Spirit's ultra-low rates and convenient hours make it easier than ever for travelers to these markets to access the sun, sand, food, and authentic Mexican culture. that Puerto Vallarta has to offer. It doesn't matter if it is your first visit or your twentieth or if you are coming for a short weekend or an extended stay, visitors will find a lot to explore and enjoy in Puerto Vallarta. "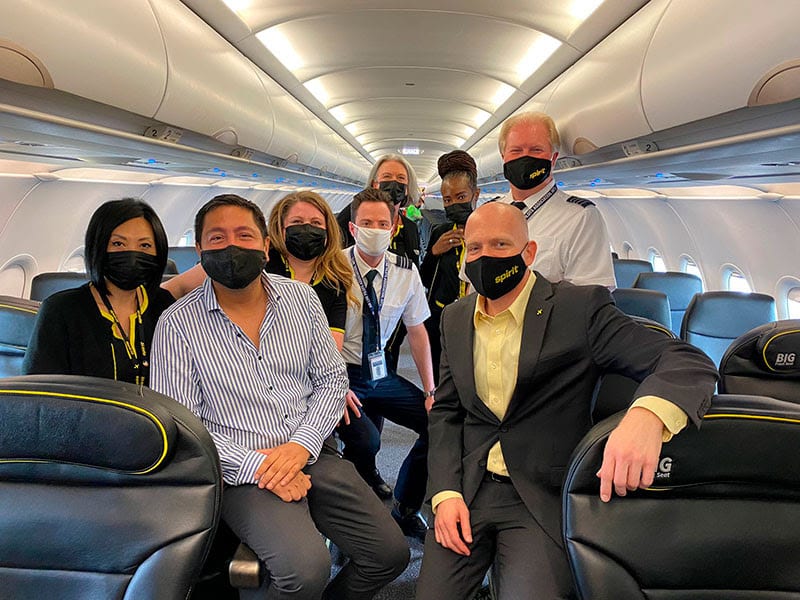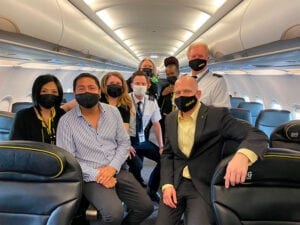 Passenger Safety
Spirit's commitment to Safe Travels includes improved cleaning, advanced air filtration and a health check-in at check-in. Airlines and airports remain subject to federal law that requires passengers to wear a proper face covering at airports and flights.
Related:
Spirit Airlines to Add Nonstop Flights to Puerto Vallarta Starting in July