Esta publicación también está disponible en:

Español
I was 21 and just looking for fun, but I found a beautiful city with a diverse community of people who accepted me with open arms.
I had been stuck in a small midwest town my whole life, and I needed an adventure. After receiving the vaccine, I was ready to leave. I packed up my bags, jumped in the car, and began my three-day trip to Puerto Vallarta.
I originally planned on only staying for a few weeks. I expected to find clubs, bars, and beaches. I was surprised when I discovered Puerto Vallarta had a thriving art scene, diverse cuisine, and romantic history. I began to fall in love with Puerto Vallarta. Soon my two-week trip became a month, then three, and finally I made the decision….I was going to move to Mexico. Did it seem crazy? Of course, it did! Did it seem oh-so-right? Absolutely.
I quickly made many new friends in Puerto Vallarta. My friends in Kansas mainly were white, 20-somethings, but here I had friends from around the world with a wealth of wisdom and experiences. They helped me figure out how to make the best of my life in Vallarta. They told me which taco stand had the best al pastor, which barbers wouldn't butcher my hair, and how to find the most affordable apartments.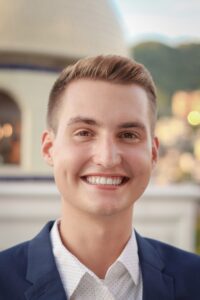 I found a beautiful house in Gringo Gulch, an old neighborhood located on the hill overlooking Centro and Zona Romantica. The street is safe, well-kept, and full of history. The house is right across from Casa Kimberly, Elizabeth Taylor's home, yes, THE Elizabeth Taylor, and it is super affordable too!
One of the many reasons I decided to live in Puerto Vallarta was work. I graduated in 2020 with a BFA in Musical Theatre, and at the time was wondering why I spent all that time and money on a degree I could not use due to the pandemic closing most theatres. I remember driving into Zona Romantica for the first time, seeing all the posters for currently running shows, and being so excited that theatre was still alive somewhere. It didn't take long for me to start performing at Act II, Incanto, Casa Karma, and Garbo.
Now, just six months later, I'm headlining my own show at the biggest theatre in town, I'm hosting a gay brunch at the number one restaurant in Vallarta, and I'm being featured in publications all across the bay. I couldn't have done it alone though, every friend I have met along the way helped me become who I am today. I still have a lot to learn. I'm only 22, after all! Luckily, Puerto Vallarta is the perfect place to figure out who you are and where you belong.
It all feels like a dream come true. I'm certainly not in Kansas anymore, and I am grateful to have found my place over the rainbow.
Related: