This post is also available in: Español
A favorite activity for many visiting Puerto Vallarta is spending the day relaxed on the beach. Depending on what you're into, Puerto Vallarta has some options for you. So look no further and let us give you the rundown so you come prepared.
Los Muertos Beach (aka the Gay Beach)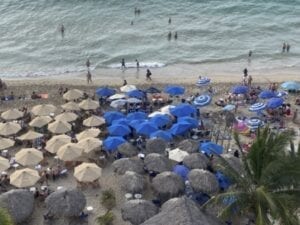 Without a doubt, one of the most popular beaches in PV is 'Playa Los Muertos', PV's own gay beach and very popular amongst gay travelers worldwide. It has topped many lists, including the 'best gay beach' list from Newsweek in 2019. It placed second just behind Hilton Beach from Tel Aviv, Israel. Why do people love it? PV's Los Muertos beach is one the largest gay beaches in Latin America with a very open-minded and friendly ambiance to go along with it. The location is also perfect; it is located in 'Zona Romantica', the gayborhood of PV where you can find many restaurants and gay bars.
If you want to find a spot to soak up the sun and spend the day, there are a few places you could go that will match your taste and what you're looking for. From south to north, these are the gay or gay-friendly beach clubs that offer the basics (chair and umbrella, food and drink service) and more:
Mantamar Beach Club. Known as the 'party spot', Mantamar offers a wide variety of services from your regular beach chairs, to lounge chairs, gazebos, cabanas, access to a pool, and DJs setting the mood.
Ritmos Beach Café. Dubbed 'Green Chairs' for the color of some of its beach chairs, it is a favorite of many. Ritmos offers a more laid-back atmosphere at the heart of Playa Los Muertos. Known to have one of the best customer service on the beach.
Blue Chairs. Being the first gay-friendly hotel in PV, the Blue Chairs beach club is very popular among foreigners and Mexican nationals. Although the beach area is smaller than its neighbors', you can easily spot Blue Chairs for the color of its beach chairs. You guessed it, its blue!
Sapphire. A more low-key and relaxed spot to spend the day. Sapphire offers access to a pool, lounge chairs, and convenient day-passes.
As you walk down the beach, you will find more places that offer similar services but do not target the gay tourist specifically as the spots mentioned above. If this sounds more like your taste, then by all means go and spend the day at any of those places. Remember that after all, PV is a very open-minded tourist town and it is very rare to encounter any issues relating to discrimination.
Other Great Beaches
The best beaches are down south of Puerto Vallarta along Bahía de Banderas. They may all not be within walking distance but are easy to get to. From the closest to furthest from PV, here is a list of the recommended beaches to visit and a way to get there:
Conchas Chinas Beach. Discrete and just minutes away from Zona Romantica. Take in the picturesque scenery and enjoy the sunset to end a perfect day. There are natural pools that form along the edge of the sea where you could see fish and other marine animals.
It is the closest beach south of Los Muertos Beach. Therefore, you can get there by foot if you enjoy an easy short walk. You can also get there by public transportation or taxi.
Los Colomitos Beach. One of the hidden and small beaches in PV with turquoise waters. We recommend visiting for only a short time since it does not have any restaurants or facilities. Perfect for a quick swim and as a stopover for other beaches nearby.
To get there you might want to get to Boca de Tomatlán first (a small fisherman town, also known as just 'Boca') and you get there by either taking a public bus or taxi, or you might even catch a water taxi from Los Muertos Pier. Once you get to Boca de Tomatlán, you can either take a water taxi or go on a fun one-mile hike.
Las Animas Beach. A remote beach in a small town perfect for a full day excursion. It has restaurants, bars, and activities such as parasailing and banana boat ride, and option to rent paddleboards.
This beach is only accessible by sea or by land in an over an hour hike from Boca (only for the strong and brave). You can take a water taxi from Boca, which is just about a 5 to 6 minute ride.
For more on the hour-long hike, look for our Paradise Beaches and a Hike – Great Day Excursion story for more details!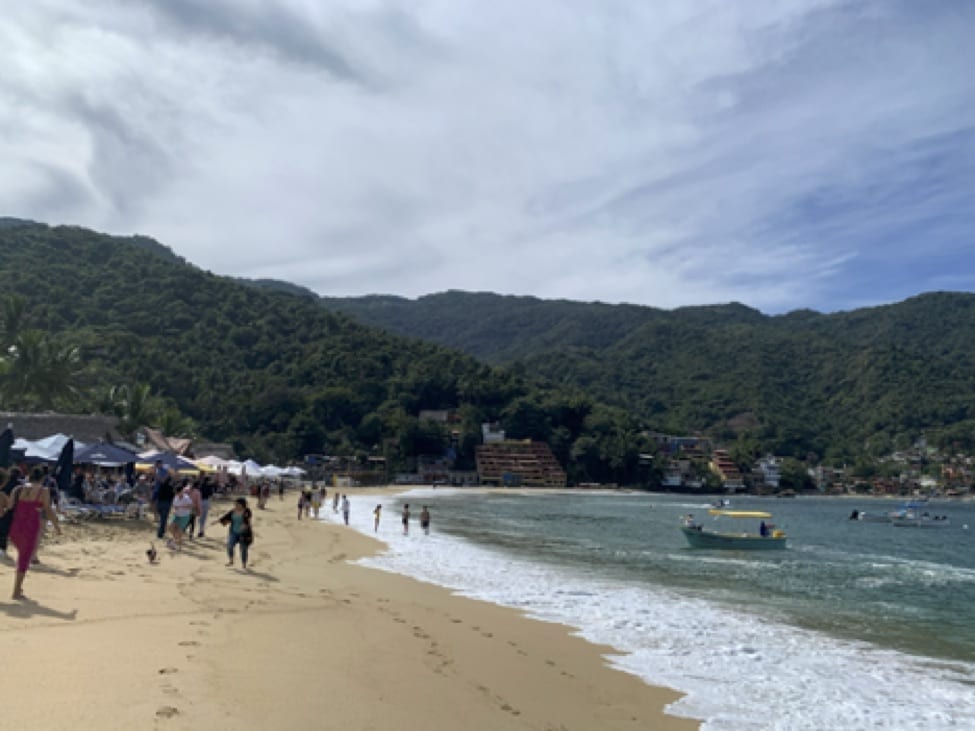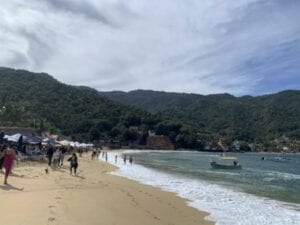 Yelapa Beach. A classic! This beach is perfect to just spend the day and relax. It has just a few restaurants, places to get a beach chair and umbrella, and even small hotels with the basic services.
To get here you would have to take a water taxi from Boca that takes around 40 minutes. It is only accessible by sea.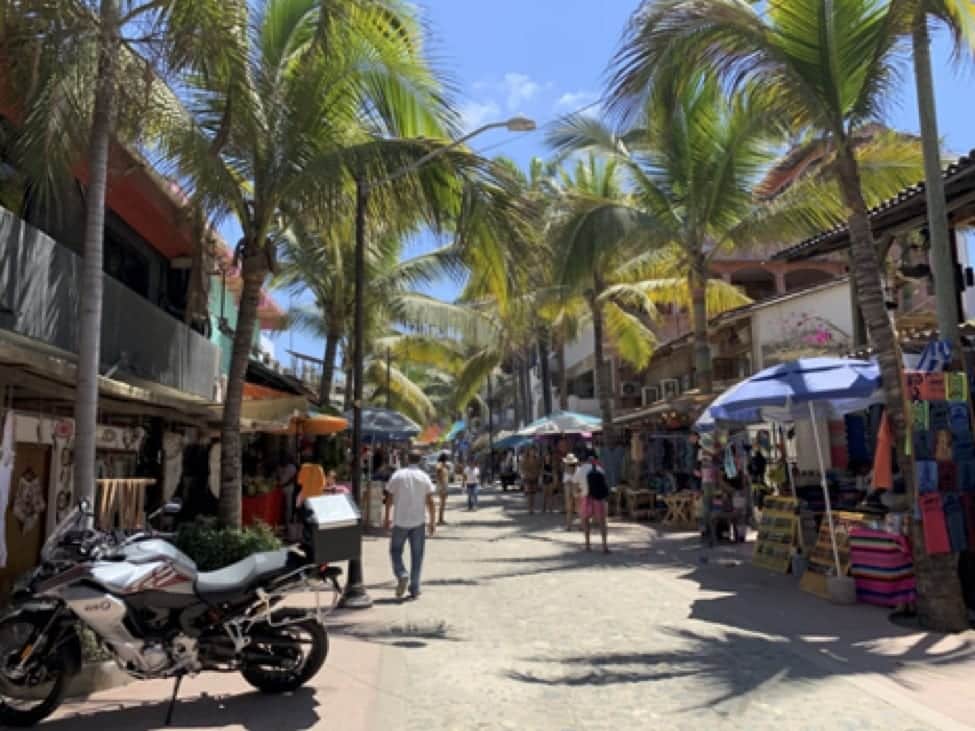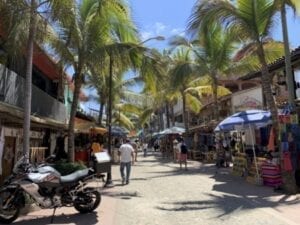 Sayulita. This gem is located north of PV and it is a surfers' paradise town. It is known for hosting international surfing and paddleboard competitions. It is a bit bigger than the other beach towns mentioned here so you will be able to find hotels, restaurants, bars, shops, and even surf lessons.
It is very much accessible; to get here you can hop on a bus, taxi, or your own vehicle. There are busses that depart from a bus stop by Francia and Berlin streets across the street from Coppel (department store) close to Zona Hotelera. The bus ride will take around an hour and ticket costs under $5 USD one way.
If you decide to go on any of these excursions, we recommend the following:
Bring sunscreen
Bring a plastic bag to keep your electronics and other valuables from getting wet
Bring cash as most do not take credit cards
Bring mosquito repellent
If you drink alcohol, stay away from the water
Take care of nature and the marine wildlife
Make sure not to leave trash behind
Hydrate yourself
Enjoy and take in the scenery
Take photos, share with friends, and tag outandaboutpv in instagram!