This post is also available in: Español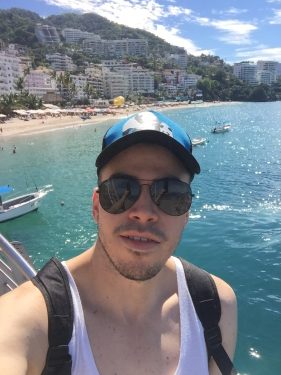 Moving to Puerto Vallarta… how it all came about was very unexpected and fast. It was one of those moments in life where things just come together at the precise moment and you just feel it inside you that its the right thing to do. As corny as that might sound, that is exactly how it happened.
I visited PV in November over a long weekend as a gift to myself after finally graduating from college. I had only been to PV once before so this Jalisco beach town was practically new to me. During my weekend trip, I had the chance to meet a few people, go to the beach (a gay beach! located by Blue Chairs Hotel), relax, and fall in love… in love with Puerto Vallarta! I just love the vibes here, and I must say, I was astounded at the amount of foreigners visiting, living and working here! I was also impressed at the thriving gay community. It would be amazing to live here, I thought to myself.
I left PV that weekend feeling different, not sure how to really describe it. All I knew is that I had to come back as soon as possible. And I did. A couple of weeks later I returned to this welcoming and charming town. This time I fell even more in love with the beach and the people. Now I definitely knew I had to come live here.
What it seemed like an innocent and random inquiry -and while relaxing on the beach-, I asked a friend who resides in PV if they had knowledge of any available jobs in the area. That is when he told me about O&APV and thier search for an editor. I was intrigued. I continued to sip on my strawberry margarita, thought about it for a minute and went ahead and applied. What did I have to lose, anyway?
The rest is history. I barely had any time to really sit and think about it. I had no set plans to move to PV either, at least not in the near NEAR future. It all happened so quick and it all felt right, you know? I honestly felt like I was doing what I was supposed to be doing at this point in my life. Nothing before in my life has ever felt this right, actually. Of course I was afraid, of course I was over the top nervous, of course I was going to miss my family back home, but that's what life is. That's what change is. That is what growing feels like.
I am now barely settling in into my new city, new job, and new community. I could not be more excited. This job as an editor for an acclaimed gay magazine in one of Mexico's best tourist spots and the premier LGBT vacation destination is beyond of what I could ever have imagined. I look forward to meeting everyone in our community and creating lasting relationships.