This post is also available in: Español
Alfredo Ramirez and his husband John Palmerton have been together long enough – 30 years – that they know each other probably better than they know themselves.
It's for that reason they both laughed when I asked where the name of their new gallery came from – Unfinished Gallery & Bar, located at Mina 183, Centro, Puerto Vallarta.
"Oh because in Alfredo's mind, nothing is ever finished," John explained with a laugh. "And so when we decided to take on this project, it seemed fitting to name the place as Unfinished Gallery and Bar."
Alfredo, who is an artist himself (furniture designer, metal works, and more), serves as the curator of the gallery, and went on to add that his view on things remaining "unfinished" was just a natural extension of life.
"You know, everything transforms as time passes," he said. "People keep growing; artists change and grow. Everyone will interpret things as they want and see, but for me, that's what 'unfinished' means."
The gallery and bar opened in Mid-September, 2022, and serves as a coffee shop, an art space, a meeting space, a bar and lounge. It's much more than just an art gallery. With areas for lounging, viewing the art and the rooftop terraces, you'll find it as an inviting spot for a glass of wine to just relax and catch up with friends.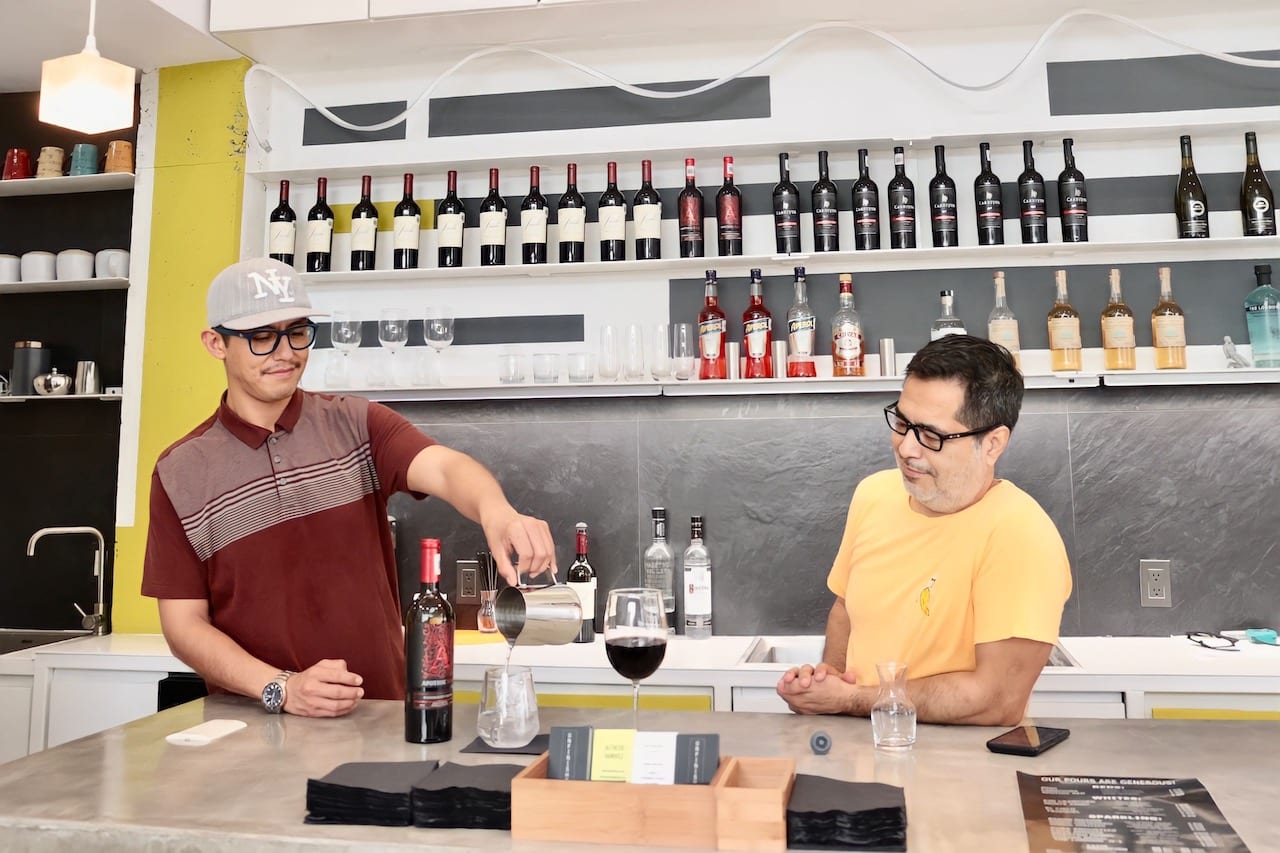 The bar menu includes coffee – espresso, latte, cappuccino, as well as beer, wine, mezcal, whisky and gin.
"We offer generous pours on our wine," Alfredo said. "Eight ounces of wine, and our liquor is all two ounce pours."
But, Alfredo added, it is, even in the bones of the structure, a place where new beginnings for artists can be found.
"We look to showcase local talent," he said. "Original and interesting and art that has quality. We also look to help new artists start out and springboard their career."
The gallery has even held a small show of some students who had displayed their art – with many of the pieces selling, surprising even the students.
The gallery and bar sit in what Alfredo says is one of the oldest structures in Puerto Vallarta. And they've left some of the history of the building intact, including a glass floor area where you can view some of the river boulders that were used in the building's original foundation. And there are exposed adobe walls in some areas, highlighting the building's age and history. The building is also a tribute to Alfredo's work as a metal work artist – the staircases leading up to the double decker rooftop terrace were all done by him.
"It took us about one and a half years to complete the renovation of the space," John explained. "Alfredo has truly made the building itself a work of art."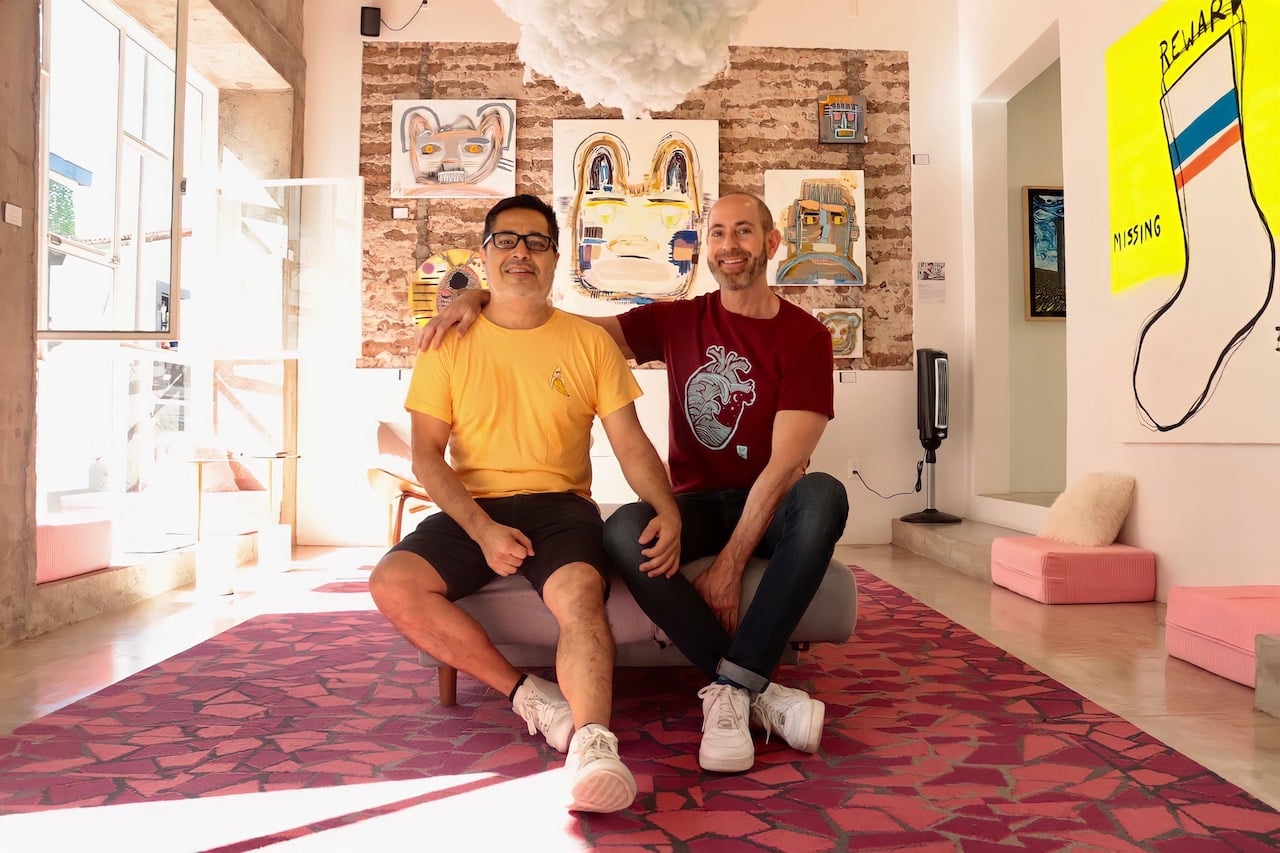 John and Alfredo have been visiting Puerto Vallarta for many years, and like many, fell in love with the city. A few years ago they purchased a home on Libertad in Centro and spent time renovating it. It will eventually have room for an artists workspace and offer workshops to the public. Alfredo lives in Puerto Vallarta full time, while John spends time between Los Angeles and Puerto Vallarta. John works as a lawyer in the California area.
Alfredo is happy to return to Mexico, having been born in Mexico City. He moved to the Los Angeles area when he was 19.
"We love Puerto Vallarta and are so happy to have created this space for people to enjoy and to be able to showcase new artists and give back to the community that we now call home," Alfredo said.
Need to Know:

Unfinished Gallery and Bar
Location: C. Mina 183, Centro, Puerto Vallarta
Facebook: https://m.facebook.com/100085904352269/
Instagram: https://www.instagram.com/unfinished.gallery/
Telephone: 3223651786
WhatsApp: +13109483797
Open 10 a.m. to 11 p.m. except Monday. Monday open 4 to 10 p.m.
Related Story: