This post is also available in: Español
Taylor Swift is back with her album Lover and the video of her second single, You Need To Calm Down is full of surprises in favor of the LGBT+ community. This video premiered on June 17 and shows a neighborhood of mobile homes or trailers full of color and joy, inhabited by celebrities who identify within the LGBTTTQI spectrum.
In April of this year, Taylor donated $113,000 to the Tennessee Equality Project, which seeks to improve the living conditions of the LGBT+ community in that state. In addition, she has used her concerts on some occasions to launch speeches in support of people who have been victims of discrimination because of their sexual orientation or gender identity.
Acoording to the information of mexico.com these are some of the moments of You Need To Calm Down that celebrate the LGBT Pride:
1. 'I am a rich man'
The singer and actress Cher is one of the biggest icons of the gay community in the United States; although she does not identify herself within the spectrum, she is an ally of the cause. In 1996, Cher told in an interview the time her mother gave her unsolicited advice: "Dear, you should one day settle down and marry a rich man," to which Cher replied: "Mom, I am a rich man". In her video, Taylor Swift includes a picture with this phrase of empowerment both female and LGBT+ community.
Taylor incluyendo la referencia de Cher cuando su madre decía "hija tienes que CALMARTE y encontrar a un hombre rico" y el dijo "Yo soy un hombre rico"

GRACIAS TAYLOR POR TANTO#YNTCDmusicvideo pic.twitter.com/e6hTePrI0X

— Yeli? (@taylenasunshine) 17 de junio de 2019
2.- Hannah Hart and Todrick Hall
Among the celebrities featured in the You Need To Calm Down video is the youtuber and internet personality Hannah Hart, who openly identifies herself as a lesbian. Hart is one of the best-known LGBT+ figures on YouTube. In addition appears the actor, singer and choreographer Todrick Hall, gay icon and another of the most vocal youtubers in their activism by the LGBT+ community.
I can't believe this actually happened!! For the record, @taylorswift13 is a DELIGHT. And she's really funny. Like makin' jokes, doin' bits… the best!

Watch #YNTCDMusicVideo and see if you can spot my workout routine. ?
?️?️?️?️https://t.co/jPGDzDqcga pic.twitter.com/Kt4lbVYsHk

— Hannah Hart (wrote a new cookbook!) (@harto) 17 de junio de 2019
3. Laverne Cox
Actress Laverne Cox has a scene in You Need To Calm Down. Cox jumped to fame thanks to her interpretation of Sophia Burset in Orange Is the New Black, a character with whom she shared features of her life. Laverne Cox is a trans woman and activist for the rights of the LGBT+ community.
 4.- Equal marriage
Among the several scenes that we can see in this video there is one in which the egalitarian marriage is celebrated with a brief wedding ceremony. The boyfriends on stage are actor Jesse Tyler Ferguson, known for his role as Mitchell in Modern Family, and his real life husband, Justin Mikita. The couple is an activist for the legalization of equal marriage and they have a non-profit company called Tie The Knot, which sells bow ties for the benefit of this cause.
Ver esta publicación en Instagram
5.- The guys from 'Queer Eye'
The Fabulous 5 of the Netflix reality Queer Eye were part of the cast of You Need To Calm Down. Karamo Brown, Antoni Porowski, Tan France, Jonathan Van Ness and Bobby Berk appear at different moments in the video, like at a tea party and walking elegantly through the park of mobile homes. The arrival of this iconic series to streaming generated a positive wave of attention to different queer themes; In addition, each of these children is an activist for the rights of the LGBT+ community.
Ver esta publicación en Instagram

WHO GAVE US PERMISSION? Had a shamazing time at @taylorswift's tea party for #YNTCDmusicvideo! ☕️? (P.S. Tan was on set filming his new show but we're so happy to be reunited with @todrick for this moment ?)
6.- The queens of the dragon
In the Taylor Swift video there is a nod to the RuPaul's Drag Race show, with a catwalk of drag queens dressed as pop stars (including a Taylor). RuPaul judges the beauty contest and establishes that all are queens equally, giving a message of support to the LGBT + community and also of feminine empowerment and sorority.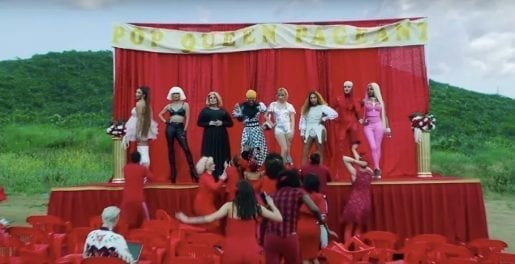 7.- Ellen Degeneres
In 1997, comedian Ellen Degeneres changed the television landscape by being the first protagonist of a sitcom to publicly come out of the closet both in real life and with her character within her Ellen program. He is currently an activist and has his own interview show, is a gay icon in the United States and appears getting a tattoo on You Need To Calm Down. Ellen received very strong criticism, a theme that is also echoed in the Taylor Swift song.
My friend @TaylorSwift13 asked me to be in her new music video, "You Need To Calm Down." It premieres tomorrow! Now I need to calm down. pic.twitter.com/NQFMY0e12q

— Ellen DeGeneres (@TheEllenShow) 16 de junio de 2019
8.- Ryan Reynolds
Canadian actor Ryan Reynolds made an appearance in You Need To Calm Down. Reynolds has an important career, but in recent years he is best known for playing the Marvel superhero Deadpool, who in the comics is openly pansexual and has no inhibitions. Ryan Reynolds is not exactly an activist of the LGBT+ community, but he has said he wants to explore his character's sexuality more thoroughly in future films of his saga, maybe that's why he appears in this video as a wink to the pansexual community.
To all my awesome, strong, hilarious and beautiful friends and family in the LGBTQ+ community… #HappyPrideMonth ❤️?????

— Ryan Reynolds (@VancityReynolds) 1 de junio de 2019
9.- Katy Perry
Taylor Swift and Katy Perry were estranged for five years by a combination of professional and personal issues. In this video they bury their differences and embrace each other. In addition to the fact that Perry's return to the life of Swift is by itself a pop culture event, Katy is an activist for the rights of the LGBT+ community and has even received recognition for her involvement in this fight.
10.- GLAAD
One of the most important aspects of You Need To Calm Down is in his "lyric video" and not precisely in the music video, it is part of the lyrics of the song. In this single, Taylor Swift sings: "You are somebody that we do not know / But you're coming at my friends like a missile / Why are you mad / When you could be GLAAD?". Swift plays a word game with "glad" that translates as "happy" and GLAAD, the Gay and Lesbian Alliance against defamation, one of the most important US organizations in the fight for LGBT rights.
Thank you @GMA and @RobinRoberts for having our campus ambassadors join you for @taylorswift13's #YNTCDMusicVideo premiere. ?

? Why are you mad when you could be GLAAD? ? pic.twitter.com/qifCCE2lZX

— GLAAD (@glaad) 17 de junio de 2019
11.- Petition for the Senate to support the Equality Act
The most important LGBT+ moment of You Need To Calm Down comes at the end of the video, with a call to action for Taylor fans and anyone who celebrates this cause. Swift asks his followers to sign their petition on Change.org for the US Senate to support the Equality Act that if voted on would result in an update of the Civil Rights Act of that country to prohibit discrimination based on sexual orientation and identity. of genre. "Let's show our pride to demand that, at a national level, our laws really treat all our citizens equally," the singer asks.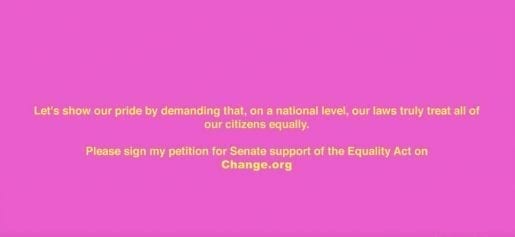 Now you know all about the scenes of You need to calm down. If you're impatient to see the full video, here it is. Do not forget to leave your comments below.