This post is also available in: Español
Where should you host your next retreat or business event? One of the best places to hold a retreat or event at the Punta Mita gated resort community, a small spear-headed peninsula that sits about an hour north of Puerto Vallarta-Banderas Bay and is the perfect place to bring like-minded people together.
Why Offer Luxury Retreats in Punta Mita? First, Punta Mita is a very exclusive private peninsula with several gated communities. Here, the wealthiest and most famous people have gorgeous and unparalleled beach estates. Besides, Punta Mita sits on the exact lateral coordinates of Hawaii, making it an ideal location to visit year-round as the weather is always perfect. In the winter, the temperatures average in the high seventies to low eighties, and in the summer, temperatures rarely go higher than the high eighties. Therefore, it is the ideal year-round climate for a retreat.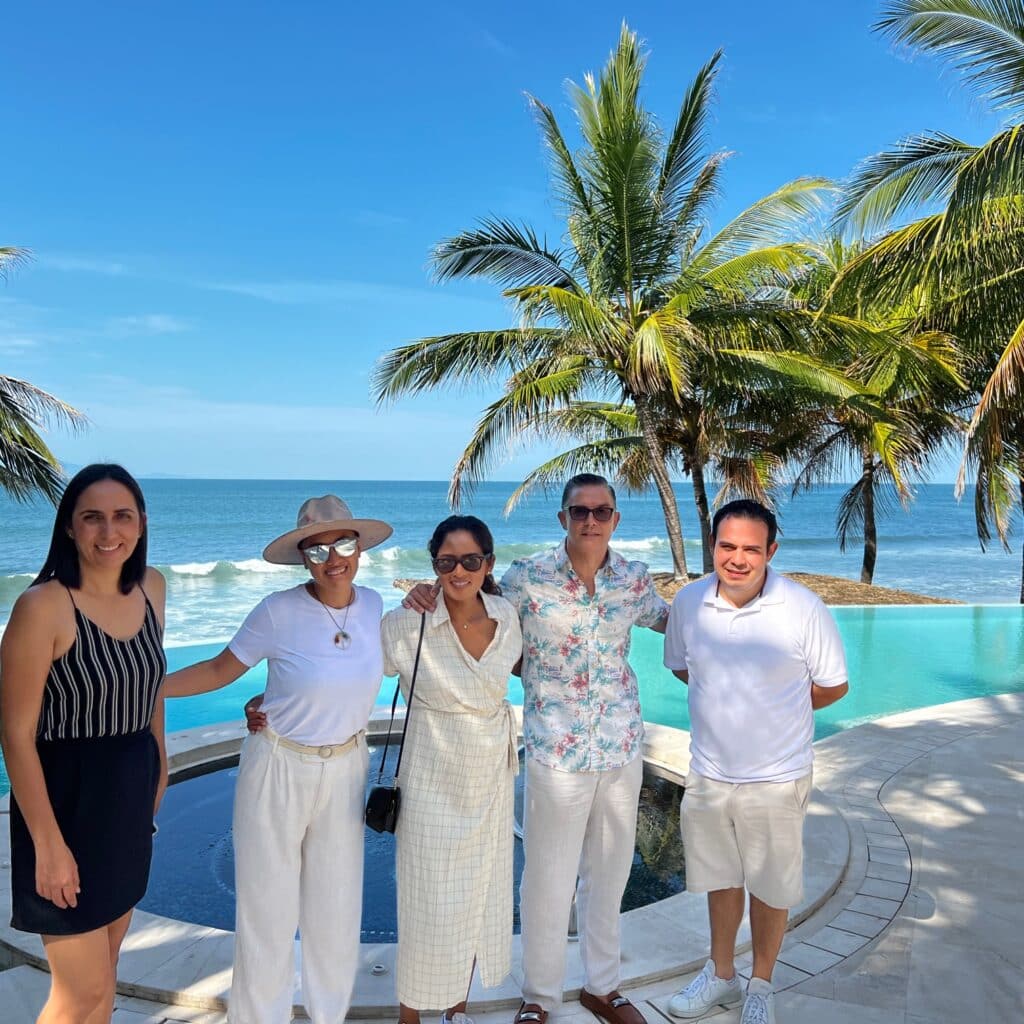 Puerto Vallarta Has an International Airport
Puerto Vallarta sits just 40 minutes away, and the city has an international airport. Flights arrive here from all major cities in the U.S. and Canada, with over 14 international airlines flying into Puerto Vallarta. When hosting a retreat or event, the availability of a nearby airport makes Punta Mita an area extremely easy to access. Most larger vacation rentals offer airport pick-up and drop-off services. All you need to do is schedule an airport pick-up and drop-off with the concierge or house manager.
Where Do You Start?
How do you get it all organized? Hosting a retreat is not all that difficult, providing you get organized and set up a step-by-step plan. So, before setting your intentions for the event or even setting them for your retreat, you need to set goals to help you and your client reach their purpose. First, sit down and decide on the number of people you will host and where you will stay. Next, decide on your budget, your length of stay, and the types of workshops you will give.
Determine Your Costs
Many retreat hosts choose an all-inclusive hotel and rent out a conference room to offer their retreat. The problem is that hotel retreats are very impersonal, no matter how exclusive. You have to share installations, restaurant areas, and pool areas with other hotel guests, so it can be hard to implement your workshops, healthy tips, or other stuff with total strangers. Not the best environment, even though the five-star hotels are plentiful in the Riviera Nayarit and Puerto Vallarta.
Choosing a luxury home rental or villa in the Bahia de Banderas or Punta Mita is the right option for you. The home can host your retreat guests and give you a place to offer your workshops and classes. These are ultra-luxurious large homes with services like housekeeping, concierge, butler, spa, and Chef. They are large enough to handle your workshops, and some houses even have entertainment spaces and movie theaters ideal for your presentation.
What Type of Luxury Villa Should You Reserve?
Three homes come to mind in this gated community when thinking of a retreat or a luxury home in Punta Mita for a large group.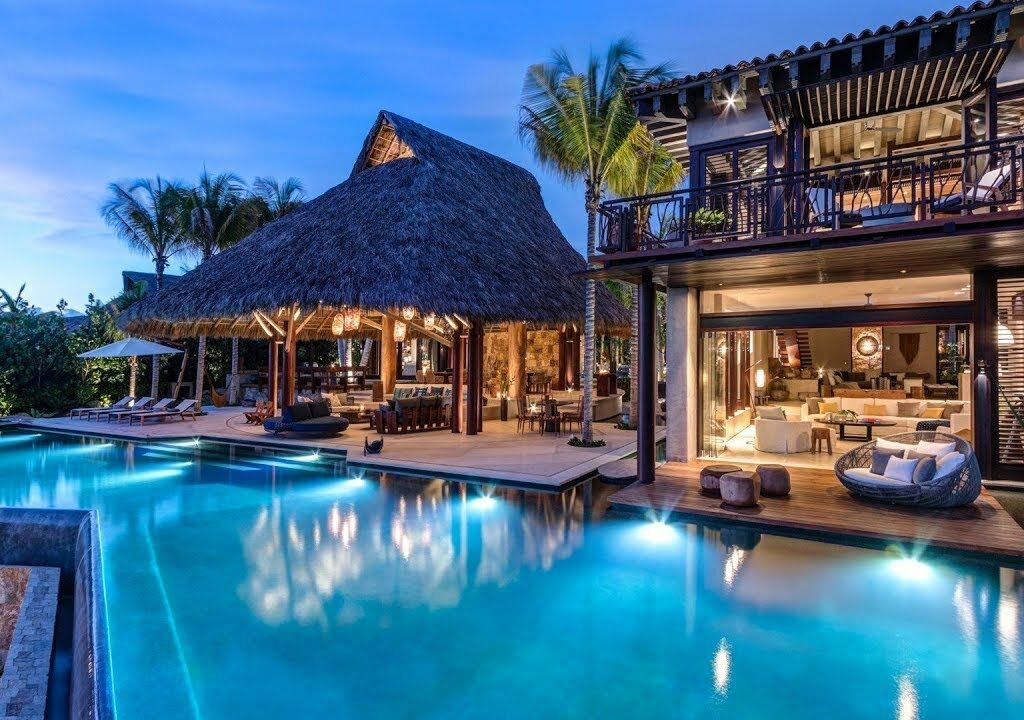 Located in the most exclusive Punta Mita residential community Casa Koko is a joy to behold. When your retreat guests walk in the door, they will be embraced in luxury and pampered to their heart's content. Casa Koko is designed by renowned architect Juan Collignon and interior designer Karen Collignon. It is a breathtaking nine-bedroom beachfront villa, ready to accommodate up to 22 guests. There is an entire staff with Concierge, House manager, Chef, waiters, and maids.
---
Tres Soles is a nine-bedroom home that perfectly blends elegance with luxurious amenities. It is considered one of Punta Mita's most beautiful beachfront vacation homes. The home is equipped with a house manager, assistant house manager, cook, sous chef, and kitchen stewards to help you with your retreat needs.
---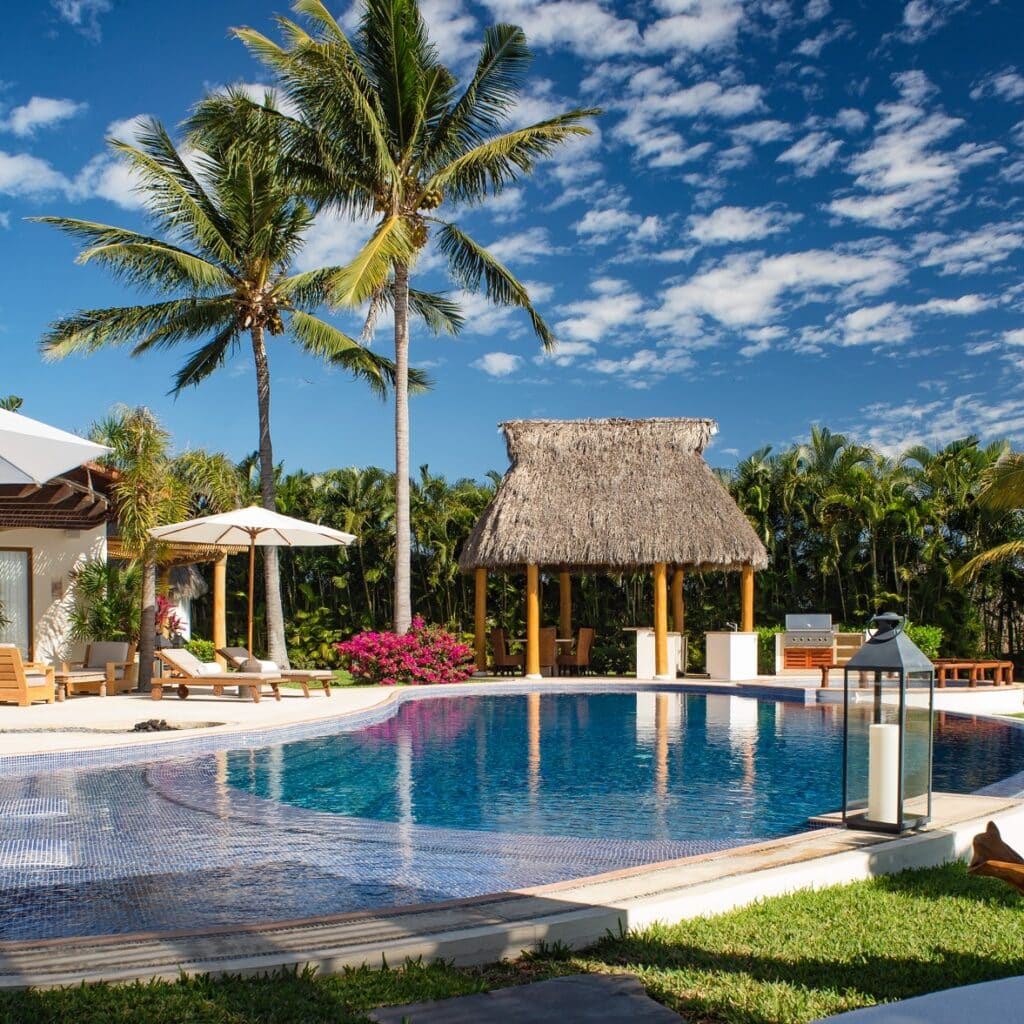 One of the few homes in the world certified as a five-star luxury beachfront villa, Casa del Faro has over 18,000 feet of fantastic architecture. This villa can amaze your senses with its architectural design and beauty. It is equipped with a full-time staff of 12 and is a home that offers you everything you need to run a successful retreat.
---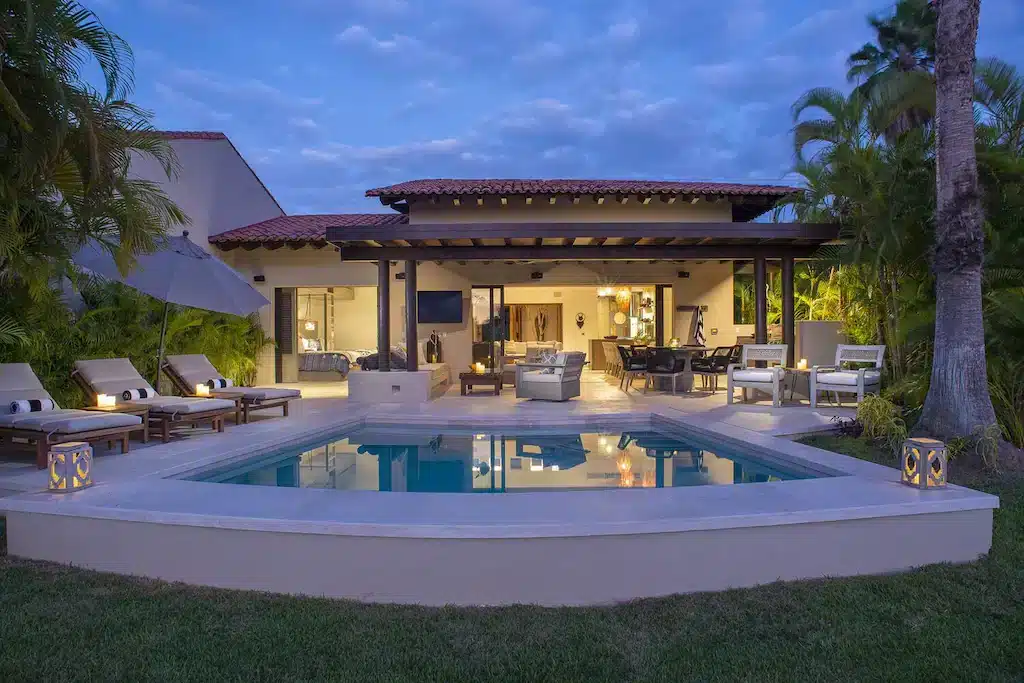 At the outset, this home seems like any other small villa in Punta Mita, but once you step inside the doors of this Punta Mita villa rental, you are amazed at its open feel, all placed in an intimate smaller home that sleeps up to eight guests.
---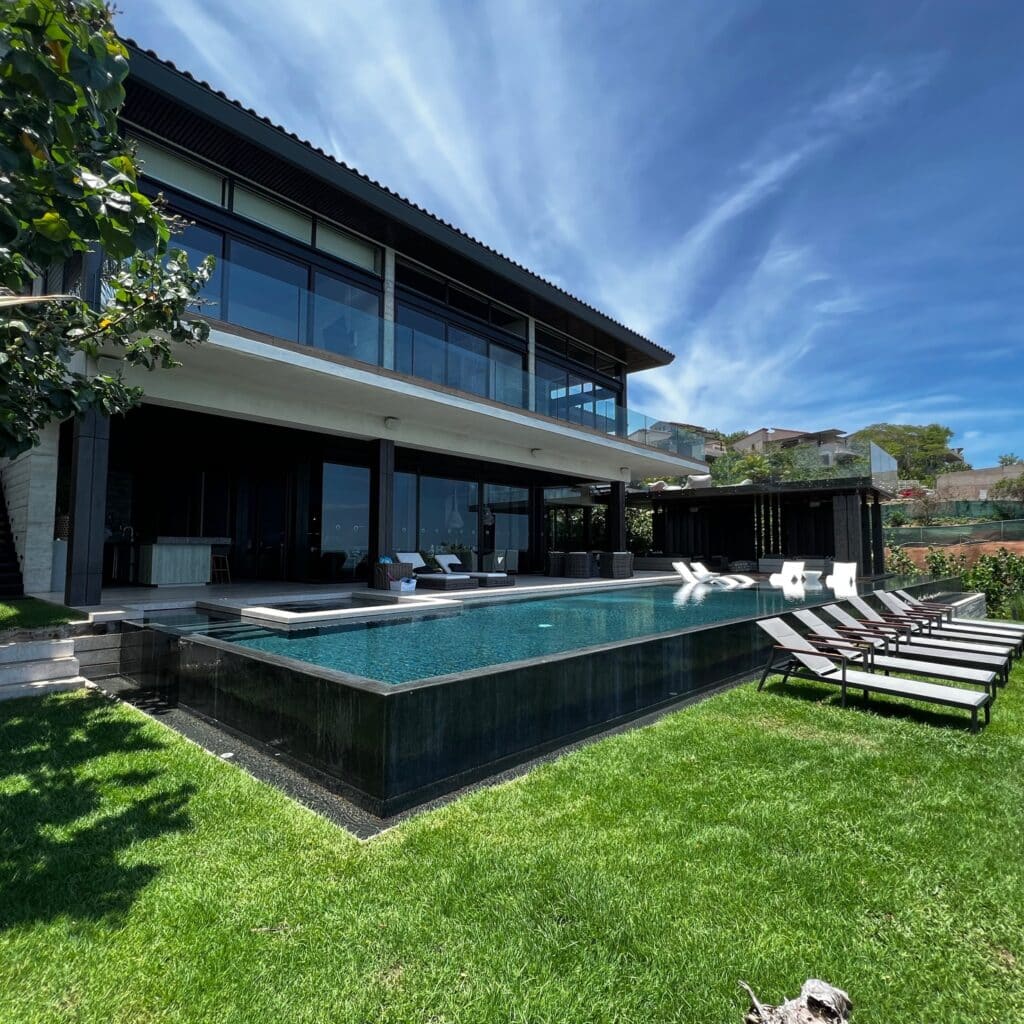 Casa Todo Bien – A home that delivers a holistic and contemporary feel. Using forethought and care, the designers complement the natural surroundings of the ocean and the gorgeous enclaves of Punta Mita beaches. This luxury home is beachfront and is one of the preferred rentals in Punta Mita. It is set in the exclusive Kupuri Estates and on a gorgeous beach.
---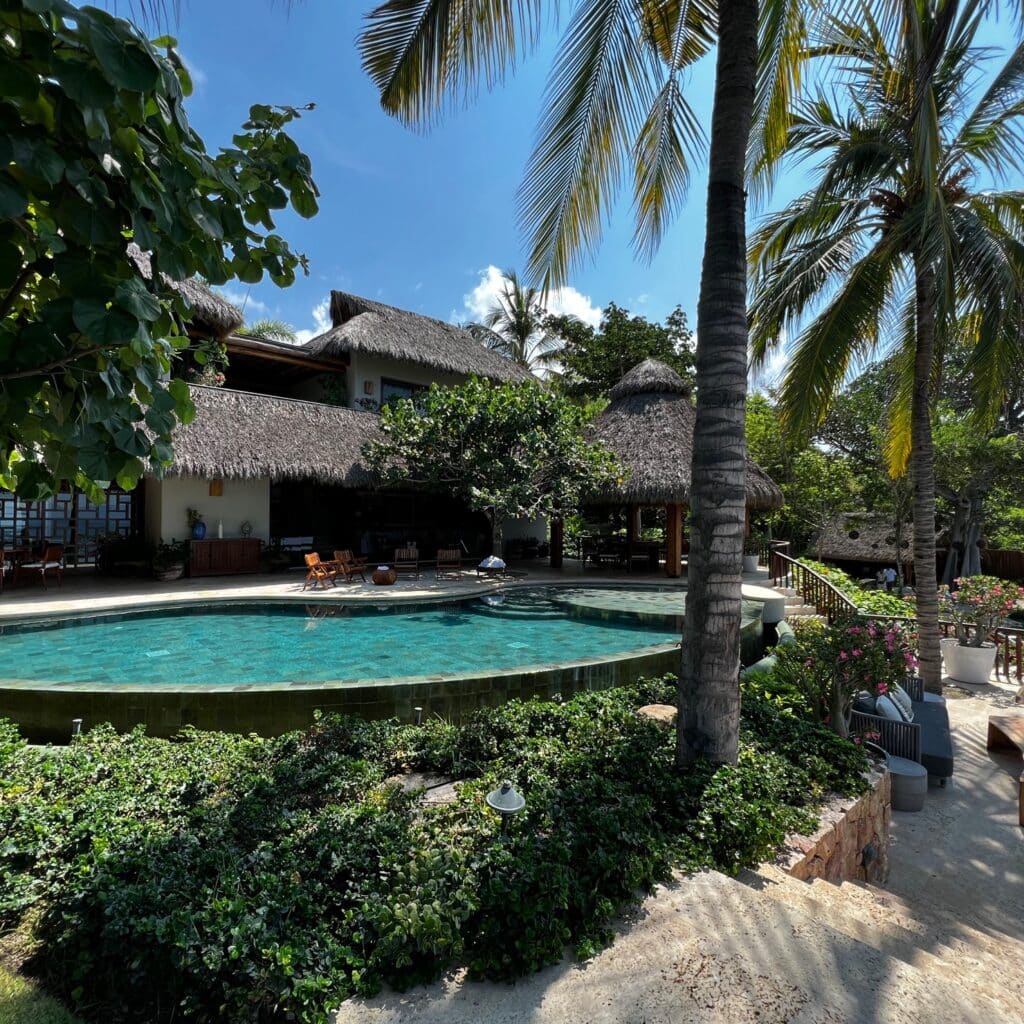 Villa Amanecer offers seven bedrooms, complete baths, two studios, a paddle tennis court, and a gym. Open terraces surround the house, a surf bar facing the ocean, a small palapa with a ten-person dining table, a second palapa with big benches and comfortable chairs to have the most impressive gatherings, salted water swimming pool, and Jacuzzi. Additional features include an unbelievable 12,000 Square foot lounging/entertaining space with an infinity pool, a comfortable TV room that can be open or closed, a fully air-conditioned, fully equipped kitchen with a clay pizza oven, and a dining/living area perfect for hosting.
---
All in All
When planning a retreat or event, finding your location and venue is the first place to start. Punta Mita luxury villa rentals are the ideal choice as they offer security, privacy, peace, relaxation, and above all, a luxurious setting.
Related Story: