This post is also available in:

Español
Luis Valdez wants to open a new window in your world by teaching you a new language.
He recently started teaching English and Spanish classes in Puerto Vallarta. His classes are small, intimate and designed for lots of one-on-one learning time.
Luis has many passions in life. One is music – he is a music producer, singer and songwriter. The other is teaching languages. Make no mistake. Music is probably his first love, and language teaching his sweet mistress.
On the musical front – he has his own YouTube channel – that has more than 26,000 subscribers, with his most popular performance having more than 900,000 views. Since establishing his channel in 2010, he's netted an amazing 5,863,226 views of his work.
"Music is and always has been a passion of mine," he explained. "My YouTube channel has grown over the years, and started as a way of me sharing my favorite hobby of singing. My channel grew and when I recorded my version of Creo en mí by Natalia Jiménez, international star and ex-vocalist of La Quinta Estación, I started receiving comments from people all over the world and eventually, from Natalia herself. I met her at a concert a year later. At the end of the concert she invited me to her dressing room and we talked for a long time. She told me that she was aware of my work, that she knew who I was and that I should not stop singing and making an effort."
He's been a teacher for more than 15 years, evolving from teaching people how to play on various musical instruments, to learning new languages.
"I taught piano in my teens, and after I graduated college, I taught piano and violin, orchestra, band, and choir. At some point, I was teaching almost 1000 students in my hometown at the same time," he explained. "When I moved to Juarez City to get my degree in Music Production, I started teaching English and French. I was very passionate about education so I worked on getting another degree, this time in Pedagogy. "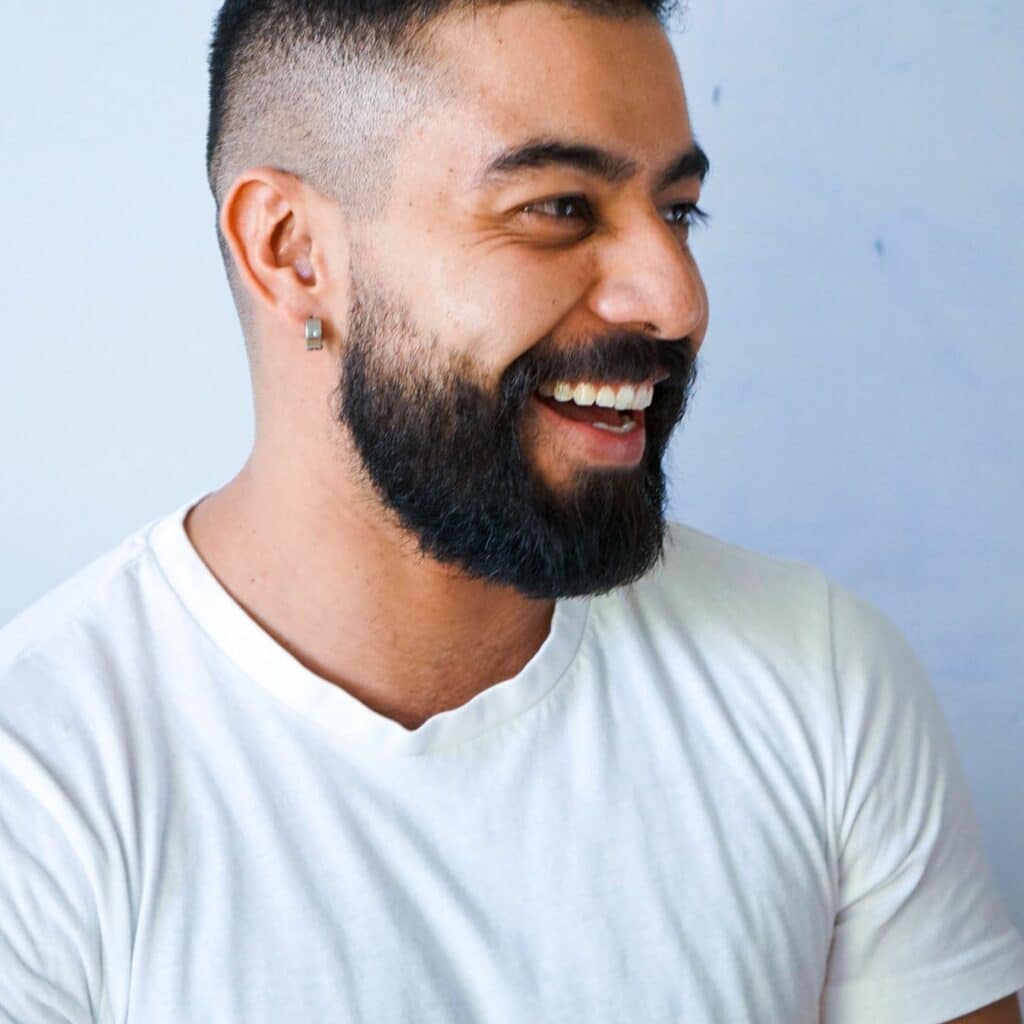 Not long ago Luis was approached by Mike Owens, owner of Therapy Bar and Studs Bear Bar, to teach English to his employees.
"Mike was looking for someone to help his employees better connect with their customers," he explained. "And so our English classes began, focusing on the basics of introductions and asking the customers what they needed."
It was then Mike asked him to teach Spanish to himself and a few friends. After a few of these sessions, Luis discovered he loved these intimate sessions and conversations with his students. 
"Believe it or not, I had never taught Spanish before," he said with a laugh. "I've taught many, many English classes, but never a class in my native language."
He said he'd always had an interest in learning English. While he found it challenging, he had picked up quite a bit of the English language while playing video games and through his music.
"When I was in college, we would often sing in the choir in different languages," he said. " It was challenging, but I enjoyed it. I also took French for fun and it made me realize how cool my own language (Spanish) was."
For those who want to learn a new language, Luis advises time and patience. It won't happen overnight. And go into your lessons with some clear goals in mind.
"Setting goals is key to learning. Realistic goals, that is," he said. "Do you want to travel and be able to order food in your target language? Do you want to flirt with that exotic cutie at the bar? Do you want to move to a different country and make a living there?"
And from there, he says, you will be able to map out a lesson plan that determines how often your class should meet, and how much study and practice.
During a class with Luis, he will use a variety of teaching strategies to help you learn. These will include music, songs, art, games, spaced repetition, role-playing, skill-based, and grammar-based exercises.
" It all comes down to the student I'm working with and what they seem to be drawn to," he said.
Since moving to Puerto Vallarta, Luis says he's seen nothing but love and support. It is, he says, the power of community.
"I also believe that a new window to the world opens when you learn a new language," he said. " I've been blessed to experience it several times during my lifetime; it's one of the greatest joys in the world. I wish for the people of my community to live that for themselves."
If you are interested in learning more about about an English, Spanish or French language class with Luis, you can reach him via WhatsApp at (+52) 1-322-237-9554 or email at elprofevaladez@gmail.com Prices start at $500 pesos per participant (up to four) and are held at Therapy Bar, Basilio Badillo, 283, Zona Romantica, Puerto Vallarta.