This post is also available in: Español
The way to know a place is to experience its culture and the essence of its people. In Puerto Vallarta, one of the best places to do that is in the historic downtown area, as this is the area that blends traditional Mexico with the modern environment of a top tourist destination.

Suppose you are planning a visit to Puerto Vallarta and want to feel like you are a part of the city, explore its small cobblestone streets, and see its unique little white houses with red-tiled roofs. If that is the case, you want to visit this area of Vallarta, learn about its unique history and people, and take in all of the vistas of the Mexican Pacific Coast.
Here, you can act like a local, visit and eat in traditional restaurants, see local artists working, and bargain with them to take home some of the most interesting souvenirs. You will be taken aback by the people's hospitality here. In the historic downtown area, you can walk everywhere, enjoy the proximity to everything, and talk to everyone. Best of all, you don't have to worry about transportation when staying close to the downtown area.

Indeed, staying in one of the exclusive Puerto Vallarta villas in private neighborhoods but
close enough to walk to Downtown Puerto Vallarta affords you convenience, but also
spectacular views of the mountains, the ocean, and even the town with its colonial and
contemporary structures, while at the same time, giving you the privacy and exclusivity you want.
These private villas offer you a secluded safe, and beautiful home as they are situated just outside the bustling city. It means that the noise and activity of town will not keep you awake, but you can enjoy it at will. No need to rent a car, hire a taxi, or plan a drive into town. These homes are located close enough for you to walk everywhere.

Where to Stay that's Close to Downtown?
One of the nicest neighborhoods is Las Amapas. It sits apart from the busyness of Puerto
Vallarta, yet close enough to walk into town and see and do everything.

Where Is Las Amapas Beach?
Las Amapas sits just to the south of the Zona Romantica, Puerto Vallarta. It is the small
beach that you arrive at when you climb over the rock formation known as el Pulpito (the
pulpit). Don't worry. Some steps take you to Las Amapas beach.

Three Gorgeous Homes in Las Amapas
There are three gorgeous and very exclusive vacation rental homes in Las Amapas.
What makes these vacation homes so pleasant for visitors is their privacy and proximity to
Los Muertos Beach and the Zona Romantica. Las Amapas is one of the best neighborhoods in Puerto Vallarta, and there are three rentals available in this area: Villa Amapas, Villa Marea Alta, and Villa Marea Baja.
These three homes have spectacular ocean views as they are all beachfront. Here guests are pampered and can enjoy services only available at top resorts, but best of all, these services are geared exclusively toward the house guests.  

So if you want a special drink or want to try the barman's exceptional mixology, you can, as each home has a barman and an outdoor bar area. If you are in the mood for something
delicious, not to worry. Just ask your chef to create something spectacular for your guests.

In all three of these homes, there is a profound aura of exclusivity, of peace. You can breathe it in from every room, terrace, garden area, and corner. Here you can lounge by the pool and enjoy the stunning view surrounding you like a vast jungle with flowers and sweet-smelling plants. Let the magnificent mountains embrace you as you sit and converse with the people you love. Take your time to drink in the endless Pacific Ocean as you relax in the pool or sit on the comfy sofa that looks out at the ocean.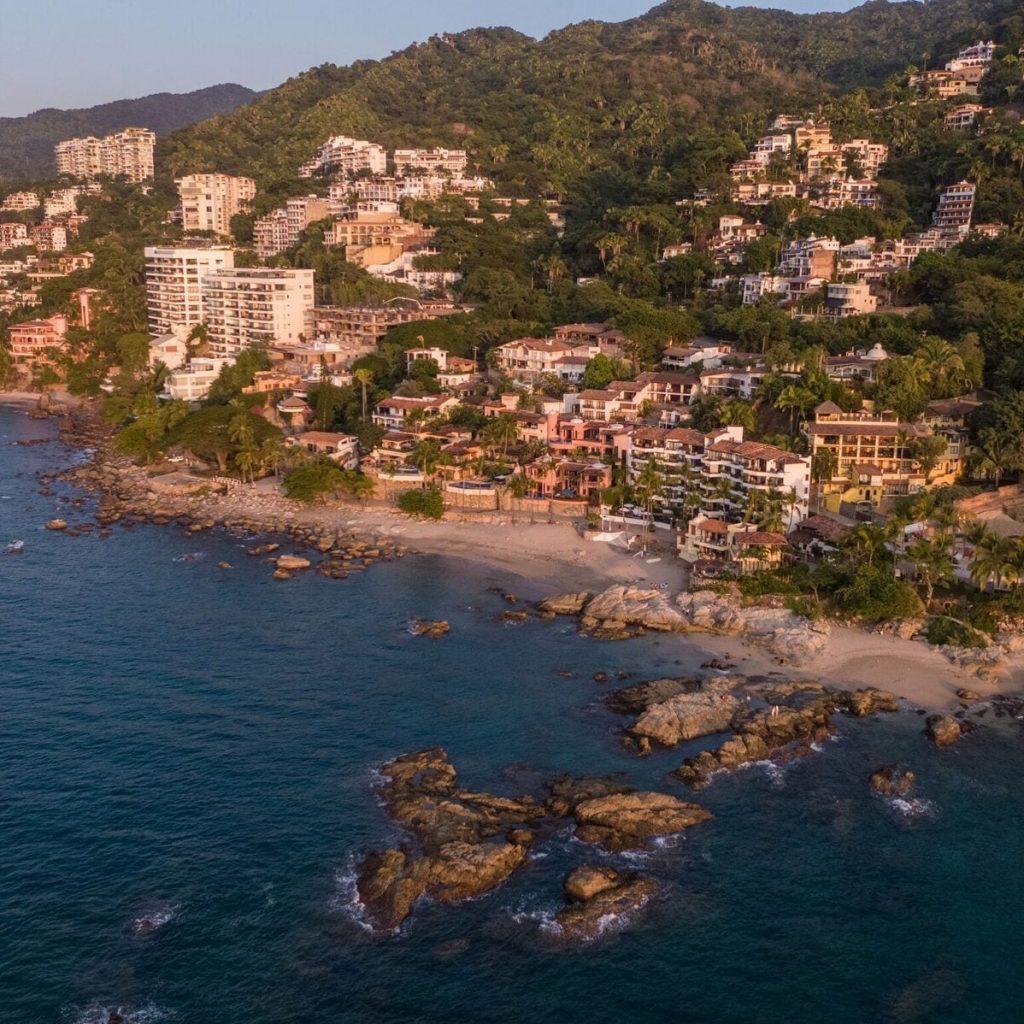 Villa Amapas Estate
There are two homes at the Villa Amapas Estate. Guests can book one villa, or if you are
coming with a large group, you can book both houses. Each of the Villa Amapas homes has
three-bedroom, three-bathroom suites. They are both two-level homes with the kitchen,
dining, one-bedroom suite, and living areas on the lower level and the other two bedrooms on the upper level. The living and dining area looks out over the Pacific ocean. There is also an extra room with two single beds that we can add on request.

Villa Marea Baja
This home is your home away from home. Villa Marea Baja sits on Las Amapas beach, and
is a short walk to the zona Romantica.It is a luxurious four-bedroom home overlooking the
ocean on Amapas. The design is in the tradition of Puerto Vallarta, a luxurious reminiscence
of old hacienda-style homes. Its high-ceiling rooms are appointed with rich furnishings
combined with the local arts and crafts of local artists and furnishing designers. The home
boasts 260-degree views of the bay and the town.

Villa Marea Alta
Marea Alta is located at the lower end of Conchas Chinas, a beach just south of Las Amapas
but still within walking distance of town. This beachfront home is styled like many traditional Puerto Vallarta homes with wide-open spaces, vaulted ceilings, and an air of the old, elegant Mexico with rooms inviting you to sit and live in peace and comfort. It is six thousand feet of comfort and luxury that can accommodate up to eight guests.
Villa Experience in Puerto Vallarta offers luxury vacation villa rentals in the most trendy
areas of Puerto Vallarta, including Conchas Chinas, Vallarta's South Shore, Mismaloya
Beach, the Romantic Zone, and Amapas. At Villa Experience, we know that 5* luxury isn't
just about beautiful accommodation. The little things make a big difference, especially when it comes to your precious vacation time. We also understand that everyone needs something different from their luxury vacation, whether it's pure relaxation, an exciting adventure, or immersion into a beautiful new culture. We've developed our dedicated concierge service to help create tailor-made vacations.