This post is also available in: Español
SETAC (SOLIDARITY ED THOMAS CIVIL ASSOCIATION), announced via a "story" posted on Instagram and Facebook on Thursday, Feb. 23, 2023, that it was being forced to discontinue providing free PREP to more than 500 uses of the program due to a lack of government funding.
The announcement, translated from Spanish to English reads:
"IMPORTANT NOTICE FOR OUR USERS RELEASE:
Sex life is pleasure, therefore we must have the tools necessary to carry it out in a healthy way. The right to Health includes timely and quality access, in a timely manner, to the
prevention and medical care services. We regret to inform you that due to the lack of commitment and response by part of the Secretary of Health of the State of Jalisco, the continuity of the PrEP program by canceling all appointments until further notice, because we have not received the necessary supplies for your care and attention, being affected 500 active users in the program as well such as people who are on the waiting list to enter the program. We continue working to resume the continuity of the program at the as soon as possible, however, this requires the active participation of the Jalisco Secretary of Health, for which we ask you to join by sending an email to coordinacionestatal.vih.its.vhc@amail.com letting them know how this interruption affects you. SINCERELY SOLIDARITY ED THOMAS CIVIL ASSOCIATION PrEP PROGRAM."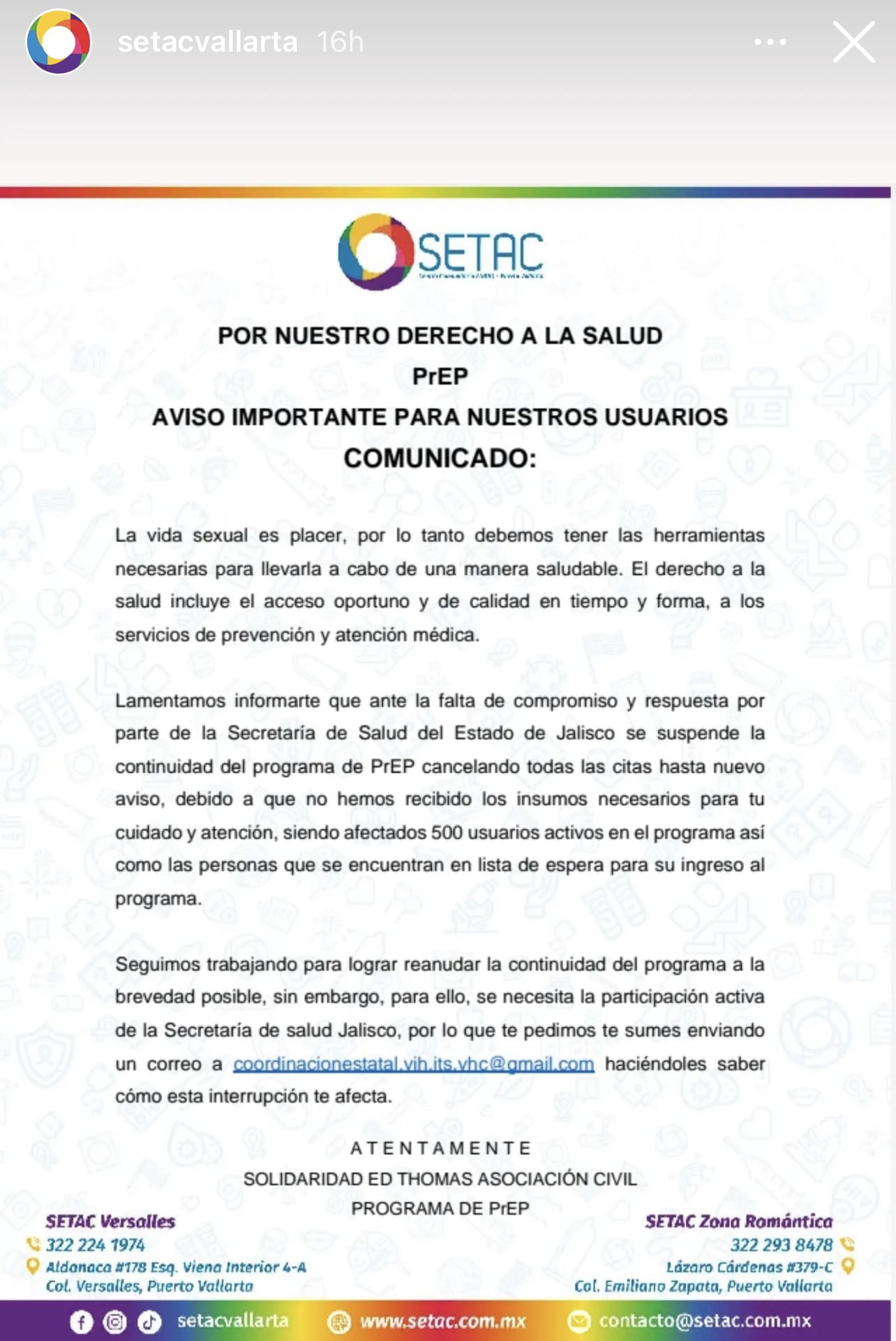 The notice did not appear on their website, nor on Facebook, only in a "story" posted on Instagram.
On Jan. 2, 2023, Claudia Iñiguez noted on a Facebook post that "It was approved to send a request to the Secretary of Health of Mexico City to be benefited with PReP treatment for 500 people through SETAC Vallarta , which prevents the transmission of HIV PR."
SETAC is a nonprofit organization dedicated to educate and distribute information about HIV and other sexually transmitted infections (STI). It just celebrated its 13th year of service.
SETAC began its PREP program back in 2018, noted GayPV in this story. The story noted that the program was for "Mexican nationals and full time residents of Puerto Vallarta, including those with a temporary or permanent resident card. The main qualification for non Mexicans is full time residency in Puerto Vallarta, as you must return every 3 month for tests and periodic checkups." That program was funded by The PREP program is being funded by the United Nations International Drug Purchase Facility (Unitaid). A story in OAPV in March 2020 noted that the program continued.

PREP can still be obtained in Puerto Vallarta, but this program was providing it for free to Mexican's and residents who met a certain criteria. So the announcement basically eliminates the free program.