This post is also available in:

Español
An incredible view and amazing cocktails, these are just two facets of ROOFTOP HOUSE, a cutting edge new space that recently opened to much fanfare.
Co-owned by Alejandra Mendoza and Pedro Soto, they share a seasoned background in the local bar scene. Alejandra spent over ten years as a beloved bartender at Apaches Martini and Cocktail Bar. She has nearly twenty years of bartending and managergerial experience, beginning her career when she was just five years old, Alejandra shared with me laughing. Pedro's experience is equally vast. He owned the former Nox Nightclub, and developed it into a local powerhouse prior to its closure some months ago. Alejandra was born in Puerto Vallarta, with family ties to Chihuahua, while Pedro was raised in a small town in Venezuela.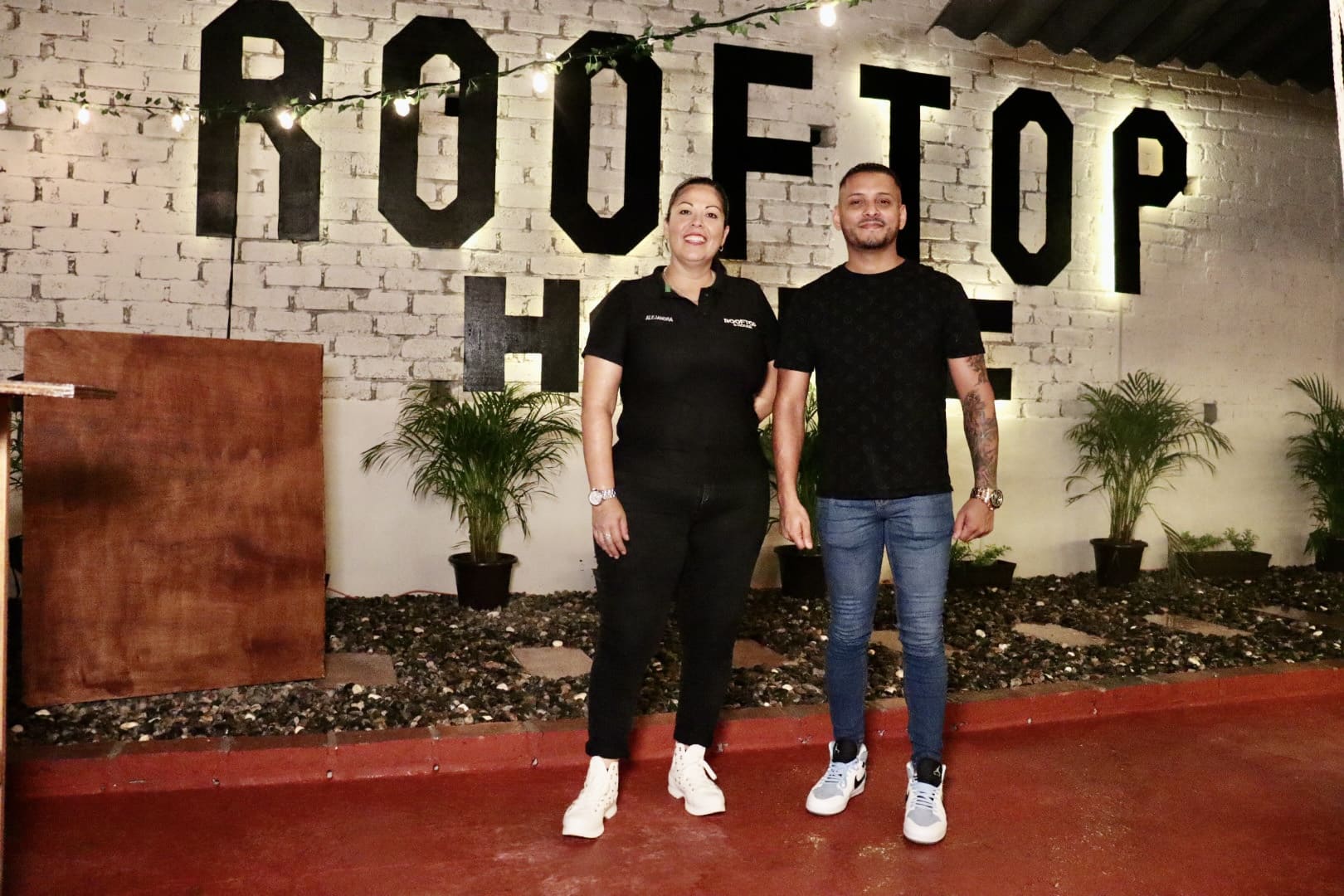 The business partners originally met seven years ago, lost touch for a time, but reconnected a few years ago. Both shared the dream of opening a unique concept bar, and as time progressed, they developed a plan with that goal in mind.
As I climbed the many steps up to the rooftop location on a recent evening, I was blown away at how encompassing the scenery was from this enviable vantage point.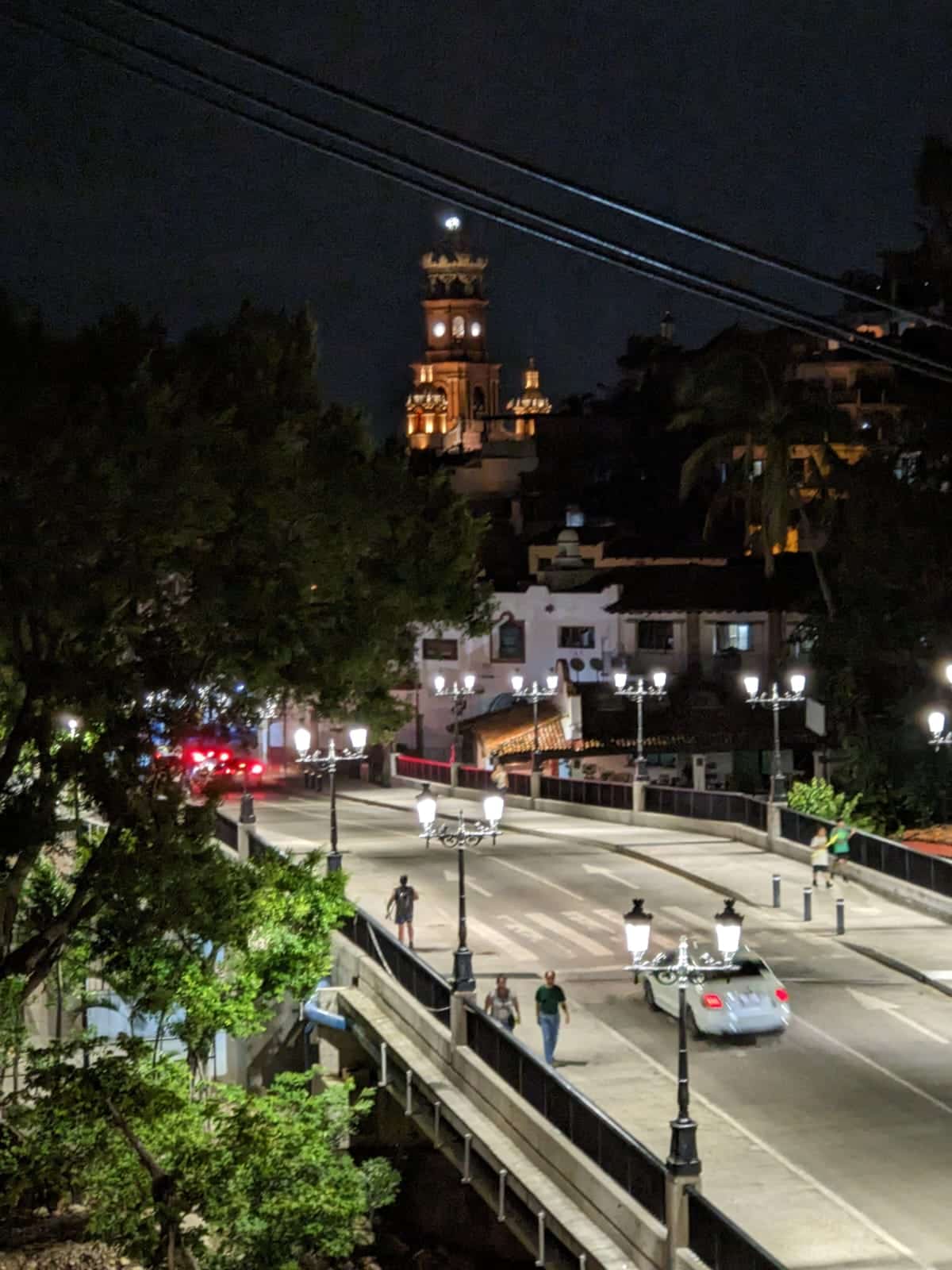 Located next to the Rio Cuale, pedestrians and cars could be seen traversing the new bridge nearby, while beyond, the famous Church of Our Lady of Guadalupe stood stately in the darkening sky. Rain clouds hung low over a backdrop of lush green mountains.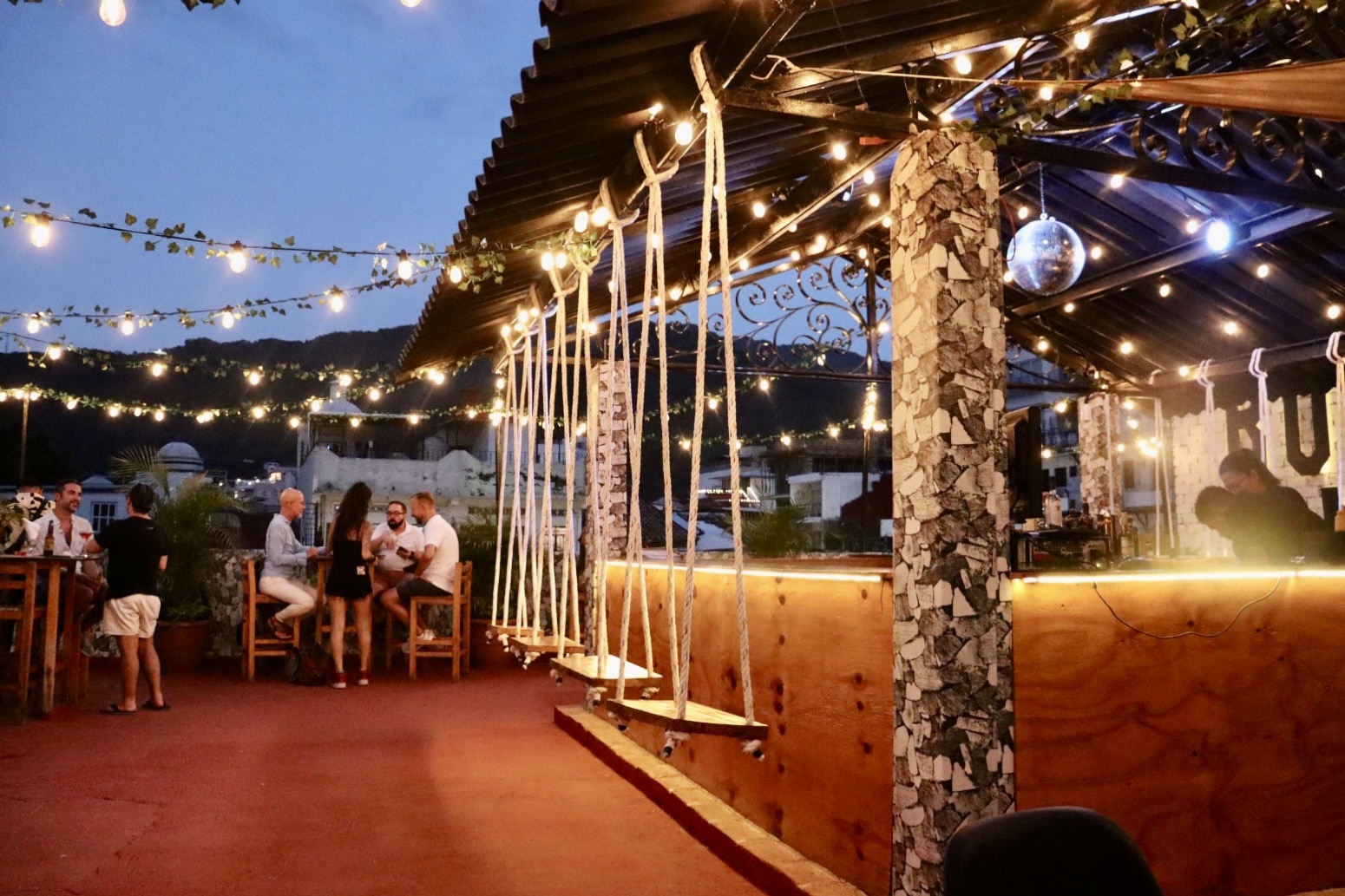 Gazing across the busy street of Insurgentes, I noticed the entrance to the legendary Incanto, alive with lights. At the center of ROOFTOP HOUSE stands a large square bar, covered by a framed metal roof, while fun wooden swings hang on either side. Above the bar, a grand silver disco ball spins colored lights in a continuous circular motion. Surrounding the periphery of the roof, tables and chairs are placed to enable patrons to take full advantage of the stellar views.
As I visited with Alejandra, I learned of the vision that is present to make this special space into a destination unto itself.
"We want to pair great mixology with DJ inspired house music, and soon to come international appetizers," Alejandra said with a smile. A DJ will rock the house, and as high season kicks in, will do so seven nights a week.
As the discussion turned to alcohol, Alejandra exclaimed "the Mezcal cocktails are f-ing amazing," as I was enjoying a Mezcalita at that very moment, I couldn't have agreed more. Continuing, we discussed the emphasis on Raicilla, and I learned many of the drinks featured at ROOFTOP HOUSE are personal recipes, learned with painstaking detail, over many years.
Expanding on this theme, Alejandra mentioned the presentation and flavor of each cocktail is of the utmost importance to her, Pedro, and the entire team. I observed a circular dehydrator sitting on the bar, containing slices of; orange, ginger, apple, grapefruit, lemon and strawberries inside. It is part of a special drying process which locks in the flavor of the garnish used in each drink. It is just one small detail that makes the cocktails served here so unique.
With so many exotic looking options to choose from, I wondered which one was Pedro's fave, and which one is Alejandra's top choice.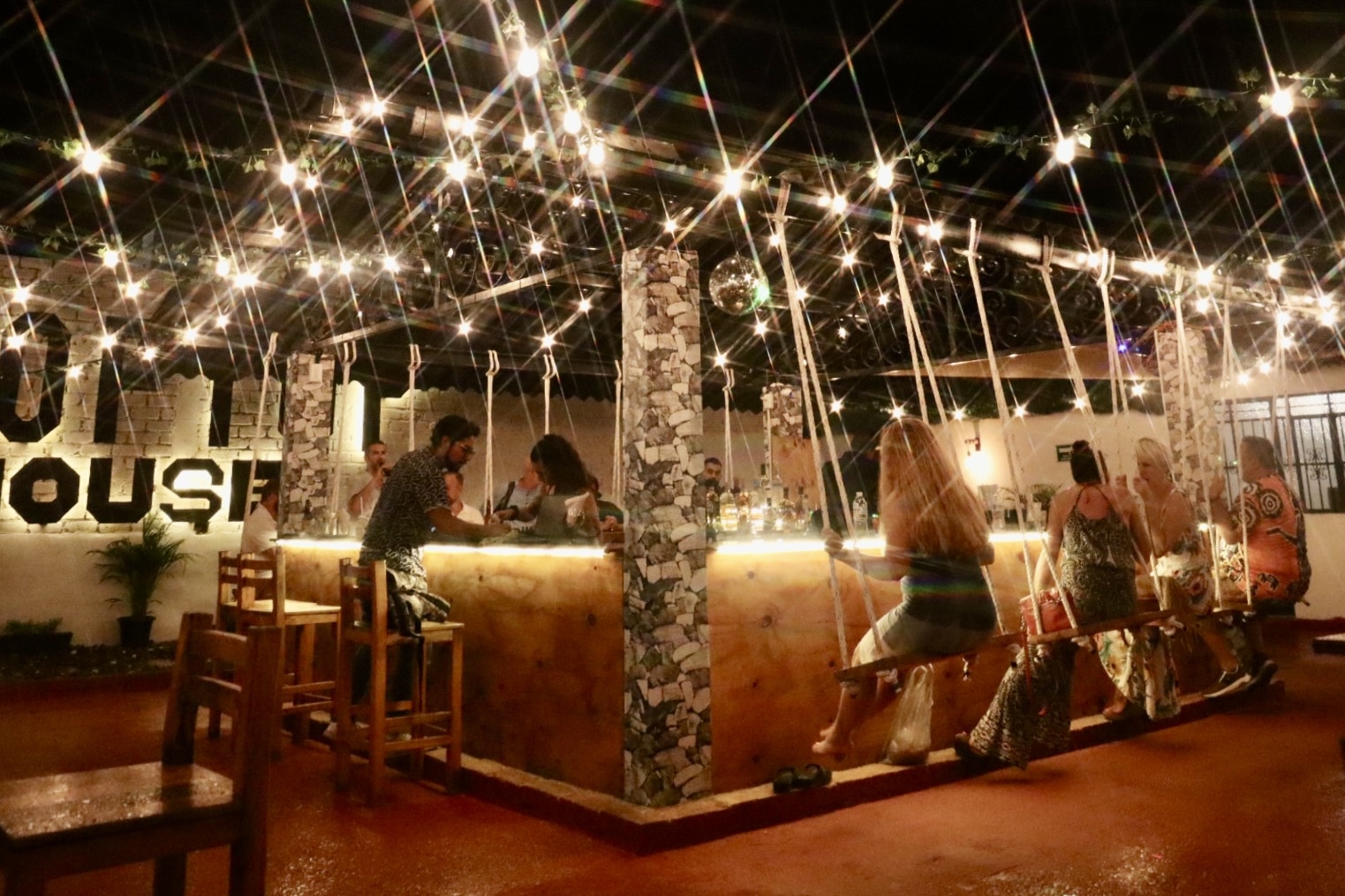 She paused, "Okay, we will talk about Pedro's first," continuing, she informed me that Pedro's favorite is the Rooftop House, which is made with Jack Daniel's Tennessee Whiskey, a basil garnish, and other special secret ingredients."
And yours, I asked? "It's the Coconut Roof, which is made with locally sourced Raicilla, a touch of coconut, and other special secret ingredients, it is very creamy, really smooth," she intoned.
Alejandra has always held family close, so it was fitting she shared with me the night of the grand opening her thoughts turned to her late Grandmother, Aurelia.
"She was my everything," Alejandra said with emotion, "Without her, none of this would have been possible." She then mentioned that her Mom, Carlota, and her "other Mom", her Aunt Coco, hand wove every coaster that you will see as you enjoy your libation.
As we concluded I asked, "When did you first get the idea to own a bar?" Alejandra reflected for a moment, before answering, "I had the dream for many years to own a bar, but the moment was never right," she continued, "I really feel good about this place, I have a feeling the moment is right."
ROOFTOP HOUSE
Hours of Operation 6:00pm to 2:00am Daily
5 de Febrero 342, Emiliano Zapata, 48380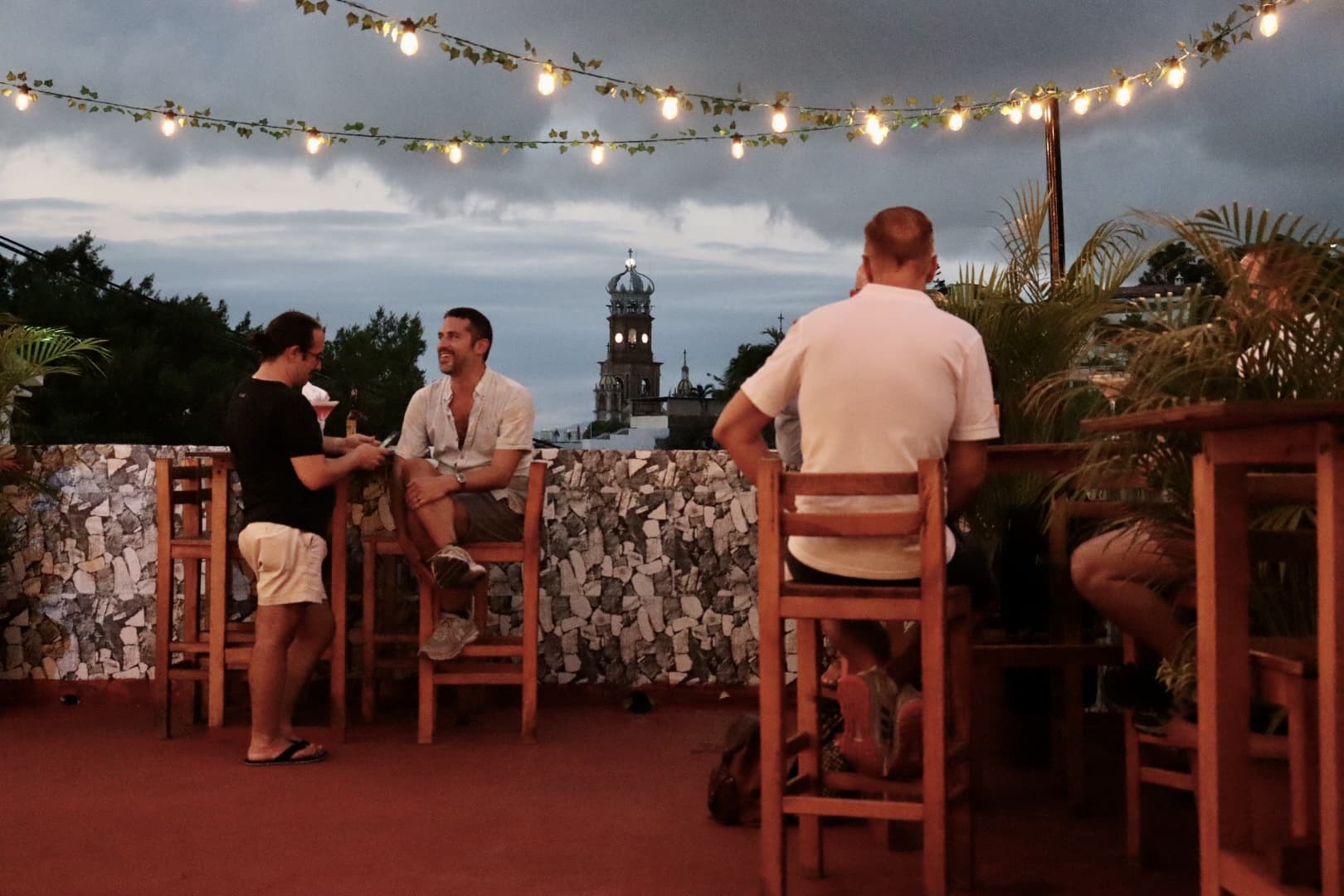 Related Stories