Esta publicación también está disponible en:

Español
LGBTQ Bars in and around Zona Romantica
In a city that rarely sleeps, Puerto Vallarta nightlife offers something for everyone. That statement couldn't be more true when it comes to LGBTQ+ bars and dance clubs. Nightlife is a fundamental part of Puerto Vallarta, and more so for the LGBTQ+ community.
How many times have you been on vacation, night comes and you have no idea where to go? We've got you covered with our 2022 Nightlife Guide, with a tour of the rainbow places that will help you know when and where to party. From something quiet so you can sit and have a drink and chat with friends,have a delicious dinner, see incredible drag shows and exciting strip shows to the best places to put those hips to work dancing and meeting new guys.
The party doesn't stop!
These LGBTQ + bars and clubs (mostly in the gayborhood, Zona Romantica) in and around Colonia Emiliano Zapata, are already favorites in the Puerto Vallarta environment. In the heat of a few good drinks and dancing, you can transport yourself to a crazy fantasy surrounded by beautiful bodies and ready to have fun until dawn.
The listings are in alphabetical order, by category, unless otherwise noted.
Featured Bars, Staff Picks:

Blue Diamond Bar
A boutique bar with all the style that you need to have a good time with friends. Set in a fresh modern look, Blue makes you feel like you are in an igloo but with the Vallarta climate. Its drink menu is simple but enough to please the most demanding. It ranges from beer to rum, tequila, and vodka. You can stay inside at one of its small tables or if you prefer outside it has a high bar where you can chat and feel in the party atmosphere of the gay circuit. The waiters are very friendly and are looking out for you all the time. They constantly have promotions on their drinks but it is not fixed, the day changes depending on the mood of the bar.
Address: Lázaro Cárdenas 279, Hours: 7 pm-2am
Website: https://www.facebook.com/BlueBarPV/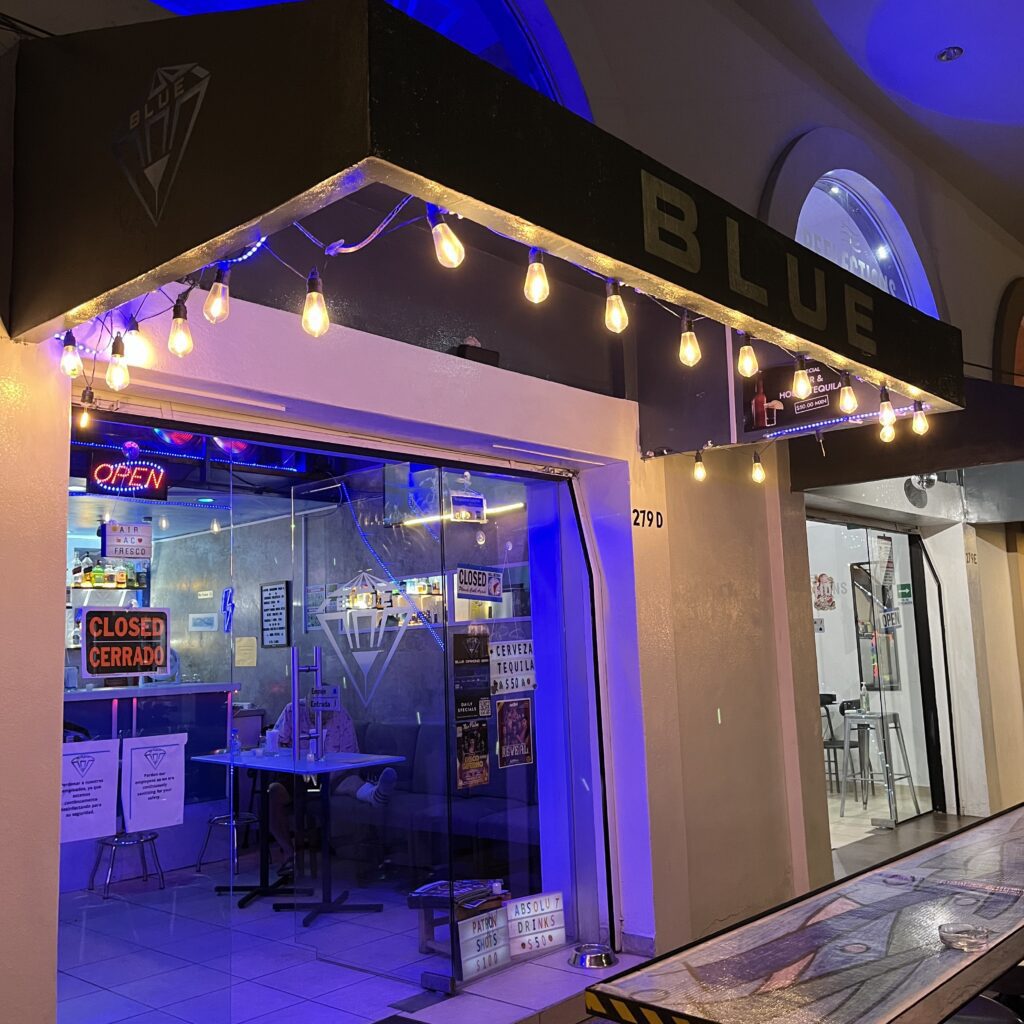 Elixir Mixology Bar
If you are looking for an original, delicious and innovative place to have a signature cocktail you must go to Elixir. This small cozy bar is unlike anything in PV and the attention of its staff is second to none. The bar is (to our knowledge) the only lesbian owned bar in PV, and the owners will do their best to make you a perfect craft cocktail and make you feel at ease. To accompany the drinks they have four options of truly exquisite snacks, which includes a choice of cold meats, cheeses, dates, hummus, fruits, peppers, mixed nuts among others. Elixir's owners support one hundred percent local businesses and for this reason they acquire small batches of artisanal liquors from different parts of Mexico. Hence the originality of their cocktails that makes it an experience to drink them. Going is an experience, from seeing their preparation at the bar to serving up your drink to you. For those of you who love to post to social media, this is your place! The drinks you order will be the most original drink you'll have while in PV! Elixir has strived to have the best mixologists and they really have, their dedication and passion is reflected in each combination. This little place is a gem that we wish will have a long life!
Address: Basilio Badillo 419, Hours: 6 pm-12amWebsite: https://www.facebook.com/elixirmixologybarpv/?ref=page_internal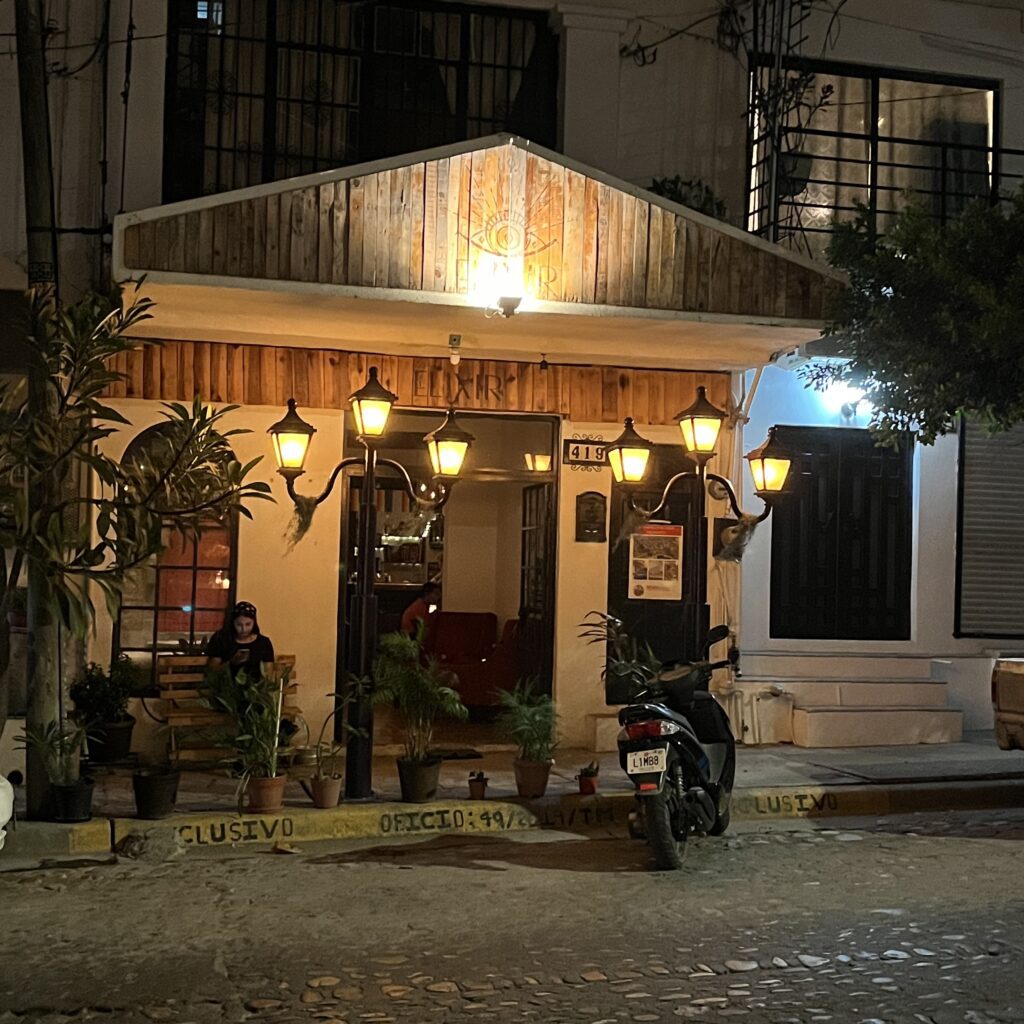 La Chachalaca Bar
One of the places enjoyed by the LGBTQ + community just a few feet from the famous Los Muertos Pier, La Chachalaca Bar, is an open and airy space where you can find a light atmosphere without pretense. The drinks menu at Chachalaca Bar is very varied, you can order the classic Martini, a delicious Margarita, sparkling wine, mezcal, cocktails and of course beer. They have a special mixed drinks section in case you are one of those who like something more elaborate. The house drink is a ChachaTini served with Vodka or Gin, Malibu Rum and Blue Curacao. Its food menu is also quite varied and perfect to accompany your drink. They have a good range of entrees including the traditional Nachos, Hamburgers, sandwiches, giant burritos and their specialties: MeatLoaf and Hawaiian chicken. La Chachalaca Bar also has a courtyard with tables and chairs if you prefer something more intimate. They are always offering great entertainment, and check their social media to catch a great drag show or sing karaoke. Enjoy their happy hour every day from 4-7pm with special priced drinks. La Chachalaca is definitely a place to spend the afternoon after sunbathing and resting on the beach with a delicious drink and meeting new friends.
Address: Francisca Rodríguez 136, Hours: 3 pm- 1am
Website: https://www.chachalacabar.com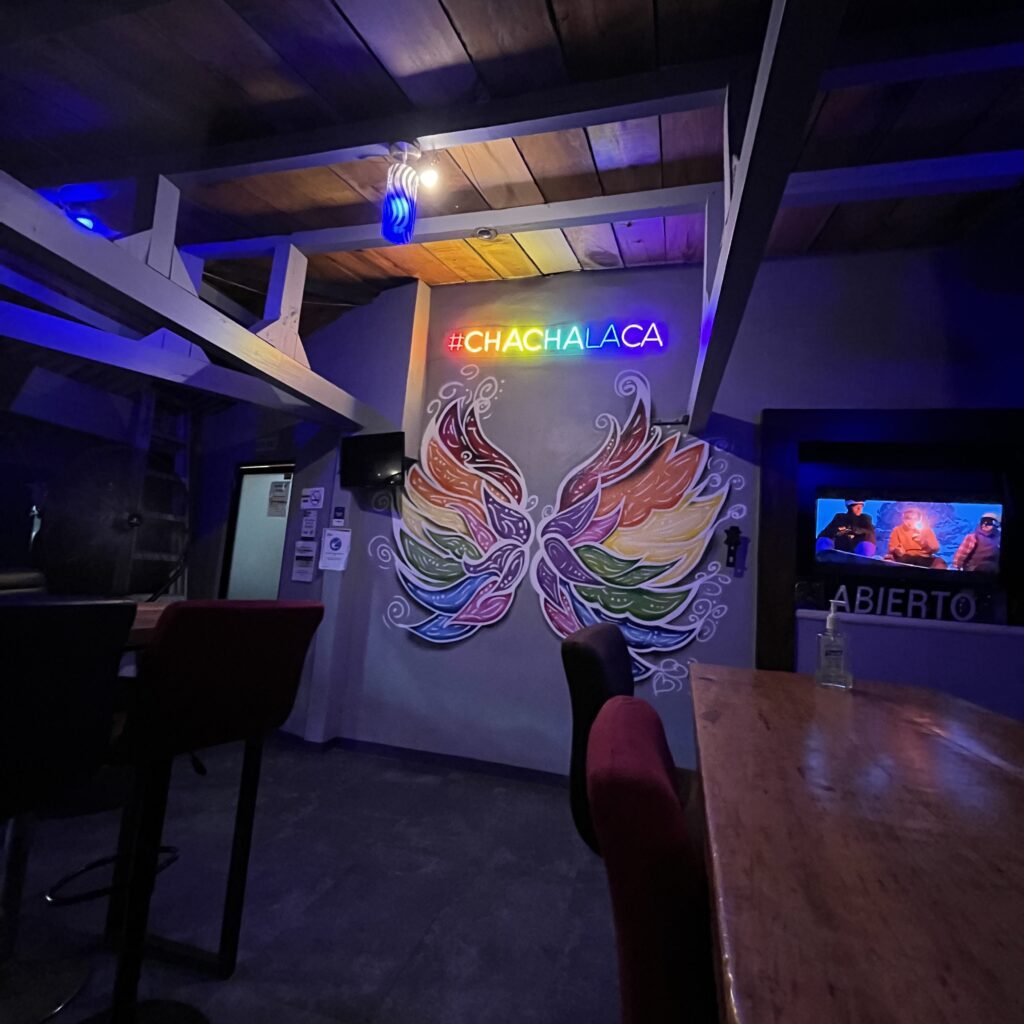 La Catrina Cantina
This beautiful bar offers some of the best live music in PV, so be sure to add it to your list of must go places. It's a Mexican cabaret that features local artists, dancers, singers and Drag Queens, as well as Spanish music. Their repertoire is quite varied and one night you can find an exponent of Mariachi or Ranchera music, as well as another day you can listen to Cumbia, Salsa or Mexican folk music. The atmosphere is friendly with patrons willing to have fun and meet new people. It is perfect for you to go with family or friends. If you want to have a different night, Catrina Cantina will not disappoint you. On Sundays they have happy hour at 6pm and 2×1 on food and drinks.
Address: Lázaro Cárdenas 315, Hours: 6 pm-3am
Website: https://www.facebook.com/La-Catrina-Cantina-112001270989272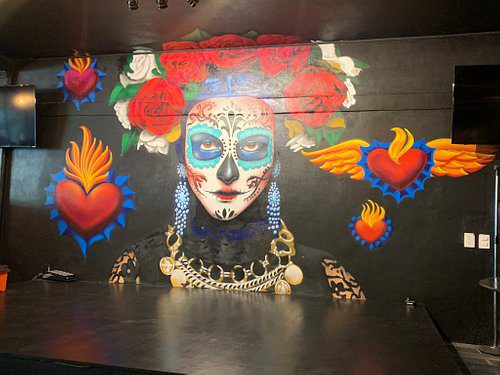 One six one
One Six One is one of the newest bars on the PV gay scene. It has an exclusive lounge-like atmosphere and live house music with a DJ. It is a place to enjoy the night – with friends or making new friends. It's one of the most beautiful gay bars in PV, and the owners went to great lengths to create a unique atmosphere full of details. The staff is super friendly and attentive. If you are looking for a fun place with a beautiful atmosphere, look no further. Its drink menu is specially designed for lovers of original drinks. In addition to the beautiful and unique interior, the outdoor space is one of the best spots. We recommend trying the margarita coffee or the green kilt.
It is an ideal place to start the night with friends and enjoy good drinks. Definitely One six One is one of the best new options in the romantic zone.
Address: C. Rodolfo Gómez 161, Hours: 3 pm- 2am
Website: https://onesixonepv.com
Bars & Dance Clubs
Anonimos Video Bar
When you arrive at this bar, your first impression is that it is very small and discreet, but once inside you are surprised by the space. Anonimo is an eclectic place that has three floors of fun. The first is the Anonimo Video Bar, which serves as a hall, has a bar where you can start the night talking with friends, you can also choose your own music and YouTube videos and they have a wide variety of beers to choose from. Then you go up some small spiral-shaped stairs to the second level, Anonimo Patio, this space is larger and with a pleasant terrace, which is open in season from October to May, with a select bar and a super sensual bartender. On the top floor you will find El Sexy Disco Floor – it is a more cozy floor, known as the secret place of Anonimo, it has a balcony with ocean view and a great selection of drinks such as mezcal, tequila and wine.
Don't miss their happy hour from 4-7 p.m. that goes from 30 to 60 pesos, only on level one.
The three floors are decorated in a special way with paintings by great artists from the community. Anonimo is a very good alternative bar option to organize the party with your friends.
Address: C. Rodolfo Gómez 157, Hours: 4 pm- 2am
Website: https://anonimopv.com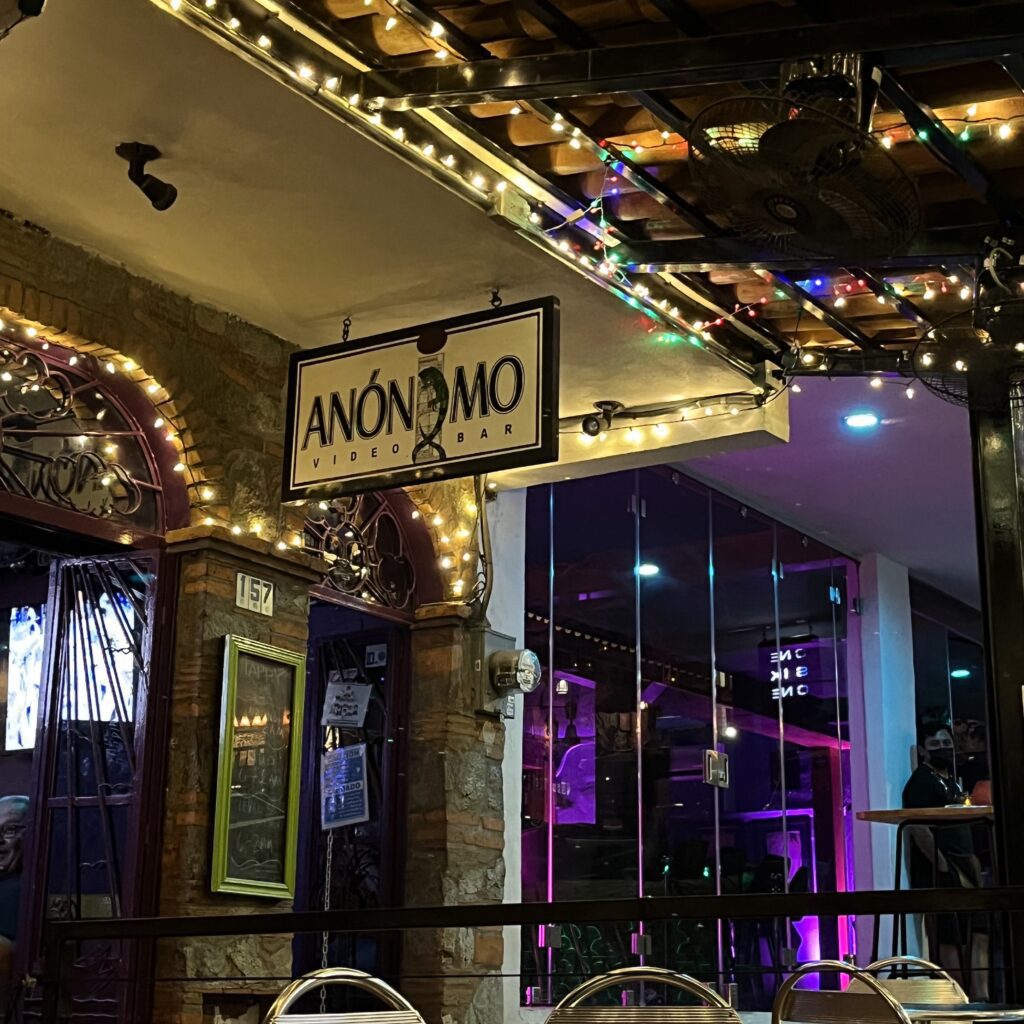 Apaches Martini Bar
Apaches is a Vallarta tradition. You can easily find new friends in this small but quaint space. Hearty drinks are served at Apaches with an unbeatable atmosphere. They have a happy hour from 4 p.m. to 7 p.m. that is already well known in the port. They have tables on the sidewalk, which makes for a great atmosphere for the LGBTQ community and you can meet up with one or another friend while enjoying your delicious drinks. Apaches is a place where everyone is welcome!
Address: Olas Altas 439, Hours: 4pm – 2am
Website: https://www.facebook.com/apachespuertovallarta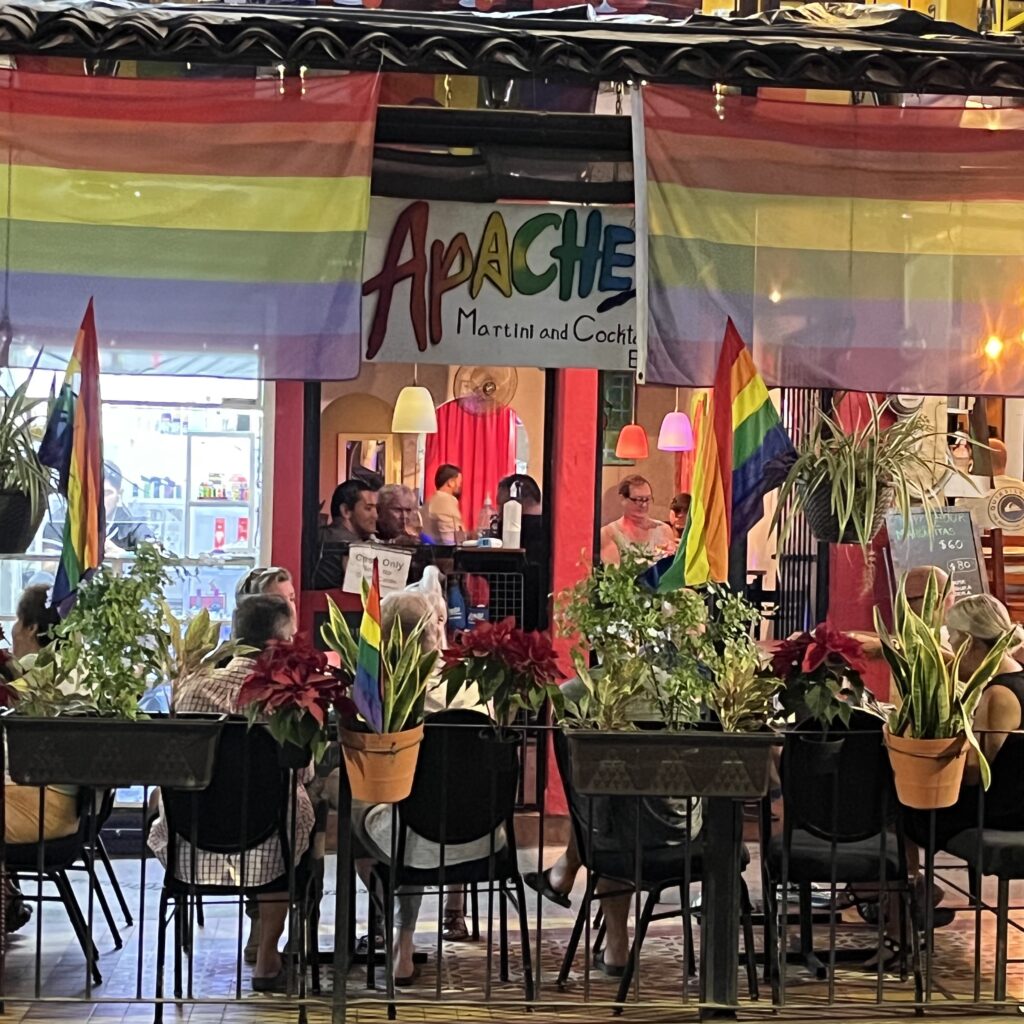 Bar Hotel Mercurio
The Hotel Mercurio is an institution of gay tourism in Puerto Vallarta, located in a romantic zone, it has known how to reinvent itself during all these years. The Pool Bar is clearly the example. Despite being a small space, it hosts a very fun and cozy Pool Party. The Bar has an extensive menu of food and drinks prepared instantly and supervised by its Chefs and Head Mixologists. The Margaritas of different flavors are the most requested, they have a great variety of craft beers from the region, house wine and exquisite cocktails. The restaurant's menu offers the traditional but with the Mercury touch, guacamole, squid and breaded shrimp is what we recommend the most but they also have tacos, burgers, burritos, salads and their pizzas that are made in an artisanal way, delicious! They always have activities and events together with other members of the community to meet new people and make friends.
Address: Francisca Rodríguez 168, Hours: 12 pm- 1am
Website: https://www.hotel-mercurio.com/es/restaurant-/-bar.html
Blondies Loft + SlushBar and Los Otros Blondies
There are two locations of Blondies – one is on Basilio Badillo and the other on Pulpito, not far from the Pier. This stylish bar with Pop Art-inspired décor (and its own clothing brand) takes you to a completely different atmosphere than the rest of the bars. It is an ideal beach bar combined with handsome boys + fun drinks. In its menu it offers slushies (with alcohol of course) for only 80 pesos, premium frozen and craft cocktails, frappés, and meat/cheese snacks. One of our favorites is the Big Tease Blondie, a loaded chocolate milkshake. The bars are full of flavor and colors, and it also has a Happy Hour from 4 p.m. to 6 p.m. (confirm happy hour with their social media accounts). The staff is very friendly, funny and efficient, at Blondies you will find friends beyond the waiters! Ideal to relax from the heat with a refreshing drink or in the evening for a pre-drink. Their prices are very accessible and the atmosphere is super casual.
Address: Calle 1, Púlpito 115, Amapas, Hours: 1pm – 2am
Website: https://www.facebook.com/BlondiesPV
Los Otros BlondiesAddress: Basilio Badillo 258, Hours: 10 a.m. to 2 a.m.
Website: https://www.facebook.com/losotrosblondiespv/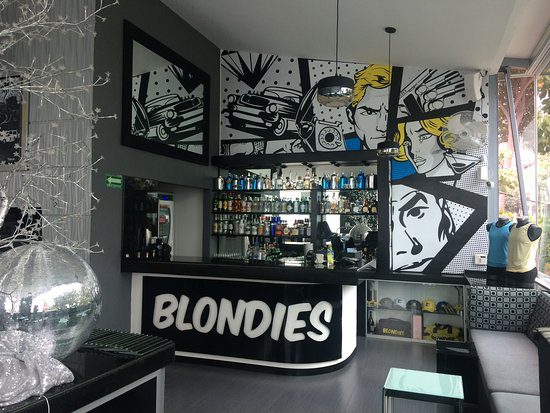 CC Slaughters
If you are looking to find younger people and you are one of those who does not stop dancing all night, CC is your place. It has two spaces to move until you get tired. The Pop-Reggaeton Room is where you will find the music of the moment, the most popular songs that all of us have ever danced or tried to make a Tik Tok to. The Electronic Room is the space that takes you through the great Play Lists of electronic music where in the heat of naked torsos the adrenaline will rise to the maximum and you will not want to leave.
Tip: Get there early because on weekends it gets crowded and you will have to wait to get in.
Address: Lázaro Cárdenas 254, Hours: 10pm – 3am
Website: https://www.facebook.com/CCSlaughtersPV/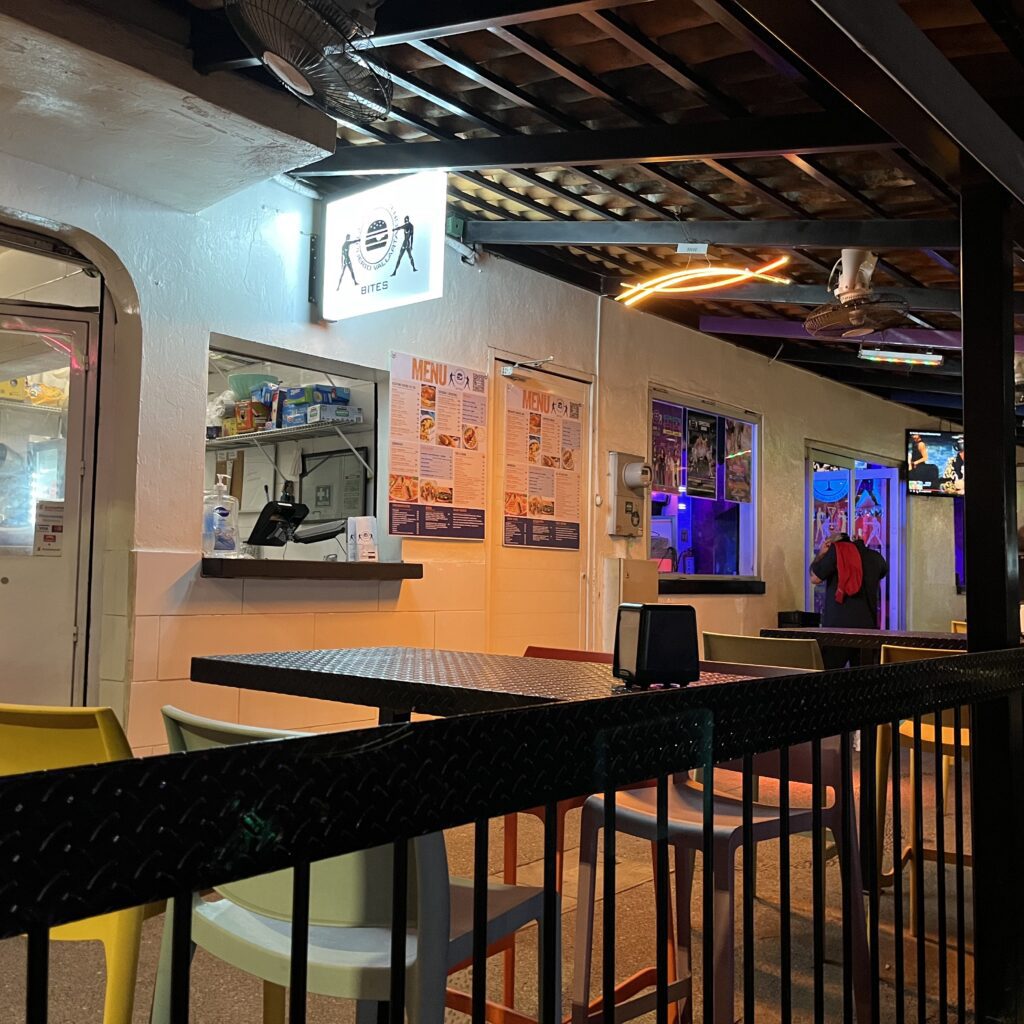 Desmadre Bar
A place much loved by the local Vallarta community, Desmadre Bar, offers you guaranteed madness. Located on the second floor above a taqueria, it is also within the gay district, and has an open space that improves ventilation. They organize different themes during the week, from drag shows, karaoke to lottery games, so you have to choose! Their drinks are simple but with a great variety, beer, wine and classic cocktails, with super accessible prices. It is not exclusive to the community, so you can come with your heterosexual friends or even find couples who will be happy to live with everyone.
A plus is that they have a taqueria downstairs and if you are hungry or craving, they bring your taquitos up to the bar, they are a delight!
Address: Basilio Badillo # 352, Hours: 5 pm-2am
Website: https://www.facebook.com/ElDesMaDrEp.v/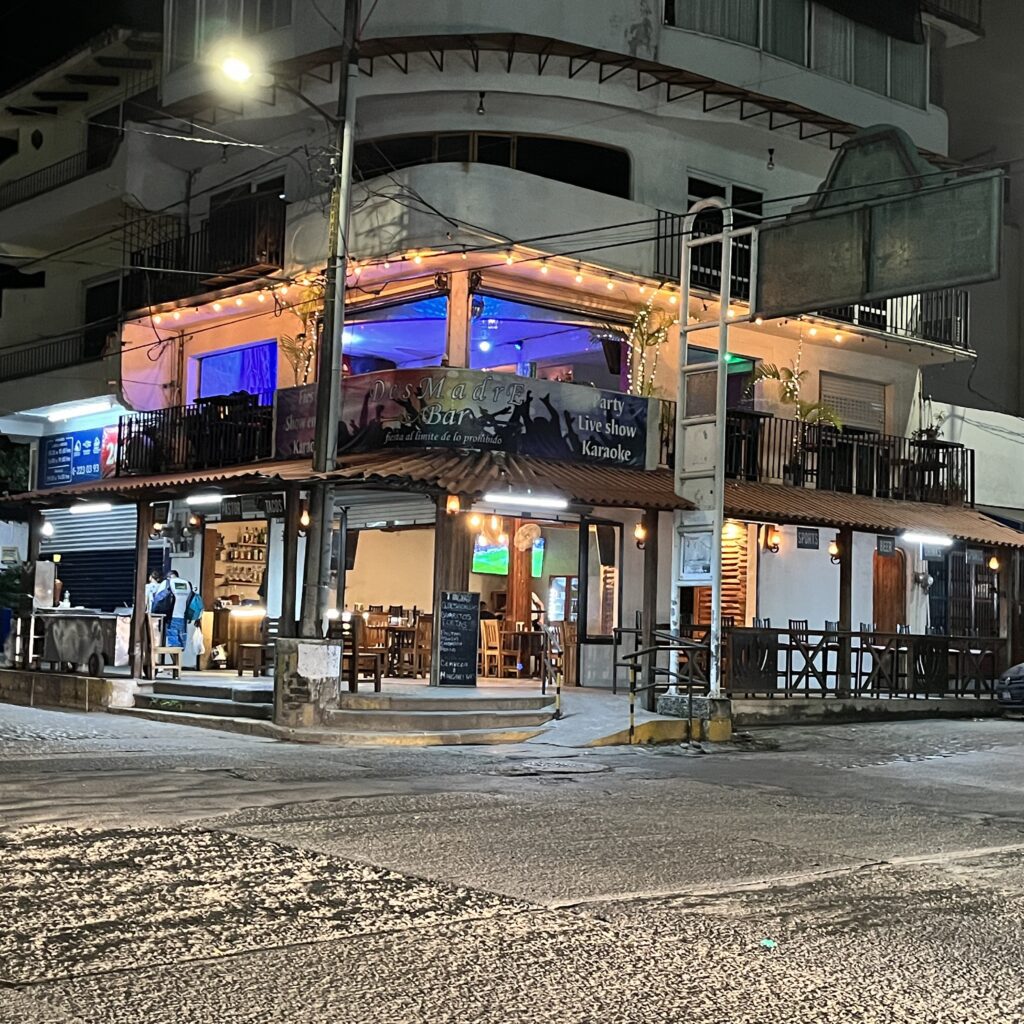 Divas Bar
If you are looking for a bar with a different atmosphere outside of the hustle and bustle of the party, but with the same intention of having fun, you'll find Divas Bar. This place has its charm from the moment you enter, and you'll find a traditional Mexican Cantina but with glitters, wigs and songs of break and tear. The attention is the best and their drag show will make you laugh. Their wings are the most delicious you will find, accompany them with a beer, tequila or mezcal. An unpretentious place where you will find only pure fun.
Their prices are cheap and there are free shots at the time of the show.
Address: C. Fco. I. Madero 388, Hours: 4 pm- 2am
Website: https://www.facebook.com/divas.bar1/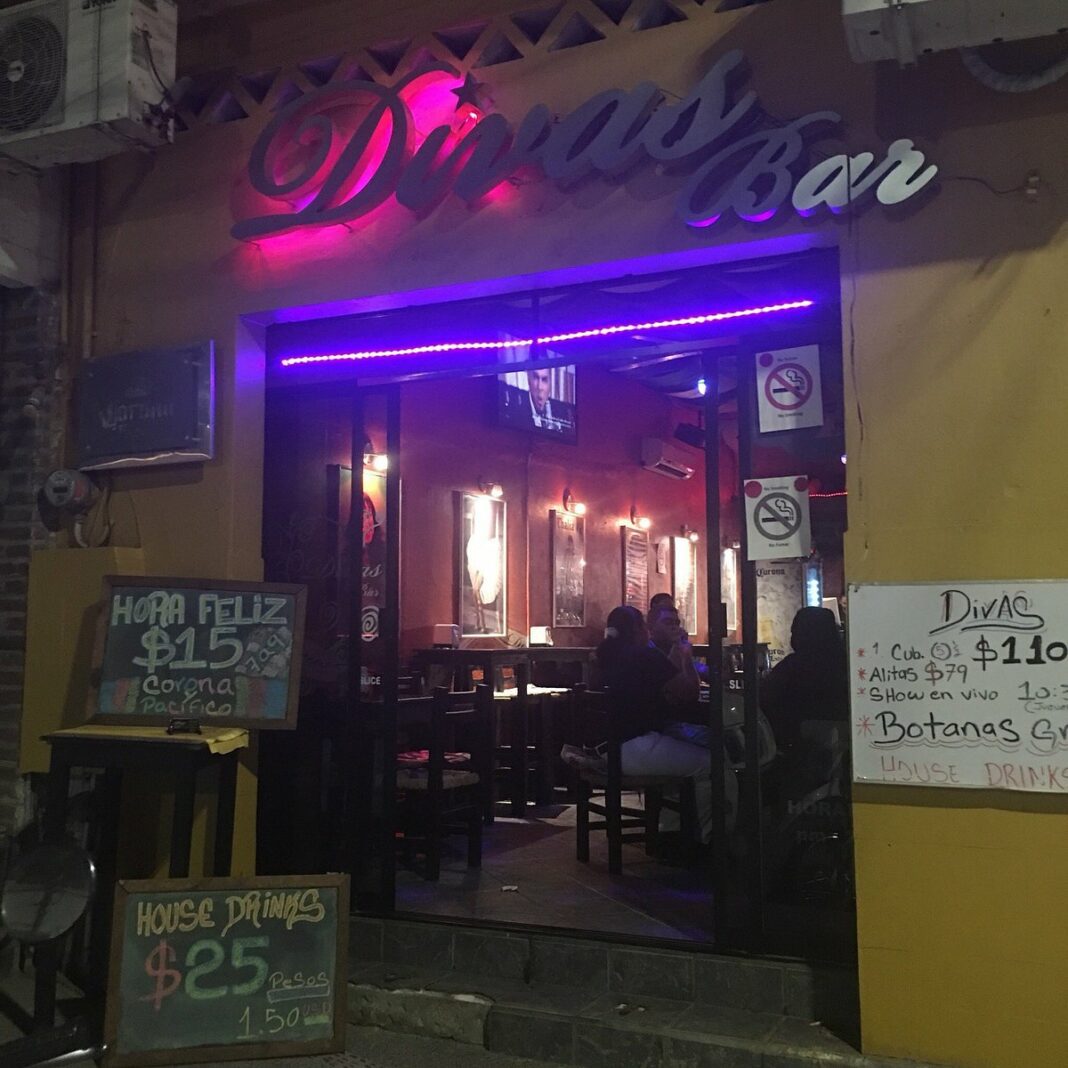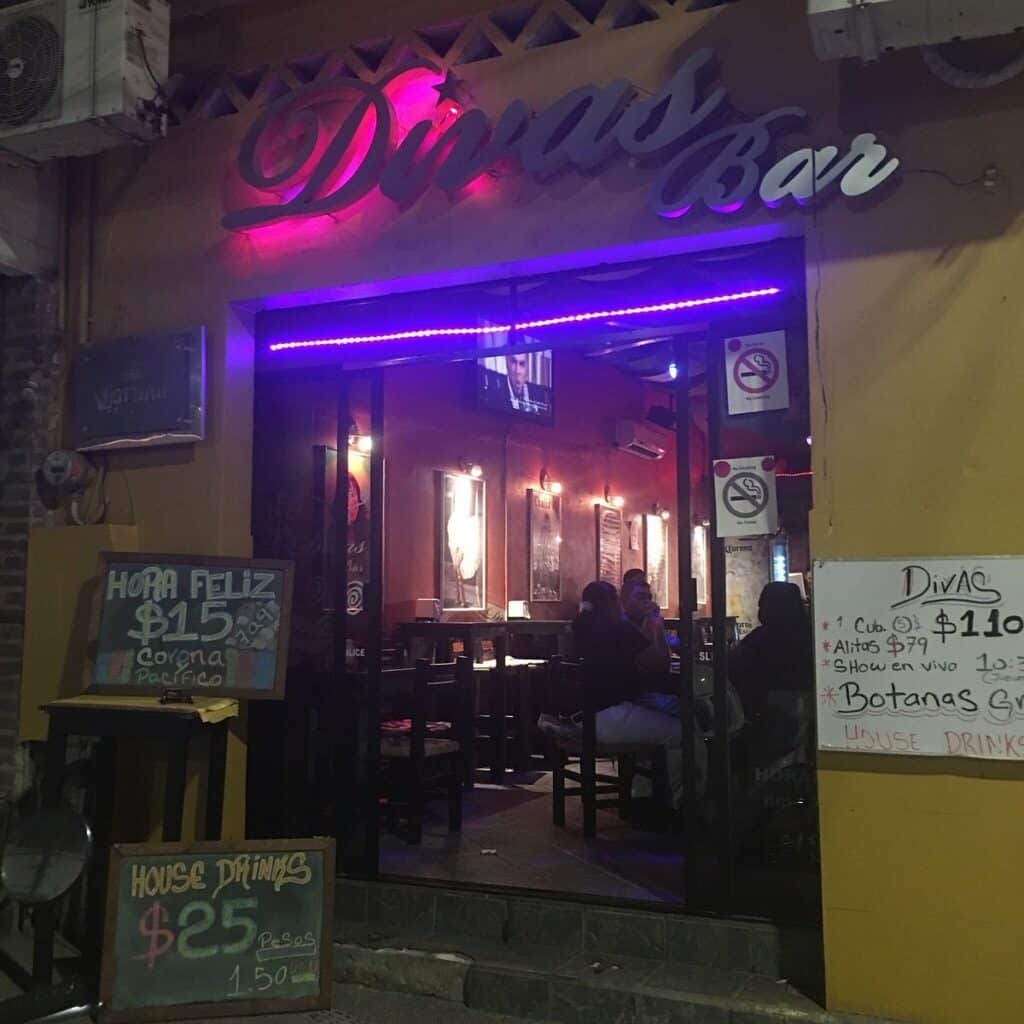 El Secreto de la Muxe
A bar full of Mexican mischief and authenticity from the moment you arrive. You are greeted by its majestic sign full of colors and light along with the image of a Muxe, which indicates that this bar has history and culture. With a completely canteen style, El Secreto de la Muxe has been gradually gaining ground in the nightlife world of the party. Especially because it is away from the romantic area and the gay neighborhood. Located in the center of old Vallarta, in the middle of a heterosexual party. Which makes it even more eclectic and exciting. Its forte are the imitation shows, if you like to sing the eighties ballads in Spanish and have fun with the occurrences of the drags, you will leave here very happy. Its small stage is very particular since it evokes those tents of the Mexican show of the 30's only with the touch of the LGBTQ community full of brightness and cabaret glamor. You can order from a bucket of beers to a bottle of tequila or mezcal at a very good price.
Address: Morelos 685A, Centro, Hours: 9 pm- 3amWebsite: https://www.facebook.com/El-secreto-de-la-muxe-100616141928647/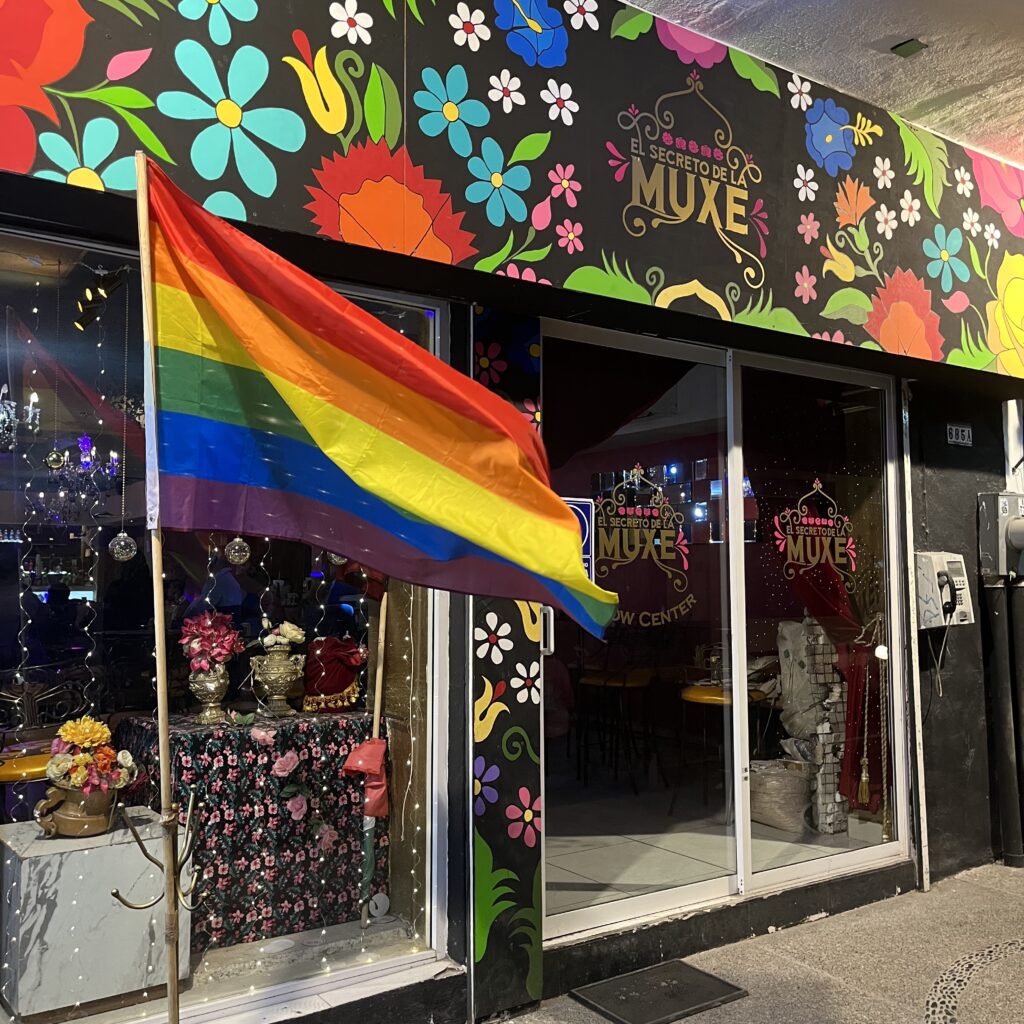 Industry Night Club
For the uninhibited, Industry will fill your wildest expectations. Even from the outside you can perceive the sensual energy that overflows. At the door they are a bit demanding, but everyone is welcome. In the first few minutes you will feel like in an episode of Queer as Folk or any gay series you have seen, with all the Gogos dancing on stage. The light show is impressive and the sound quality makes the perfect game to make the night a total trip. In Industry you will find mostly very handsome foreign guys delighted to show their bodies to the rhythm of electronic bits. We recommend the cocktails at the bar, they are a must!
Address: Lázaro Cárdenas 258, Hours: 10pm – 4am
Website: https://www.industryclubpv.com/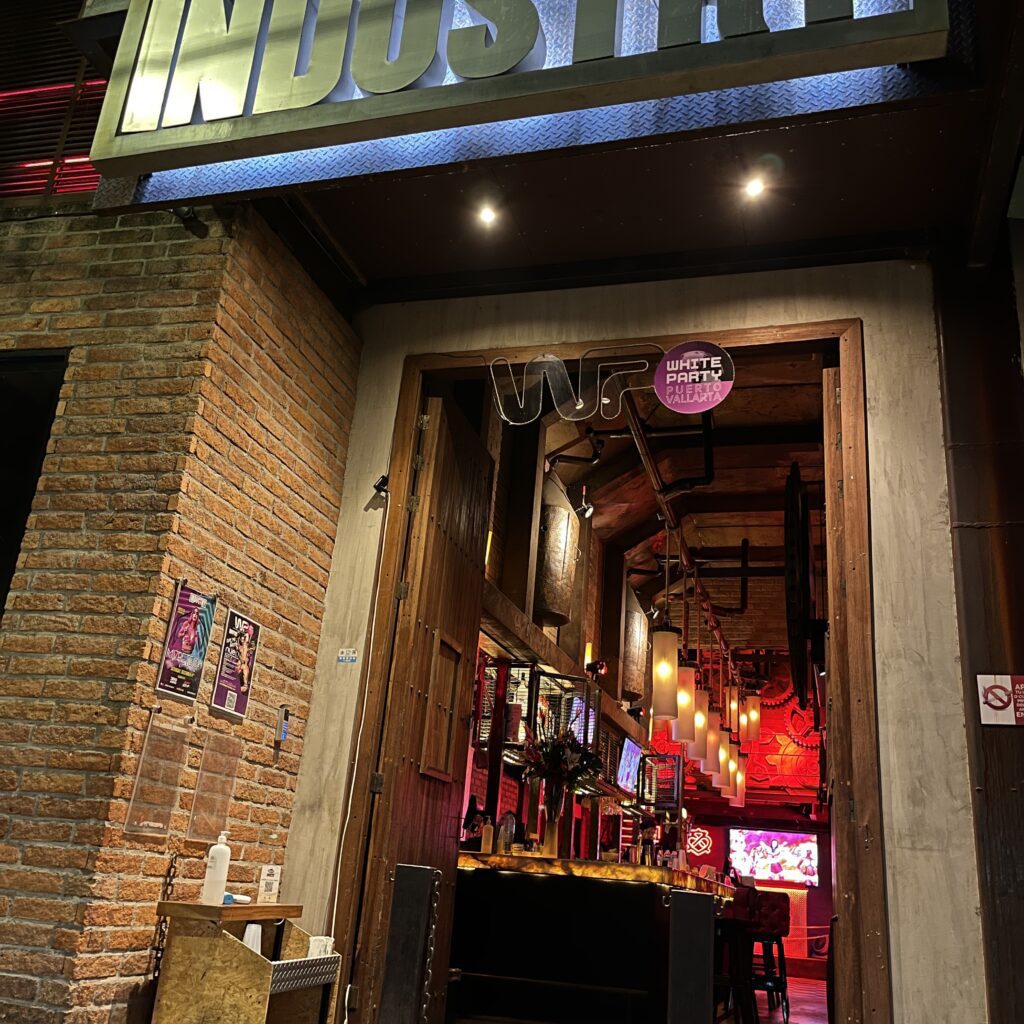 Kooky Karaoke & Drinks
If yours is singing at party time, look no further. Kooky is your option. It is a completely straight friendly place so everyone is welcome! They have an extensive bar of drinks and the floor fills up at the hour of the best dance steps. Every day they have the Kooky Bucket of beers for 180 pesos from 8 to 10 pm. Get there early and sign up for karaoke otherwise you will have to wait several rounds for your turn.
Address: Lázaro Cárdenas 315A, Hours: 8 pm-3am
Website: https://www.facebook.com/KookyPV/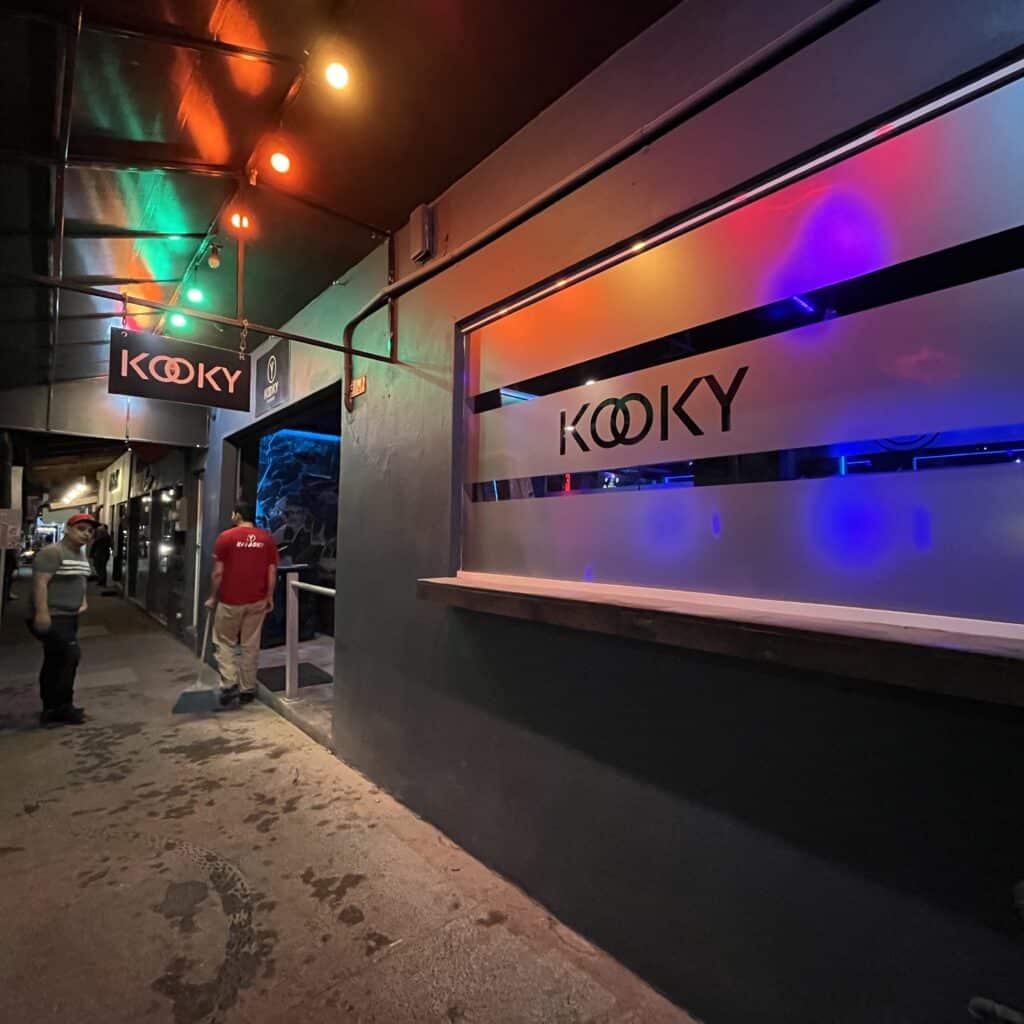 La Cantina Margarita
One of the places that always has friends, good drinks and a smile to welcome you, La Cantina Margarita is as if you were arriving at the house of a stranger, but from the entrance you feel welcome. Its decoration with human skulls is extremely original and striking, the place is totally open to the hustle and bustle of the main gay street, so you can also be outside enjoying your drink. The staff is quite attentive, fun and friendly. Drinks are priced right and served right with just enough ice to cool you down.
Address: Lázaro Cárdenas 257, Hours: 2 pm-3am
https://www.instagram.com/lacantinamargaritapv/?hl=en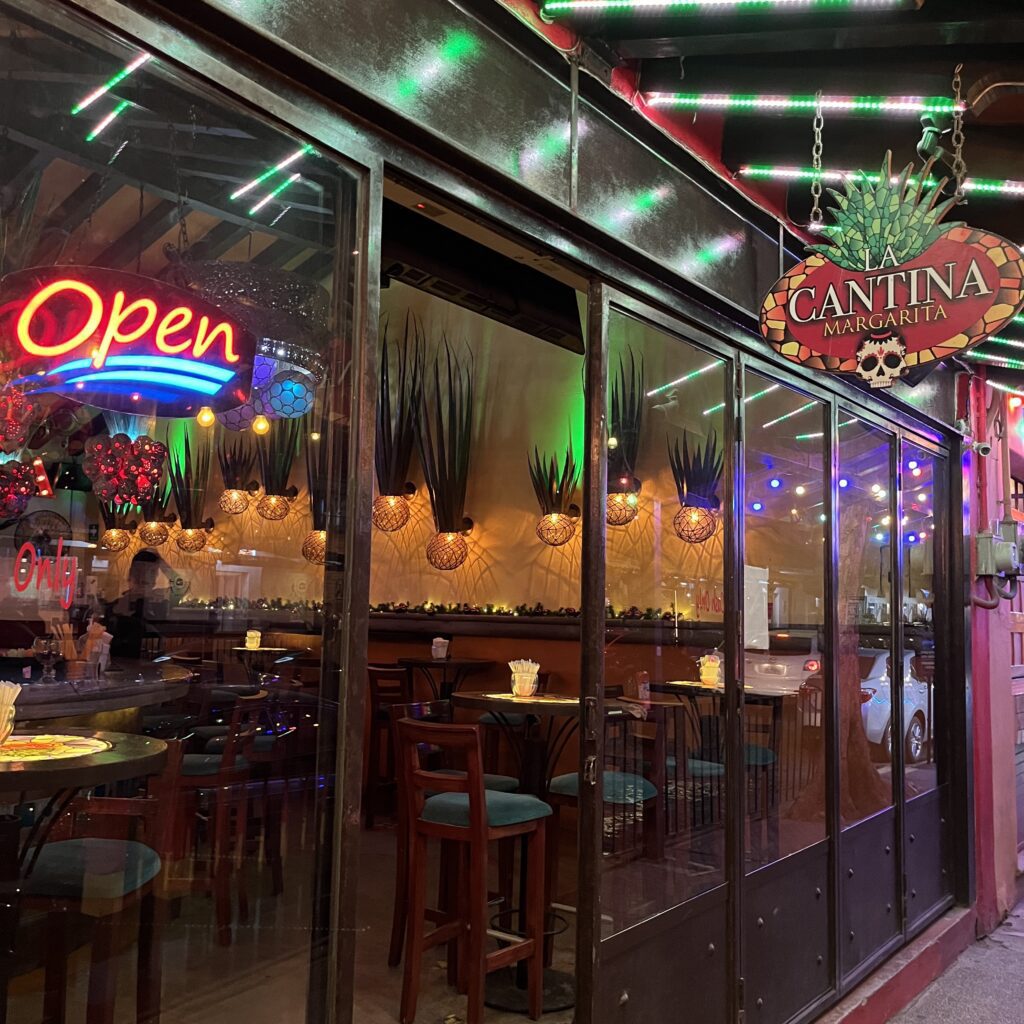 La Noche
A favorite with visitors, La Noche has a New York bar flair but combined with Harbor Folklore. The guys who greet you at the door are very friendly and you will have no problem getting in. Upon entering you will immediately immerse yourself in an atmosphere of party and camaraderie, since people are very relaxed and you usually make friends very quickly. It's great attraction is the drag shows, where you will see anyone from the spectacular pop star to a cabaret star. If you decide to stay longer you will break a sweat with the GoGos show, which is one of the most famous in the gay district. Do not forget to order cocktails that are some of the best. Don't miss their incredible Rooftop Garden, a slightly quieter area where you can talk and listen to more alternative music.
Address: Lázaro Cárdenas 267D, Hours: 9pm – 3am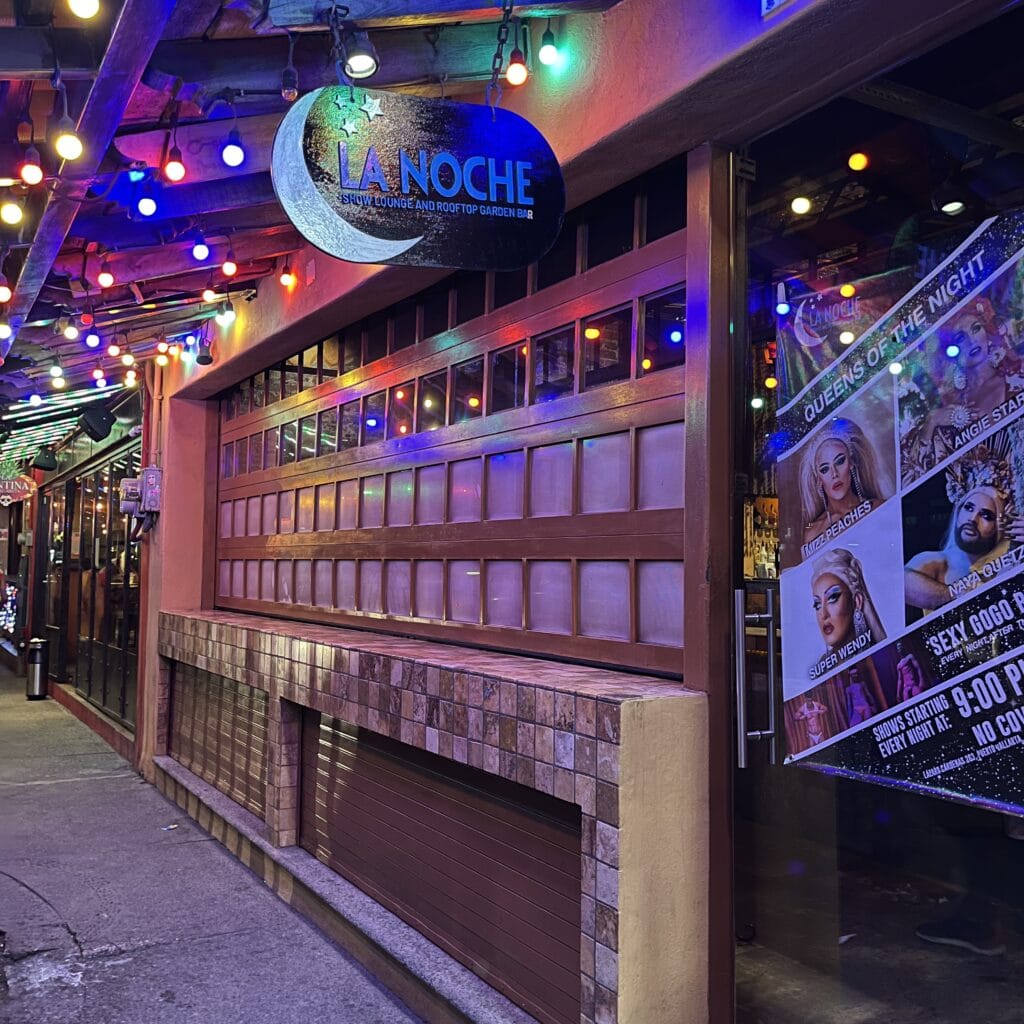 Website: http://lanochepv.com/es/
Los Amigos – Cantina Style Gay Bar
If you are looking for a truly local place without much noise, Los Amigos is a quiet option for you to go with your companions to talk and have a good time. The bar does cater to cowboys but it's so much more! Once a month they have meetings and parties. The music you will hear is regional Mexican and from time to time a song in English. It has an excellent atmosphere, they take care of you wonderfully and make you feel very comfortable throughout your stay. Los Amigos is a warm place, you feel welcome from the moment you arrive. The prices are accessible, its bar is varied and the place is quite spacious.
Address: Calle, Venustiano Carranza S / N-C, Alta Vista
Hours: 6 pm-2am
Website: https://www.facebook.com/pages/Los-Amigos/115822821824962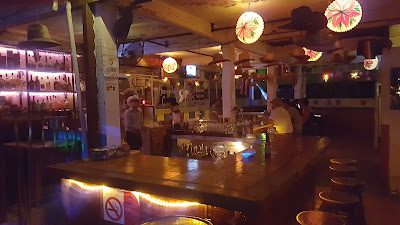 Mr. Flamingos
Located in the navel of the gay area, Mr. Flamingos is a must stop whenever you visit Vallarta. It is located in the mere corner of the rainbow where outside the place a catwalk of handsome boys who seek to have a good time is set up. It is a simple bar but with what you need so you don't stop dancing all night. The music is mostly from the disco era and the eighties, and you will find a mix of interesting people, both foreign and national, and all in a mood of incredible friendship. Mr. Flamingos is the classic beach bar that you cannot miss on your list of party stops. Its bar is simple but sufficient and the prices are accessible.
Do not stop going and make new friends since, due to its location, it works as a meeting point for the community.
Address: Lázaro Cárdenas 247, Hours: 2 pm-3am
Website: https://www.facebook.com/flamingospvr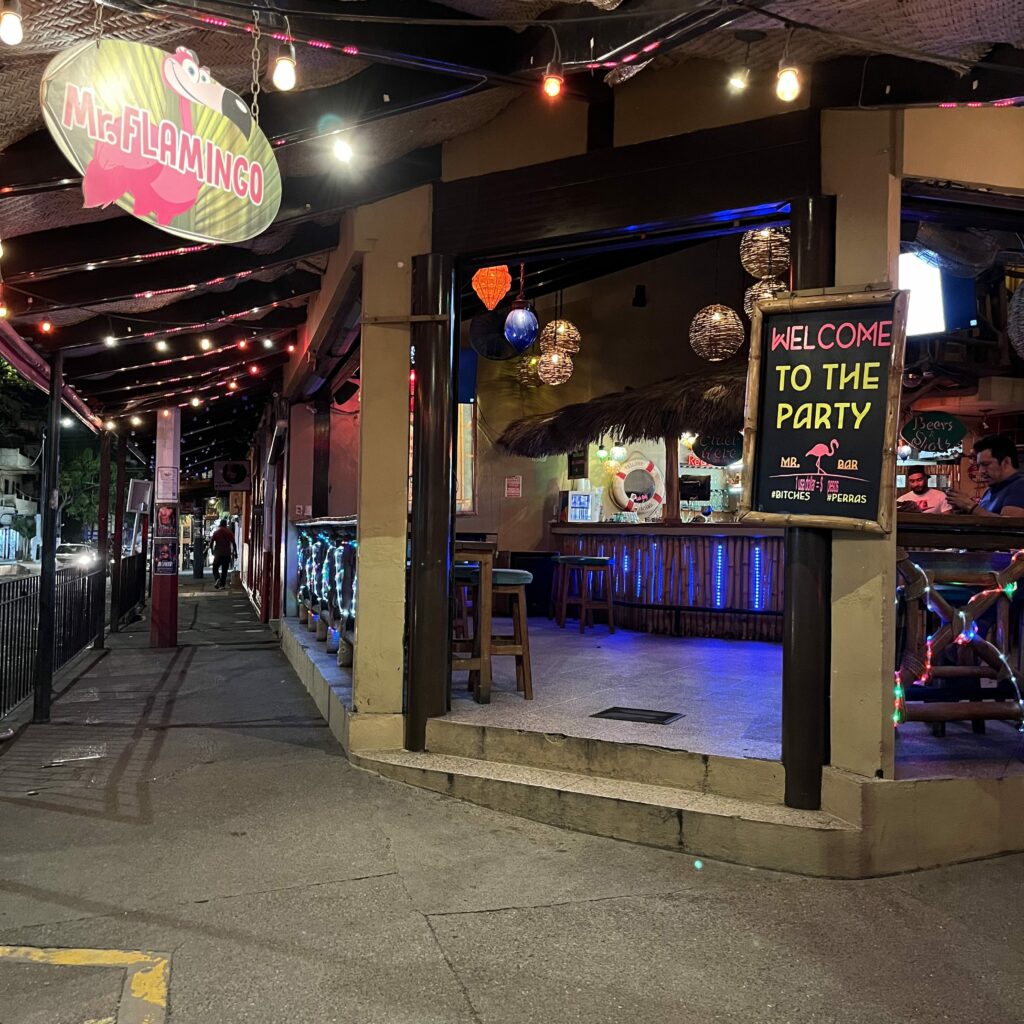 NOX Bar
This new bar recently opened and promises "a colorful and seductive atmosphere, fashionable music and a friendly staff. Special events every week. It offers happy hour each day from 9 p.m. to 11 p.m., a stripper night and has a small dance floor.
Address: Francisco Madero 332 Hours: 9 p.m. to 4 a.m.
https://www.facebook.com/noxbarpv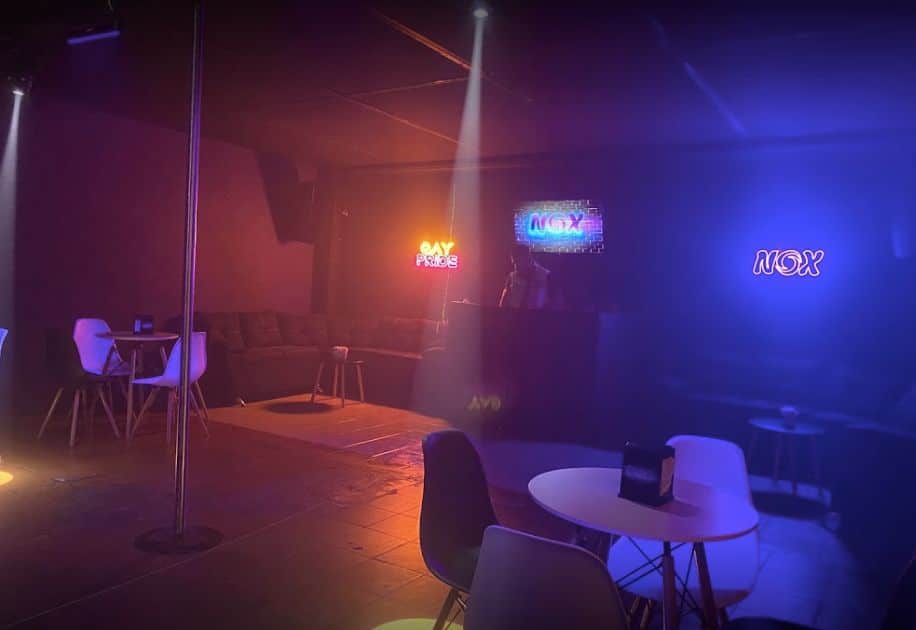 Paco's Ranch
A true Vallarta classic, Paco's, as it is known, has become an essential in your visit to the port.
With a whole history, this bar has two floors, a large bar and the emblematic dance floor where bodies rub against each other in the heat of the night. In Paco's you will hear the hits of the moment, the hits of the 80's and 90's and of course the goddess Selena. It is well known for the great drag show that they present at midnight with the best local artists.
Its bar handles from the classic beer and loggerhead to vodka, rum, tequila and why not, a glass of wine.
Here people come to dance to death and sing along with the show.
We recommend arriving early because it fills up quickly and you will have to wait in line.
Address: Ignacio L. Vallarta 278, Hours: 10pm – 4am
Website: http://www.pacosranchpv.com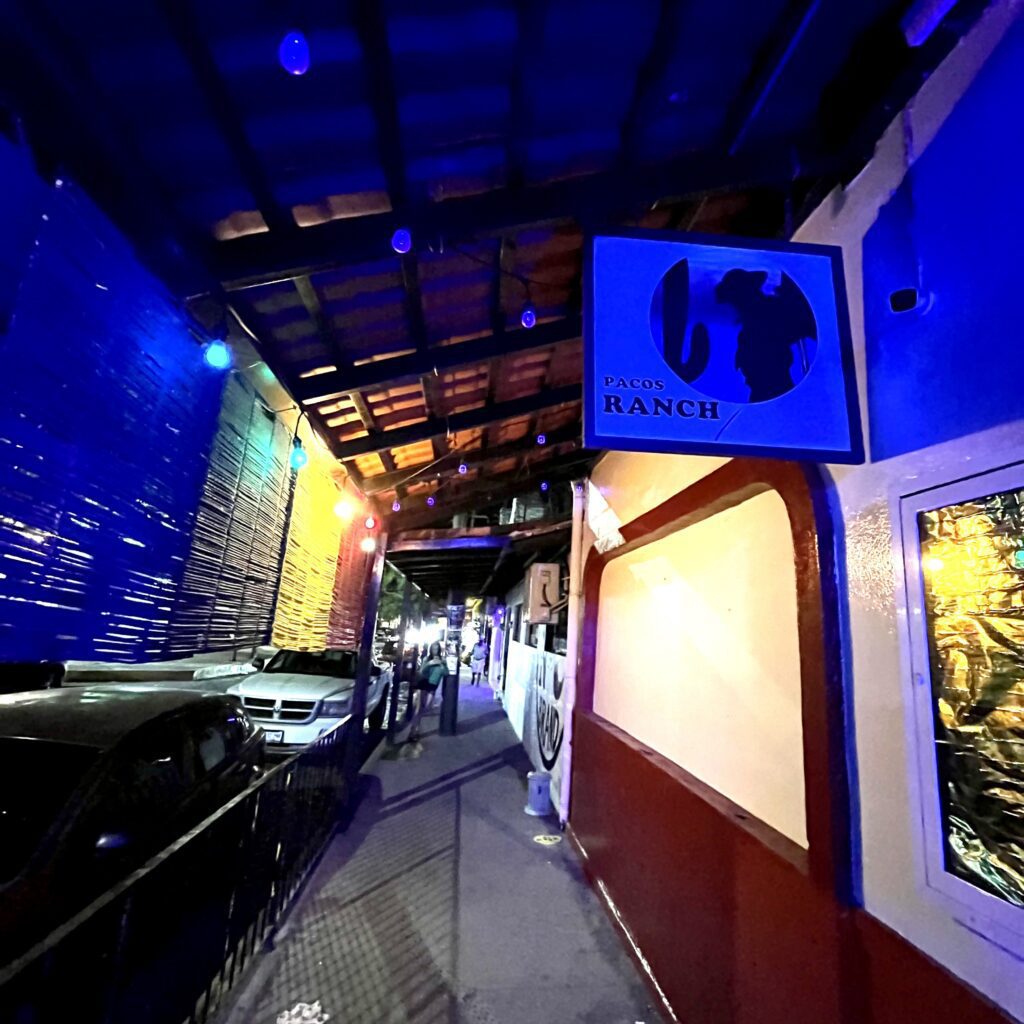 Reinas Bar
If you like kitsch more, Reinas will definitely be your place. At the entrance you are greeted by nothing more than a series of images of Queen Elizabeth II and all the British royalty that contrasts with the Mexican style of cantina and on the screens videos and music from the 80's in Spanish and English. In Reinas you can have a drink and at the same time talk without so much noise or bustle. They have a huge mirror in the shape of a crown, makeup, sparkly dresses, hats and wigs that you can use to transform yourself and live your fantasy! You can order margaritas, tequilas, mezcal or the traditional beer, their prices are cheap and they have a personalized treatment from the owner and waiters who are adorable.
Address: Lázaro Cárdenas 361, Hours: 4pm -2am
Website: https://www.facebook.com/Marco-Reinas-100429840309392/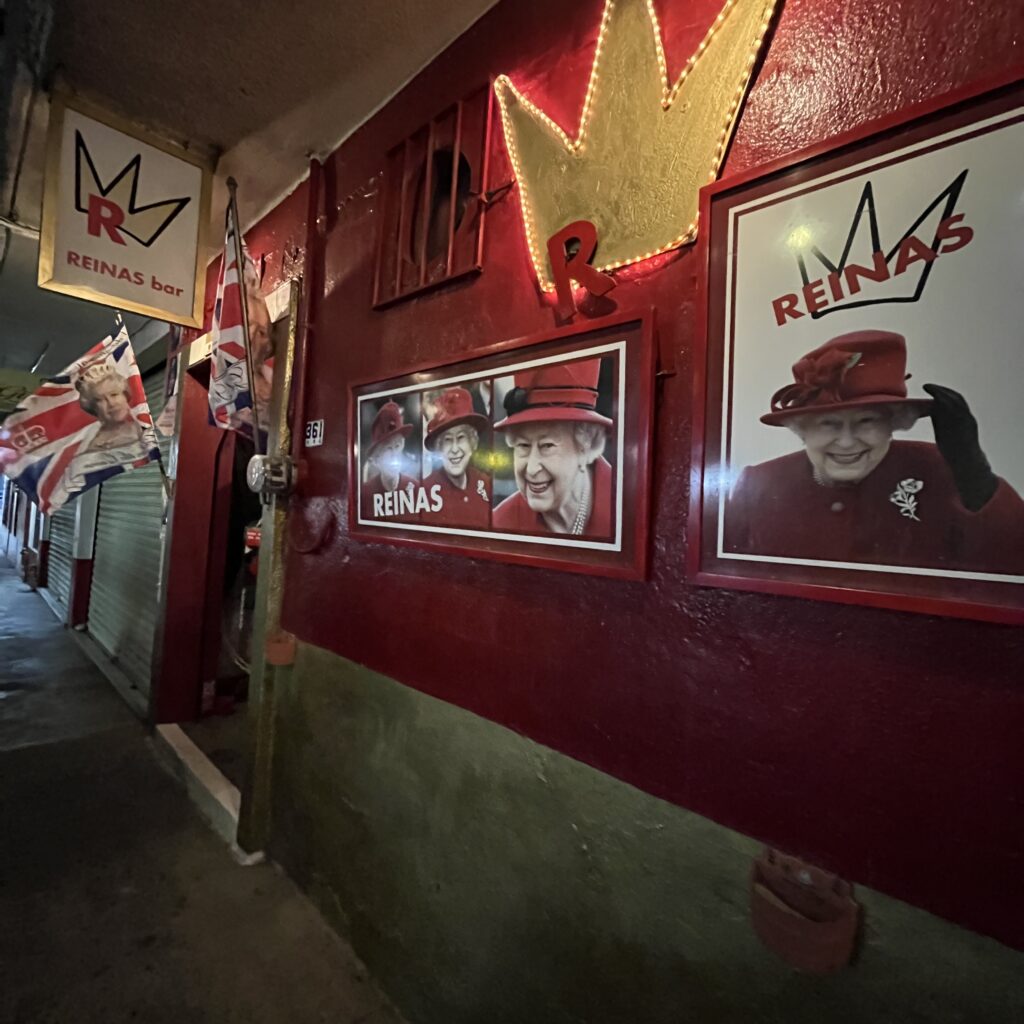 The Corner Bar PV
One of the newest places in Puerto Vallarta and with all the style and chic atmosphere is The Corner in the heart of the Romantic Zone. Here you can enjoy excellent martinis, exclusive cocktails and some of the sexiest bartenders in PV. Its mixology is something to highlight which is perfectly combined with the design of the space and its clientele. It can be a stop before the party or stay there for a while talking if you don't feel like the noise from the other bars. It is a small place, so try to arrive early or during the week.
Address: Corner of Insurgentes, Basilio Badillo 330, Hours: 5 pm-12am
Website: https://www.thecornerbarpv.com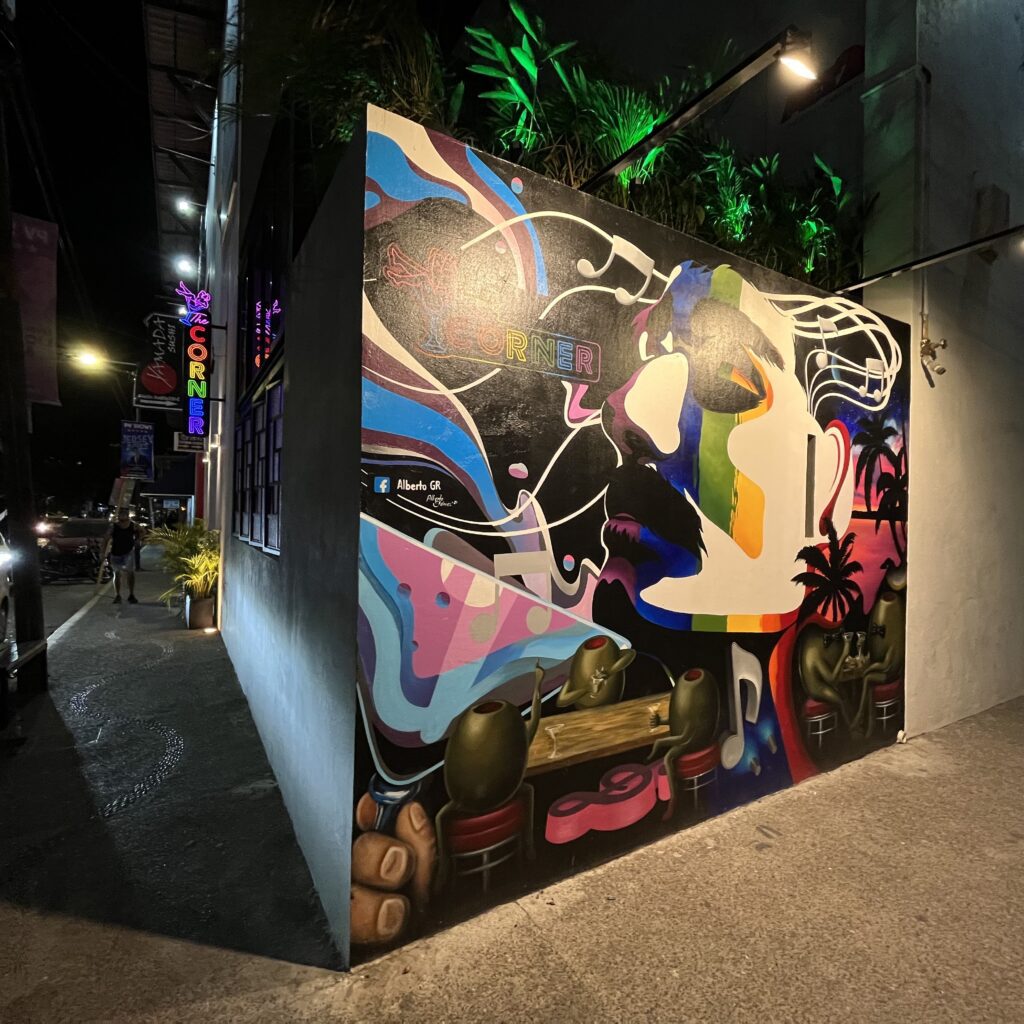 The Mixer Bar
Another bar that we recommend as a good start to the party is Mixer Bar.
Their specialty is the giant drinks served in blenders with the six colors of the LGBTQ flag, of course with six different flavors. While you eat their spectacular ceviche tostadas you can enjoy their drag show. Its decoration is simple but colorful, you will feel free to sing all you want and start enjoying the party with its delicious drinks. It is one of the best options to go with your group of friends and that everyone is comfortable at a table, talking and singing.
Fridays are girls' nights and the Margaritas are two for $60 pesos.
They also always have extra activities such as arts and crafts workshops for you to meet new friends!
Address: In Plaza Romy, Ignacio L. Vallarta 228-Local 12, Hours: 12pm – 1am
Website: https://www.facebook.com/TheMixerVallarta/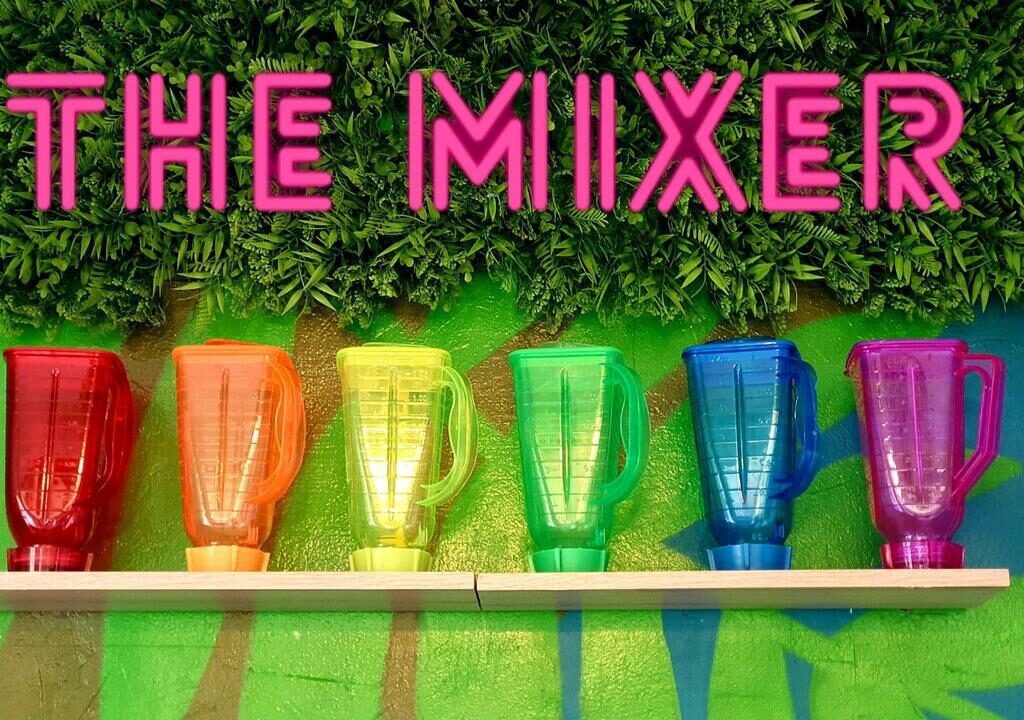 View Resto & Deck
This bar and restaurant offers great views overlooking Lazaro Cardenas along with some fun and fantastic food (try their pizza!). DJs and drag shows are offered on some nights (check their social media). Address: Lázaro Cárdenas 315D (upstairs), Hours: (check social media)
Website: https://m.facebook.com/VIEW-RESTO-DECK-Puerto-Vallarta-106880831144004/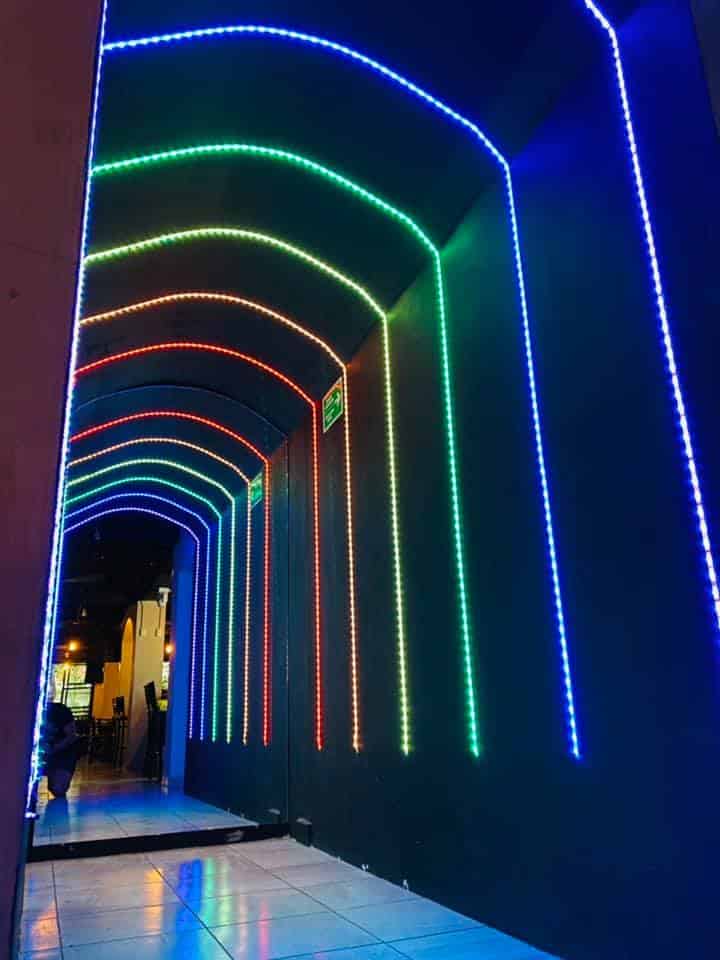 Restaurants/Bars
Staff Picks
Arriba Restaurant Bar
This delicious place just celebrated its first anniversary in PV. And what is not to love about them! Their food and drinks are delicious and their customer service is simply the best! All its style and decoration are one hundred percent Mexican. Its cuisine and dishes alike, full of snacks and great dishes made with the highest quality and above all love, which makes you feel at home. The breakfasts are a real madness, fluffy pancakes fresh off the stove, their unbeatable chilaquiles or the variety of eggs cooked at the moment. For food you must try the tortilla soup. Accompany it with the Steak Arrachera and you will be in love, as well as quite satisfied. Every Saturday they have a Reggae show with the fantastic David Bailey – who will take you on an unforgettable and fun musical journey. You can enjoy all this from the second floor restaurant overlooking the street. You cannot miss this great spot full of color, music and delicious food.
Address: Olas Altas 443-A Second Floor, Hours: 8 am-12am
Website: https://www.facebook.com/ArribaPV/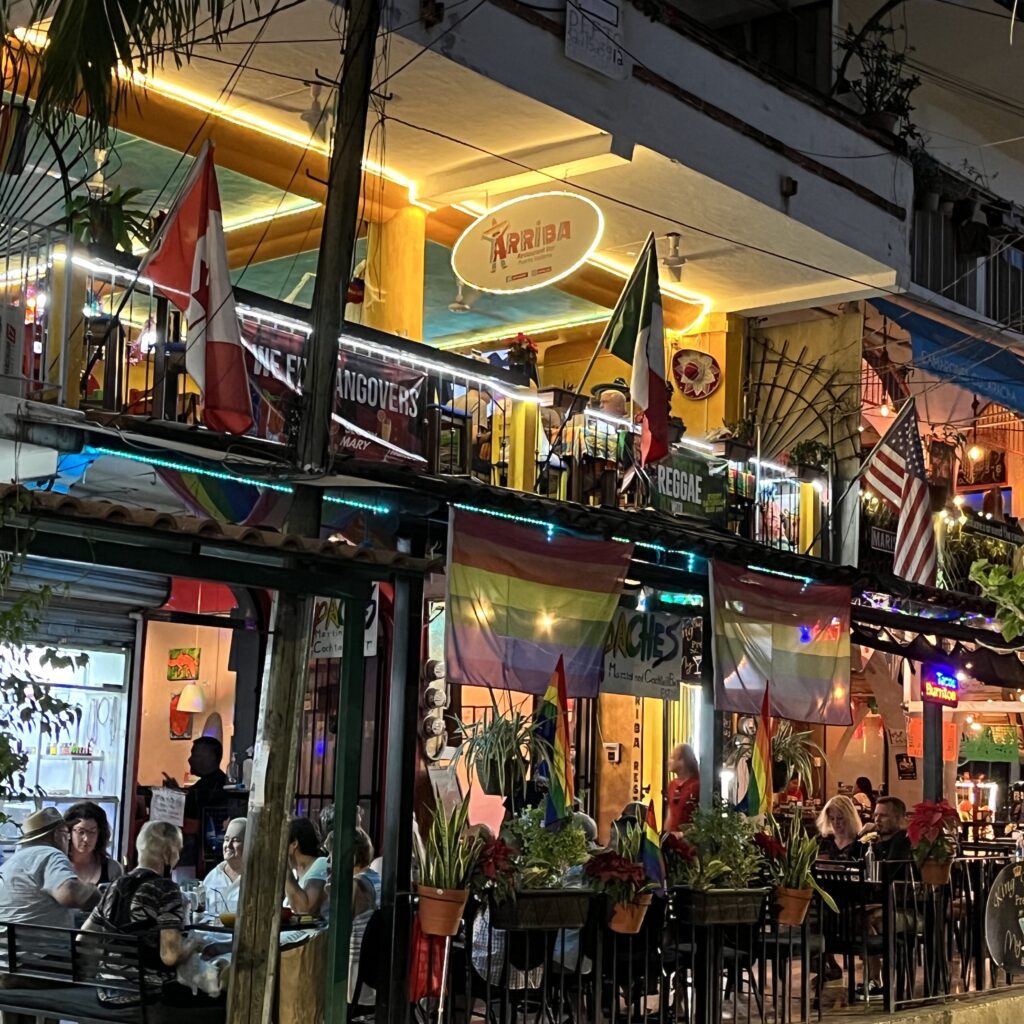 Bar Frida y Frida's Kitchen
The friendliest restaurant and cantina in Vallarta, that's how, Bar Frida is known. Since 2001, this unique place has won the taste of customers with Chef Alberto Cuvea's menu and its great drinks. All week they have special promotions so that you find a great deal no matter what day you visit them. Beer is 25 pesos everyday (sometimes they drop that price to only $15 pesos!) and at night they offer shots of house tequila for $30 pesos. Wednesday is Bear Night. As you saw, their prices are one of the most attractive but the atmosphere is really unique and the staff treats you very well.
Address: Lazaro Cardenas 481, between Jacarandas and Naranjo
Hours: 10 a.m. – 11 p.m.
Website: https://barfrida.com and https://www.facebook.com/Fridas-Kitchen-315320288488513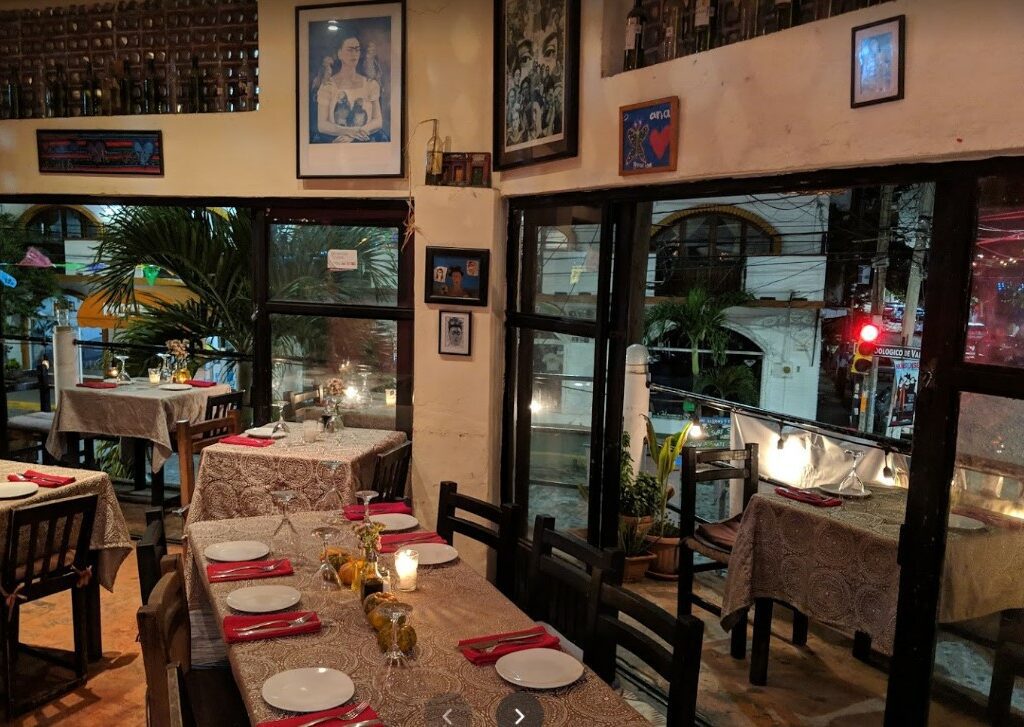 Reflections Bistro
A new place for the community dedicated to the palate of the late-night or those who seek to satisfy their hunger before starting the party. Reflections is the younger brother of Blue Diamond Bar, they share the same sidewalk and you can order a drink from Blue while enjoying the delicious snacks from Reflections. It's menu is a mixture of fastfood-gourmet-Mexican, you can order from the mini pepperoni or cheese pizza to the cheese, spinach and tomato panini or the serrano ham. The star dish of the place is the ChilliDogs, prepared with beans, chili and cheese that measure eight inches or if you prefer this the Cochinita Pibil with turkey and pickled onion served in a small baguette accompanied by vegetable chips. A true delight. Their prices are truly accessible and they always have promotions, which change every week, so you will surely find something new for your visit!
Address: Lázaro Cárdenas 279-E, Hours: 7 pm-2am
Website: https://www.facebook.com/ReflectionsPV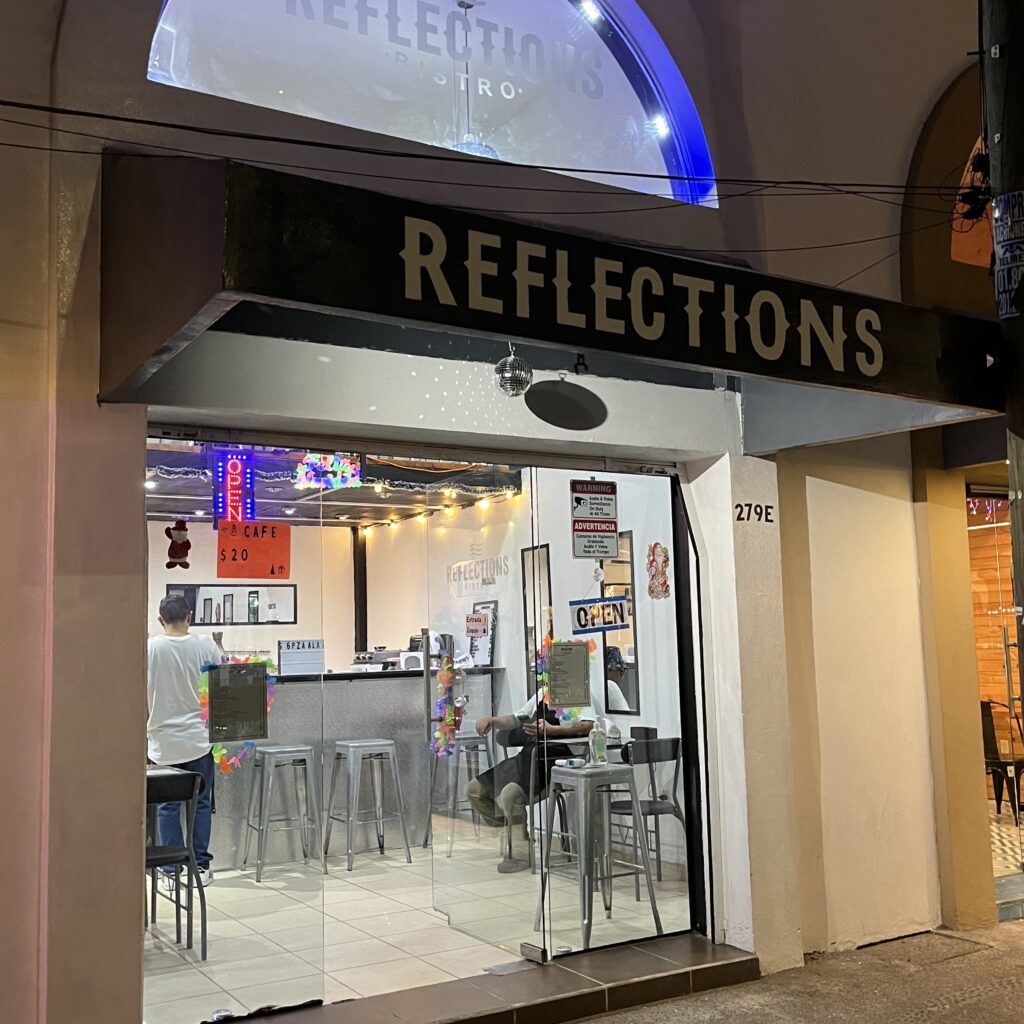 Other Restaurant Bars:
BomBon
Located in the center of old Vallarta Bombon is a very cozy, friendly Cocktail Bar & Kitchen inspired by Mexican icons with a pop art touch. Its atmosphere is fresh and chic, plus it has a peculiar atmosphere because it is "hidden" in the heart of Puerto Vallarta. Its bar is mainly focused on cocktails creating unique drinks that you can perfectly accompany with its contemporary Mexican food, made with fresh and natural products. It has a Rooftop and on weekends they have guest DJs. Every Sunday they have their Brunch from 10 a.m. to 2 p.m. with specialties and Margaritas at 2×1. It is a 100% Mexican, different and innovative concept where you will live a unique and unforgettable experience.
Address: Guerrero 310, Centro Hours: 4.30pm-2am | Sundays 10 am-2pm
Website: https://www.bombonpv.com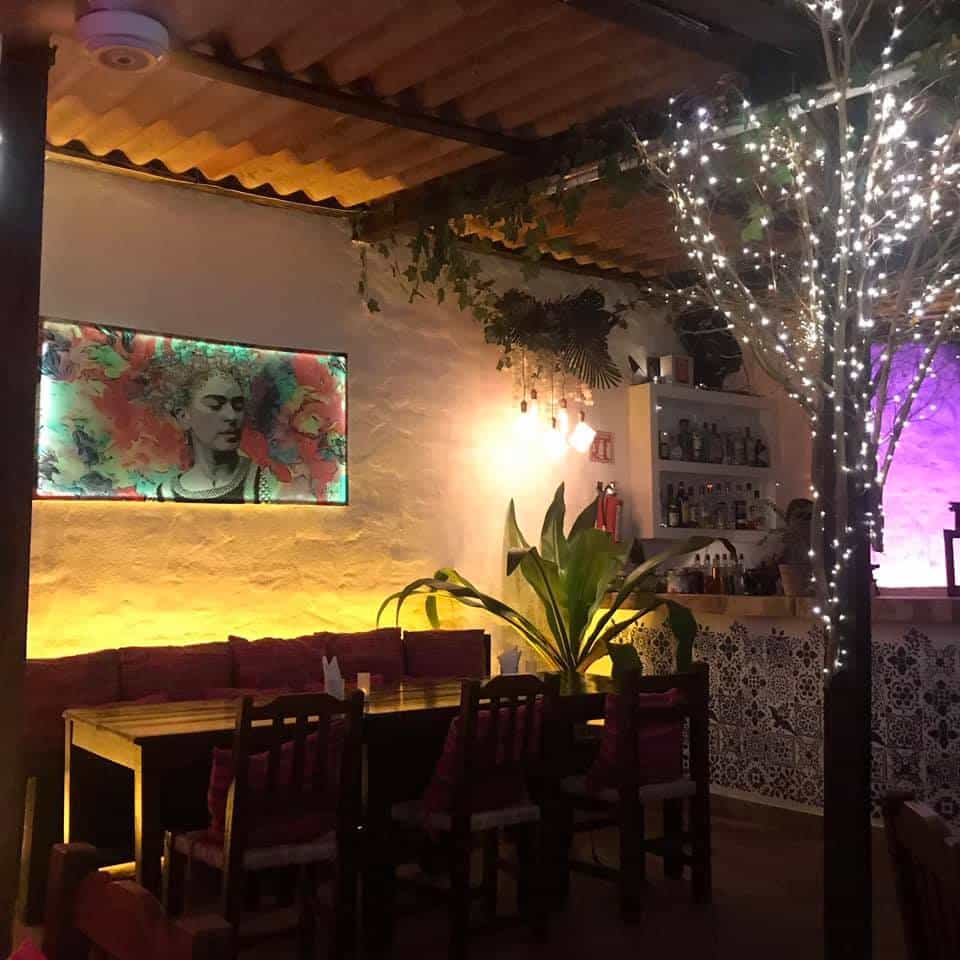 All Access Sport Bar
Finally a place for sports lovers. Here there are zero pretensions, just the intention of having a great time with friends, eating, drinking and enjoying American football or a boxing match. Their food is exquisite like the fresh tuna served on a bed of green salad with passion fruit dressing or the steak with vegetables and mashed potatoes. They also have different desserts, we recommend the Churro Ice Cream Bowl, a delight! The drinks bar are not far behind, they have beers, cocktails, mixers, wine and mezcal and also smoothies and flavored waters. If your stay in PV coincides with a season of your favorite sport, All Access is your best option so that you do not miss it and at the same time you meet new people.
Address: Lázaro Cárdenas 175,
Hours: Tuesday and Wednesday 3-11pm | Thursday, Friday, Saturday, Sunday and Monday 9.30am-1pm
Website: https://www.facebook.com/AAsportsbarpv/