Esta publicación también está disponible en:

Español
Plus other fun adult things to do while visiting
For a city the size of Puerto Vallarta, you will probably never find so many options to see live performances. It's an amazing place that attracts some world class performers. Puerto Vallarta is not only a destination where you can sunbathe in the sun and enjoy the sea, it also has a large number of incredible shows that will make your nights unforgettable.
While it's almost impossible to list all of those options here, we've picked a few live performances to highlight, some of our favorite venues to watch shows in, and, along with a few other fun things to do, including strip clubs and saunas!
First, let's get started with some "must see" shows.
What a Drag!
This is one of the most anticipated events of the high season in Puerto Vallarta. It has been taking place for eight consecutive years and year after year it accumulates more fans and more professionals in the arts are also joining to collaborate in this noble cause.
This project has grown from just doing games and fashion shows to taking place atl ACT2PV, but has grown so much that the annual show has moved to the Teatro Vallarta Culture Center (Vallarta Theater), Uruguay 184, 5 de Diciembre. The show typically sells out the 900 seat venue.
What a Drag is an event that raises funds for battered women from the Casa Esperanza Shelter. Women who have suffered from violence. The show consists of a drag contest with the peculiarity that the participants are heterosexual men who have never climbed on heels or made up makeup in their lives. Advised by professional hairdressers and makeup artists from Vallarta who generously donate their time and talent and manage to transform these gentlemen into all drag queens.
Today there is a long waiting list of enthusiastic men who are willing to experience drag and walk in heels for a cause: to take a stand against violence against women.
We hear that at the 2022 show, great singer Effie Passero, a 29-year-old singer/songwriter and cabaret performer, will be there. Effie's influences range from Tori Amos to Elton John, and all the way to Pavarotti.
What A Drag is a fun, professional event and above all with a great cause which we hope will continue to grow year after year. It is a unique event that will be presented on Sunday March 13, 2022 at the Vallarta Theater. To purchase your tickets visit their website: https://www.whatadragpv.com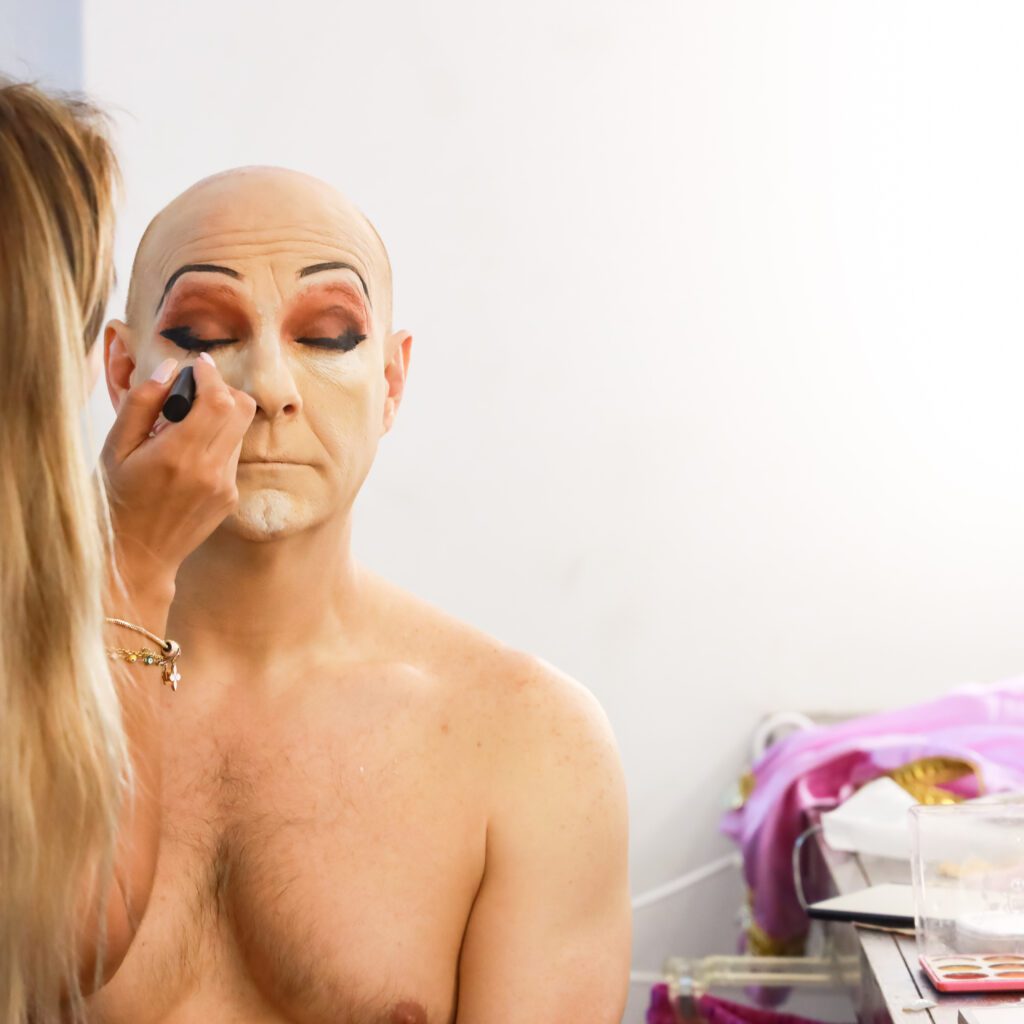 Mayahuel Show
This show will transport you to the roots of Mexican culture. Particularly the roots of Jalisco. Mayahuel is a journey full of emotions and magic. It is the story of the goddess Mayahuel, the most beautiful star in the sky, who comes down to earth in love with Quetzalcoatl, the king of the Mexica and when she arrives here she is impressed by everything her eyes see (like all those who visit Puerto Vallarta ) water, earth, air and fire.
An impossible love story with an unexpected ending but full of incredible musical numbers and impressive acrobatics that will make you jump out of your seat and get excited with its protagonists.
This show is a Mexican production with live pre-Hispanic music, great technology and a cast of top-level international artists, dancers, actors and acrobats from both Mexico and the United States, Colombia, Canada and of course from Puerto Vallarta.
Mayahuel is not only a show, it is an experience to all your senses, it is at the level of any show in the world. Get ready for an unforgettable trip full of mysticism, culture and romance. Vallarta is producing great shows and Mayahuel is the proof of it.
The performances are held at Teatro Vallarta Culture Center (Vallarta Theater), Uruguay 184, 5 de Diciembre, on Mondays, Wednesdays and Saturdays at 5 p.m. Tickets are on sale online or directly at the Vallarta theater box office; they handle three packages:

VIP: Preferential entry, exclusive seats, open bar, Show and a gourmet dinner facing the sea | duration 3.30hrs
Platinum: Preferential entry, exclusive seats, Show and open bar | duration 1.30hrs
Gold: General admission and Show 1.30hrs.
http://leyendamayahuel.com/?fbclid=IwAR0okwKh-V98WZoh-na1ugdDzOcKscpF37sbfr7gq9FHSK-jEQRCmzVEVdc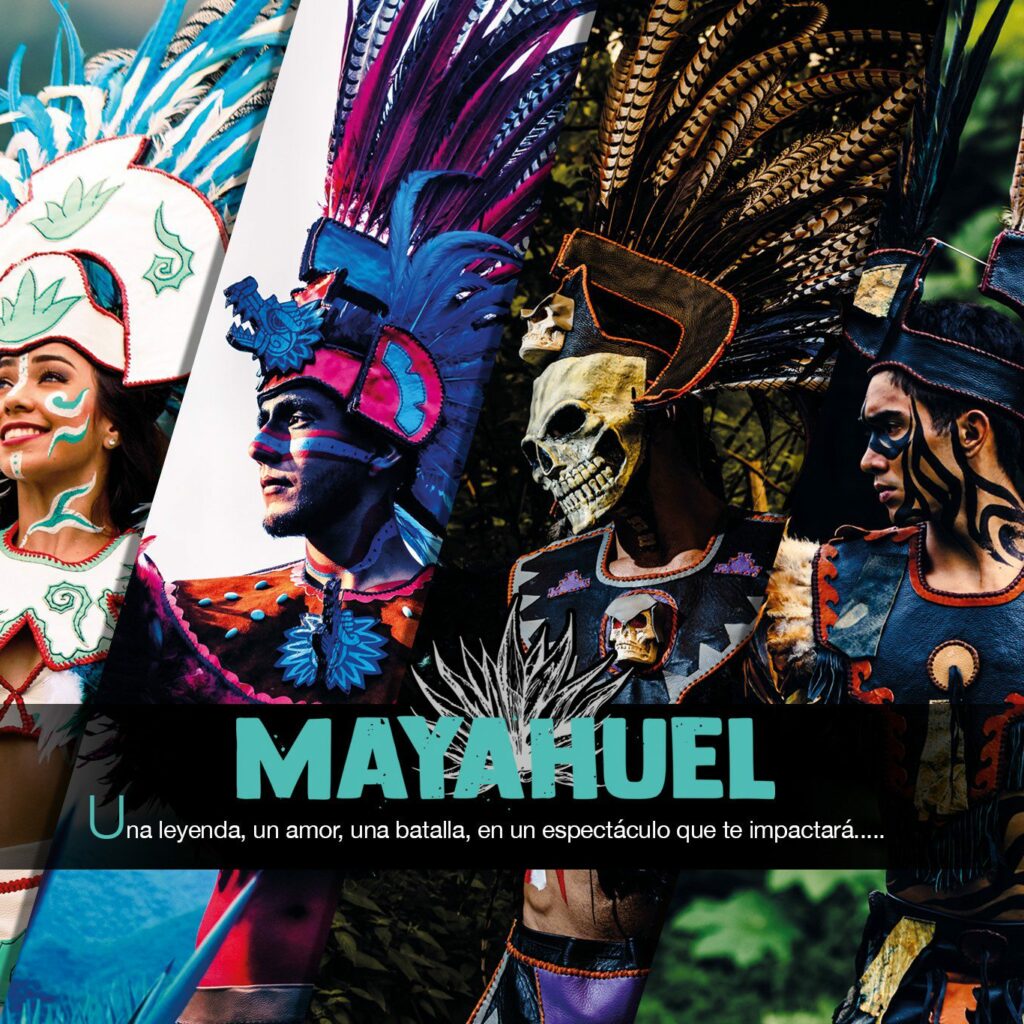 Dragapella – The Kinsey Sicks
Internationally known for their original and fun way of addressing current issues in society and politics and turning them into a music and comedy party, the group of The Kinsey Sicks will be performing in Puerto Vallarta and believe us you will regret not seeing them.
With more than 25 years of running, they have performed in theaters, concert halls, cabarets, and comedy festivals in the US and around the world. His record includes an Off Broadway show, a Las Vegas residency, two feature films, three concert DVDs, ten albums, and performances in the US, Canada, Mexico, Europe and Australia. They are characterized by their salty and exaggerated humor perfectly complemented by their extraordinary voices a Cappella and their alter egos in drag.
Their 25th anniversary show reprises their critically acclaimed show, Things You Shouldn't Say!, named by Forbes magazine as one of the "Best Shows of 2017. Race to buy your tickets to enjoy their wonderful voices, huge wigs and quirky comedy style.
They will be doing season from January 1 to February 12 at The Palm Cabaret and Bar, Tuesdays and Saturdays 6.30 p.m. and Thursdays 8 p.m.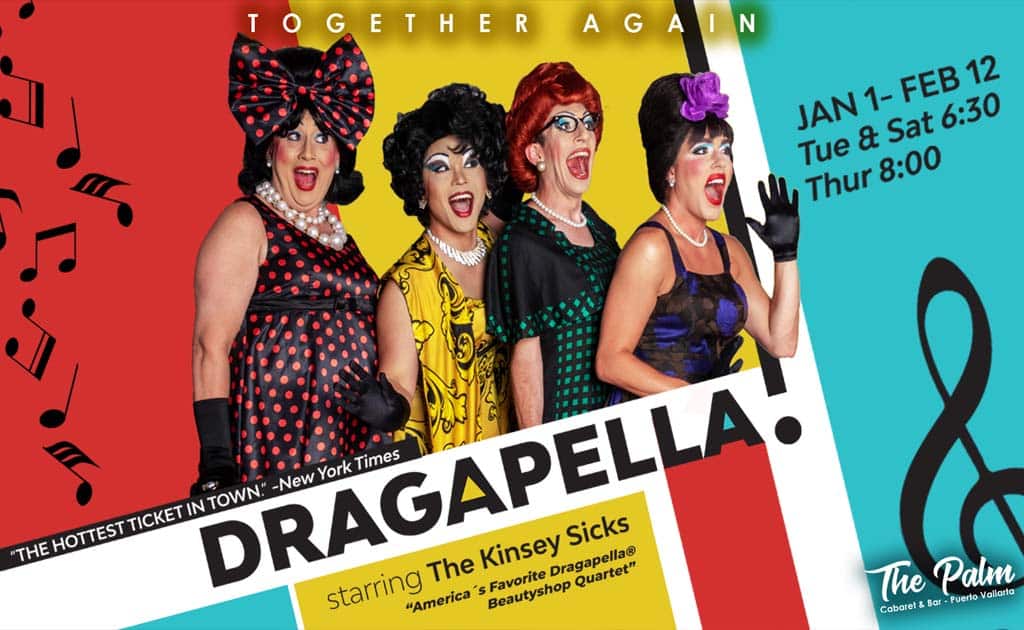 Jersey Boys
This is a great tribute of four Latino boys to the Jersey Boys group led by the talented Marc Lopez, who just came off a very successful season with his show "Crooners". This show is a powerful and fresh celebration of timeless music from one of the best-selling bands of all time, the repertoire features a quartet of handsome boys singing and dancing to the music of The Jersey Boys, Frankie Valli and the Four Seasons.
With flawless harmonies and seductive moves, the Jersey Boys will take you on a nostalgic journey through the sounds of Doowop, singing Who Loves Ya Baby, Sweet Caroline, Sherry, Big Girls Don't Cry and many more.
The guys are extremely talented and take hold of the essence of all the songs, choreography, costumes and the great style of that time. The repertoire that you will find in this show will be of incredible songs full of inspiration and very emotional.
You can find them doing season at the Theater-Cabaret-Lounge Act2PV on Sundays and Tuesdays 7.30 p.m.
Look for your tickets on the theater's website or directly at the box office.
https://www.act2pv.com/show/jersey-boys-tribute-starring-marc-lopez-starlight-cabaret.html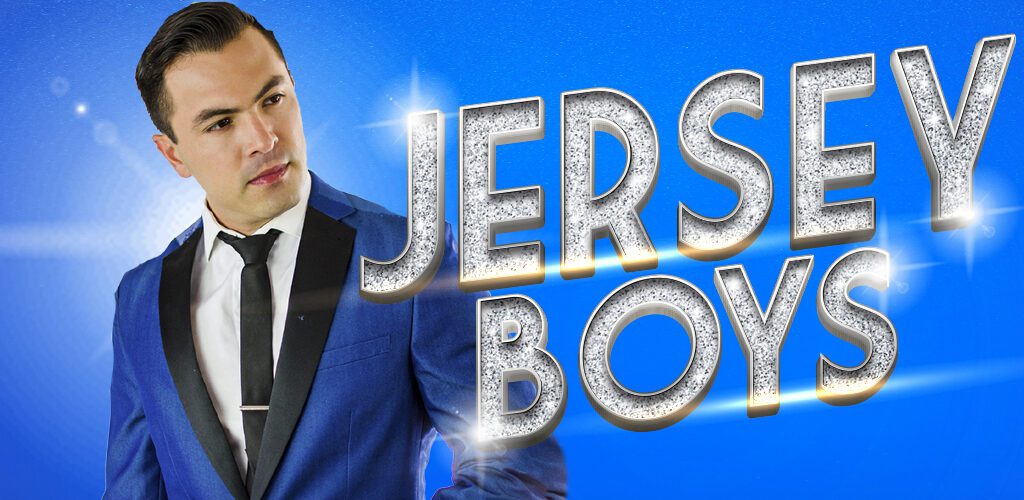 Entertainment Venus and Show Bars
When you bring world class entertainment to town, you've got to have world class venus for them to perform. Puerto Vallarta has some great theaters and show bars for entertainers to strut their stuff. Check out these places to catch a show!
The Palm Cabaret and Bar
A space that has been in the public's taste for a long time and that has been known to gain recognition for the great shows it presents is The Palm Cabaret. Its concept is like the traditional cabarets of the 1920s with a slight touch of modernity. Sitting there will transport you to another time and when the lights go out and the show begins you will be on an incredible musical journey.
Their shows range from concerts, show drags to tribute performances to pop culture legends. Its billboard presents both national and foreign artists and they always have guest shows from other countries who do residency for a time in PV. The Palm Cabaret is definitely a great option and a must when visiting.
Address: Olas Altas 508, Hours: 6 pm-12am
Website: https://thepalmcabaret.com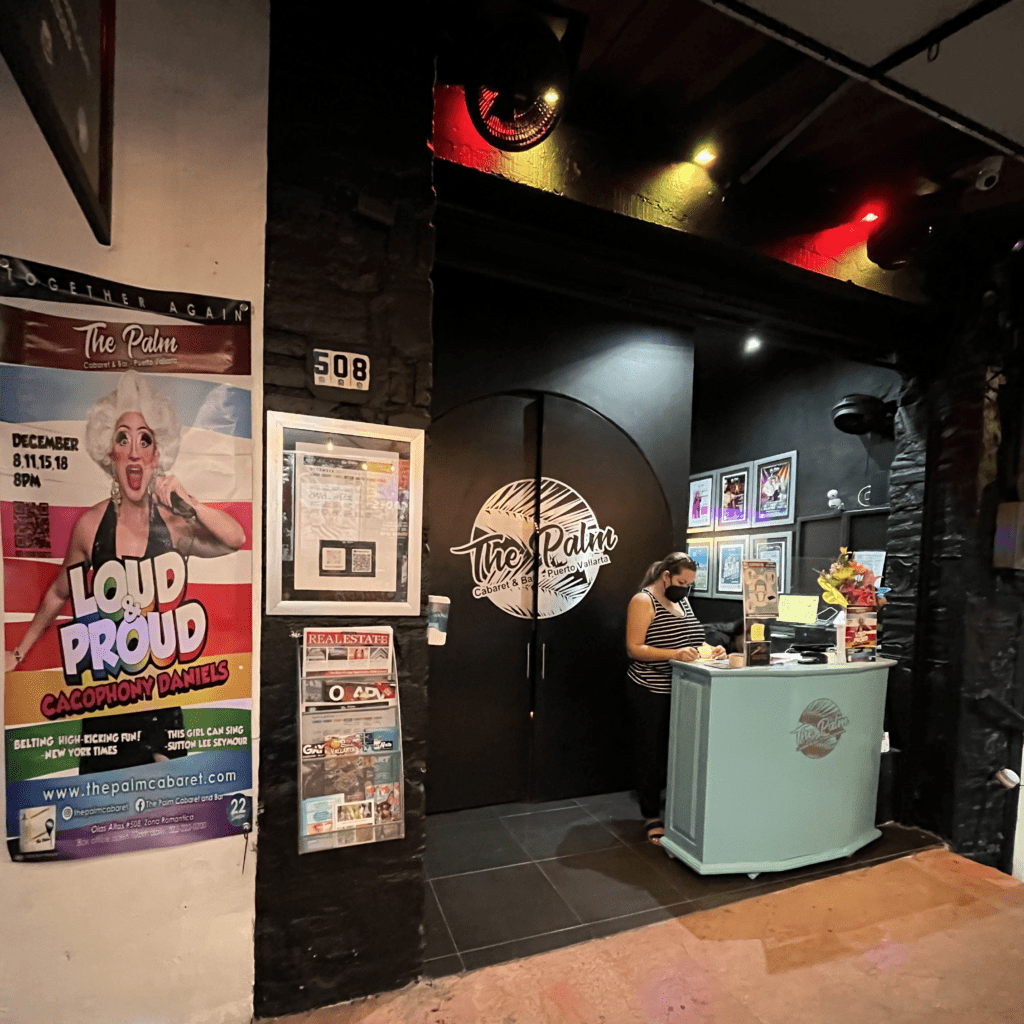 Act2PV
Vallarta has recently been characterized as a place that hosts great high-quality shows.
One of the spaces dedicated to art, theater and music is Act2PV which is one of the largest entertainment venues in the Bay of Banderas, with world-class shows. Act2PV has three wonderful theaters: the intimate Cabaret Red Room, The Main Stage and a comfortable and brand new open-air cabaret, Starlight. The variety of their shows is great and in high demand, including Broadway musicals, plays, musical cabaret, concerts, live music, and drag shows. The performers are top-notch and there is also a fully equipped bar where you can relax before and after a show.
Address: Basilio Badillo 330 Basilio Badillo & Insurgentes, Hours: 6-10pm
Website: https://www.act2pv.com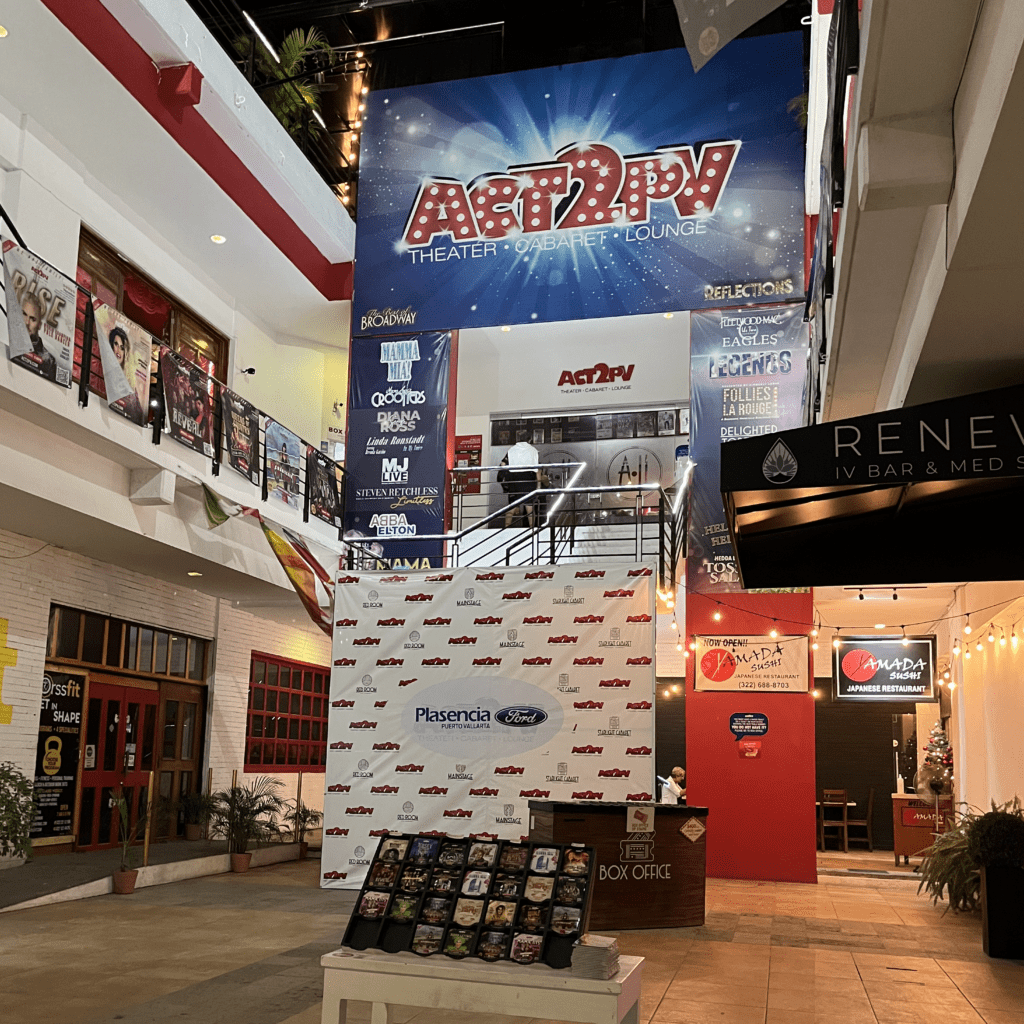 Incanto
Puerto Vallarta is characterized by the diversity of its nightclubs and bars. Within this wide range of places, one has a special presence for its sophistication and unique styles, Incanto. It recently made its reopening (after it was severely damaged by flooding) and once again welcomed its frequent customers and offered, as always, the best live music show lineup. Incanto has an air-conditioned cabaret theater and a piano bar where you can dine in low light and in a bohemian and quiet atmosphere. The place specializes in bringing together different forms of art in one place, music, theater, comedy, and literary events. On Sundays they have an Open Mic, where you can take over the stage and show your talents, sing, dance or tell a story! Cheer up! Remember to try to book through their Facebook page. Its food menu is very varied and extensive by its Chef Jorge E. Hoil. They have delicious breakfasts if you feel like visiting early, we recommend the Eggs Benedict, a delicacy! For later and at night you can order the chicken breast served on a bed of spaghetti with creamy cheese sauce or something lighter like the avocado stuffed with chicken accompanies the dinner with a glass of wine. They also have salads and sandwiches.
Address: Insurgentes 109, Hours: 9 am- 2am
Website: https: //www.incantovallartaWebsite: https://www.incantovallarta.com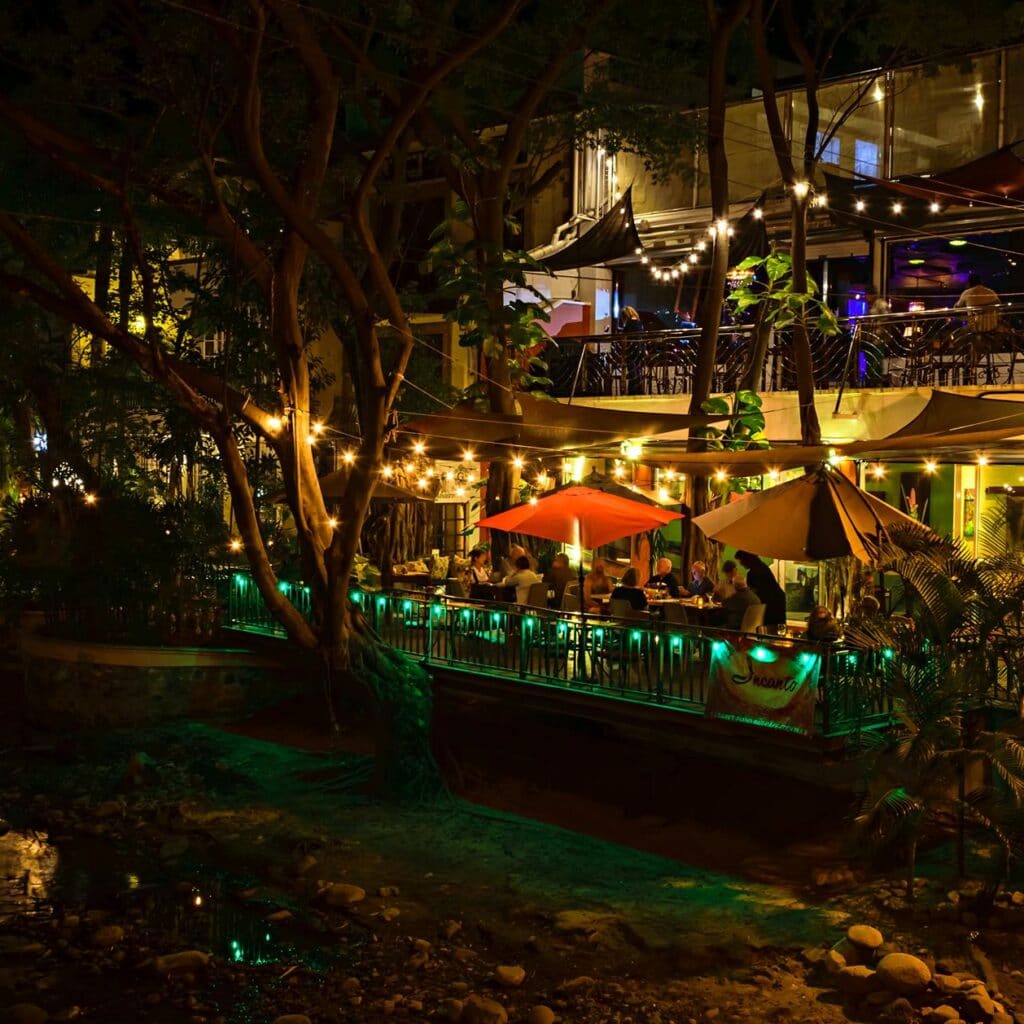 Blue Chairs Roof Top Bar
A classic in Puerto Vallarta is the Blue Chairs and its terrace is no exception. From there you can enjoy spectacular views while enjoying a show with your favorite cocktail. Its gastronomy and mixology is quite wide so you can have variety for the whole night. The Blue Chairs GoGos show is one of the hottest in PV, happening from Monday to Sunday starting at 5 p.m. And of course, in its Butterfly Theater there is its unique Drag Show with international artists that will light up the night.
Address: Malecón 4, Hours: 2 pm- 2am
Website: https://bluechairs.com/es/the-rooftop-bar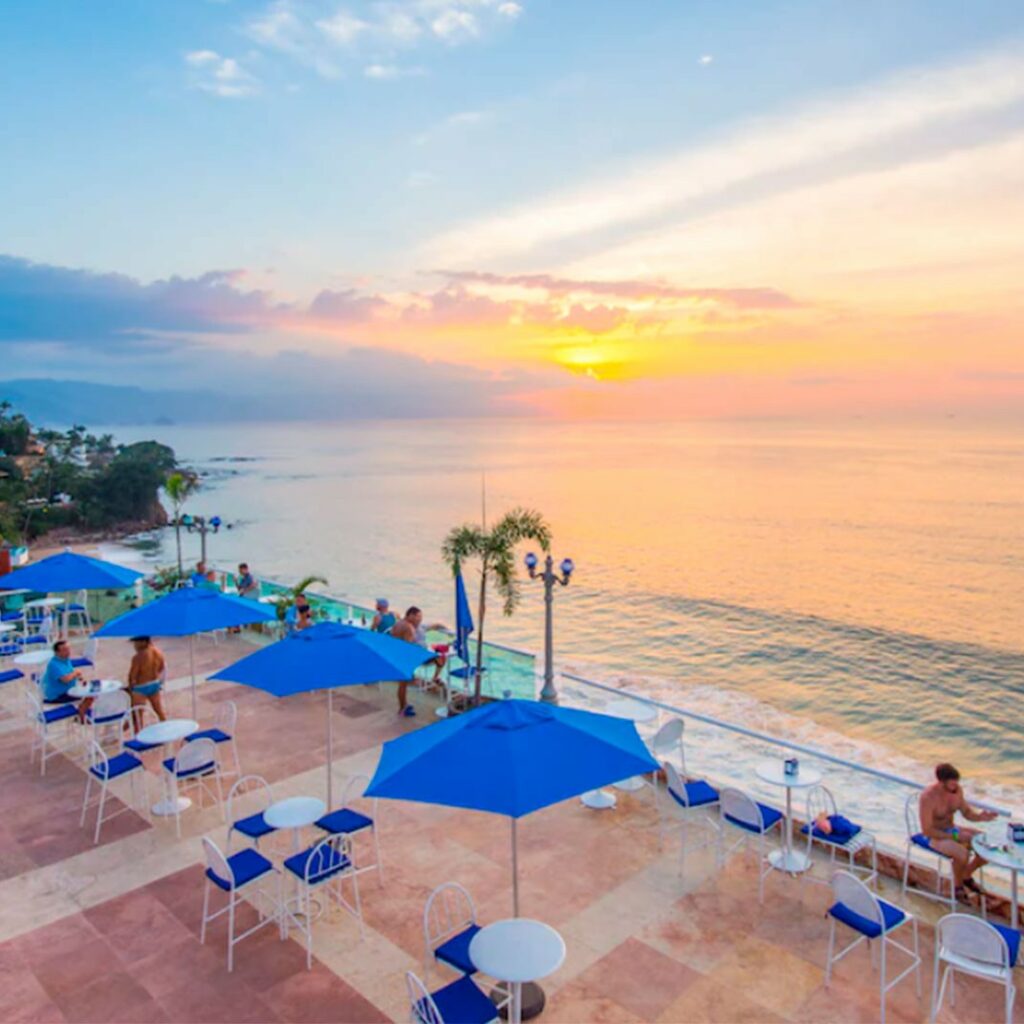 The Top SkyBar
With one of the best views in Vallarta, Sky Bar has positioned itself as one of the favorites of the LGBTQ + public. Its food is formidable, impeccable service and attention, plus you can enjoy the best sunsets while sipping one of its exclusive drinks. We recommend the Mar y Tierra sopes and the flank steak tacos from their food menu. Margaritas are a must here, be sure to ask for them especially the mango one! Sky Bar is part of the Almar Group, which has different well-known entertainment centers in PV, so the fun is guaranteed. Ideal to go alone, as a couple or with your friends. Their shows are very fun and will make you dance and sing with their international artists. Also part of the Almar Group is Mantamar Beach Club, which brings in live entertainment throughout the year.
Address: Amapas 380, Hours: 8 am- 11pm
Website: http://www.thetopskybar.com/en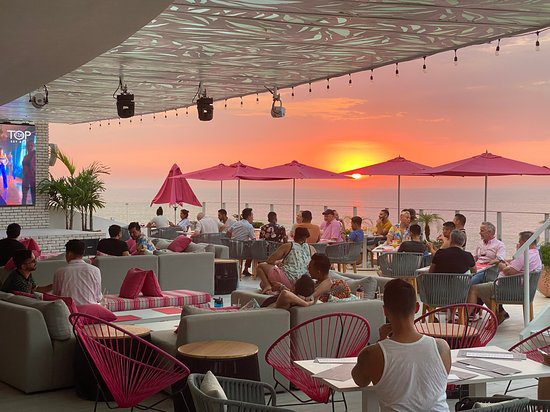 Garbo – Piano bar & Jazz
A place to relax is definitely Garbo. Its bohemian essence makes it one of the few bars of this type in the romantic zone. In a relaxed atmosphere, it has a magnificent bar with a variety of margaritas or its mixology with premium mezcal. You can enjoy a little jazz outside the din of gay bars. The typical audience is usually 35 years or older, and frequented by North Americans residing in Mexico.
Address: Púlpito 142, Hours: 6 pm- 2am
Website: https://m.facebook.com/Garbo-Bar-Vallarta-184997654855856/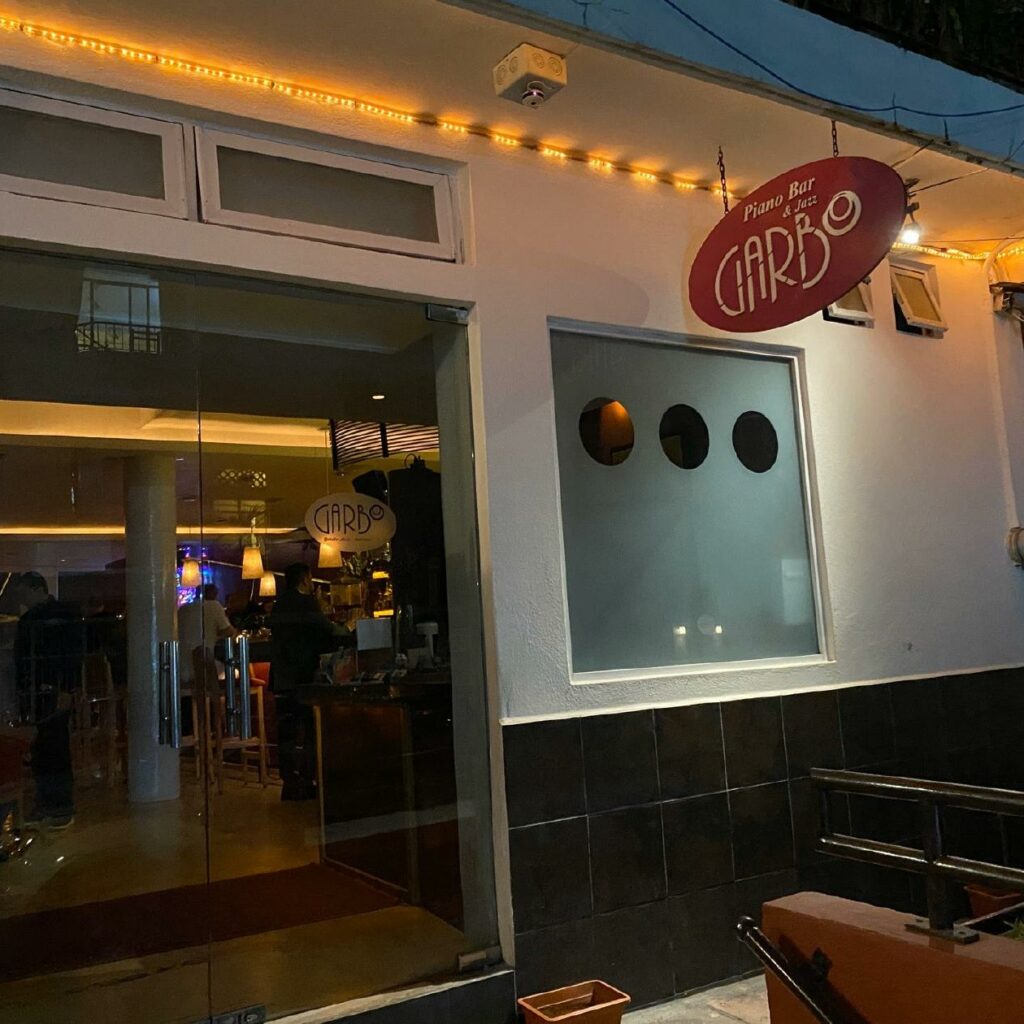 Naughty Entertainment
Everyone has to get out and let their "hair down" every now and then but just remember, "what happens in PV, stays in PV." Here are a few options for those looking to get a little naughty at night.
Strip Clubs
If you've not been to a PV strip club, just know that it's a bit different than an American strip club. Most strippers are working for tips only, and get commissions off the drinks they sell. They can be aggressive as this may be their only source of income. Be prepared for one of them to ask you to buy them a drink, and know that drinks from the strippers may be more expensive than if you go to the bar. There are four strip clubs in PV.
Anthropology
PV's oldest and most established strip club, opening in 2000, Anthropology provides electronic music along with the Gogos that you can enjoy all night long. Just a little away from the streets of the gay district, this place invites you to uninhibit and perhaps indulge your most recurring fantasies. Its location at the beginning of one of the Cuale River Bridges, a bit far from the gay district, will make you feel more private and confident. The Gogos special show is at midnight so plan to be on time and don't miss it!
Here is also a good place to chat while you revel in watching the handsome strippers on the dance floor or the bar.
Address: Morelos 101, Centro, Hours: 10 pm- 3am
Website: https://m.facebook.com/profile.php?id=100063601512554&_rdr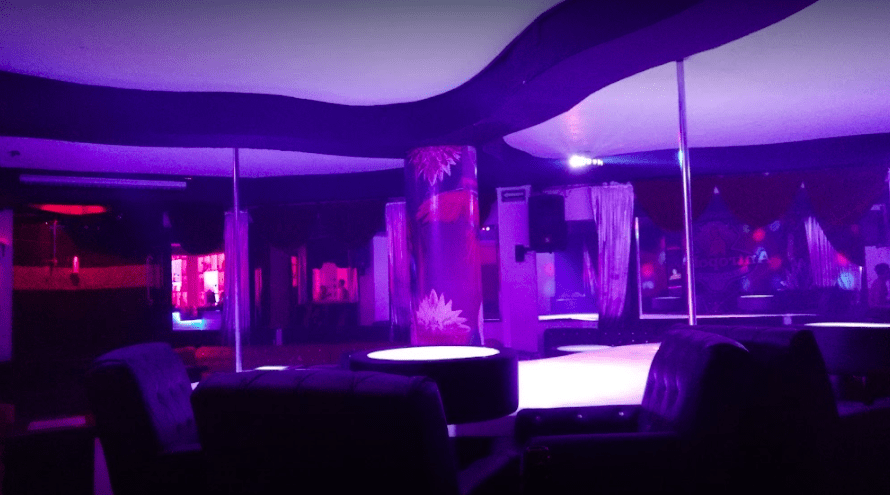 Club 69
69 Strip Club opened in 2018 and has a hip decor that is sure to catch your eye! It has two levels for performers -one is center stage and one directly above the bar higher up. It also has a second level seating area. Private rooms are located downstairs below the bar.
Address: Lazaro cardenas 316, Hours: 9 p.m. to 4 a.m.
https://www.facebook.com/mensonlyPV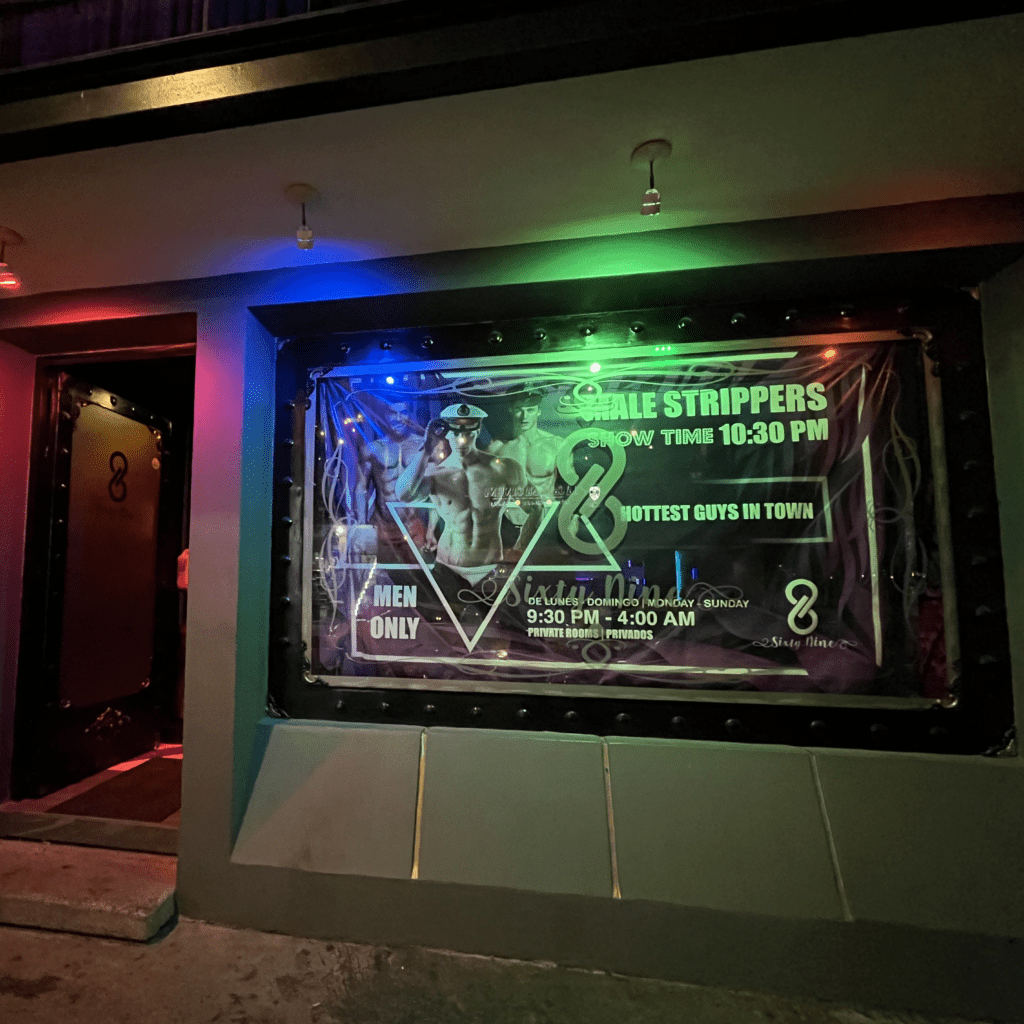 Pervert
Pervert is very much like what you'd expect a strip club to be, even with a pole in the center of the stage. . It's located above a barber shop and just a few doors down from Wet Dreams and Sixty Nine.
Address: Lázaro Cárdenas 328, Hours: 10 p.m. to 2 a.m.
https://www.facebook.com/Pervert-PV-102050014628998/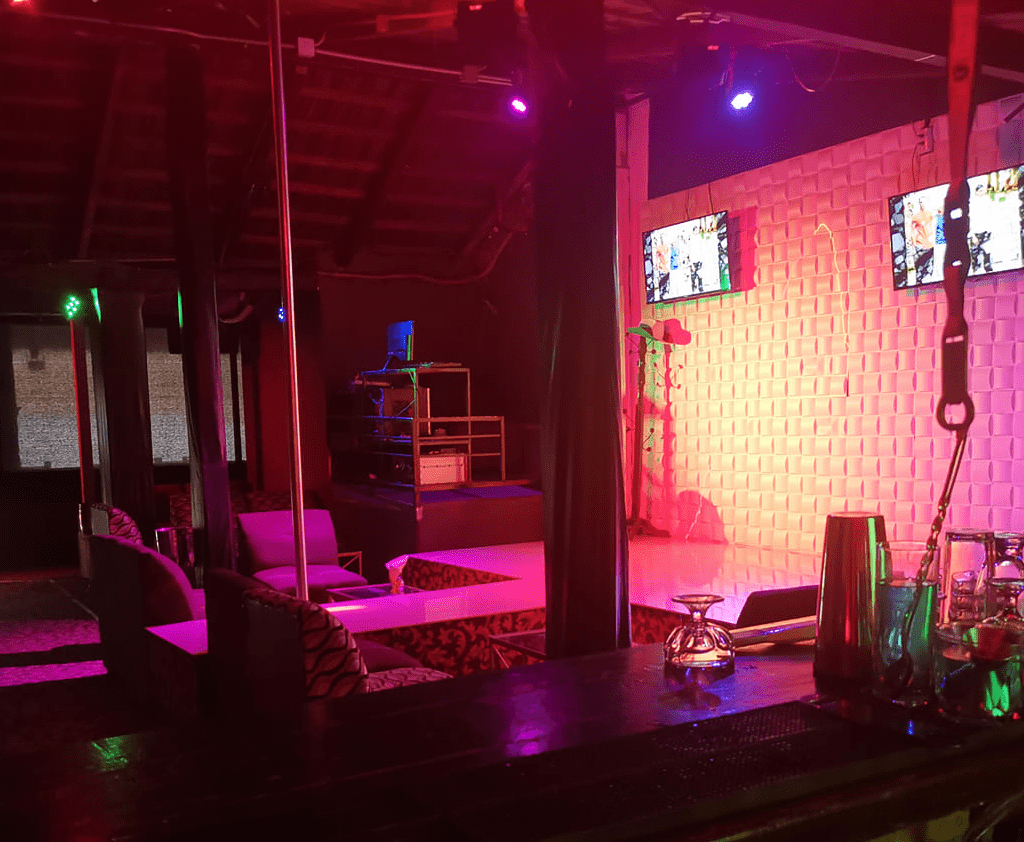 Wet Dreams
Wet Dreams is a lounge-style strip club with a large illuminated dance floor – that is mostly occupied by strippers. Its drink bar is limited and a bit expensive but you can find original drinks. They are known for, of course, their strip show, with handsome boys leaving nothing to the imagination. Keep in mind that it is a Strip Club, so try to be generous with the guys and leave good tips. The place is small and you will especially enjoy it if you go voyeurista. It can be a good pre-party before you get out of control.
Address: Lázaro Cárdenas 312, Hours: 8.30pm- 3am
Website: https://www.facebook.com/pvwetdreams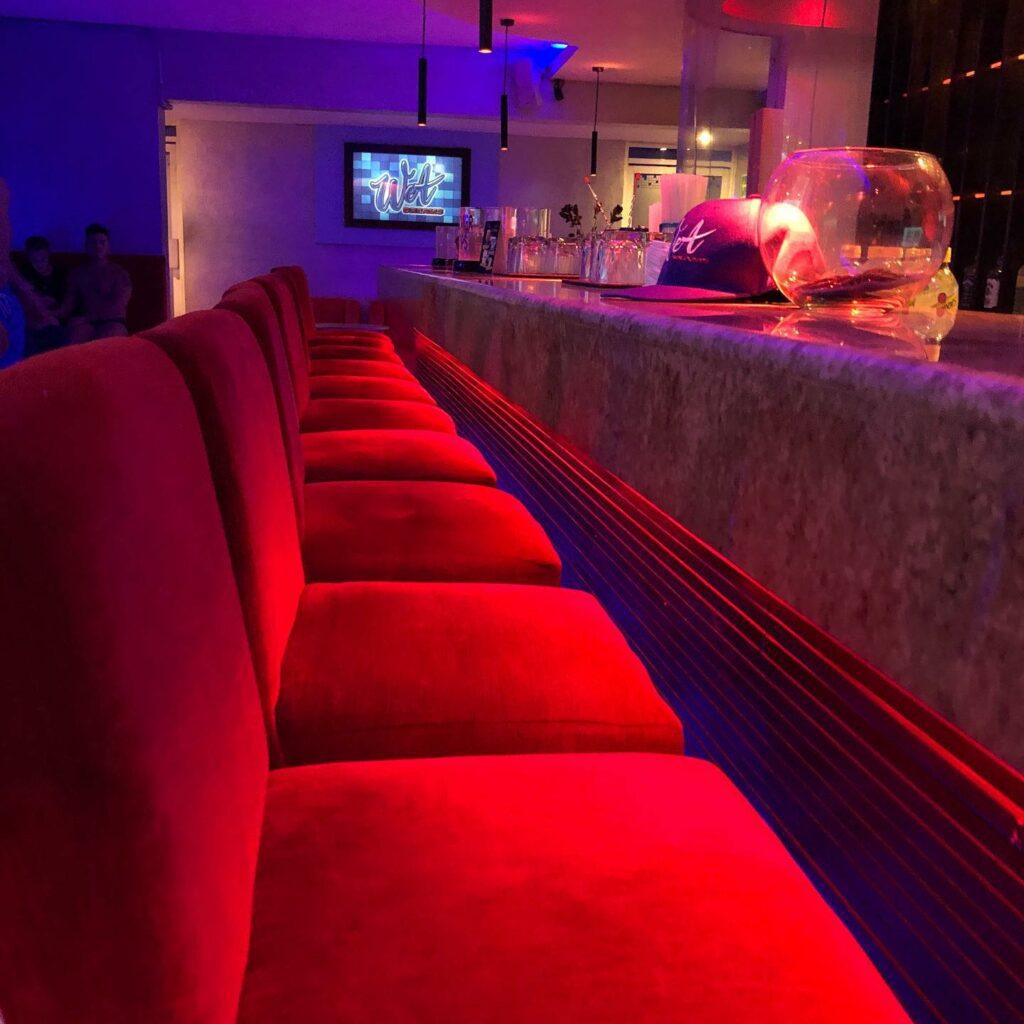 Club-Sauna Spartacus
One of the most iconic gay venues in PV is the famous Spartacus, a large sauna and spa that has four floors. If you are determined to have a 360 experience, do not hesitate to visit their facilities. Spartacus has a large number of spaces where you can relax and have fun: steam, sauna, jacuzzi, private cabanas, outdoor pool, bar, terrace and free internet. The sauna has a terrace at the top, where sun lovers can bask and tan to the rhythm of music and beautiful naked bodies. Also there is a special area for smokers. If you arrive early, it will give you time to get to know the place and enjoy its facilities and then give way to interact with customers and have an incredible time. The cover is $200 pesos and in high season $300 pesos includes a locker, sandals and towel. They also have the service of cabins and massages for an extra cost.
Address: Lázaro Cárdenas 240, Hours: 2 pm-3am
Website: http://www.spaspartacus.com/prices-hours.html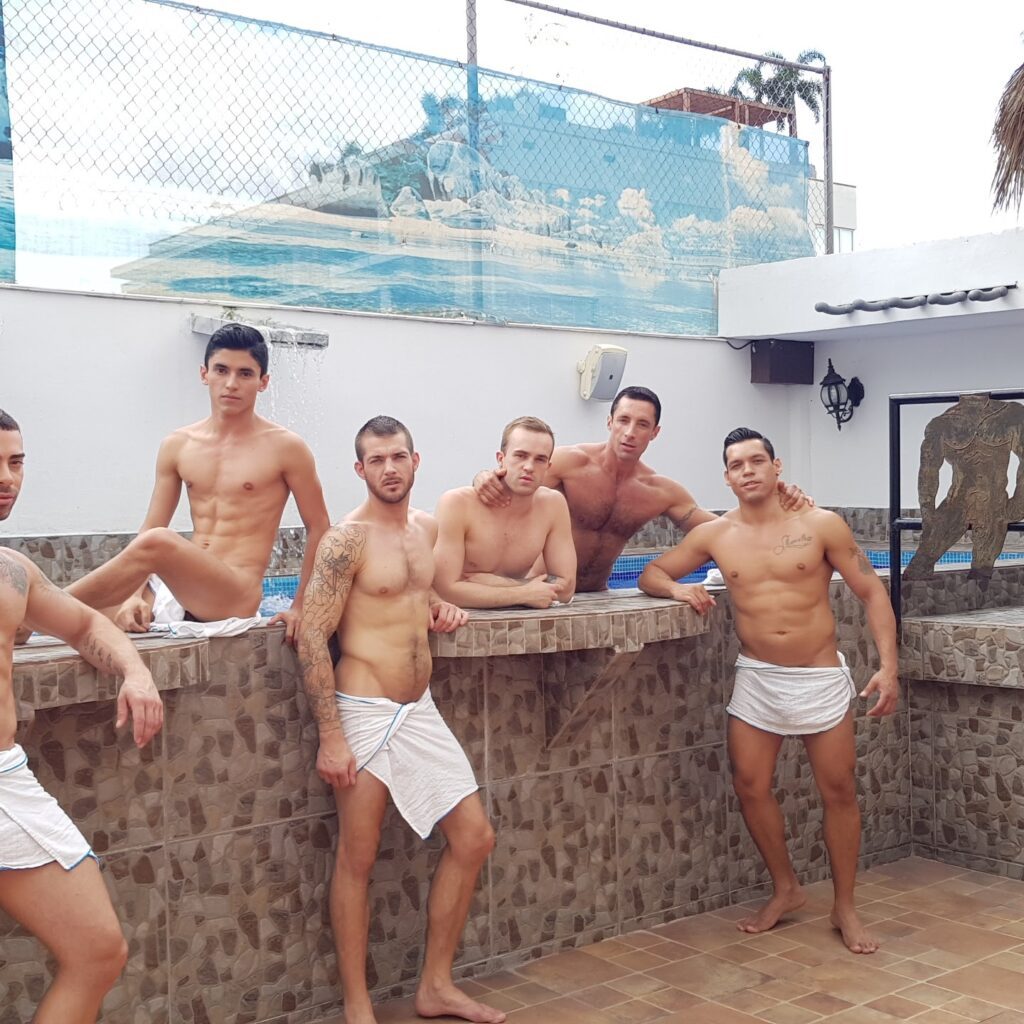 Papi Chulo is the new little brother of Club Spartacus, adding a new option closer to the gay beach area. Check out their social media for more information on hours and services, as it was just opening when O&APV was going to press.
Address: Pilitas 156, Hours: (check social media for hours)
Website: https://www.facebook.com/saunapapichulo