This post is also available in:

Español
Is it really hot, or is it just me?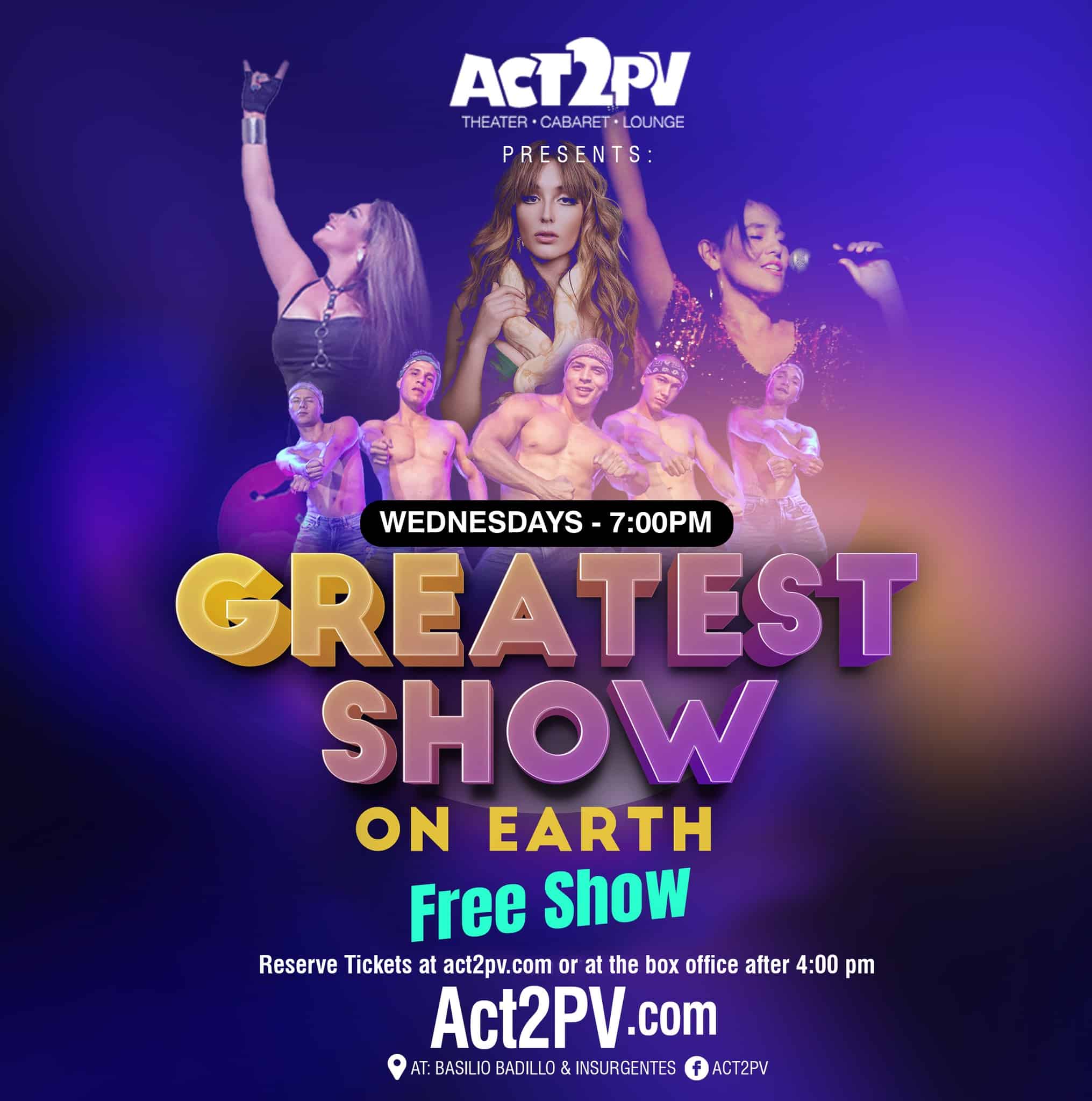 It is called The Greatest Show on Earth for a reason. Every Wednesday, Marsha's Red Room at Act2PV hosts this production that celebrates the in-house talent with snippets of shows currently running and previews. These performers also team up with one another and may create another showbiz blockbuster. Imagine Rafael Velazquez and Tonny Kenneth. Patriz and Alejandra Matus. Victor do Espirito and Joaquin Canarero. Fabulous mashups that happen weekly! Join me.
If god made anything better than mango smoothies, she kept it to herself. Selena Luna and I devoured one each last Thursday in our weekly "Bubble Session" at the Vallarta Factory. Besides running through the past few days of entertainment and deciding who was hot and who was not so much, we planned our upcoming excursion to the Saturday tianguis by ex-Regional Hospital/Barrio Santa Maria. More on that in a bit!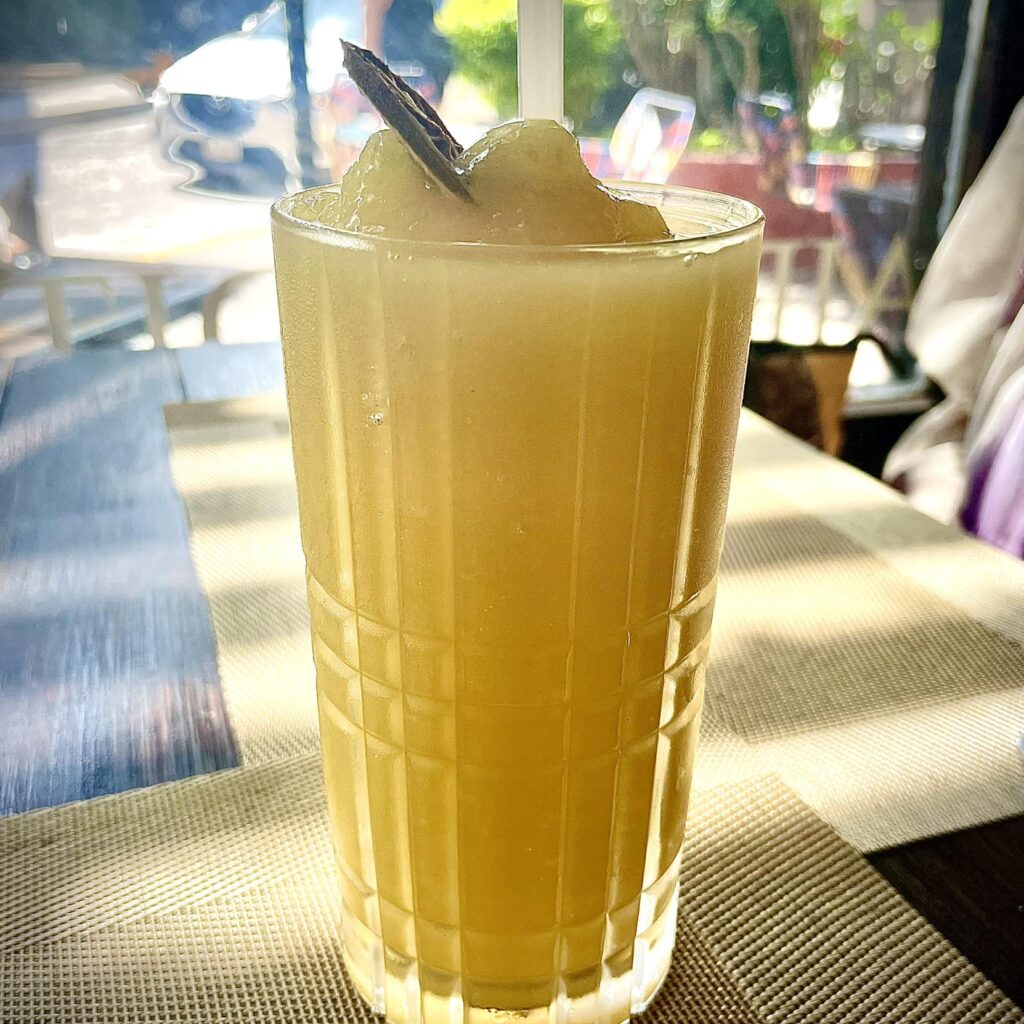 The movie Grease, starring John Travolta and Olivia Newton-John, debuted in 1978 and showed its squeaky-clean face at Incanto's Theatre last Friday. I am glad I waited 45 years to see it from start to finish. Some of the dialogue was absolutely priceless, like,
"I have known some pain in my life."
"Oh, you have psoriasis?"
All of us in the audience, including Frank and Lupe Patterson, John and Barb McKinney, David Lord and Susan Wiseman, and Georgia Dareshori, had a ball, singing along. Thanks, Selena, for providing the lyrics and yummy popcorn.
Afterward, most of us went upstairs to the Piano Bar, joined the illustrious Tom Bernes and owner Tracy Parks and caught the balance of the Tonny Kenneth-Luis Villanueva show. What a delight those two best friends are.
Selena and I jumped on a bus the next morning and headed through the tunnels to scope the outdoor Saturday market by the ex-Regional Hospital. It has been decades since I visited this particular tianguis. Selena did well, buying two bags of clothes that cost the equivalent of one second-hand store dress.
As Incanto is closing for September, I wanted to check in with Aunt Pearl for her hilarious Bingo games on Saturday afternoon in the Piano Bar. She was in rare form and had all of us howling with laughter. During the intermission, we were treated to the Ballet Folklorico Tradiciones with a troupe of six dancers ranging in age from five to eleven. They were so delightful. I watched Aunt Pearl's face as she stood safely behind the bar when one of the boys daringly soloed with two machetes smashing together like tambourines; I should have taken a photo!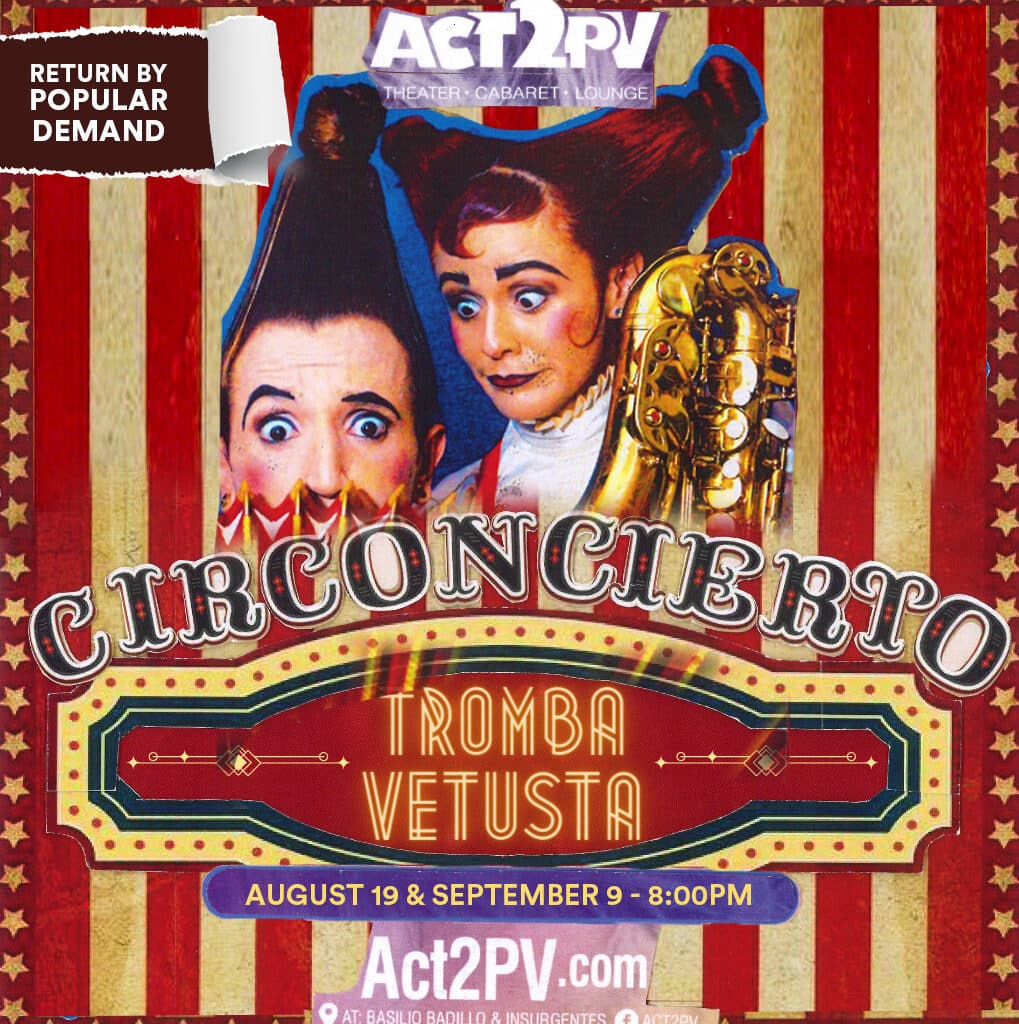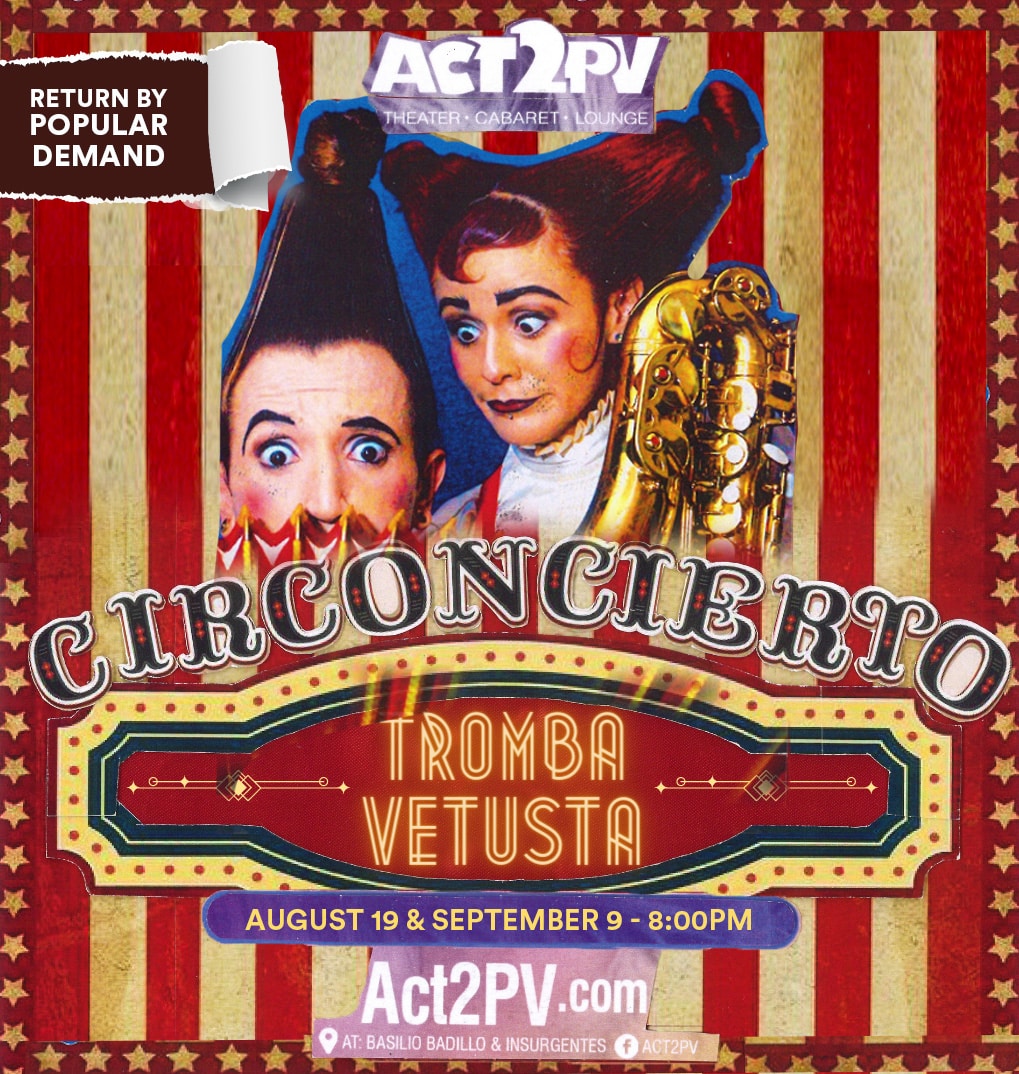 I went straight from Incanto to Act2PV through a downpour to see Tromba Vetusta again, easily the most unique and joy-filled show in Vallarta. Alejandra and David hail from Costa Rica originally and have settled happily into Act2PV's family; good news for us. Their performance is incredibly hard to describe – it is part circus clown with outrageous hair and makeup and exaggerated movements. Alejandra portrays a stumbling, clumsy, slow-witted 'fall guy' to her real-life husband, an accordion-playing contortionist mime who is impressive, spinning balls on his fingertips while twisting his body into pretzel shapes on the stage. The kids in the audience were star-struck! Me too! Their next show is on September 9th. GO!
Voice of Vallarta, Season Six, the semi-finals, ran for almost three hours last Sunday. The results, when the dust cleared, had the losers winning and the reverse! We saw three of the eight contestants cut, leaving (in order) Jessi, Sol, Indra, Rulo and Amanda for next week's final. The judges had their hands full, as they have done from the get-go in this season six of Voice. A guy has never won the Voice of Vallarta; is Rulo up for the task? We will find out next week; it will be a nail-biter, that's for sure!
Coming up:
August 25, Friday, 7:30 pm. Incanto's Theatre. RETRO MOVIE NIGHTS presents "Little Shop of Horrors."
August 27, Sunday, 7 pm, Act2PV. Voice of Vallarta, Season Six, Final.
August 29, Tuesday, 5 – 7 pm, Joint Coworking Hotel. Paco Ojeda reprises his Promo Prodigy. Anyone who needs to promote an event in Vallarta will find the hints and tips in this presentation invaluable, with new (free!) tools to make their next event a roaring success. Well worth the 300 peso fee!
August 30, Wednesday, 1 pm, Qulture. Last Scrabble practice before next week's Tournament!
7 pm, Marsha's Red Room at Act2PV, The Greatest Show on Earth.
9 pm at Melody Bar, Act2PV. From what I hear, there will be a fabulous sax player with two extraordinary classically-trained dancers. A full report next week!
August 31, Thursday, 5:30 pm, upstairs at the Seahorse in the Main Square. Women's Networking Puerto Vallarta event. No cover; just pay for what you consume. I will see everyone there!
Only seven weeks are left in the Rainy Season, and the Rio Cuale is still just a few inches deep. Please be mindful of your water usage. If we care for Mother Earth, she will continue caring for us From Here.
Marcia Blondin
marciavallarta@gmail.com
Cell 322 159 9675
Related: