Esta publicación también está disponible en:

Español
Several key factors combine to make Puerto Vallarta a wonderful city for gay and lesbian couples seeking to hold a destination wedding, and it's more than just the sun and fun. Some of the factors are the same ones that make Vallarta a stunning destination for all types of vacation travel—easy air access to key American and Canadian cities, a centrally-located airport near to the city, great beaches and wonderful sunsets. But one of the other key factors that work especially well for gay couples is the abundance of beautiful private luxury villas along the hillsides of Conchas Chinas and the Mismaloya South Zone, making possible beautiful wedding ceremonies away from the prying eyes of other guests at large hotels and resorts. Another factor is the well-rounded nightlife in the Zona Romantica that attracts gay-wedding guests of all types, gay or straight.
Privacy is one of the main factors that many gay and lesbian couples are looking for when planning their destination weddings. Having so many private villas and boutique hotels in and near Vallarta gives us huge advantages over other destinations in Mexico.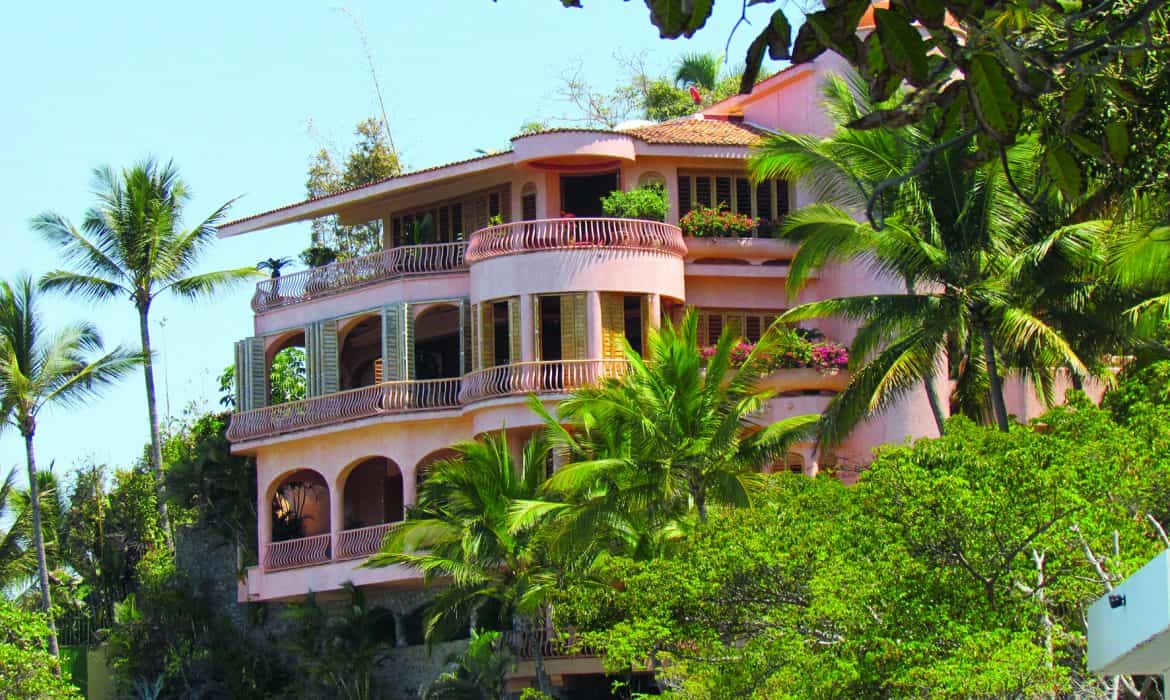 Of course, not all private villas are suitable for holding weddings, and most owners don't permit any sort of events with more than the guests who are staying on their properties. But with so many villas in the area, there are still quite a few that are both large enough and have owners who encourage events as a way to fill up their houses during slower parts of the year.
Weddings are held throughout the year here in Vallarta, but there are certain months with higher numbers than others. Couples are looking for that sweet spot of good weather and less-than-high-season prices, so many come in April/May and November/early December as the two biggest windows of opportunity.
Very few villa owners advertise their villas as event locations, so it's important for couples to use knowledgeable local sources to locate and contract the perfect event venue. Larissa Magee and Stephanie Watts own Agave Villas, a villa-rental company based in the Zona Romantica. "Booking a private villa for a wedding is an incredible experience as it's intimate, private and allows the bridal couple to customize their wedding to exactly what they are envisioning," Magee and Watts said. "However, there are a lot of aspects to consider when planning a wedding at a private villa so it's important to have someone who is knowledgeable and can help to guide the couple through this process and find the villa that is perfect for them," they added.
While most private villas are relatively small (4-5 bedrooms with outdoor event space limited to 20-50 guests), there are some that are larger and have event spaces that can accommodate larger numbers.
Casa Karma (oceanfront Conchas Chinas) has 8 bedrooms and three large event terraces that can accommodate more than 100 guests.
Villa Estrella Mar (oceanfront Conchas Chinas) has 7 bedrooms and several indoor and outdoor spaces that can accommodate 50-60 guests.
Villa Verano and the Puerto Vallarta Beach Club (oceanfront at the end of Los Muertos Beach) combined have 22 bedrooms and a garden that can accommodate up to 100 guests)
Villa Mandarinas (oceanfront Mismaloya) has 12 bedrooms and two oceanfront terraces that can accommodate up to 75-100 guests.
Villa La Mansión (oceanfront Garza Blanca) has 5 bedrooms and a large oceanfront terrace that can accommodate up to 300 guests
Villa Mia (oceanfront Mismaloya) has 12 bedrooms and a large outdoor terrace that can accommodate up to 100 guests
Quinta Encantada (oceanview Conchas Chinas) has 12 bedrooms in 5 apartments and two outdoor pool terraces that can accommodate up to 75 guests
Villa Celeste (oceanfront Conchas Chinas) has 5 bedrooms and two outdoor terraces that can accommodate 50-60 guests)
Since the vast majority of villa owners only rent their properties for events if it includes a house rental of between 3-7 nights, most couples thinking of using a villa for their wedding venue plan to house their immediate families there while looking to nearby hotels or other villas to lodge other guests. Thus, the proximity of the venue villa to other "overflow" lodging, especially hotels, can be very important.