This post is also available in: Español
Recently, one of these cooler nights we've been having in Puerto Vallarta lately, I found myself wandering through the malecon area.  As I combed the streets looking at beautiful façades and finding spots I'd never seen before, or maybe hadn't seen at night.  My walk was in part fueled by wonder but also hunger.  Before I knew it I had walked up to the Cathedral which stood tall and powerful  under the night sky.  After taking a plethora of pictures, none of which did it justice, I turned around after hearing the sound of families gathered around a table.  With its open doors and windows I was able to see into a small restaurant, exactly across from where I stood.  Tables filled with families (mostly locals- always a great sign) either talking up a storm as they waited for their meals or dead silent once they had been served.   My friend asked If I knew the place and when I responded that I didn't he said I was in for a treat, and boy was I. 
El Campanario is a Mexican restaurant serving breakfast, comida corrida (a very inexpensive home-like meal, usually offered as a set menu) and Dinner.  We arrived at about 9 p.m. and the cenaduria style menu did not disappoint.  With full plates ranging from $80 to $120 and single pieces of sopes, enchiladas, tostadas and tacos dorados cost $20 to $25 each it was easy to get carried away and want to try it all.  I could see many of the people seated around us were getting the Pozole, a popular dish anywhere in Mexico but decided to ask our waiter.  His answer was unexpected… "Get the enchiladas", he said.  But before I could ask which one (they offer most plates with pork, beef or chicken) he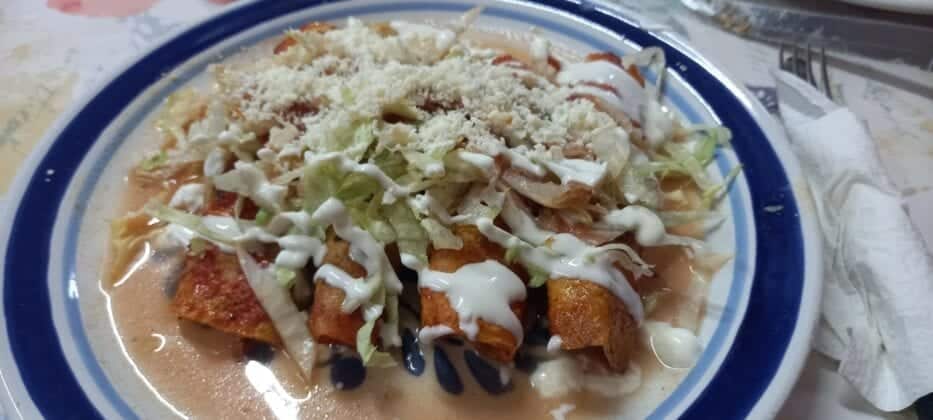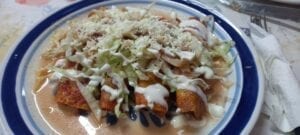 continued, "the ones i like aren't on the menu, picadillo and pierna, want me to send 2 of each in your order?"  I'm sure my smile, ear to ear, was an obvious response.  It's always fun when you get a good recommendation from a waiter, especially off the menu.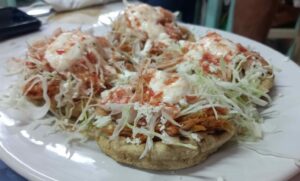 My friend said he always orders the same thing, chicken sopes.  A great choice, the masa (or corn dough) was delicious, and very filling.  The enchiladas took a little longer but were well worth the wait.  I'm still not sure which is better, so I recommend you try both, picadillo and pierna, but honestly the whole menu is a sure thing.
El Campanario is a family owned restaurant and has been a part of the community for 47 years;  they are well known to those who have been in Puerto Vallarta long enough and to most locals.  They tend to stay busy but the wait is never long as service is fast.  Even though it was impossible for me to make room for dessert, I am planning on going back for their Fresa tamal, I haven't stopped thinking about it!
El Campanario is located at:
Hidalgo 339, Centro, 48300 Puerto Vallarta, Jal.
Hours: 9 am. to 11 p.m. all week
See Also…
Asminda and her secret ingredients to stay always happy.