Esta publicación también está disponible en:

Español
Mark Your Calendars for November 18
Bearadise® wants to give bears even more to growl about! The bears who dare are invited to join Bearadise® as they kick off their monthly bear party: La Fiesta Cachonda (The Horny Party) exclusively at Spartacus during Brawny Bear week on November 18th from 7:00 p.m. – 1:00 a.m. With your purchase of the VIP Package, enjoy unlimited beer from 7:00 p.m to 11:00 p.m., no waiting in line, access to the private rooftop, and more sexy surprises.
What we do know is that bears will be bears, and La Fiesta Cachonda has what you're looking for.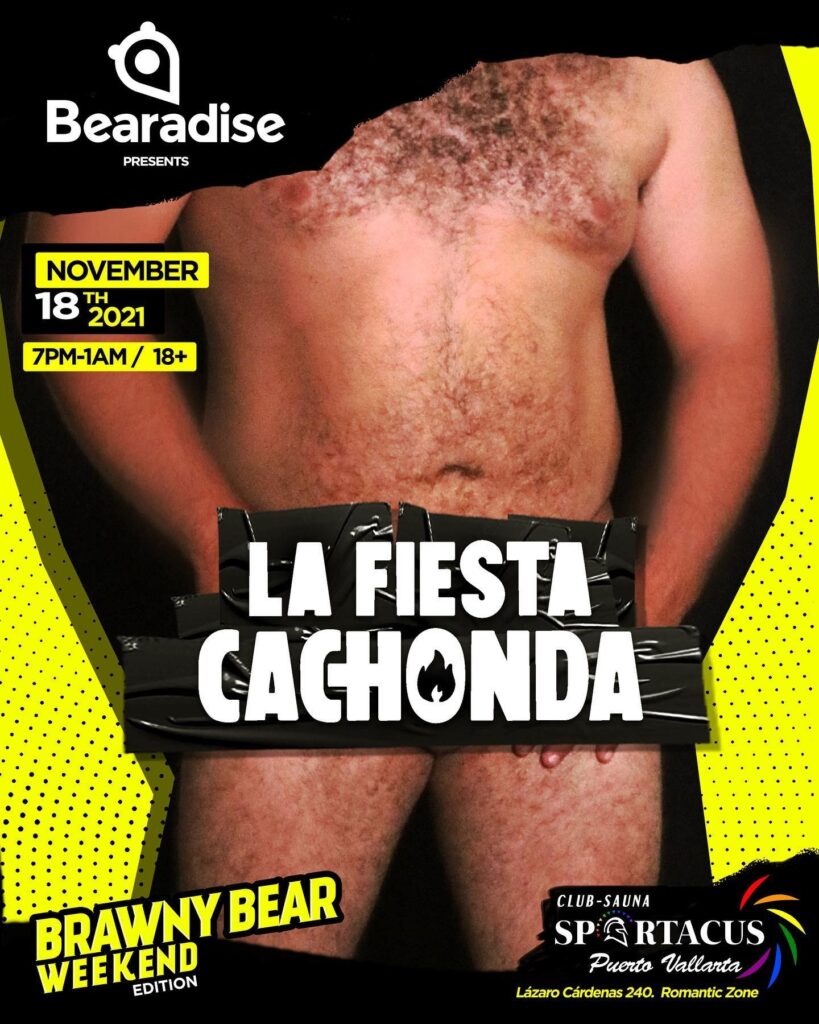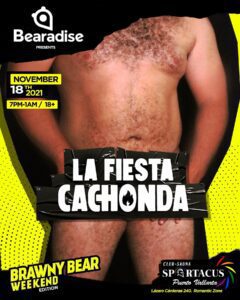 "Our Mission at Bearadise® compels us to build strong alliances and help each other grow the bear community," explains Christian Serrano, Bearadise® Producer. "So, joining our friends at Brian Kent Productions during their Brawny Bear Weekend in Puerto Vallarta makes a perfect fit for both of us. Everyone will have something they can enjoy at various venues during the Brawny Bear festivities. We invite the bears who dare to join Bearadise® as we kick off our monthly bear breeding party: La Fiesta Cachonda (The Horny Party) exclusively at Spartacus during Brawny Bear week."
Located in the heart of the club scene on Calle Lazaro Cardenas 240, Spartacus Sauna claims the title of the premiere Men-Only Sauna/Bath House in La Zona Romantica.
The 4,000+ sq. ft. complex spread over 4 floors provides a roof-top terrace, pool and palapa for nude sunbathing and growling good times.
Ready to really get the fun started? Your VIP Package highlights exclusive entry to a VIP Breeding Ground Playground on the rooftop. Delight in Bearadise® Osos Cachondos in a hot and sticky frenzy of bears being bears.
$55 USD ($1100 MXN)
VIP Package includes:
– VIP entry to Spartacus (no waiting in line for VIP Package wristband holders)
– Guaranteed locker + towel + flip flops
– Exclusive access to the rooftop VIP Breeding Ground Playground
– Unlimited beer from 7pm – 11pm
– Private performances by Bearadise® sexy Osos Cachondos
– Live DJ
Bearadise® plans even more surprises so purchase your VIP Package and come to discover the rest. Click here to buy your VIP Package now! You do not want to miss this inaugural event of the monthly Fiesta Cachonda. Be among the first to enjoy this one-of-a-kind bear party brought to Puerto Vallarta exclusively at Spartacus by Bearadise®. Tickets are limited!
Starting in December, we will offer a never-before seen in Vallarta breeding ground playground with live shows that will keep you smiling from ear-to-ear long after your visit. We will announce VIP ticket prices available on the Bearadise® website soon for our monthly private La Fiesta Cachonda exclusively at Spartacus. You're going to want to take a big bite out of that sandwich!"
Check out the Spartacus Sauna for Men website for admission prices ranging from Locker Only to VIP Cabins and hang out with the Bearadise® Bears during Brawny Bear Weekend on Thursday, November 18.
Get a sneak peek at what promises to be a bear den of pleasure at La Fiesta Cachonda starting in December. Present your Mexican INE to obtain a local discount. http://www.spaspartacus.com/prices-hours.html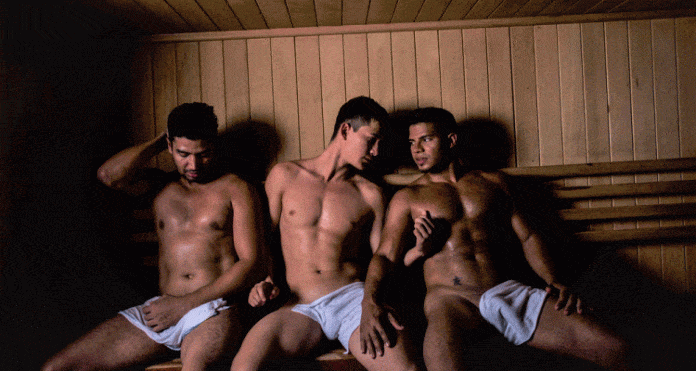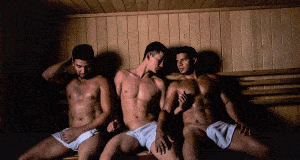 For more information about Brawny Bear Weekend, visit their website: https://brawnybearweekend.com/
Bearadise® protects the privacy of all participants at our events and expressly prohibits photos or videos taken by non-authorized Bearadise® representatives.
VIsit our website www.bearadisemx.com to take advantage of early-bear discount pricing on exclusive Bearadise® events.
If any Bearadise® activities are postponed due to COVID, or related government restrictions; Being a Fortuitous Event or FORCE MAJEURE something alien and beyond the control of THE PARTIES, the event will reschedule to another date. The program and participation will remain the same.
To learn about exclusive sponsorship opportunities where your brand can be exposed to international Bearadise® participants, please contact the Bearadise® team at info@bearadisemx.com.