This post is also available in: Español
[Editor's Note: This story was written for our Fall 2020 Digital Print Issue, and first appeared in Early October, 2020. It may be out of date when you read it, and the donation amounts could be higher.]
More than $300,000 USD ($6,303,045.Mexican pesos) has been raised to help with food and other supplies for Puerto Vallartians who have been hurt with the loss of work due to the pandemic. 
Much of the money has been raised on social media platforms including GoFundMe, where a search found many people had set up accounts to help raise money for locals.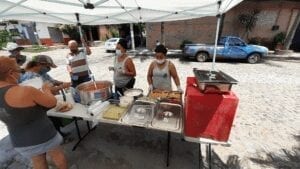 Francie Nguyen organized this fundraiser on GoFundMe for the Vallarta Food Bank, and it has raised almost $100,000- an additional $100,000 has been raised from it's webpage. You can find that fund here: https://www.gofundme.com/f/vallarta-food-bank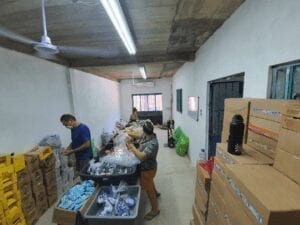 The Vallarta Food Bank was Created by Jimmy Plouff and Frankie Victoria who converted
their Restaurant, Tunnel Road BBQ, into a Food Bank in Puerto Vallarta, Mexico. A Facebook page was created in late March to keep the community updated on their donations.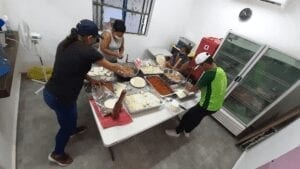 "We have received over $200,000 USD in donations since late March, 2020," Victoria explained. "So far, we have sent out over 45,000 despensas (food packages), which feed about four people per week. We have brought support to places from San Sebastian del Oeste, Cuale, Puerto Vallarta, Chimo, and Quimixto."
She said that during the month of August they started providing hot food distribution, and are serving about 1,100 people a week.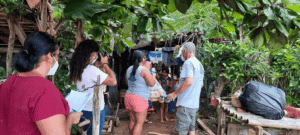 "We would love to welcome you, or anybody else who wants to see how we function daily, we are located at Rio Lerma 468, Lopez Mateos from 9 a.m. to 5 p.m."
Paul Crist organized this fundraiser on GoFundMe to provide supplies for those in need, and its raised more than $36,000. You can find that fund here: https://www.gofundme.com/f/supplies-for-families-in-need-puerto-vallarta
Matt Wayne Miller, Daniel Villasenor, KC Wilcox, and David Lee have raised more than $46,000 with their GoFundMe account, with the proceeds going towards food supplies. You can find that fund here: https://www.gofundme.com/f/1uisqlqnio
Huzefa Tayabali and Lukas Dickie have raised almost $20,000 with this GoFundMe account, to help Puerto Vallarta hospitality workers put food on their table and with basic needs, and specifically cited "our friends in the LGBTQIA community"
$19,450 raised of $20,000. You can find that fund here: https://www.gofundme.com/f/pandemic-relief-fundraiser-for-lgbt-in-pv
And some of the fundraisers have gone to help put lost wages back into workers pockets, including one organized by Brian Kent. Kent, who moved to Puerto Vallarta in October 2019, has produced various events In Puerto Vallarta. He has seen first-hand the hardships the local nightlife staff have undergone since businesses have shut down due to the pandemic. His fund, "Puerto Vallarta Nighttime Relief Fund", raised more than $25,000 for some 11 venues and 150 employees. 
A variety of other fundraisers for various businesses and their staff have been held. 
"We are overwhelmed and so grateful to all of our donors who have trusted us with this task, we are happy to help and provide hope to the families that come to us for assistance," Vallarta Food Bank's Victoria said. 
She added that in the future the Food Bank hopes to expand what it can offer the community. 
"We are looking to do much more, we want to become a beacon of hope for people in Vallarta, we want to provide classes for people who want to learn a new skill or trade, English classes and computer classes," she said. 
When giving, be sure to know and trust the people or businesses you are donating to, so that you can be comfortable with how the money is used.