This post is also available in:

Español
Fire and Robbery Prompt Owners to 'Clear out the Old' in Vallarta's Largest Gallery
Galleria Dante has been located on the same spot on Basillio Badillo since 1988, when it was opened by Claire and Joseph Guarniere.
The gallery shared a space with their popular restaurant Pizza Joe, named after Claire's husband, who was known to everyone as Joe. As they started decorating the restaurant they began populating it with more and more art, and their collection of eclectic works continued to grow. In 1995 they made the decision to close the restaurant, and concentrate on their beautiful gallery, which is often described as a must see in Puerto Vallarta.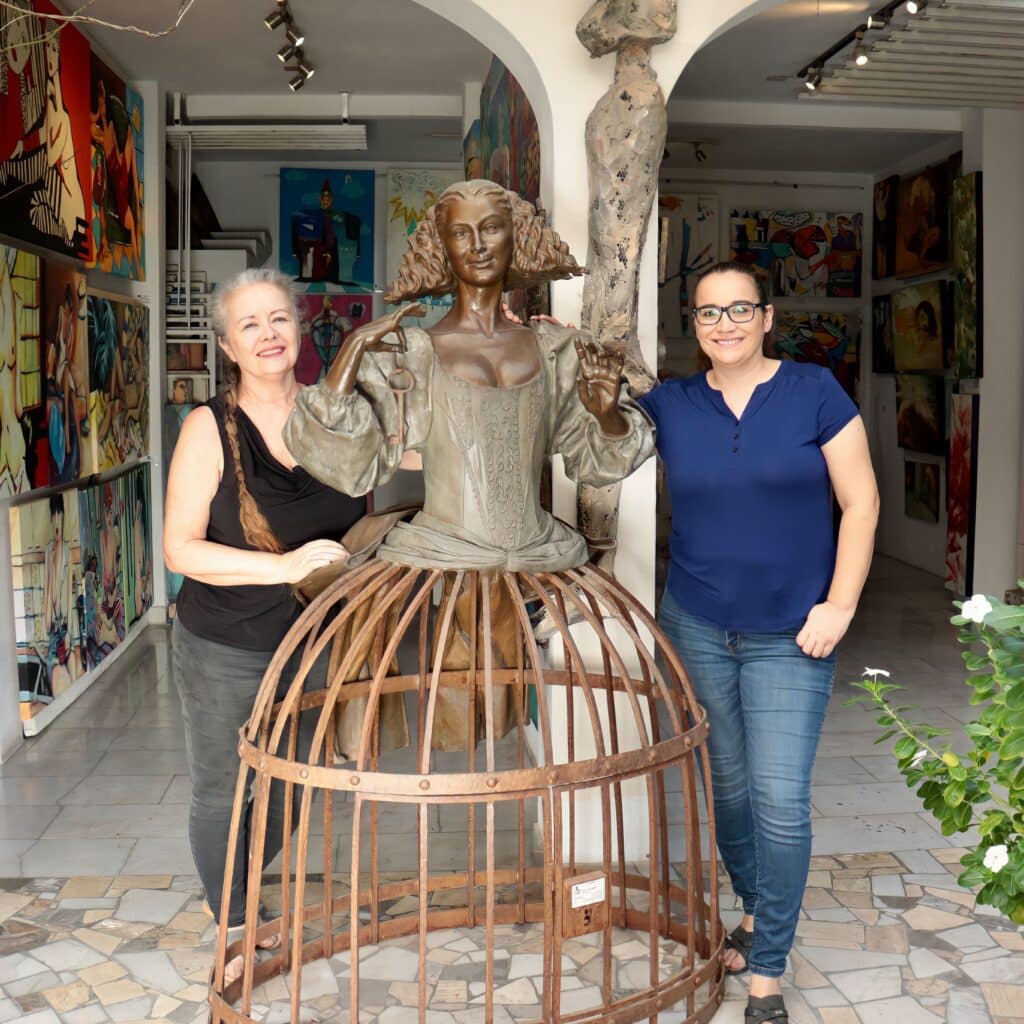 In 2013 seeing an opportunity to pair fine art with an incredible dining experience, their daughter Gena opened Di Vino Dante. It was a standout on a street long known as restaurant row. Joe's health began to decline, and sadly he passed away in 2020 from Parkinson's disease. Though difficult, Claire soldiered on with the help of their beloved Gena, who also assists her in running the gallery.
Fast forward to 2023, and the string of recent calamities which brought me to the gallery early on a sweltering mid August afternoon.
Visiting with Claire, I learned of the recent events that had taken place in their lives. Back in the early spring of this year, a fire broke out at their residence. Then, a short time later they were hit with back to back robberies at the same home.
Claire put the old saying "it's an ill wind that doesn't blow some good" to use. The misfortune gave her the impetus she had needed, deciding it was time to clear out the old in order to make room for the new.
With that in mind, she initiated a sale at the gallery for the entire month of August. Everything in the gallery, over 5,000 works of art, is currently 25 percent off.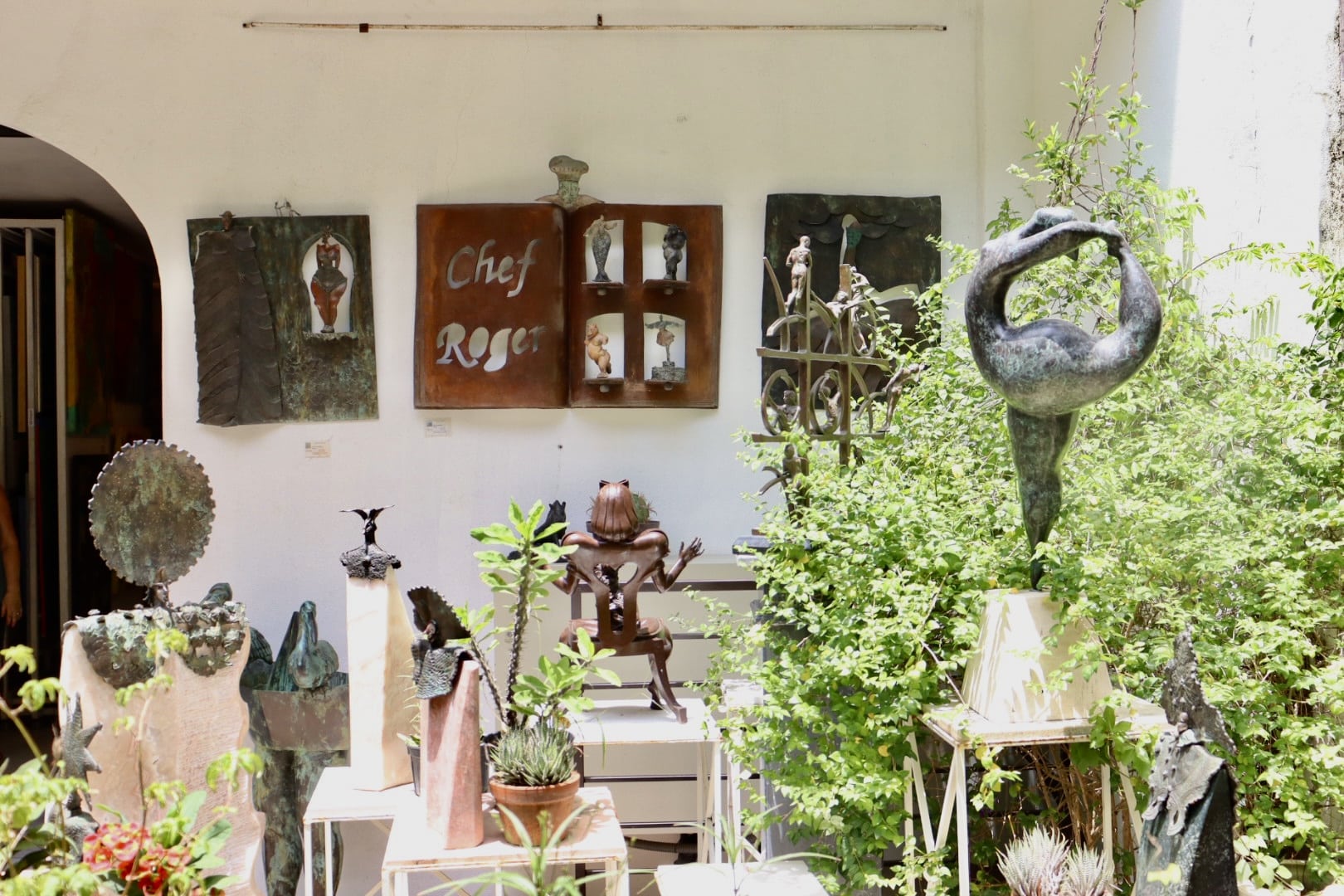 Everything in the gallery, over 5000 works of art, is currently 25 percent off. The online auction of estate items, approximately 160 works of art, is an amazing 30 to 85 percent off until August 26. Photos by Oscar Almeida.
---
The online auction of estate items, approximately 160 works of art, is an amazing 30 to 85 percent off until August 26; however some select items will be reauctioned if not sold by Saturday, August 19. Just as tantalizing, a layaway plan is also available for all sale items in the gallery and the offerings in the online auction as well. As Claire excused herself to speak with some longtime clients, I decided to explore the vivid colors in every direction.
The large and airy main gallery has a bright, open feel. Proceeding through a portal I entered a peaceful fountain filled garden populated with some of the finest sculptures I have seen in Puerto Vallarta. As I stood transfixed, I thought of the many weddings that had taken place in this oasis of tranquility.
Traversing a flight of stairs to the second level, I admired the Pop art that accompanied my journey to the floor where Di Vino Dante is located. An elevator is also available if preferred. As I entered this space, I was spellbound by the elegance and quiet ambiance present throughout. Admiring the inviting bar, I reveled in the feeling of being transported to another place and time, a picturesque old world Spanish feel. I gazed out the large windows onto the street below; baking under the midday sun, while inside it was refreshingly cool. I then explored the rooftop, which also is available for weddings, though I imagined in the cooler months of high season.
I headed back downstairs to the main gallery, but before departing I posed a question to Claire that I had been contemplating since I arrived. I asked, what was her vision in 1988, when she first came to Puerto Vallarta, and what is it now, these many years later?
Claire smiled, reflecting on that time, "back then it was just make or break, luckily within a few days of opening, an Alaska Airlines flight attendant discovered us, and then spread the word.
"Turning to her vision now, Claire concluded thoughtfully, "to get people back to this end of Basillio Badillo, this is an incredible shopping street, and every business is owner operated, with the personal attention of that individual."
As I took my leave, I thought of the lives Claire, Joe and Gena have touched. The memories of all those who began their married lives in the peaceful sanctuary of the beautiful garden, the thousands of clients from around the world who have become friends, and the countless special memories that were made in Di Vino Dante over the years. Come visit Galleria Dante soon for the amazing sale, and return next time for that little something extra, which is hard to put into words.
Galleria Dante and Di Vino Dante
269 Basilio Badillo, Zona Romantica Puerto Vallarta 48380
Estate Sale Items – Click Here
Facebook: https://www.facebook.com/GalleriaDante/
Related: