Esta publicación también está disponible en:

Español
​Galleria Dante is one of the largest fine art galleries in Puerto Vallarta (and the third oldest), representing more than 60 artists with an amazing collection that includes 85 percent Mexican artists.
For more than 27 years Galleria Dante has grown to have six exhibition rooms, two gardens, three floors and more than 5,000 pieces of art. It opened in 1995 from the devotion of Joe & Claire Guarniere.
They had been operating Pizza Joe in the same building space since 1988, but after serving dinner every evening for eight years, they looked to slow things down.
"We opened Pizza Joe in 1988, and it is still talked about," Claire said. "We always decorated Pizza Joe with art and sold art in two adjacent rooms to the garden, but after 350 dinners per evening for eight years, we needed to slow down. So Galleria Dante was opened in 1995."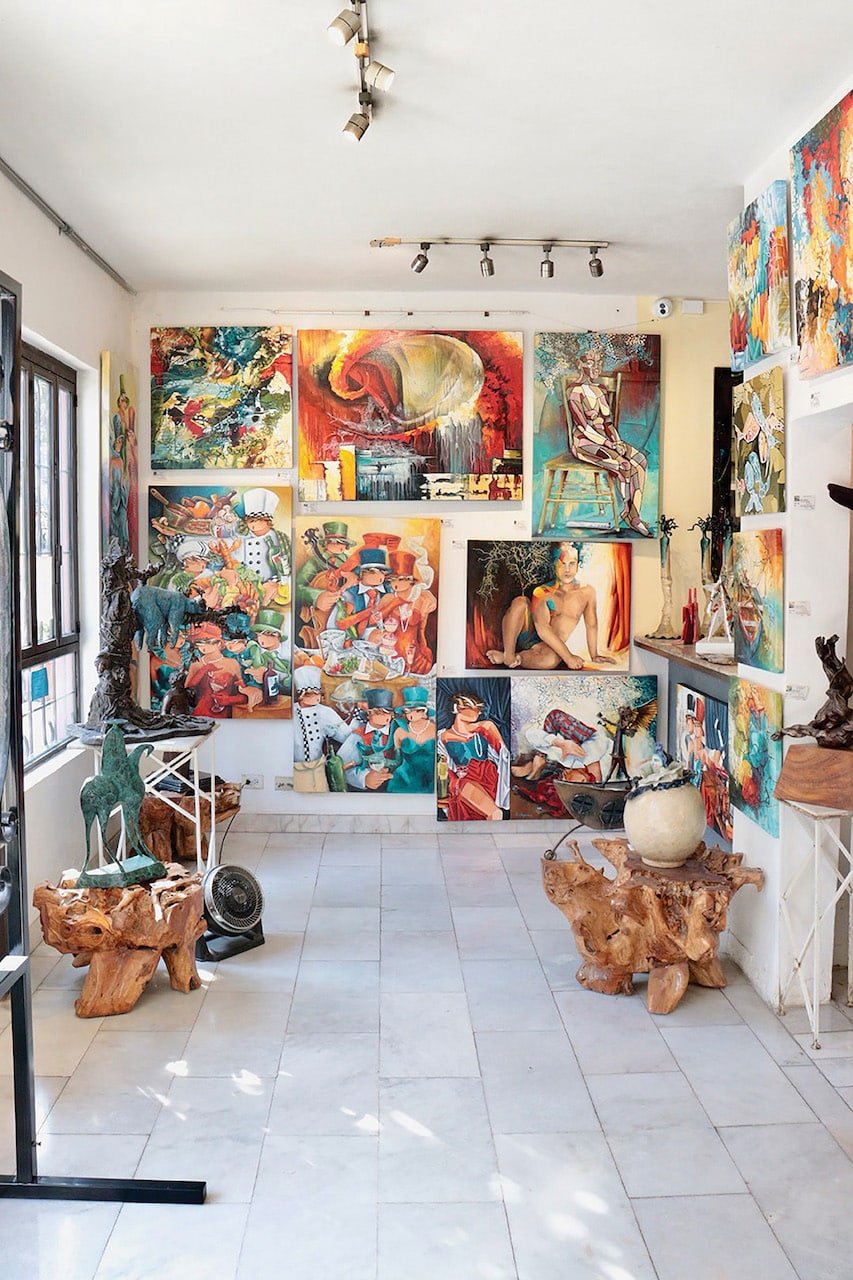 Joe passed away in 2020, but his legend lives on in the gallery and the restaurant Di Vino Dante Tapas and Wine – operated by their daughter, Gena Guarniere. The restaurant opened in 2013, and describes itself as a meeting between the Mediterranean tradition and the growing wine wealth of Mexico.
"It is a true family business," Claire said. " Even though Joe passed in 2020, he will always be part of the decisions we make, as his loves are our loves."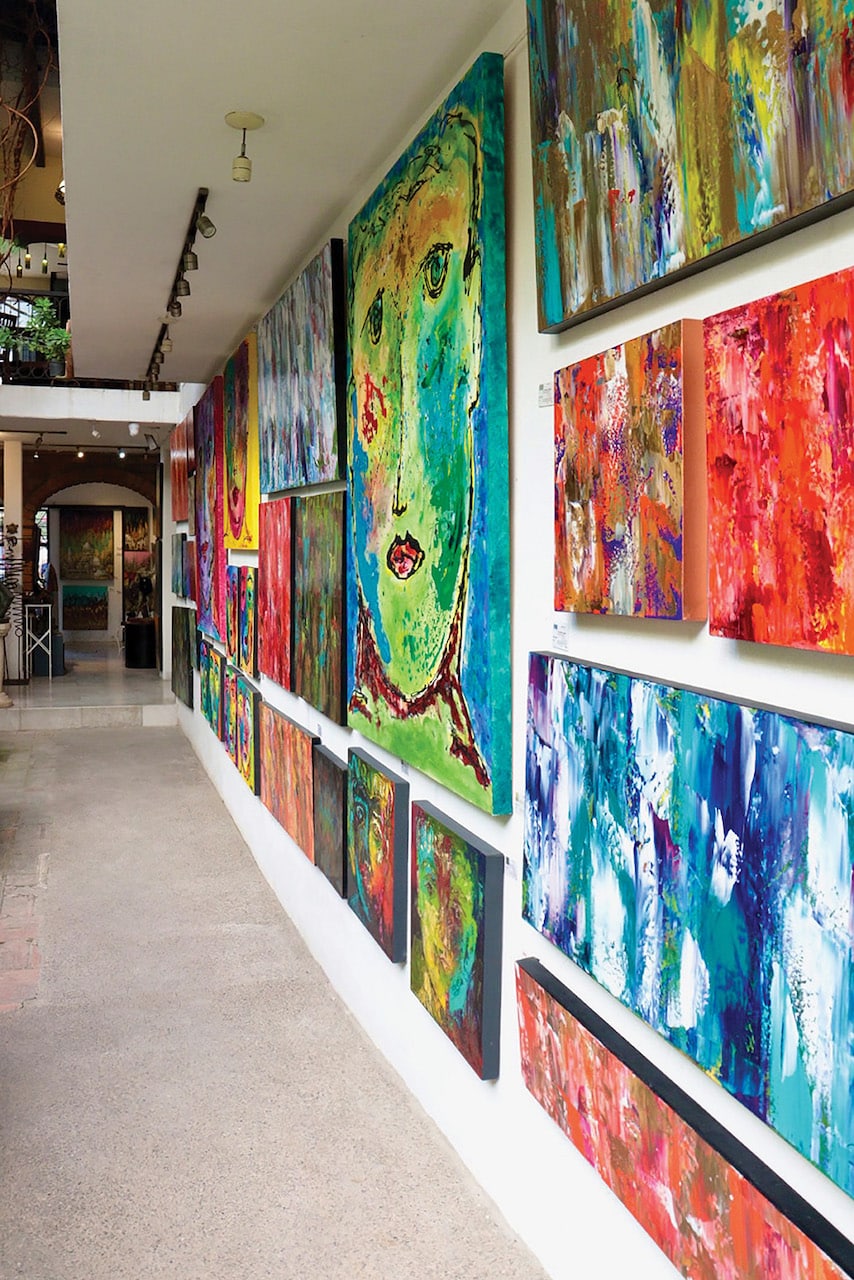 Claire arrived in Puerto Vallarta in 1982 from Saskatchewan, Canada. She worked in the restaurant business, and made desserts for restaurants.
"I met Joe in 1986 and he told me that if he had staff like me he would be back in the restaurant business," she explained. "He grew up in a large Italian family, who owned three major restaurants in Michigan. So it was not hard to convince Joe to move to Mexico in 1987."
Gena was born in Puerto Vallarta, and worked in the family business since she was a child. Gena studied wine and culinary in Vancouver, Canada, and moved to Puerto Vallarta in 2009 to help her parents in the gallery.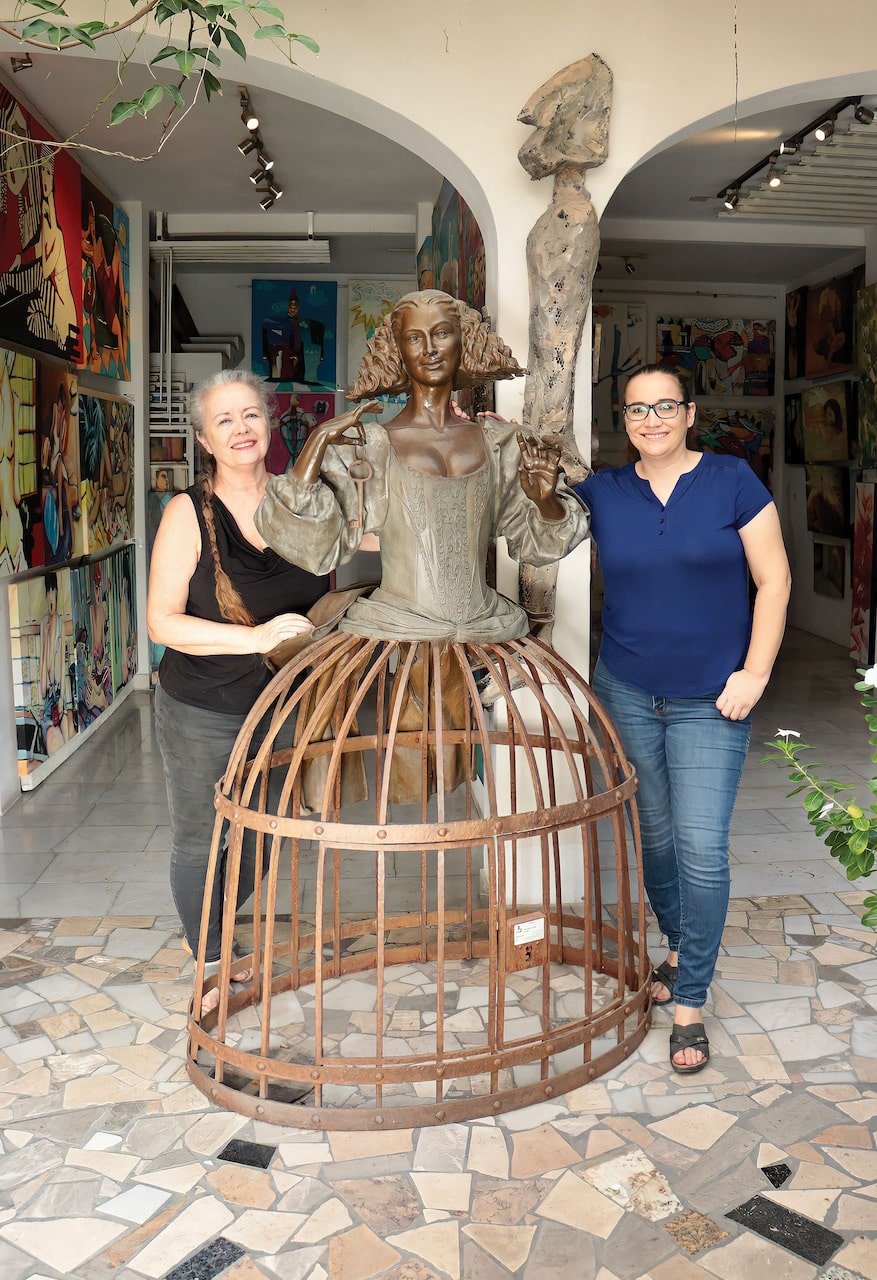 "She missed Pizza Joe and the restaurant business. But she really wanted to focus on tapas and Mexican wines," Claire explained. "So in 2013 she opened the restaurant. The menu continues to evolve, and probably has more of a mediterranean flair. Much of what our family has created has been influenced by our love of Greece, Italy and Mexico."
The pandemic changed how most businesses did business, and the gallery was no different, moving to an online auction to sell the art. It was a decision that helped keep the business afloat during those tough times.
"During the pandemic, we started promoting a program called 'Art Rooms' – it was a fun way to display art in beautiful rooms," Claire said. "The online auctions were fun – some did better than others, and now clients are waiting for the next one. We found that some clients prefer to buy their art that way. But more than anything it kept us alive during Covid."
And she said, during the downtime they took the initiative to add two air conditioned spaces for dining and installed an elevator to access all three levels of the restaurant and gallery.
Inside Galleria Dante and Di Vino Dante Restaurant you will find one of the few green spaces left in Old Town.
"My passion for art rivals my passion for plants," Claire said. "We offer space for weddings, parties, birthdays and more. We have a rooftop garden and have created several event spaces for various size events. It's just a lovely place."
Claire said she has never regretted moving to Puerto Vallarta, and despite the many changes the city has experienced, and the popular growth, she continues to love living here.
"I know we all talk about the changes, but everywhere popular in the world changes," she said. "The best thing about Puerto Vallarta is the people. And then, of course, our weather and the fact that we are protected from storms by the mountains and the bay."
Need to Know:
Website: http://www.galleriadante.com and http://www.divinodante.com
Facebook: https://www.facebook.com/GalleriaDante and https://www.facebook.com/DiVinoDante
Address: Basilio Badillo 269 48380 Puerto Vallarta, Jalisco, Mexico

Email: galleriadante@gmail.com and info.divinodante@gmail.com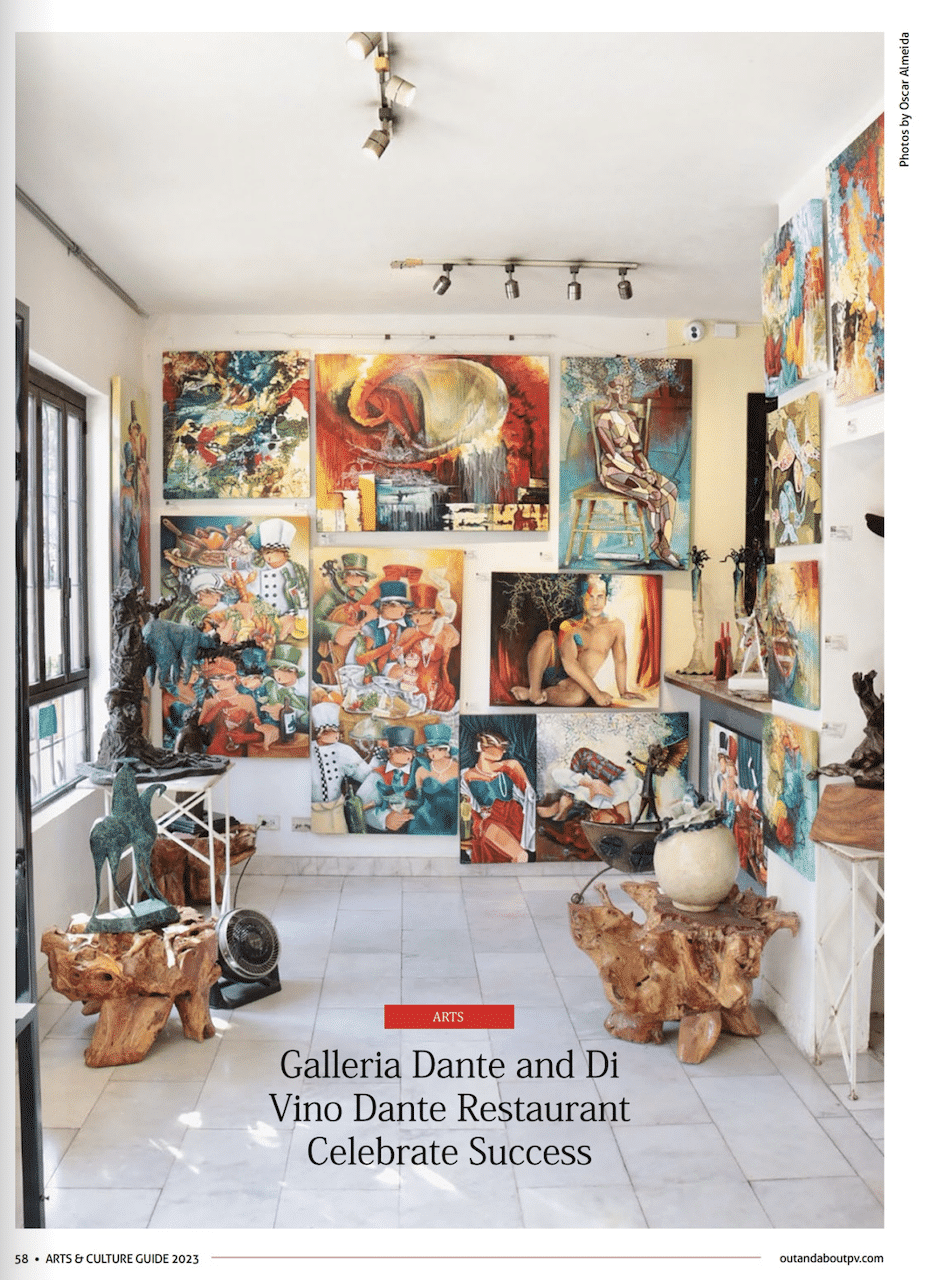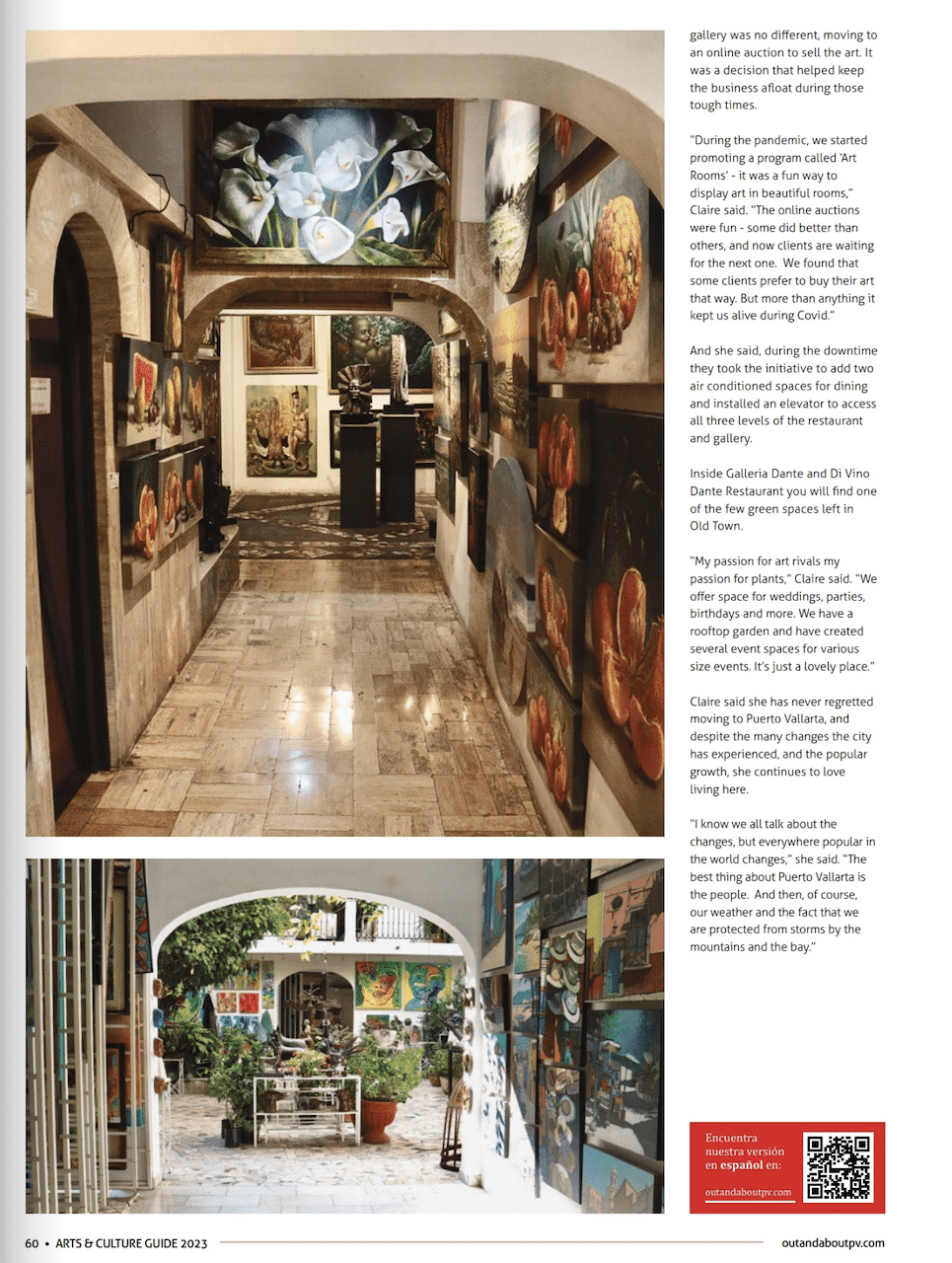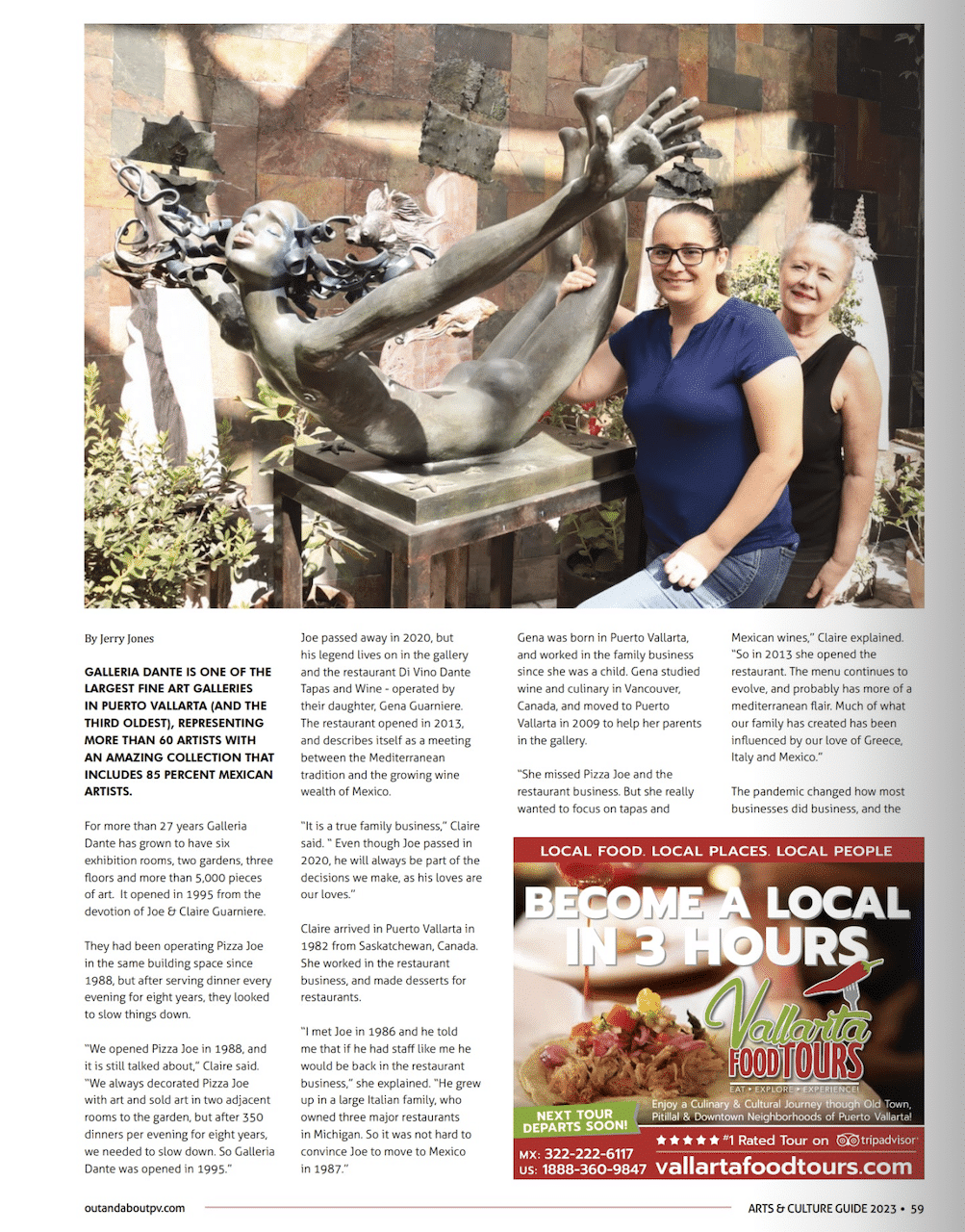 Related: