This post is also available in: Español
If you are gay and visiting or living in Puerto Vallarta, and need to see a physician, Dr. Omar Hernández Sánchez wants you to know he's here for you – he knows that many gay men are more comfortable with a gay physician that can speak English, and discuss more intimate health concerns with the physician.
Dr. Sánchez is "Doctor Puerto Vallarta" and started his business in February 2020 by offering at home and at hotel visits. In December 2021, he opened a physical office at Lázaro Cárdenas 270, which is across the street from popular bars like Flamingos and La Noche.
He's also offering specilized services for the LGBTQ community, including providing Prep and some other HIV medications. And even though he now has a physical office, he will make house calls, with someone available from his team 24/7.
Sánchez received his medical training from one of the best medical schools in Mexico – Universidad Autonoma del Estado de México. He later went on to get a MSc in Public Health at King's College, London.
"I went to medical school because I love helping others," he said when asked his motivation for such a demanding career.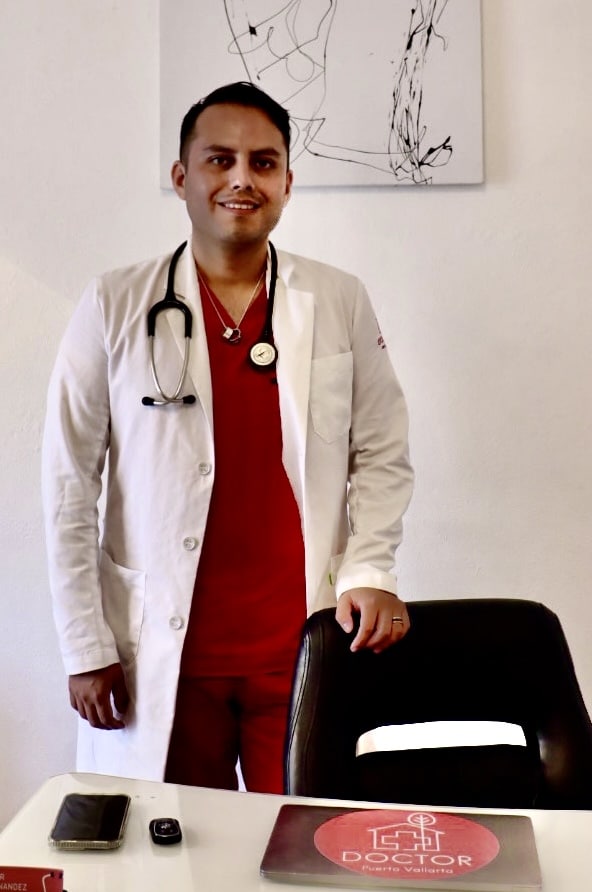 He and his husband Dean currently live in Puerto Vallarta, a place he has called home since 2016. When he originally moved to Puerto Vallarta, he worked as a physician on-call for several of the hotels. He fell in love with the city and its people, and decided to make a new home here.
"It's a safe and small city," he said. "It runs at a slower pace than the larger cities in Mexico. I didn't even realize that it was such a popular gay vacation spot until after I had moved here."
In addition to the specizliaed LGBTQ medical services, Doctor Puerto Vallarta A provides a wide variety of general practitioner services. They include medical consultation for accidents such as sea urchin or stingray bites, accidents such as falls, and something many on vacation face – diarrheal.
"It is also common for patients to request the administration of intravenous (I.V.) solutions to recover from a hangover," he said.
He said his office takes Canadian health insurance, and many types of American health insurance. He spends time explaining the process with each patient, on how to file a claim and what the patient needs to do in order to initiate a claim.
"There are several ways you can use your health insurance. The first is to pay your medical bill and medications, and then send them to your insurance to request reimbursement," he explained. "The other option is to use your insurance directly. In the case of Dr. Puerto Vallarta, we accept Canadian and European insurances, as well as some American insurances, directly and in the event that there is no agreement, the sending of an official invoice or receipt and filling out the documentation is offered so that the expenses generated are reimbursed."
"Another service we provide is to help facilitate if someone needs to go to a hospital, and or make a recommendation for a specialist," he said.
He spends quite a bit of time with each patient, getting to know them and their needs. Most of his patients are walk-ins, but he does have the ability to schedule appointments if needed.
He also is part of the Veterans Evaluation Services, a network of physicians that provide medical disability exams for national and international claims.
The office accepts cash, credit or debit cards for payment.
Contact Information:
During high season the office is open Monday to Sunday from 9 a.m. to 7 p.m. But someone is available 24/7 on request or via an appointment.
https://doctorpuertovallarta.com/
Telephone: +(52) 332-2507-9602 (and via WhatsApp)
Facebook: https://www.facebook.com/profile.php?id=100064317692495
Instagram: https://www.instagram.com/drpuertovallarta/

Office Address:
Lázaro Cárdenas 270, Zona Romántica, Emiliano Zapata, 48380 Puerto Vallarta, Jal.
Related Stories: