This post is also available in: Español
BeefDip is one of the most interesting bear events in the world and each year grows in popularity. It's held in Puerto Vallarta and it consists of eight days filled with activities such as pool parties, the now famous Booze Cruise, and night parties, clubbing, karaoke, surprise performances, and it is all included in your tag. These Dog Tags give access to all the planned events for free (or discounted) and provides discounts from their Community Partners. These can be purchased online or welcome centers.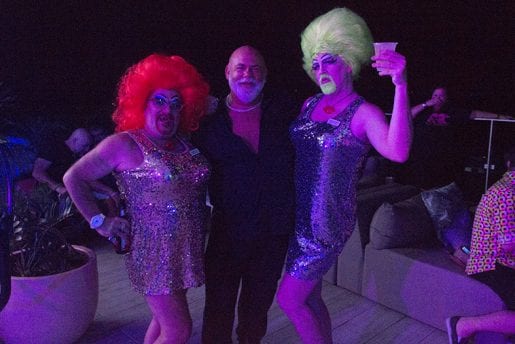 Steve Buczek, a Toronto native, is the producer and promotor of BeefDip Bear Week. This popular themed week is running its 16th year in Vallarta and it takes place around the same time every year, which it coincides with the Mexican holiday that is always on the Monday after BeefDip week. This is scheduled this way so more nationals have the opportunity to come in for the long weekend.
How 'BeefDip Bear Week' was born
BeefDip creator, Steve Buczek, tells us how all this came about: "When I first came out I was a bear. I didn't come out till I was 31 and I started working at a leather bar and I started creating leather and bear events in Toronto. It started with a dance party that went from 200 to 800 guests within three or four months and the Sizzling Sunday BBQs party that lasted seven years, and everything just escalated from there."
When Bear Week first started in Vallarta, it was with only with 18 people, now it's over 1,000 tag holders. "So I'm probably bringing in close to 2000 – 2500 guys for the week" Steve says.
Why Bear Week in Puerto Vallarta?
"I love the heat, I hate the cold. I fell in love with Puerto Vallarta the first time I came here 17 years ago. I am fortunate enough to be able to come down twice a year." Steve says.
This event grows each year and people from all over the world come to have a good time for Bear Week. They've had visitors from places like Dubai, China, Spain, and Italy.
Fundraisers to benefit charities in Puerto Vallarta
A few years back, BeefDip started doing yearly fundraisers for local charities such as SETAC and RISE Orphanage. So far, they have raised $64,500 Canadian dollars and that is not counting this year's amount.
"We do these fundraisers at Mantamar Beach Club. We work with Alphonse Swimwear and we do a bathing suit auction. Mantamar is generous enough to give us 20% of the bar proceeds for the day and everyone is charged a cover and we auction things off for the day and that's how we raise the money." Steve says.
What does it mean to be a bear?
"For me, to be a bear was a mindset. When I came out in 1996, I just heard about this bear movement. I've had a beard since I was 18 and I worked blue-collar jobs, I worked in the steel industry for a lot of years, so I just didn't want to shave. I wore jeans, work boots, that kind of thing. Then when I came out, I heard there was a bear movement. It started because we were a part of the gay community that didn't fit in to the gay community from back in the day, because we were bigger men, we were hairier, and that wasn't the norm, sort of speak. I don't like to use the word norm, but that wasn't how gay man were perceived back then." Steve says. "
"We've kind of subdivided our bear culture into wolfs, cubs, otters, pandas, grizzly bears." He jokes. "I think it's just in your mind, it's masculinity at its finest. Its just guys being guys. There is no pretensionists, there is no need for it in the gay community." Steve adds.
Message from Steve
"Thank you very much Puerto Vallarta. I love you. All the bears love you. We love your hospitality and graciousness. The people are genuine here, very kind, very thoughtful. That's the kind of family I grew up in and that's what I long for when I come to Puerto Vallarta, that friendliness that everybody has here."
You can see how he is very close with his family. Steve brings his whole family to Puerto Vallarta for Bear Week. His three sisters help him with the events. This year unfortunately, his parents couldn't make it but have also been attending every year.
You can find out more of BeefDip Bear Week on their website.
*The amount mentioned in the story that was raised from fundraisers was updated Feb 4th for accuracy.