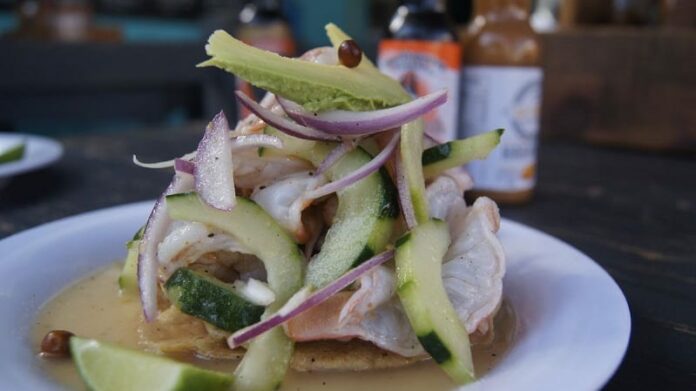 This post is also available in:

Español (Spanish)
A lively banquet of sea flavors will be experienced next Sunday, January 27th in Lázaro Cárdenas park from 12:00 to 19:00 as the 7th edition of the Ceviche and Aguachile Festival is announced. There will be food, drinks and live music.
For those who have already experienced this event, they know what it's about, but for those who haven't, they'll have an opportunity to discover a broad variety of ceviches and aguachiles, from the best restaurants that specialize in these type of dishes, made with fresh ingredients straight from the bay.
Edgar Cisneros, director of Stratosmedia, agency that organizes this festival, informs that on previous editions, this event has received more than 1,500 people during the 7 hours that it lasts, with 750 Kilograms of ceviche and aguachile sold between all participating restaurants. This has allowed to achieve economic gains of about half a million pesos with food and drink sales.
For this 7th edition, they expect to offer up to a ton of product from the 11 participating restaurants. These are: Cuates & Cuetes, Cava Mariscos & Grill, Lamara, La langosta loca, Tuna Azul, Patita Salada, La Sarandería, Bocachica ceviches, El rey del aguachile, Danimar y Maringo.
Best ceviche of Puerto Vallarta Contest
The organizer says that one of the novelties this time around, will be a contest to pick the 'Best ceviche of Puerto Vallarta', and the winner will be chosen by votes of the people visiting after they do a tasting. The chef and winning restaurant will receive a recognition.
Another novelty will be the participation of three craft breweries invited from the city of Guadalajara: 7 Mares, Cerveza Libertad and Euro Cervezas. Additionally, Ritual de los Dioses Raicilla will be offering cocktails. There will also be snacks and desserts from Bargelatto.
Live Music
There will be live music from group Los Sarapes de León (folkloric music) at 12pm. The Others (alternative pop) at 15:00 and Le Trez Cuartoz (alternative rock) at 17:00. Lastly, there will be a Polynesian dancers presentation from members of the Lani Ale Kau Lluna school at 18:00.
Along the year there will be other big gastronomic events in Puerto Vallarta such as the Gourmet Festival happening in November with it's XXV edition. Restaurant Week also turns XV this May. This is all besides the different festivals and culinary activities that are frequently organized by the hotels and restaurants.