This post is also available in:

Español
Adrian Takano, muralist, painter, and musician, who has done much of the popular street art murals on many buildings in Puerto Vallarta (including some in Emiliano Zapata), has unveiled two new murals that are part of a project that has placed eight murals in Puerto Vallarta public schools.
The Tinta y Pigmento project has brought art to life for Puerto Vallarta school children, with the Takano art helping to inaugurate the project. Mural 13 Flores and Mestiza Mural are two of the murals done by Takano, and they join six other beautiful works.
Poet Raul Gibran, who spoke at the unveiling of Mural 13 Flores at 84 Dr. Valentin Gomez Farias High School, noted that this was the last of the eight murals that have been created in record time.
Poet Gibran has given a great boost to these art projects, highlighting the talent of the artists who have left embodied on the walls of the educational institution, landscapes full of color, inspiration and meanings.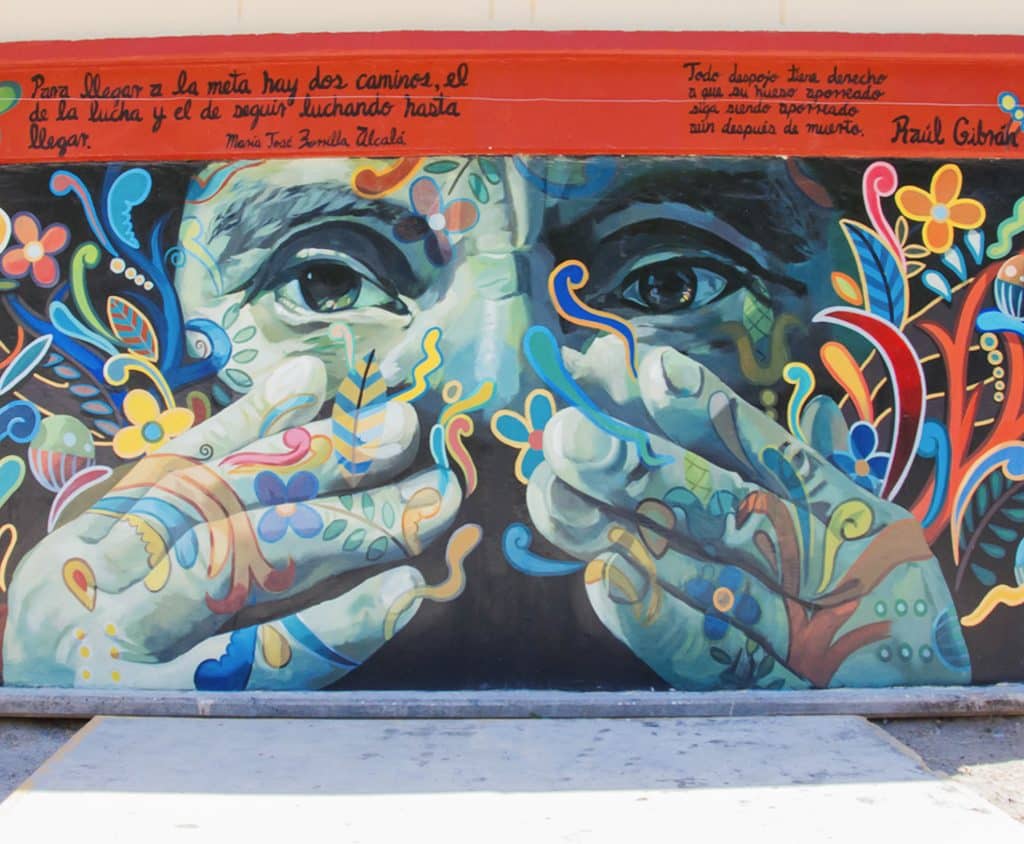 Painter Takano explained the mystique of his Mural 13 Flores, pointing out that his inspiration for the work was art itself, the artists and the processes, the ancestral cultures, the figure of the shaman, in the parallels that exist between the artist and the shaman; being able to see beyond the perceptions of everyday life to carry a message, exploring fantasy and other realities, since while in Western society the number 13 is considered negatively charged, for our ancestors it was a sacred number.
The Mestiza Mural premiered at the General High School No.105 Guillermo Martinez Mora in the La Trinidad neighborhood, where the Mural already shines in all its splendor, a beautiful creation inspired by the worldview of the ancestral cultures of Mexico that invites reflection of cultural shock and the process of conquest.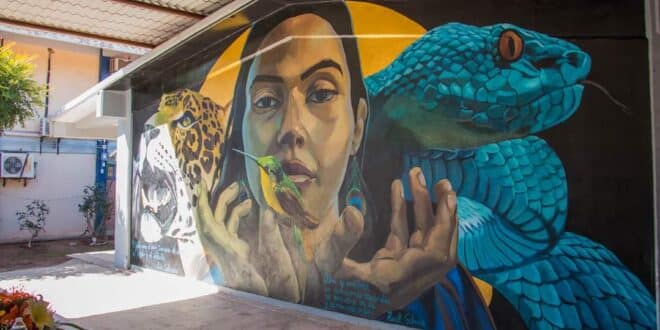 Takano, originally from Mexico City, found inspiration in the port, completely falling in love and settling here permanently. He indicated that it was a peculiar project in which eight murals were painted in record time.
He specified that his inspiration "has always been the ancestral Mexican cultures, the entire worldview of the Mesoamerican territory and the art that emerged from that, has always inspired me a lot since I was a child", so his works become an invitation to reflection and explore a little more the Mexican identity as a people.
The great artistic and cultural legacy of Puerto Vallarta is already reflected in some public schools in School Zone 02, with literary expressions and a small but well-deserved tribute to iconic characters of our city.