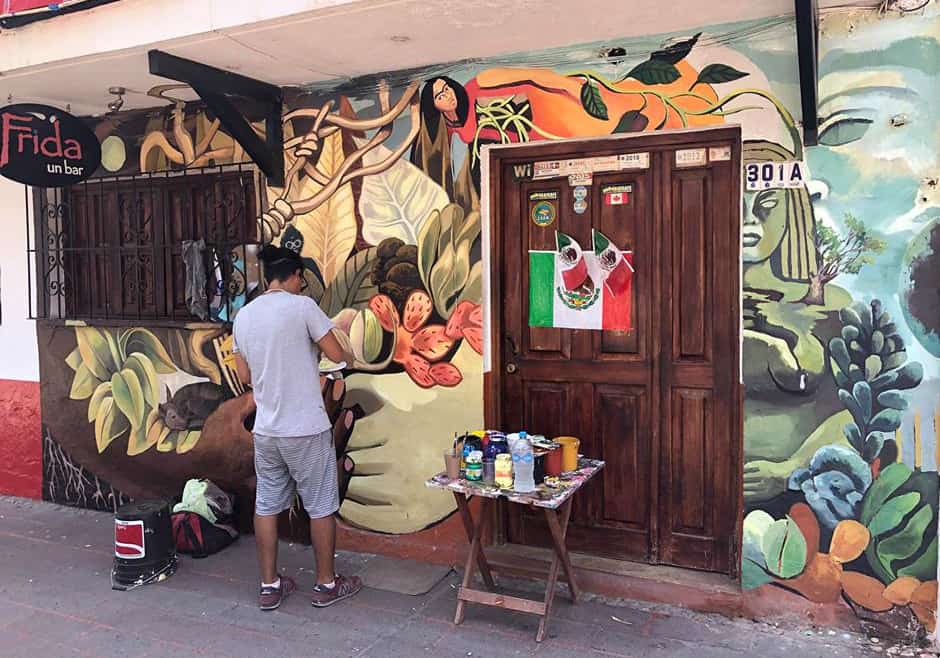 This post is also available in:

Español (Spanish)
Drivers and pedestrians of Avda. Insurgentes were taken aback recently when it seemed as though overnight an intricately painted mural filled the façade of Bar Frida.
It is the latest creation of Adrian Takano, the muralist, painter, and musician who confirmed it took just one week for him to fill that wall. The arrangement was coordinated by Mike Laking, who frequents Bar Frida and who himself is an accomplished artist. From that first conversation, through a series of draft sketches and a vacation for the artist, to the final product, little over one month's time had passed.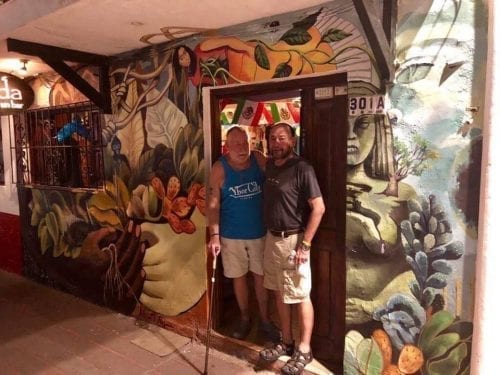 "They wanted something Frida themed," he told me over coffee one morning near his home in Col. Versalles. "I grew up in Mexico City a few blocks from where Frida lived. She was always a big influence, her work anyway. And I wanted to do something kind of simple so I just took three of my favorite paintings of hers. I dissected them and played with the composition, made my own composition and that's what I did. So yeah, it's just like a little tribute to her."
It's a large mural but, according to the artist, the execution of it required much less physical stress than many of those that he's painted prior to it. "The wall is very small," he said, without a trace of irony. "I did it just standing up on a bucket. It's no big deal. Sometimes I use spray paint when it's a bigger wall, or spray paint and acrylic. It's different timings and a different feel. It depends on my mood. This Frida one I did mostly with acrylics."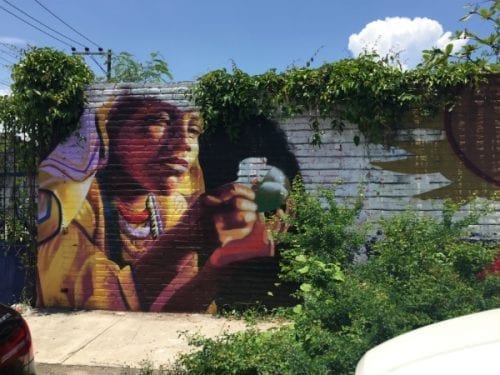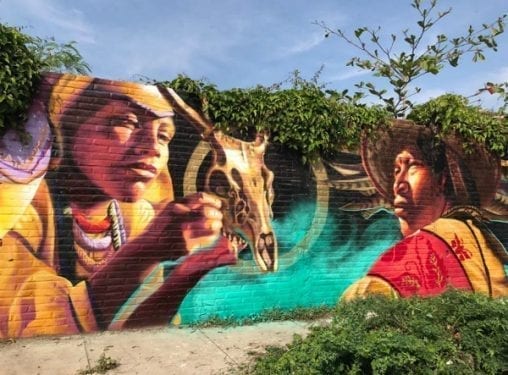 Here in Emiliano Zapata there are two Adrian Takano murals, both on Calle Lazaro Cardenas. Another was commissioned by Laking for the exterior of his home near Col. Caloso. "I have another big one in Bucerias," he said. "There's another really big one, but it's in a private home." He completed one at Galeria Colectika just prior to the Bar Frida mural. "The one in Colectika is pretty big."
It's a significant remove from Takano's humble beginning here in Vallarta. Ten years ago he arrived for a vacation from Mexico City, a 24-year-old aspiring artist tagging along a couple friends who'd accepted job offers here. Of the three of them, he is the one who stayed.
"I was just doing portraits then," he said. "I was on the beach a lot, doing portraits, just sitting down with my sketchbook and drawing people and then I would approach them and show them, and they would usually buy it. So that's how I made my living, how I made ends meet. I really liked it."
By chance, one of those people he approached was a gallery owner who, impressed by the work, invited him to exhibit his art. He soon sold his first painting and shortly thereafter found himself instructing a class of mostly retirees, here for the winter, dabbling in the art. All these years later, Takano finds himself today debating whether to return to teaching next winter or continue perfecting his own craft.
"I never intended to become a teacher, but it happened," he said. "I didn't know I was a good teacher. I didn't know I had a talent for teaching but it turned out that I did. So it was a good way to get my name out there."
His work is slowly overtaking the large-scale walls of Vallarta—whether we like it or not. He divides his time between commissioned murals, like the one at Bar Frida, and sometimes arbitrarily beautifying abandoned walls around town.
"A lot of walls, I do for free," he told me. "I just do it because I like that wall and I think it needs something. So I just get my stuff and get out there and do it. I don't need anyone to hire me. I'm lucky enough to do well selling paintings so I can afford to just do that. I think people notice, too, if you enjoy what you do. That's what you want in an artist, right? Because it shows on the product as well." Takano's newest hobby wall is located near the intersection of Calle Aldanca and Lucerna in Col. Versalles.
As for the future, the newlywed would like to travel Mexico and the world, but he's chosen to make Vallarta his home.
"I think especially here in PV, because there are so many tourists, as an artist you feel the need to show Mexico, Mexican stuff," he said. "I think that's why so many artists get inspiration from pre-Hispanic things, the roots of our culture.  That's what interests me, more than showing that I have a style of my own or that I can paint bigger walls or whatever. It's just putting our culture out there, the roots of our culture."