This post is also available in:

Español (Spanish)
Veronica Olivares Ramirez is originally from Los Altos de Jalisco, but she has been living in Puerto Vallarta for 16 years. She established her business on the corner of Olas Altas and Rodolfo Gómez, she has been in that same corner ever since.
In 2003, a few lesbian couples arrived at Vallarta with the purpose of opening businesses in this area, with one of them ladies being Veronica herself. They opened two bars across the street from what is now Verona restaurant, one of them was called The Palm (which is now a cabaret). It was a place for women, so this place was meant to be a meeting point for lesbians. The owners of The Palm eventually moved out of town, so it is no longer owned and operated by women only, it was converted to a full-time cabaret.
Veronica on the other hand, she originally opened a money exchange business on this corner. This venture lasted for a while until Veronica decided to open a restaurant: Verona, which was founded about four years ago serving Italian cuisine food, then, just a few months ago she wanted to innovate and decided to make the change to seafood.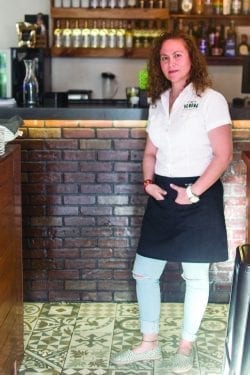 "Our menu is specifically made for Verona. We hired a chef to create a special menu for us with the idea to offer something different in this area since there are a lot of restaurants that offer similar stuff, so I was looking to bring a combination of what the bay itself offers which is seafood but made in a healthy way. It is a mix of various ingredients like Asian and Hawaiian."
When asked about the food at Verona, she recommends the lobster and Tuna Tataki, but she says that if you're hung over and need to refresh after a night of partying you should ask for the aguachile.
According to Veronica, the lesbian community in Puerto Vallarta is big "In fact, our restaurant also welcomes lesbians, it's a place for them to meet up, have dinner, and have a good time. I encourage everyone to visit us and try our cuisine because it is an option of incredible flavors and ingredients, and with unique dishes because they are unique recipes"