Esta publicación también está disponible en:

Español
With more than 100 guests cruising the Bay of Banderas on the Limo Lux Catamaran, organizers for the first ever Vallarta Pride Sunset Cruise say the event was a great success, hopefully creating a new tradition for the annual pride celebration.
The cruise was hosted by local entrepreneur Jet De La Isla, who teamed up with Chef Roman Ventura and entertainer Karma La Perrra to provide a memorable experience.
A portion of the ticket sales benefited SETAC Community Center, an organization providing essential services to the LGBTQ+ community here in Puerto Vallarta.
"I've wanted to do an event like this for years and we made it happen this year. As owner of Jet's Private Boat Tours, I can't think of a better way of celebrating Vallarta Pride than enjoying the best food, drinks and entertainment with the beautiful Puerto Vallarta sunset as the backdrop," Jet said when asked to reflect on the event.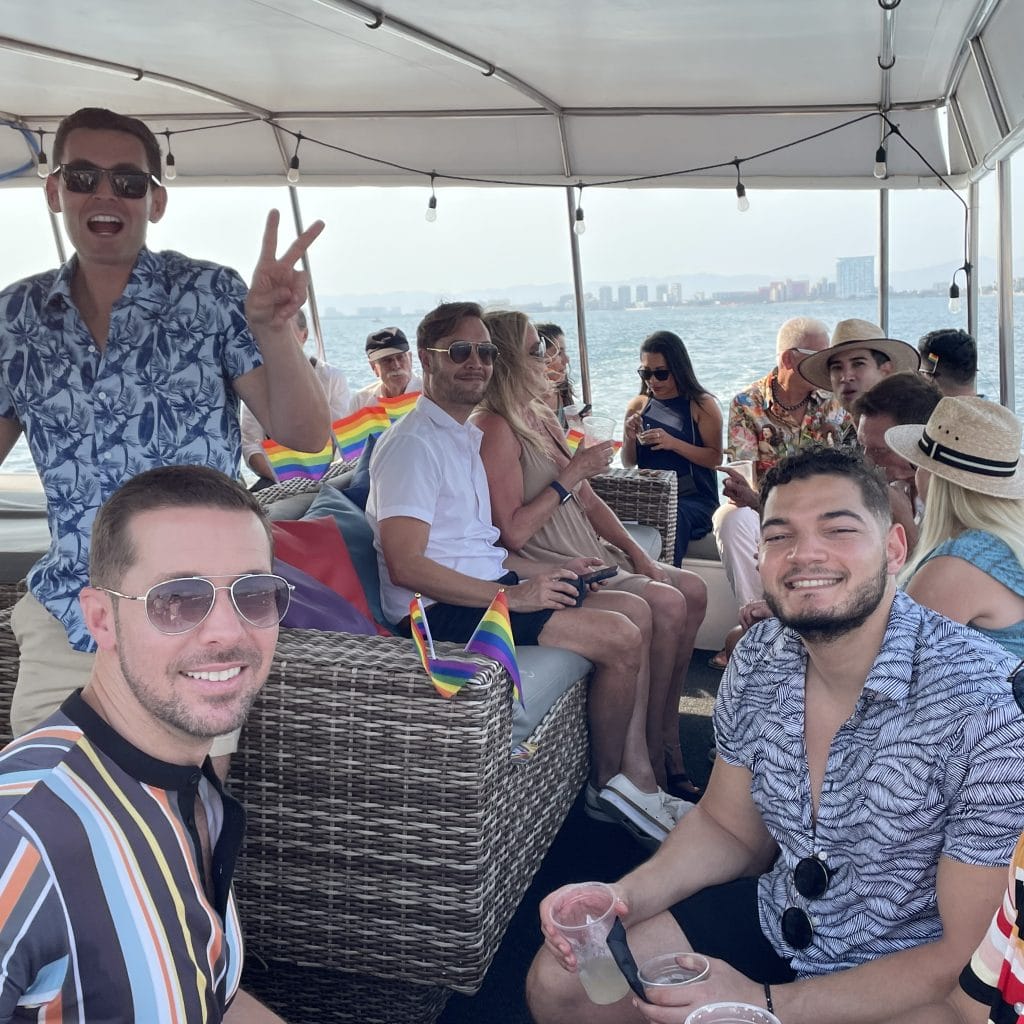 Ventura Chef Services', Roman Ventura, served a four-course tasting menu including CousCous de Mexico, Fiesta Ceviche, Mushroom Empanadas, Mex_Ind Kebabs and Sexy Brownies.
"It's been a great experience and collaboration working with Jet and his team. I loved the opportunity to have people try my food at a Vallarta Pride event," Ventura said. "Food should be celebrated and today we are celebrating food, drinks, music, entertainment, views and community, including SETAC."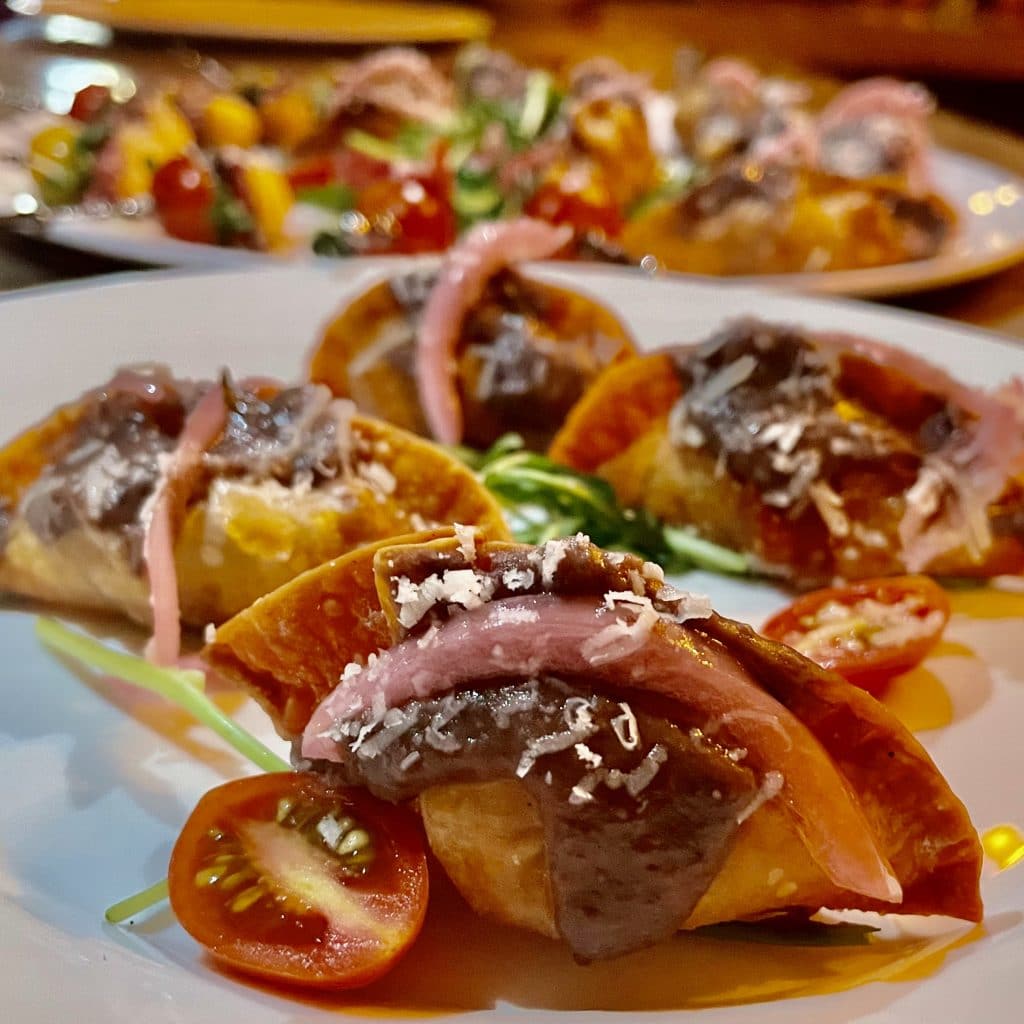 The singing-sensation Karma La Perrra and her sexy dancers kept the guests entertained, singing hits in English and Spanish. Karma was absolutely stunning. She performed three sets including one song where she gave host Jet an opportunity to demonstrate some of his moves. The man has some dance moves.
"I'm thrilled to have the opportunity to perform on the first-ever Vallarta Pride Sunset Cruise.  It's been great working with Jet," Karma explained. "The cruise crowd has been fun and entertaining and that's why I love what I do – to entertain and have fun! PV is such a beautiful place and Pride has been terrific this year."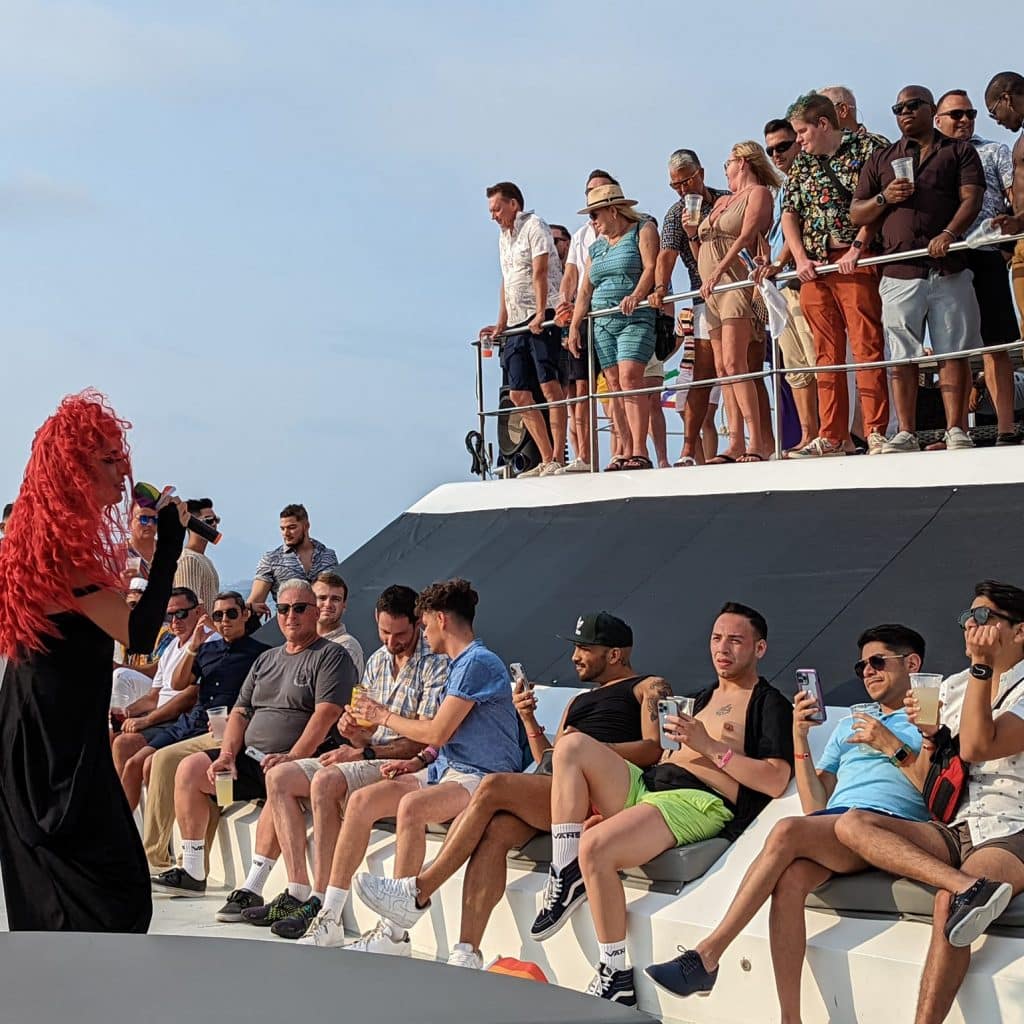 Excellent music was provided by DJ Danni Boy, who had the crowd singing and dancing – by the end of the night, the boat wasn't only rocking from the waves.
One guest and his partner, celebrating their first pride in Puerto Vallarta, commented, "This has been a great event. Everything is perfect, the food, drinks, entertainment, people, boat and weather. I can't think of a more beautiful and fun way to celebrate pride I hope the cruise happens every year. I would definitely do this again."
As the sun set and the Vallarta Pride cruise entered the marina to dock, Jet toasted all the guests thanking them for attending the event and wished everyone a happy pride.
Related: