Esta publicación también está disponible en:

Español
Vallarta Pride 2022 arrives full of energy and has announced its artist lineup which includes Valentina, Ultra Nate and Brian Justin Crum.
ULTRA NATÉ – (ultranate.com) Appearing at the Vallarta Pride Block Party on Thursday, May 26th, this international and world renowned singer, songwriter, DJ, producer, label owner and promoter joins us this year's Vallarta Pride headliner.

Ultra Naté has delivered her classics, new tunes and energetic DJ sets all over the globe
performing everywhere from Amsterdam, Paris, London, Japan, Moscow, Sweden, Dubai, Italy, Brazil, Norway and Spain to residencies in Ibiza and such varied events as Glitterbox, children of the '80's, Greenpeace Festival, Battle Hymn, U.S. National Cherry Blossom Festival to name a few.

Her spirited presence has graced the stages of New York's Central Park, Nile Rodgers
acclaimed FOLD Festival sharing the stage with the likes of CHIC, Duran Duran, Pharrell
and Beck to Lincoln Center's annual Midnight Summer Swing and numerous Pride events
around the World.

In Ultra's nearly three decades of making music, she has remained a musical chameleon,
embracing a variety of sounds. Her sound embraces a variety of genres including house, soul, disco, electro pop, R&B/hiphop and rock. Ultra is honored to be considered an icon of the Dance and LGBTQ communities worldwide. She was recently named one of Billboard
Magazine's "Greatest of All Time" *Top Dance Artists (#12) along with having three entries in the industry bible's respective "Greatest Of All Time" *Top 10 Dance Club Songs including the perennial, platinum-selling #1 anthem, "Free."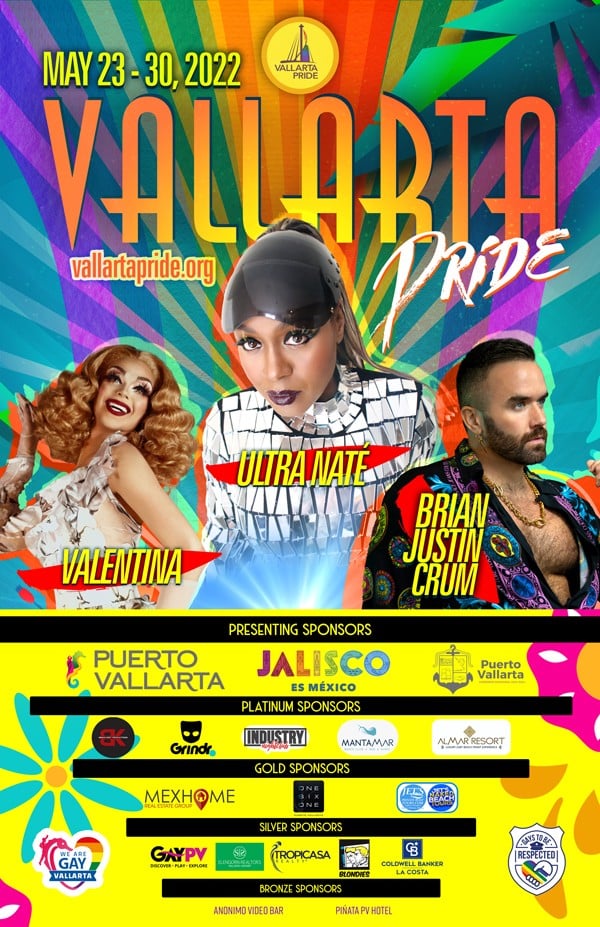 BRIAN JUSTIN CRUM – (brianjustincrum.com) Appearing at the Pink Dinner Kick Off on
Wednesday, May 25th, this America's Git Talent Finalist is a singer-songwriter currently
creating in Los Angeles. He is known for his soaring vocals and emotional
storytelling. His first single "Show Me Love" reached #2 on the Billboard Dance
charts and was named in the top 10 dance records of 2017 alongside Rihanna, Dua
Lipa and Ed Sheeran. He became a viral sensation with his cover of Radiohead's
"CREEP" on America's Got Talent which has amassed over 100 Million views
online and "Never Enough" which entered the iTunes Pop Charts.

He has had an expansive career in the Arts, getting his start on Broadway at just 17
years old. From "Wicked" and Pulitzer Prize winning "Next to Normal" to QUEENS
rock theatrical "We Will Rock You" (where he got to perform alongside original
band members Brian May and Roger Taylor). BJC has sold out concerts all over
the world and has honed his sound along the way. The sonic landscape of his
debut EP is inspired by the nightlife of Berlin. Pop melodies matched with house
and techno beats really paint the picture of a year of personal growth.

VALENTINA – (instagram.com/allaboutvalentina) Appearing at the Pink Dinner Kick Off on
Wednesday, May 25th, this drag diva, actor, television personality and singer came to
international attention as a contestant on the ninth season of Ru Paul's Drag Race and
the fourth season of Ru Paul's Drag Race All Stars. In June 2019, a panel of judges from. New York magazine placed Valentina 20th on their list of "the most powerful drag queens in
America", a ranking of 100 former Drag Race contestants.

Outside of Drag Race, Valentina appeared in the sixth episode of the twenty-fourth season of America's Next Top Model in a photo shoot challenge with fellow Drag Race alumni Maila
Luzon and Katya. She played Judy Reyes's character Quiet Ann in a season-one recap of Claws.

In 2017, she was the host of her own WoWPresents internet show, "La Vida De Valentina"
which ran for seven episodes.
PARADE CONTEST!
Every entry will be judged on the following three criteria by their judging panel:
1) Best Originality
2) Best Energy
3) Best Theme
1st Place $15,000 MXN, 2nd Place $10,000 MXN, 3rd Place $5,000 MXN. To qualify you must be a registered parade entry that has applied and paid your entry fee as well as you MUST complete the parade to the very end of the route.Enter the parade at vallartapride.org/parade-application