Esta publicación también está disponible en:

Español
Vallarta Bear Pride will be partnering with Bearmex from Mexico City this year once again, but this time in a bigger scale.
"For the first time, this year we are connecting to showcase and celebrate Bear Pride in Puerto Vallarta and Mexico City," says Christian Serrano, president of Bearadise®, "they will be here and we are going there." Bearadise® will be co-presenting an event with Bearmex in Mexico City, so stay tuned for all the details!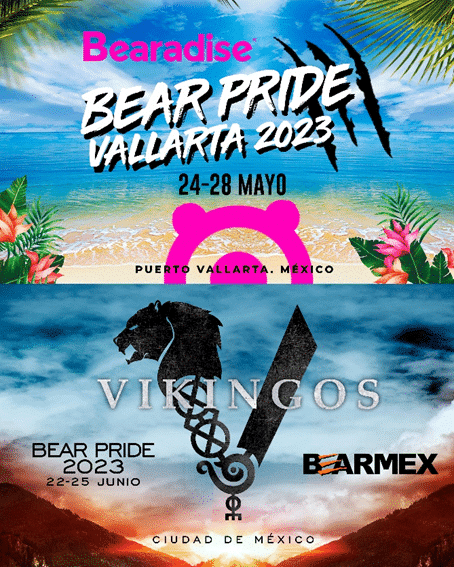 Mexico City Pride takes place 24 and 25 June with the parade on 24th, which attracts over a million people. This is one of the biggest gay pride events in Latin America, second only to Sao Paulo.
These two Mexican brands focus on our bear community and we are happy and proud to be an example of unity for the nation and world.
Mix Master
Beardise® is proud to welcome back, DJ, producer, artist and Billboard #1 Remixer, Matt Consola. "I return every year for the people, both the bear community coming out for the events and the people that put them on," says Matt, "in PV I really get time to meet everyone in a leisurely style."
Matt will be featured at Daddy Issues, the Dirty Disco Pool Party and he will be presenting his Funky Bear set at Bearadise® Beach, which highlights disco, 80s, funk and nu-disco. It will be non-stop dancing for sure. Matt always enjoys playing and working in Vallarta.
"It's the laid back atmosphere," says Matt, "while there is so much to do and see if excursions are your thing, you can easily just kick back, enjoy the weather and the water and relax. Pride in Vallarta for me is as much vacation, as a work trip."
Matt has been in the music business for over 25 years and got his start through family. "My straight cousin was a DJ in New York working at Studio 54 and The Palladium," says Matt, "and as a teen, I used to go visit my family back on Long Island where I was born and he'd take me vinyl record shopping and he started showing me how to mix music and it just felt like instinct." The rest is history.
He began by working with DJs in San Francisco's hottest gay clubs then started mixing and headlining his own shows. "But it wasn't enough to just perform," says Matt, "I wanted to remix and produce. Eventually I started working with other DJs, producers, and artists. And now I own Swishcraft Music which is America's Largest LGBTQAI+ owned and operated dance label where I produce and promote for my signed artists but also produce official remixes for major label artists from Lady Gaga, Ariana Grande, Doja Cat and Dua Lipa to Beck, Katy Perry, Heather Small (M People) and The Freemasons."
Now is your chance to boogie to Matt's beats at Bearadise® Bear Pride.
Action Packed
Purchase our NEW! Weekend Pass. Enjoy five amazing events for the low price of $385 usd. The roster includes: Furry & Proud Pool Party, Daddy Issues, Funky Bear at Bearadise® Beach, Fetish Night and Dirty Disco Pool Party. This will keep you booked all weekend long.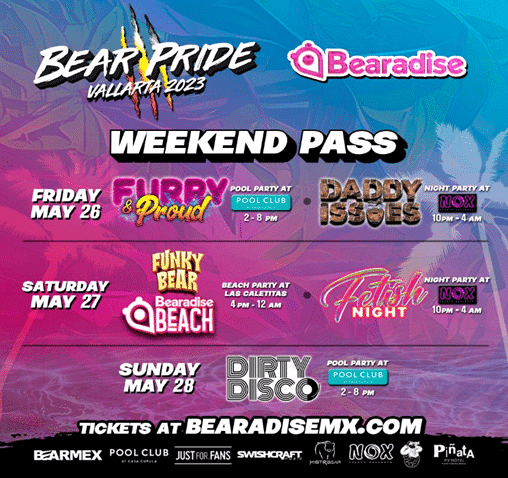 Don't Miss A Thing
Our VIP All Access Pass will provide a very memorable Bear Pride. It includes all of the above plus the Meet & Greet and a spot on our float for the Pride Parade. We have three double decker party buses, so it will be a blast.
Discount
We are now offering an exclusive promo code for our newsletter subscribers. There's 10% off on single events and the VIP All Access Pass. Use the code: bear10