This post is also available in:

Español
Pride is a time of celebration and acceptance. Rainbow flags are raised, people flock to parades, and identified LGBTQ+ people and supporters don their best Pride gear.
While it has taken some time, finally the LGBTQ+ community is gaining the visibility that was once hidden. Thanks in part to great visibility on TV, activism, and people coming out to their family and friends, the reality of our community's existence has manifested.
But despite all this progress, there is still much work to do. In many countries homosexuality is punishable, in others marriage is not legal, and there are multiple complaints of hate and there are even murders of trans people
Pride month is a moment in time to pay tribute to people who have worked the path of activism for the rights of homosexuals and trans. Here in PV, one such individual is Hector Ramírez Betancourt. There are others, like Natasha Moraga, who have contributed or lead community projects such as the Parque de los Azulejos. People from the collective community positively influence Puerto Vallarta with their work, speeches, and activism.
O&APV presents just a few LGBTQ+ faces of Puerto Vallarta who are contributing to society by creating bonds between gay and non-gay people and who, with their work, increase visibility, respect and fight for the rights of our community every day.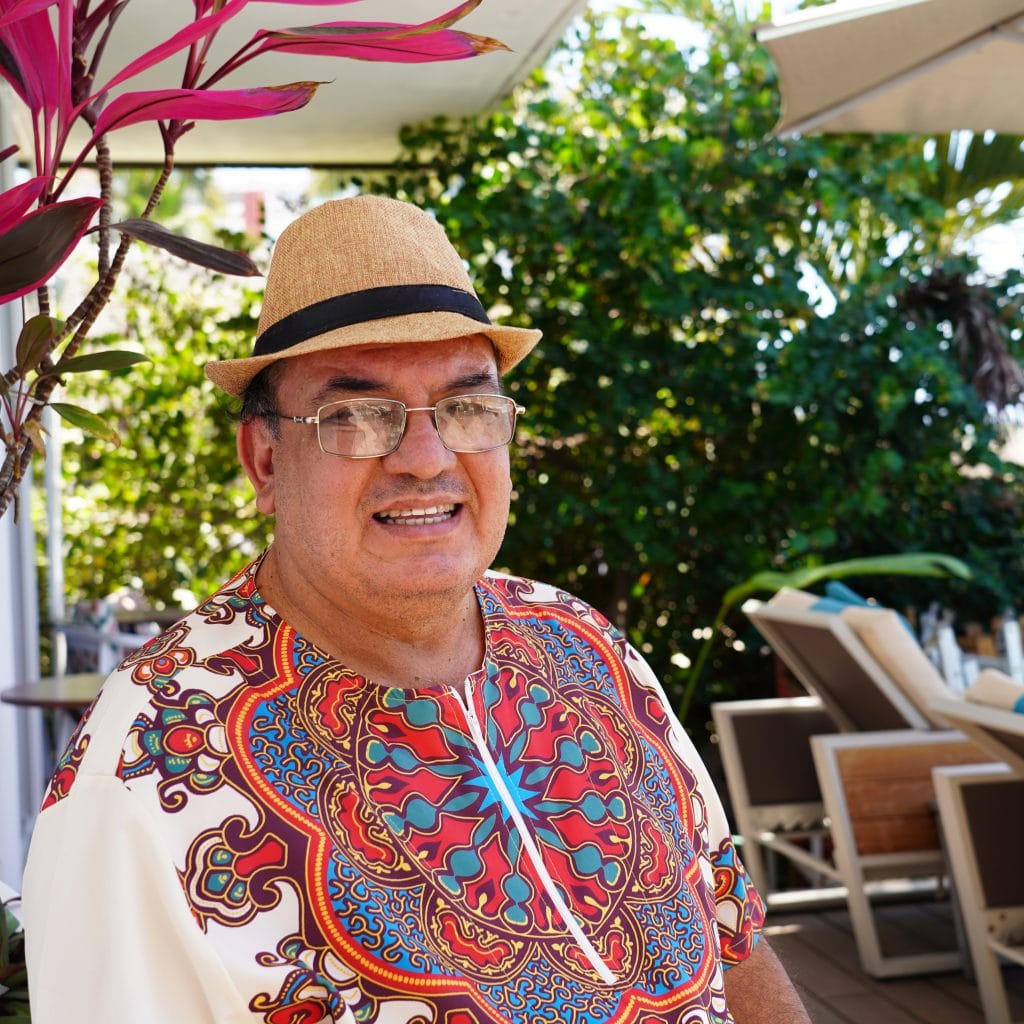 Hector 'Teto' Ramirez Betancourt
LGBTQ+ activist
Spurned into activism after police harassment
Hector is a much-loved LGBTQ+ activist in Vallarta who knows full well what it's like to suffer discrimination for being gay. In his youth, he was arrested by the Puerto Vallarta Municipal Police for the "crime" of holding hands with his boyfriend. Then, he watched as the same thing happened to his friends and acquaintances. Hector decided to start working to eradicate these abuses and give information to people and authorities. He started with several associations to fight AIDS, he was part of SETAC and there he met many human rights defenders who inspired him to form "El Colectivo Vallarta LGBT" eight years ago.
This Collective, led by Teto, has insisted on the laws to approve equal marriage, in the change of identity in trans people, and achieved the approval of the local government regulations to not discriminate in Puerto Vallarta.
Hector Ramírez has been present in many fights in the gay community, supporting people without resources who cannot defend themselves and giving awareness advice to people who do not know how to deal with our community. He was an ambassador for Pride Vallarta three years ago.
He has been recognized as one of the best LGBTQ+ activists by the Guadalajara community. In December 2021, Impulse Mexico recognized him as one of the 42 best activists in the Jalisco community, with Teto the only one from Puerto Vallarta. In addition, the State Human Rights Commission gave the "Francisco Temaxtli" recognition to him and the Vallarta LGBTQ+ Collective for the activism they have carried out in the city.
This has prompted Hector to continue fighting for the rights of the community and to teach new generations the benefits of a good relationship among all to achieve more visibility and recognition.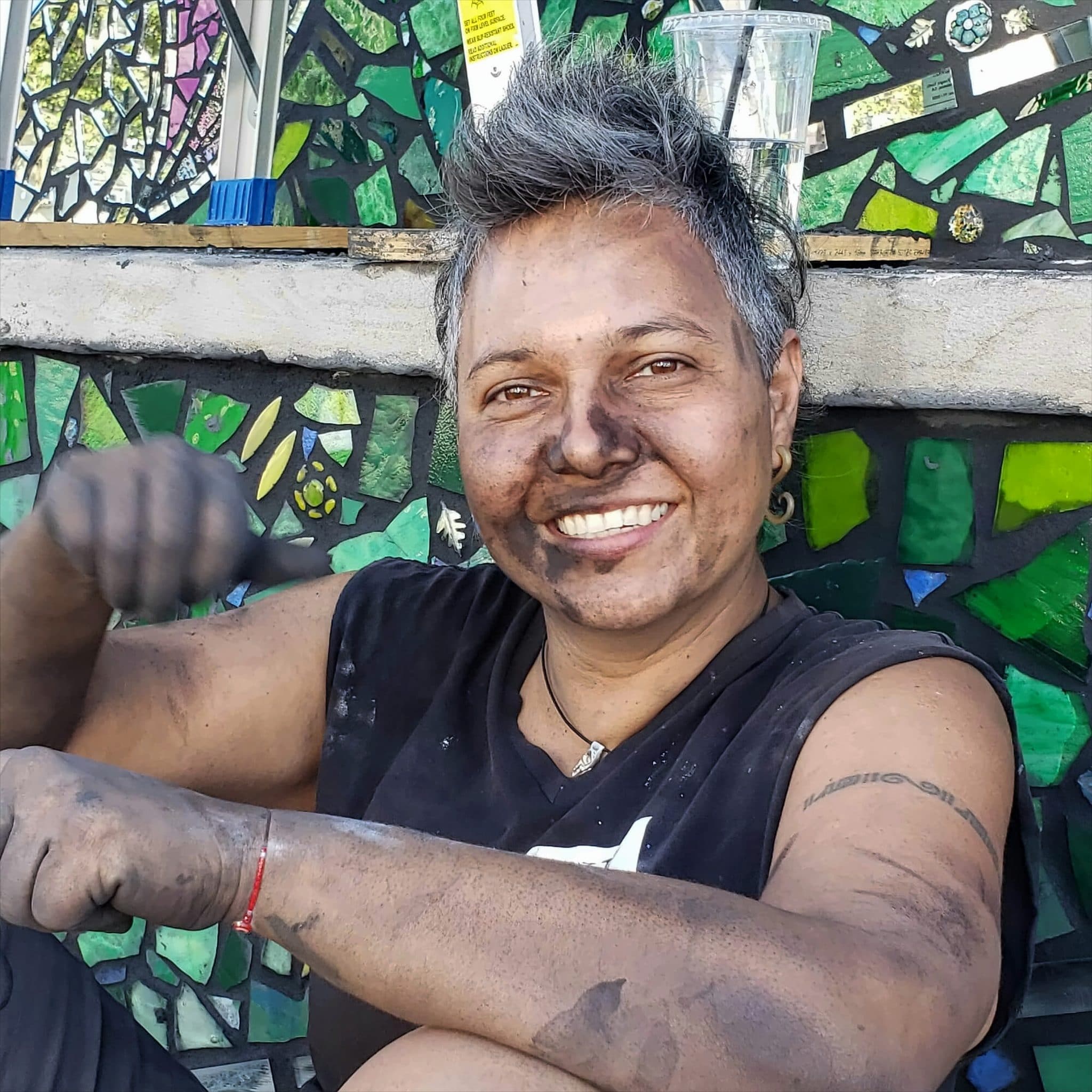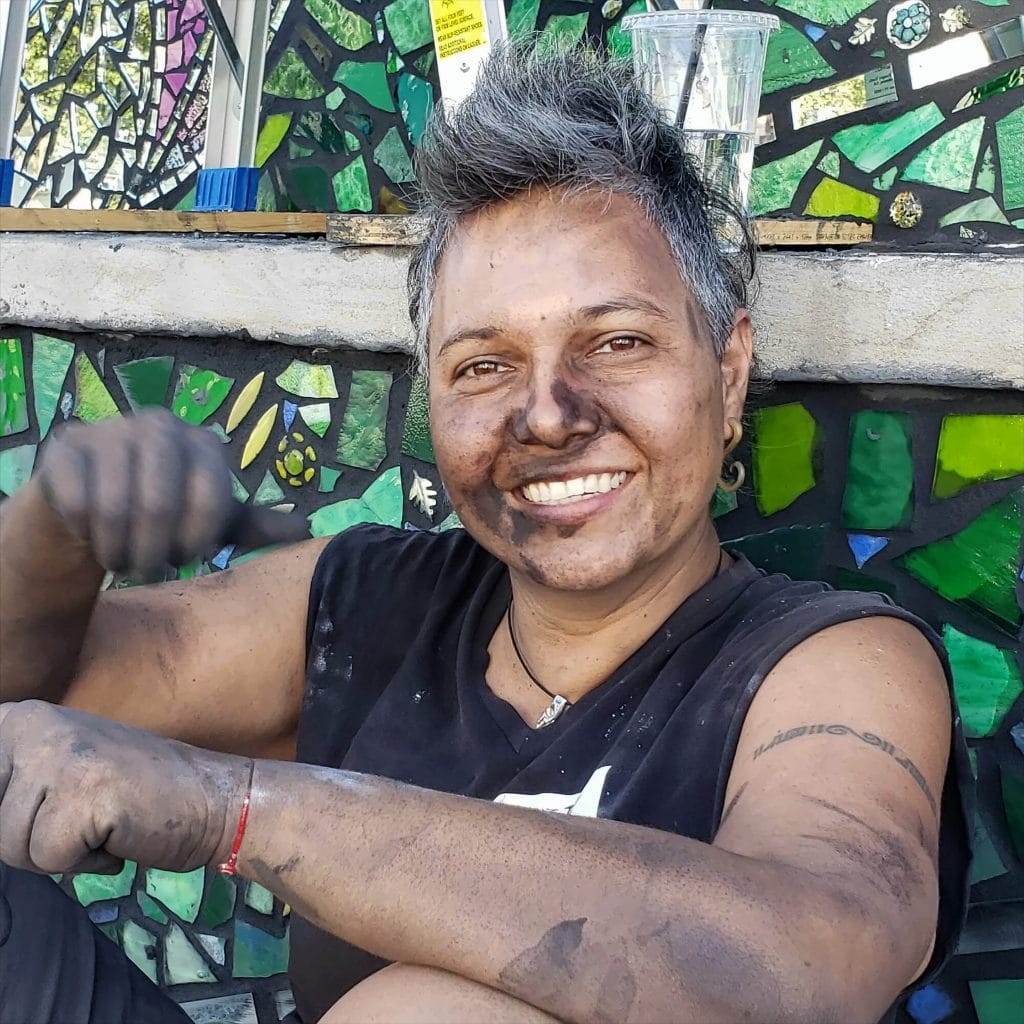 Natasha Moraga
Artist, founder and director of the Parque de los Azulejos Project
Changing the community one tile at a time
Natasha is one of those people you love from the first minute. Natasha is originally from California, US, but has been a Mexico resident since she was eight years old. She settled in many places like Guadalajara, Tijuana, Puebla and also lived in Germany for a brief time. Natasha fell in love with Vallarta and 20 years later, is still here.
Natasha stayed here because she felt protected, loved and not judged. She was able to be herself, and work without discrimination.
"I loved Vallarta from the first day. Here you fit in, not only as part of the LGBTQ community, but in the town in general. People make you feel welcome here" she says.
Natasha's basis of her growth as a lesbian woman is her family. She has always had their support. Her father was the one who made her understand at the age of 13, that she only had to be herself to be happy, and from there she began to accept and know herself.
"The first bar that I went to when I was 14-years-old was Paco Paco (The original one). There, I realized there where others like me and I loved it" she said.
She currently has a seven-year relationship with her girlfriend, and both of their families support them one hundred percent.
Natasha stopped participating in Pride festivals, because she felt that Pride had lost its meaning. She thinks the community is neglecting the "fight for rights" and focusing more on superficiality.
"I think the "fight for our rights" would be more organic if we stopped fighting each other" she explained. "We have to be compassionate and be kind to the one in front of us, no matter what gender, religion, preferences or anything. Just don't judge and mind your own business"
Natasha is a born artist who started her career spontaneously in 2011.
"I had a restaurant, and the truth is that I wasn't happy. I got depressed," she shared. "I came across Gaudí's work when I visited Barcelona. His work inspired me to create something. I didn't know what creative direction I would take until I discovered the tile technique and went to Philadelphia to take a 4 day workshop with Isaiah Zagar."
With newfound inspiration and knowing the technique, Natasha returned to Vallarta, and proposed to the government to create the wall of the school that is located on Pino Suárez and Venustiano Carranza streets. The area lies within the famous Zona Romantica, and with little budget and helped by her brother (Daniel Moraga). Natasha and Daniel created "Episode 1". Daniel also started the park Project with her and then decided to follow his passion roasting coffee and opening Darwins Project in Bucerias. the "kinder wall' is recognized by locals as "La Pared del Kinder". The "kinder wall" was the beginning of her artistic adventure.
There was the nagging problem of how to pay for the work. Natasha tells us that the way to financing the projects all happened just by chance.,
"I didn`t know how I would accomplish the project; I just knew why I wanted to do it. I was running out of budget," she explained. "A woman passed by and said, "Can I give you a hundred dollars so you can put my name on the Wall?" "Everything lit up for me and with those hundred dollars I was able to buy some materials and continue".
From there she has not stopped, the idea of that lady became pure gold for her projects, and now in all of them there is the collaboration of the community buying plaques allowing her to maintain the works and murals.
The same formula was used for the extraordinary giant Mural of La Marina and the emblematic Lázaro Cárdenas Park. Natasha's work in the park sparked people calling Lazaro Cardenas Park, Parque de los Azulejos. This is one of Natasha's greatest and most satisfying jobs. She has been putting her magic on every bench and wall in the park for five years. Natasha has been able to build community among the neighbors and volunteers that want to leave their mark in PV.
Natasha is a living example that good people, with good intentions, can all work together in harmony. Community and unity are demonstrated by this in Zona Romantica, from every walk of life, when they participate in any of her projects.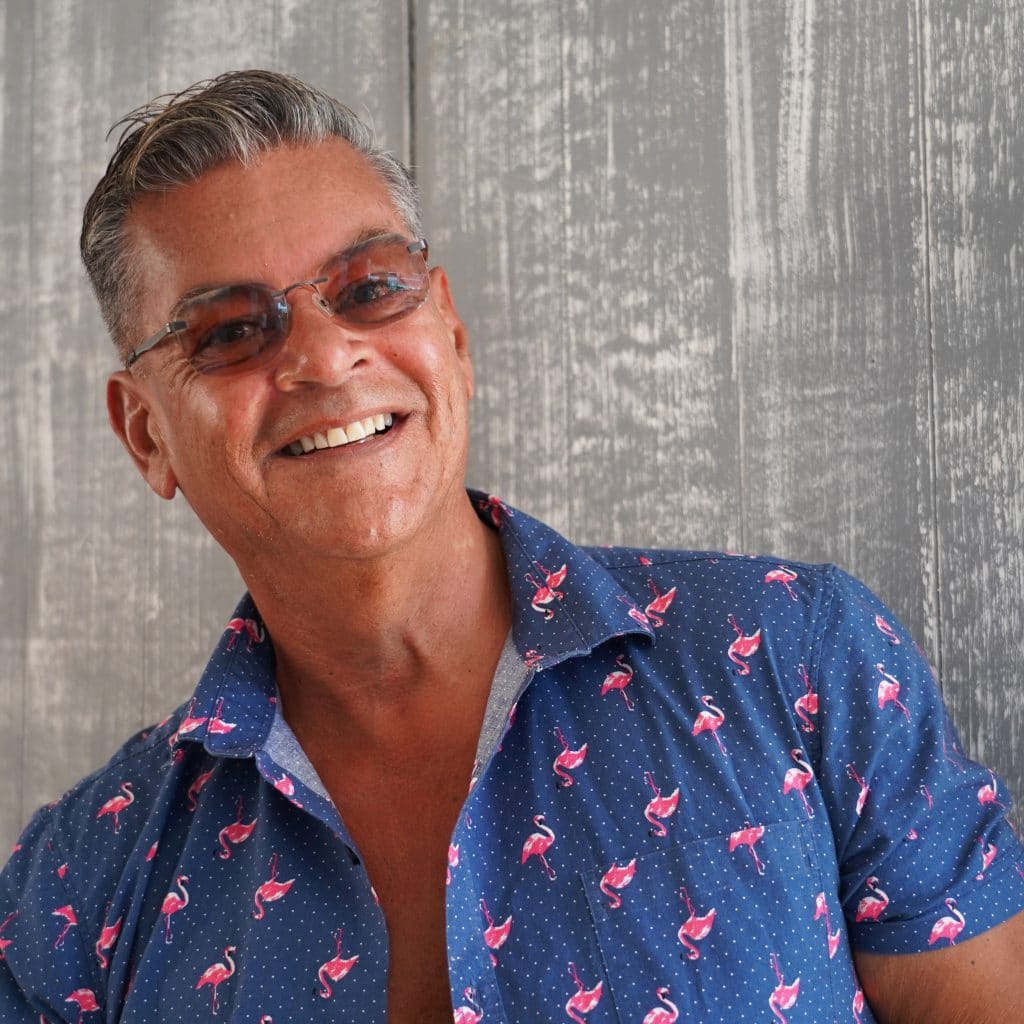 Christopher DeAnde
Marketing Director and Steering Committee Member of 'What a Drag PV'
Altruistic retiree lends his experience to help others
Christopher is passionate about the world of entertainment, with each project having the distinction of excellency. Originally from Los Angeles, California, his Mexican roots grew directly from Guadalajara, Jalisco.
Christopher arrived in Puerto Vallarta like many others – on vacation, without thinking this would become his place of residence. After many years of traveling he and his husband Michael made the decision to retire in Puerto Vallarta.
Before retiring, Christopher's career spanned six decades in both entertainment and law. He has worked for The Walt Disney Company and Universal Studios and spent the last 20 years working for BRC Imagination Arts, a small boutique design firm specializing in museums, theatrical experiences, brand houses and theme park attractions.
Christopher has used his experience in the world of legal, entertainment and design to help others in Vallarta. His work in the port since he decided to be a resident is altruistic. Chris has been living in PV for four years, working with various performers and helping retail businesses. But the project that has marked his life in PV, and so far the most significant, is 'What A Drag', an event that consists of a Drag contest with the peculiarity that the men who become Queens are all straight..
The event is 100 percent philanthropic with the tickets and sponsorships going towards funds for the Casa Esperanza Shelter and Refuge, which benefits women who have suffered domestic violence.
The fabulous thing is this event brings together the entire community, regardless of gender, skin color, social status or nationality. Every year everyone waits for this great event just to have fun, and of course support the women of Casa Esperanza.
Due to the great success and popularity,, it is the number one fundraising event in Puerto Vallarta.
During the four years that Christopher has worked with What A Drag, almost $6,000,000 pesos in funds have been raised for the shelter.
"What a Drag is a wonderful example of how people can come together to help others," he said. " Straight, gay, trans, we are all supporting each other. It's great to see Straight men willing to walk a mile in heels to help others and drag professionals taking their hand and supporting them.".
Christopher is very clear that he wants to continue helping with his experience and work. And he wants to continue promoting What a Drag so that more people can join this adventure of being able to support women and coming together to continue fighting for their rights.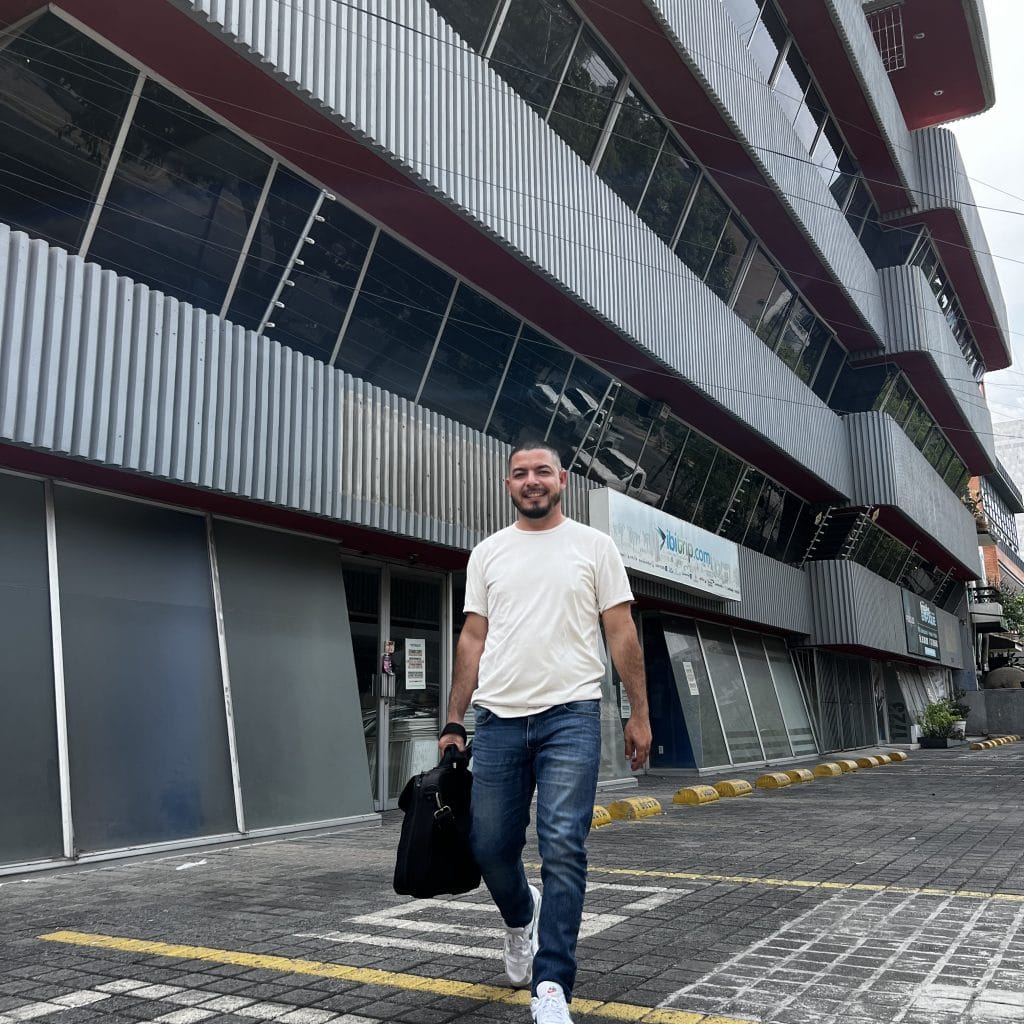 Alfredo Soria
Director of Operations at SETAC
Tireless and empathic, he feels fortunate to serve community
Alfredo is an open book, full of sincerity and empathy with his surroundings. The first impression he gives you is of a friendly and spontaneous person. And yes, Alfredo is that and more.
Originally from Sonora, Hermosillo, he arrived in Puerto Vallarta more than three and a half years ago. It was here he found his place – a place he felt accepted, loved and above all comfortable in being able to express himself and be honest with himself.
In his first months in Puerto Vallarta, he set up a confectionery business. By 2020 he began to add to his workload, becoming the SETAC Civil Association Director of Operations. It's a role he can be passionate about his work for the LGBTQ community.
After he joined SETAC, he knew from the first moment that he was in the right place. This served as an anchor for him to stay here permanently.
"At first I worked with SETAC and continued my personal business," he explained. "But as the months went by, I realized that what really fulfilled me – and made me feel fulfilled – was the work and the approach I was having with the community through SETAC. I decided to dedicate more time to it."
At first, Alfredo only coordinated the operational part of SETAC. However, little by little and thanks to his verbal and public relations skills, he organically made many ties with people from the local LGBTIQ + community.
SETAC has allowed him to be with and support people in the community in difficult times through its different social support programs. He said he felt fortunate to be with them in more private and sensitive moments. Yes, he's had some fun, but also experienced very hard times. He had the opportunity to work and coordinate a project aimed at sex workers in Vallarta (Safe PrEP), to bring and share a great LGBT documentary (Puto Paraiso) with the community, and one of his greatest satisfactions has been to create the SETAC sponsored LGBTIQ+ Festival "Our Pride".
Our Pride, rooted as a cultural festival, held its first celebration last year and started when Alfredo came up with the idea of ​​doing something symbolic during Pride, – a Gay Flag hanging on the Los Muertos Pier – to remind anyone passing by the importance and meaning of the Pride. It started with just that act and then it grew so much that they had three days of cultural activities for the community. It was so well received that this year they will be back with a Second Edition for Pride Vallarta 2022.
"I would like to tell the community that the success and value that we have as people has nothing to do with having a privileged label in our group, nor with having titles or positions, money, social positions or having the best body," he said. "Life and success is about being authentic, honest and empathetic, going to sleep at night with a clear conscience and a peaceful soul, being in good health, pampering yourself and also allowing yourself to support others. If this happens in your life, you will understand how wonderful it is to support others."
In addition to serving as the Director of Operations at SETAC, he is also working as the General Director of the Nuestro Orgullo Festival, Coordinator of the Vallarta Headquarters Safe PrEP project aimed at Sex Work (in collaboration with Brown University and CISIDAT).
Alfredo does not stop and plans to continue dedicating his time and effort to support our community. He knows it is not an easy task but that the results are great satisfaction and above all, the ability to continue advancing rights and visibility.
Among his next professional projects are carrying out the PrEP Program via telemedicine for Muxes in Oaxaca; coordinating the PrEP Program aimed at Sex Workers and Vulnerable Populations; and the Chat Between Drinks and Heels Forum. As if that were not enough, the tireless Alfredo has in mind personal projects to carry out including Edible Art Exhibitions and begin his training in plastic arts.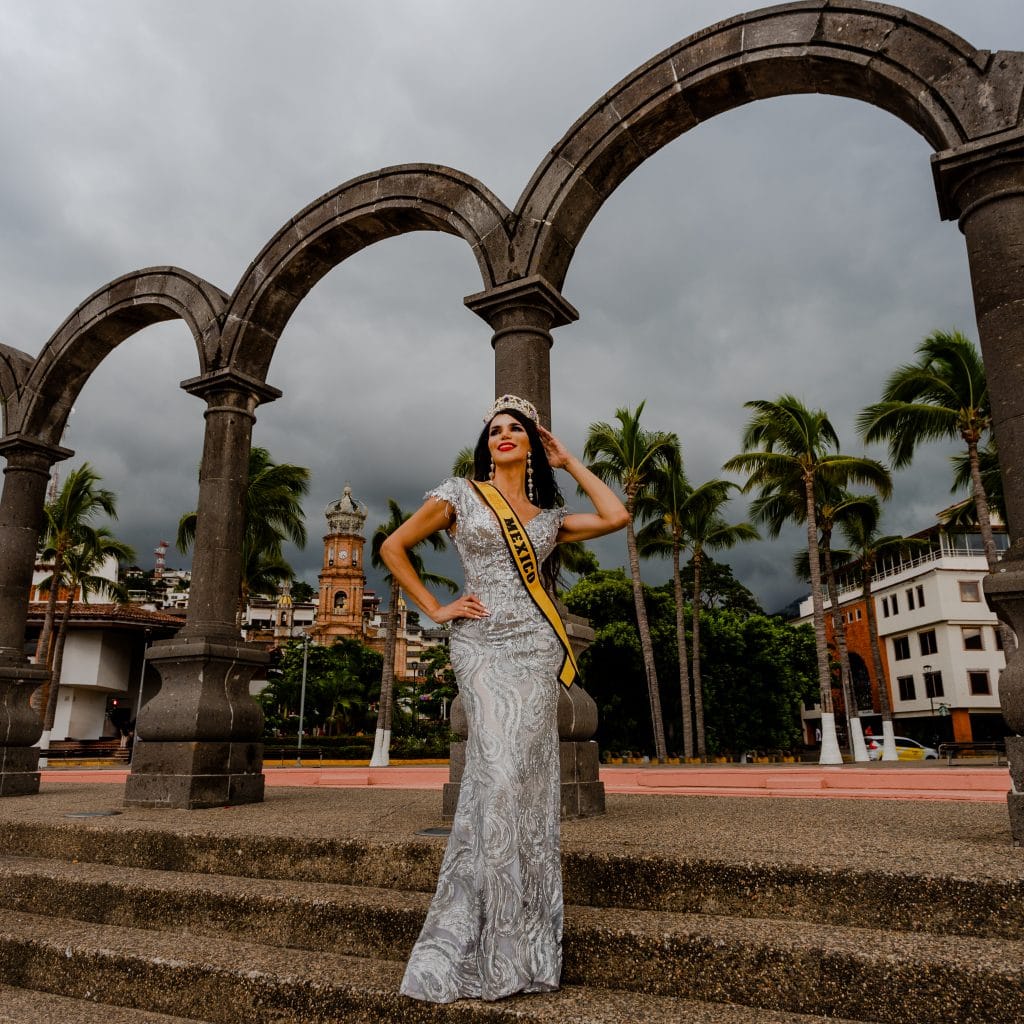 Lorena Barajas
Family Rejection Fueled Passion to Support Trans Children
Lorena's life has been a rollercoaster of emotions since her arrival in Vallarta more than 20 years ago. Like many transwomen, her coming out was not well received by her family, leading her to flee her native city of Guadalajara to start a life in Puerto Vallarta at the age of 16.
"My grandmother always said, 'a she is not where she is born, but where she is made'," she explained. "Lorena was born here."
She has been a trail blazer on the political front. Four years ago she became the first transgender woman in Jalisco to legally change her name. She is also the first trans woman to work for the National Chamber of Commerce of Mexico, and was a councilor in the business women project.
Lorena's challenges in life started as early as kindergarten. It was there she first encountered bullying, and was constantly told that she was not a girl but a boy.
"I am a woman from a broken generation, where women had neither a voice nor a vote," she said. "And especially in my very religious context, there was much less room for trans people."
Puerto Vallarta has a way of making many feel welcomed, and at home. It's a city that will quickly adopt and embrace newcomers, a city where freedom and inclusion are respected.
"In Vallarta I found my life, my pack," she explained.
Before transitioning, Lorena was protected and loved by Antonio Barajas, her "alter male ego". The masculine side of her was a shell before society, which helped her to empower herself and become a successful woman. Like Antonio, she built a successful career as a stylist and radio-TV host.
After she made the decision to publicly transition, she surprised many, including her friends and acquaintances. Some did not support her, but of course this did not stop this strong woman, and she continued to fight and grow.
Sprunned by those who rejected her, and fueled with the desire to prove herself, she decided to enter the Miss Trans Global contes. Surprising even herself,she won the Mexico title in 2021. She went on to represent Mexico internationally (in the United Kingdom), where 26 transgender women from all over the world came together to show that they were not just physical beautiful, but these women also showed how they were helping the trans community with different service projects.
And that's how her passion for her project, 'Protects and Childrens', was born.
The program supports Trans children by offering therapy, guidance and advice to the child, parents and other family members.
"Therapy is not needed just by trans children but by their parents and family," she said.
Lorena's goal is to raise awareness among these people so that trans children can grow up with love and the love of their family.
"We want quality, loving human beings," she explained. "What I did not have as a child growing up, I want them not to lack."
Locally, Lorena has big plans for the trans community of Puerto Vallarta.
"I would love to have a space to support trans women and their different needs," she said. "We are working on it and I hope it will be achieved soon."
And of course, she plans to continue supporting trans children and participate in different projects that help raise the profile of the trans community.