Esta publicación también está disponible en:

Español
Superman is now bisexual. Jonathan Kent (son of Clark Kent and Lois Lane). He will have a romantic relationship with Jay Nakamura, a character with whom he began a great friendship in a story that was published last August. However, in this fifth installment that will hit bookstores on November 9, their relationship becomes closer by kissing.
"After a scene in which Superman is mentally and physically exhausted from trying to fight many battles, Jay is there to take care of the man of steel," DC comics announced in a statement. They also described the new Superman as "bisexual" and titled him "Jon Kent finds his identity."
In the volume 'Son of Kal-El', it can be seen that Jon Kent is a fighter of social injustices. Ranging from forest fires to protests against the deportation of refugees.
"Today, more and more people can identify with the most powerful superhero in comics," said Tom Taylor, author of the series.

The coming out of the most famous American superhero comes as more and more books address diversity.
In March, Marvel Comics announced their first gay Captain America. 'Aquaman' introduced a black, gay superhero this summer.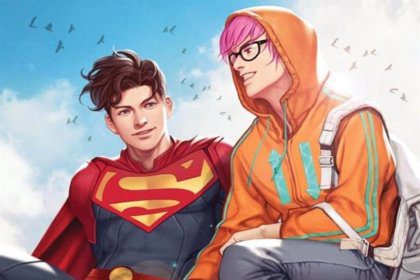 And the last to come out as bisexual was Robin from the Batman comics in August.
Although the new Superman is not the first superhero of the LGBT community in a comic, he is now possibly the best known.

And you do you think? Do you like that publishers are increasingly opting for diversity?
You can leave us your comments in the following link.

If you want to read more articles you can see them by clicking here.