Esta publicación también está disponible en:

Español
Going to the hospital can be something frightening for people, that is why there is the alternative of "Dr at home".

Puerto Vallarta stands out for being one of the tourist destinations for excellence, however the costs of private health services are usually higher than in any other part of Mexico. Not to mention the transportation to the hospital, since many foreigners do not know which may be the best option or are totally unfamiliar with the city.
For these reasons, Dr. Diana Morales and Dr. Aurelio Jimenez decided to start their own home service, creating more options for residents and visitors. Giving life to "Dr at home".

"I am not attracted to the hospital environment. I find it a stressful place, not only for doctors, but also for patients. So I found in their homes to be the best possible practice. A familiar environment for them that allowed me to provide adequate and comfortable care. So together with my wife we started Doctor At Home PV. The truth is we feel very fortunate. We have been able to meet many people who have been very supportive." Jimenez said.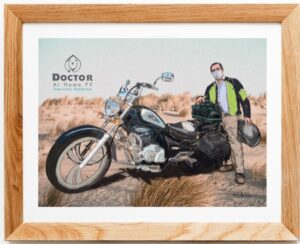 The "Dr at Home" service can help you with general medical consultations, as well as sample collection for Covid- 19 testing at your home. However, more and more they understand people's needs so their services are expanding.

"Patients' needs are varied so we have also helped patients provide prescriptions, schedule appointments with specialists, advice on types of health insurance, telemedicine, intravenous hydration application, schedule lab appointments and help with interpretation of results. It all depends on each patient's history and needs." Jimenez add.

Due to the same expansion, Dr. Priscila Serrano has begun to collaborate in the company. As well as other physicians who, according to their availability, support with a variety of services.

So if you dread the idea of going to a hospital or it is simply more comfortable to be at home. Now you know a new option.
Related Stories