Esta publicación también está disponible en:

Español
If you're looking for a special place in Puerto Vallarta to enjoy a Christmas Eve or Christmas Day meal, you'll find lots of restaurants that have special menus for those two days.
We've done our best to list them here. If we left your favorite out, please let us know and we'll add them to the list. Most require reservations, and are offering a set menu. Check your favorite restaurant's social media site for more information or times.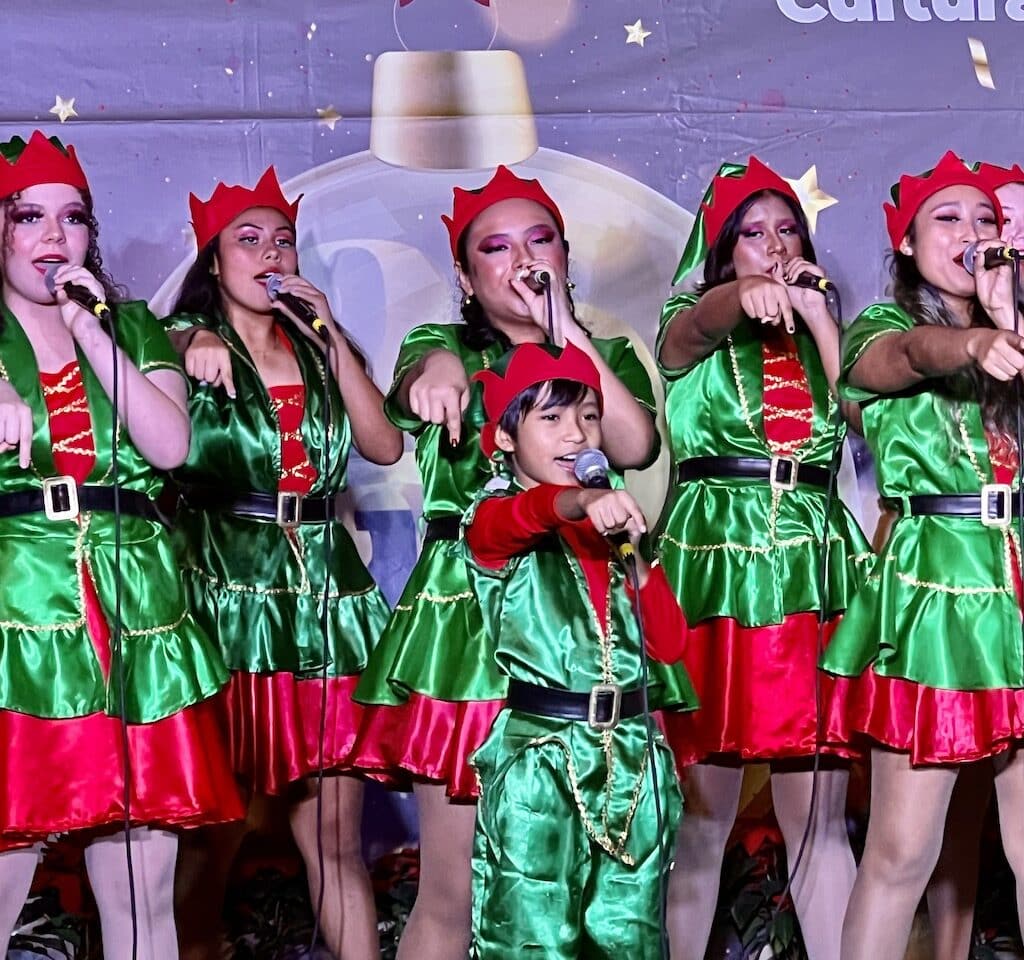 Azafrán
Olas Altas 507, Emiliano Zapata.
Please note that on December 24th and 25th reservations are required and only this menu is available.
Four-course Menu: $990 MXN
With wine pairing: $1,450 MXN
Tuna Sashimi with homemade Peanut-Sesame Ponzu Sauce
Boneless Black Angus Short Rib
24-hr Sous Vide with rich Porto Wine Jus, Potato-Iruttle Puree and Grilled Asparagus
or
Catch of the Day with homemade Sweet Potato-Sage Gnocchi, creamy Bell Pepper Sauce and White Wine Baby Zucchin
Azatran traditional Gingerbread-Cinnamon tart with Ice-Cream and glazed Berries
Homemade German Gingerbread and Christmas Cookies
Blue Shrimp Restaurant
Christmas Dinner
$790 Pesos per personShrimp adobo style with confited cauliflower puree and baby vegetables or
Sea bass filet with seafood creamy sauce accompanied with rice and seasonal vegetables
Mexican buñuelo with vanilla ice cream
Guadalupe Sánchez 740, El Centro.
Five course menu
Saturday, Dec. 24, 2022
$2,100 pesos per person
3222267200
Casa Cupula Christmas Dinner and Show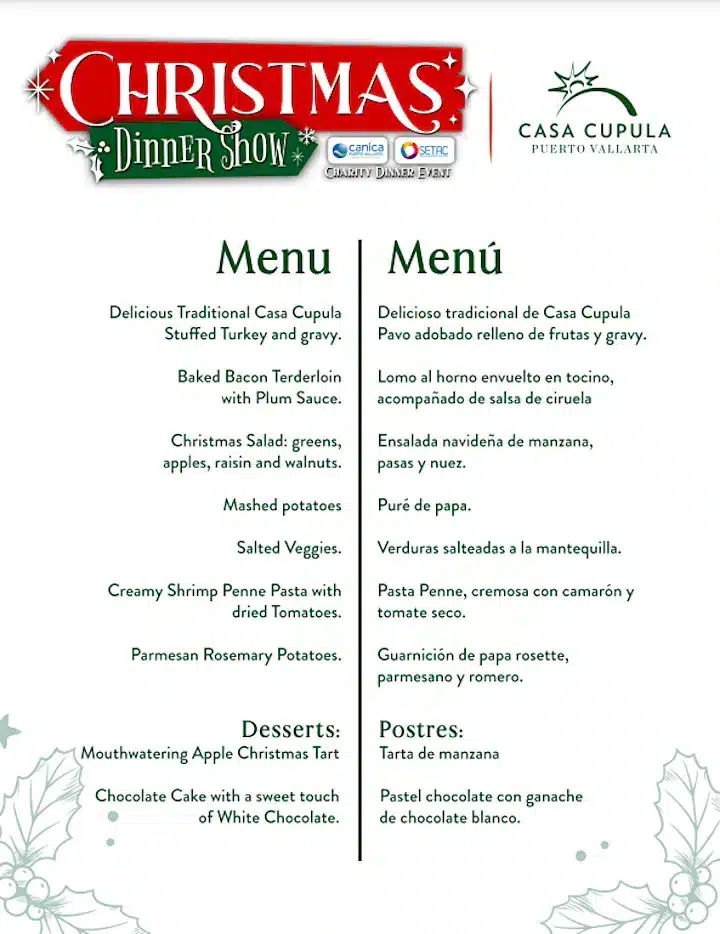 Benefits CANICA and SETAC
December 22, 2022
6:30 PM
$950 Pesos
Delicious Traditional Casa Cupula Stuffed Turkey and gravy.
Baked Bacon Terderloin with Plum Sauce. Christmas Salad: greens, apples, raisin and walnuts.
Mashed potatoes
Salted Veggies
Creamy Shrimp Penne Pasta with dried Tomatoes.
Parmesan Rosemary Potatoes.
Dessert:
Mouthwatering Apple Christmas Tart
Chocolate Cake with a sweet touch of White Chocolate
Christmas dinner
Reservation required
Three Course Menu
Includes welcome cocktail and glass of sparkling wine
$990 Mxn P/p
Saturday December 24 from 5:00 pm.
First course.
– Salad with fried Brie cheese.
– Green apple carpaccio.
– Carrot and coconut cream.
Second course.
– Pork Belly.
– Sealed tuna.
– Octopus zarandeado.
Dessert.
– Tangerine cake.
– Apple Panna Cotta.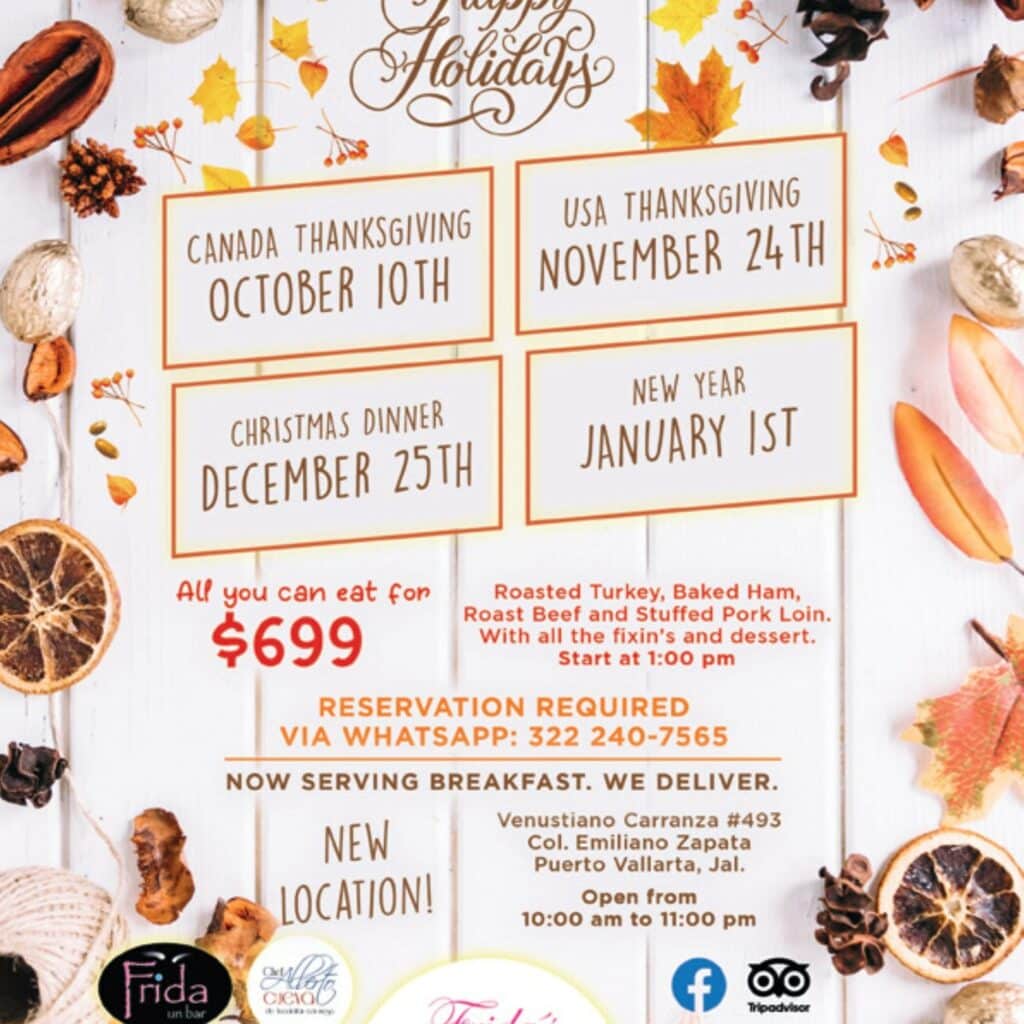 All you can eat for $699 pesos per person
Roasted Turkey, Baked Ham, Roast Beef and Stuffed Pork Loin.
With all the fixin's and dessert.
Starts at 1:00 pm on Dec. 24, 2022.
Reservations required via WhatsApp: 322 240-7565
Venustiano Carranza #493 Col. Emiliano Zapata Puerto Vallarta, Jal.
La Tienda Grande Christmas Eve Dinner
Saturday, Dec 24, 2022
$850 pesos p/p, add the wine pairing for an additional $450 pesos p/p
Reservations via WhatsApp 322 291 7717
ROASTED PEAR SALAD
Gorgonzola cheese + Candied pumpkin seeds +Sweet Potato crackers + Greens
Cranberry vinaigrette
PORK BELLY TACO
Handmade tortilla + Broiled pork belly + Red mole sauce + Greens and requesón cheese
PUMPKIN SOUP
Honey + Cinnamon + Skin milk
SHORT RIB ENCHILADAS
Tortillas + Short Rib stew stuffing + Beans + Meat juice sauce + Jocoque cream
BITTERSWEET DUCK BREAS
Sous vide… Cherry sauce + Whisky + Sweet potato puree + Veggies
WHITE MOLE REDSNAPPER
Mole sauce + Herb butter + Prosecco beurre blanc sauce + Asparagus + Potato Mille feuille
OR
La Tienda Grande Take Home Christmas Dinner
Get the party done, we'll take care of the food!
Dinner for six people
$3,600 pesos
Orders via 322 291 7717
Includes: (choose)
Stuffed Pork Tenderloin
Bittersweet cranberry sauce + Romeritos stuffing
or
Sous Vide Chicken Breast
Saffron sauce + Spinach with cheese stuffing
or
Larded Pork
Almond and plump mole sauce

Soup
Pumpkin / Roasted Tomato / Potato and Leek /
Asparagus / Corn and Vanilla
Garnish
Truffle mashed potatoes / Potato mille fuille / Herbs roasted potatoes /
Honey sweet potatoes / Mushroom pasta / Cauliflower gratin
Vegetables
Brussels sprouts with butter and bacon / Panela cheese caprese and peanut pesto / Caesar salad / Baked Eggplants /Beet and green beans salad / Pear and blue cheese salad / Roasted baby carrots in garlic butter
Marriott
La Estancia Restaurant
Enjoy a warm Christmas Eve and Christmas evening with your loved ones and a delicious Christmas dinner with live music.
December 24 and 25 from 6 pm to 10 pm at La Estancia.
Adults $1,100 pesos per person
Children 5-12 years $430
Book with concierge
322 226 0017 ext. 6693
Oscars
December 24th & 25th, 2022
$980 persons per person
322 22 307 89
MEXICAN CORN TETELA
Grilled sweet potato and carrots, macha sauce, jocoque, arugula, orange supremes, and avocado.
MERRY CHRISTMAS SALAD
Grilled lettuce, apple, papaya, cranberry, gorgonzola cheese, and tzatziki dressing
OR
PUMPKIN CREAM
Saffron, double cream cheese dumpling with corn smut, totomoxtle, and chilhuacle oil.
STUFFED TURKEY
Stuffed with meat, cornbread, sambuca, dried fruits, olives, capers, plantain, and corn liquor. In Xiqueño mole.
OR
FILET MIGNON
In a dried crust of chili and coffee, malbec sauce, truffled potato mousse line confided cauliflower and tomato chimichurri.
OR
CAULIFLOWER STEAK
Epazote butter confit, truffle, grilled mushrooms, beetroot, and chickpea hummus
PUMPKIN PIE
Chocolate and hazel mousse, cacao-chili soil. and cranberries.
No Se Nada Restaurant
Corona #179 Centro Historico
Dec. 24
$560 Pesos per person, reservations required
Special dinner packages that include appetizers, mainly consists of red fruits, nuts and cream cheese Stuffed Chicken Breast topped with delicious citrus sauce and sides.
or
$660 Pesos per person
Filet Mignon with Chef's special sauce and sides, dessert and choice of glass of wine or NSN handcrafted margarita.
Postrería Madero
Spend more time with your loved ones and don't lock yourself in the kitchen. We have available for you this holiday package for 10 pax.
Book in advance.
$3,200 mx ($320 pesos per person, feeds 10 people)
Pitillal Centro; November 20th Street #174
322 2316109
epostreriamadero@gmail.com
Turkey with Stuffing
Sauce To choose: mixed berries, mushrooms or prune sauce.
Side Dishes: Rosemary mashed potatoes, Sweet apple salad, baked potatoes or Creamy Pasta Penne (spinach or mushroom)
Dessert: Christmas Trunk Cake, Apple Pie or Christmas Fruit Cake
price includes one sauce, two side dishes and one dessert.
Layla's Restaurante PV
137 Venezuela Street, downtown Puerto Vallarta.
Next to the Parque Hidalgo parking lot.
Dec. 24 and 25
8:30 am- 11:00 pm.
Christmas specials or regular menu available.
Chipotle Pecan Cream soup
Grilled Chicken
Pork Chop
Christmas Salad
Vizcaino Shrimp
Reservations via Whatsapp 3𝟐𝟐 𝟐𝟐𝟐 𝟐𝟒𝟑𝟔 or 𝟑𝟐𝟐 𝟏𝟓𝟔 𝟑𝟑𝟎𝟒
River Cafe
December 24 and 25, 2022
4 to 11 p.m. each day
Four course menu
$890 pesos per person
Turkey: Roasted turkey medallions over mashed sweet potato, grilled apple, cranberry – ginger sauce and turkey gravy
Fresh Catch of the day: Lemon – garlic butter and gremolta sauce over sauteé spinach and broccoli
Brisket: Six-hour oven roast brisket served with mashed potatoes seasonal vegetables with homemade BBQ sauce
Apple tart with vanilla ice cream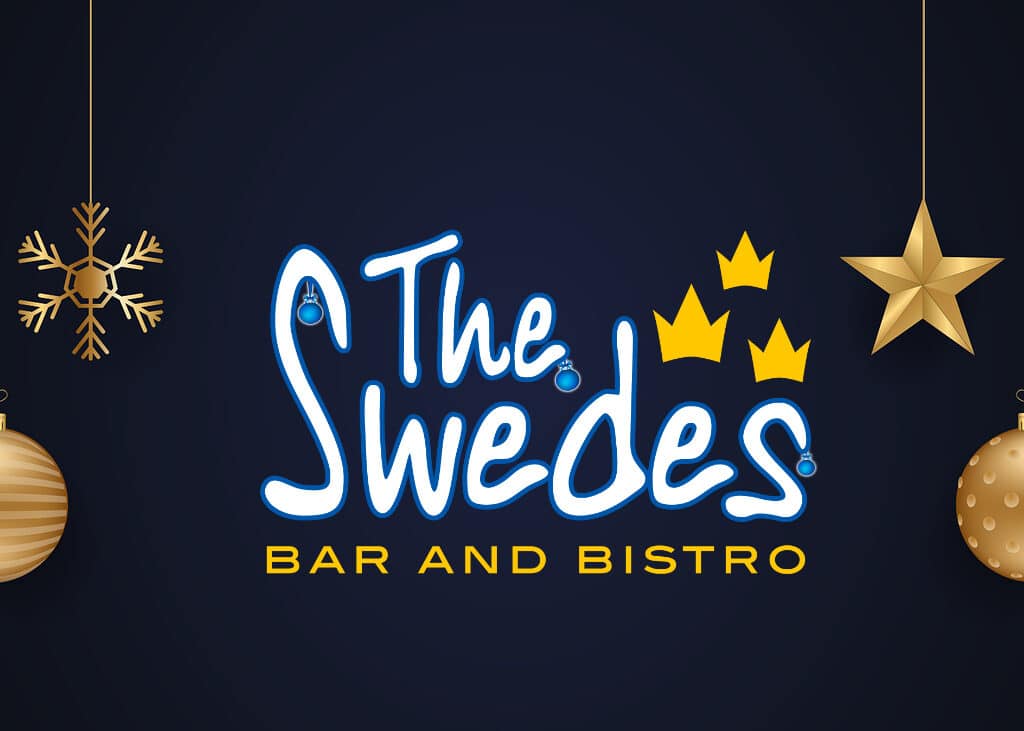 Christmas Dinner at The Swedes
$895 pesos
Chef Enrique works hard to prepare a fresh quality meal with hints of home while our service team welcomes you as family.
A limited menu will be served on both December 24th and on December 25th.
A curated wine pairing menu will be available for additional charge
Vegetarian option available
Starter
Pea cream with bacon and spinach & goat cheese
-or-
Winter Salad with mixed lettuce, feta cheese, toasted coconut, glazed baby carrots, blueberries, almonds & coconut vinaigrette
Main Course
Fresh turkey breast stuffed with ground pork, walnuts, pear, apple, raisins, rolled and roasted then sautéed with red wine gravy
-or-
Premium beef filet to your liking with mushroom sauce, served with lyonnaise potatoes, bacon-wrapped green beans and tomato Provencal
Dessert
Hazelnut opera cake with Nutella cream, dark chocolate ganache and strawberry jelly
-or-
Tangerine and blackberry mousse, whipped cream and orange marmalade with mint
SiSenor Mexican Restaurant
Celebrate Christmas on the beach
Three Course Menu: $890 pesos per person
Reservations: 322 223 8238
First course
Roasted tomato cream soup
Main course
Traditional stuffed loin
Or
Tarragon shrimp
Dessert
Red fruit tart
Sukha Grill House
Av. Paseo de la Marina 3
$595 pesos per person
Christmas Buffet: Salads, pastas, vegetables and more
Pumpkin and shrimp bisque
Short Rib or Rib eye or Cod Viscaine Style
Turkey oven cooked with our special stuffing or Grilled shrimp or Oven cooked fish with basil, coriander and raicilla pesto
Side of thyme and raicilla honey potatoes
Dark chocolate hazelnut mousse or Corn custard
Seasons PV
Three Course Dinner
Dec. 24, 2022
$490 pesos per person
Dine in, take out or delivery
322-178-2148
www.seasonspv.com
Red Fruit Salad or Cilantro Cream
Baked Stuffed Turkey, served with stuffing, mashed potatoes, gravy, cranberry sauce and vegetables
Pumpkin roll with ice cream cheese frosting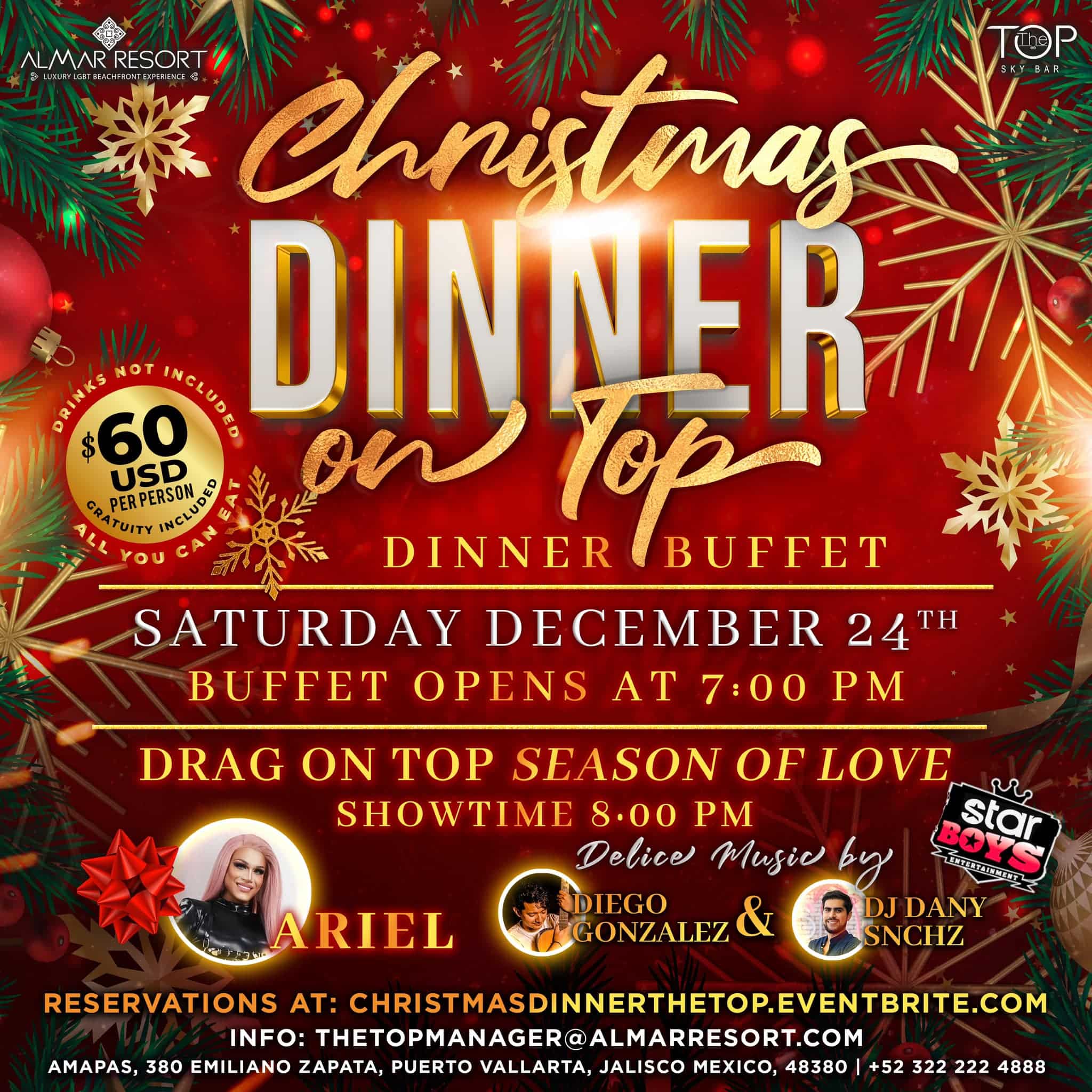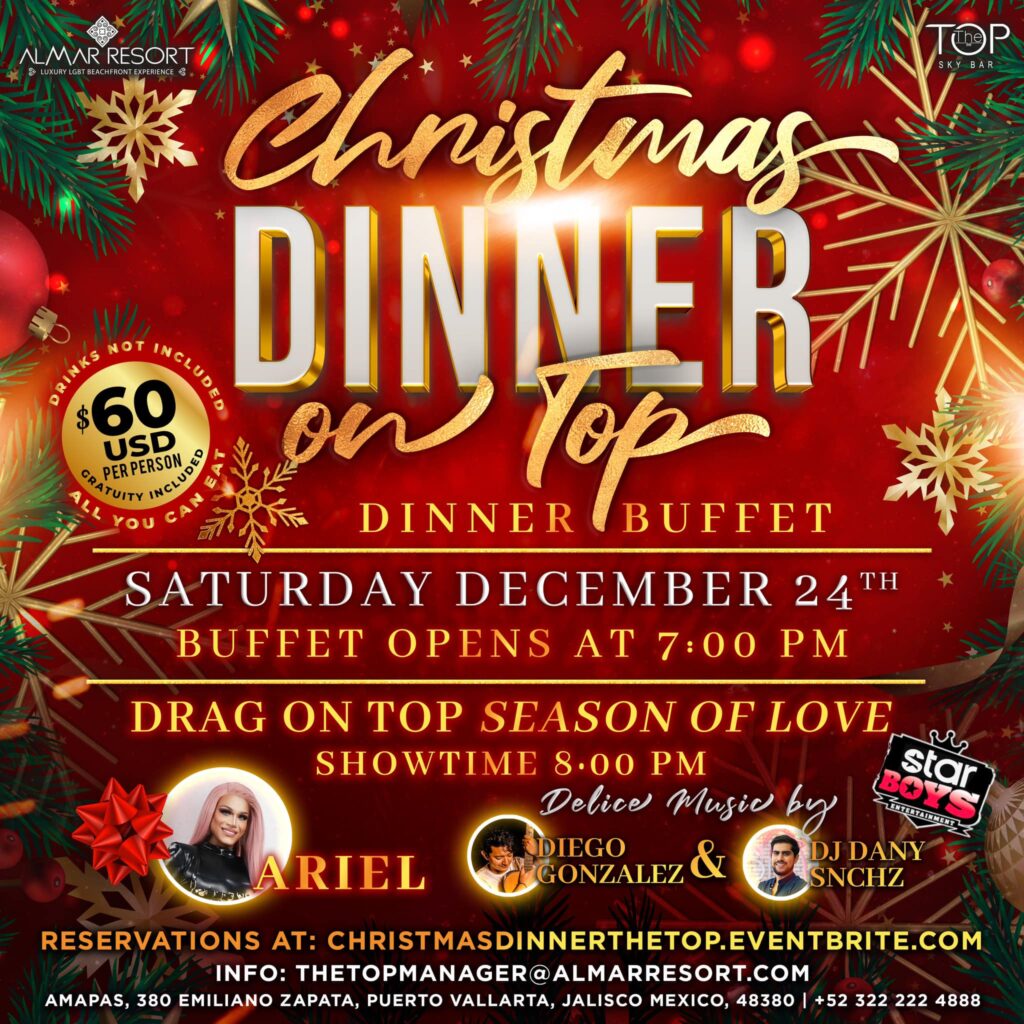 $60 USD per person
All you can eat buffet
Dec. 24th 7 p.m. – Showtime at 8 p.m.
AMAPAS, 380 EMILIANO ZAPATA, PUERTO VALLARTA, JALISCO MEXICO, 48380
+ 52 322 222 4888
Reservations and menu at CHRISTMASDINNERTHETOP.EVENTBRITE.COM
INFO: THETOPMANAGER@ALMARRESORT.COM
Whiskey Kitchen
Christmas Eve & Christmas Day
$450 pesos per person
Christmas Eve 12-6pm
Christmas Day 3-10pm
Turkey, stuffing, fried chicken, pork loin, corn, mashed potatoes, macaroni and cheese, fall vegetables, salad, gravy, green bean casserole, rolls, maple butter, cranberry sauce and dessert bar
Add prime rib with horseradish $100
Reservations only spreading reservations out throughout the day – Gina 322 152 1444 Or Direct to restaurant 322 405 9541
Qulture PV
Christmas Dinner
December 24th & 25th
5 p.m. and 7:30 p.m. seatings
Reservations at 322 688 6944
Venustiano Carranza No. 466, Puerto Vallarta
Three Course Christmas Dinner with your choice of entrée;
Traditional Turkey, Short Ribs or Vegan.
Entertainment by Lenar & KG
Traditional $890 pesos per person
Vegan $700 pesos per person
Related: