This post is also available in:

Español
Puerto Vallarta is known for its huge New Year's Eve celebrations, as locals and visitors say goodbye to the previous year.
If you're looking for a nice meal to partying all night, you'll find it in Puerto Vallarta. And on New Year's Eve (Dec. 31) you'll find that the party takes to the streets and the Malecon with everything from live music to a fireworks display at Midnight.
If you're gay and looking to hang out with like minded folks, we've got the list here of many of the parties and celebrations taking place. If we've left your favorite one out, let us know and we'll add it to the list.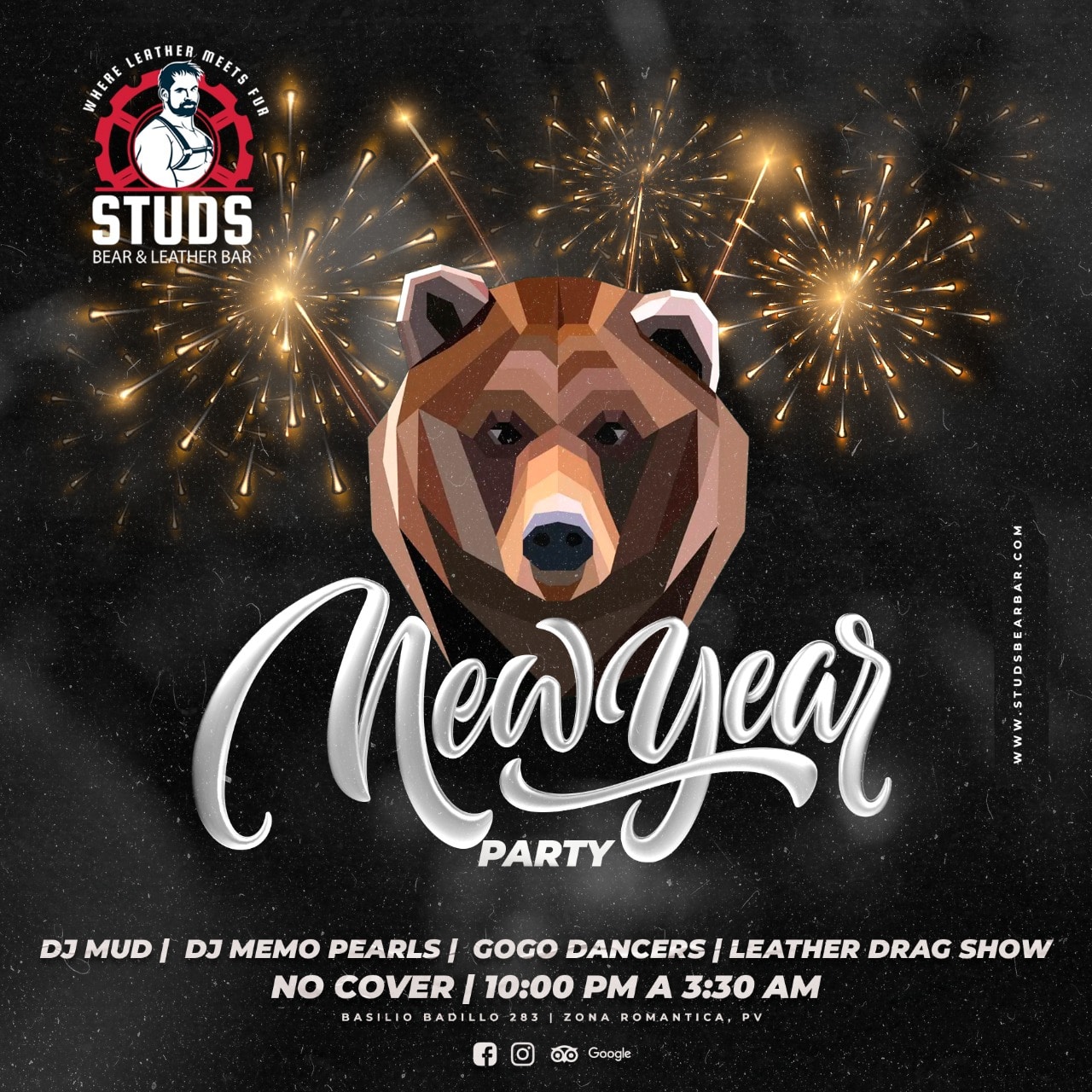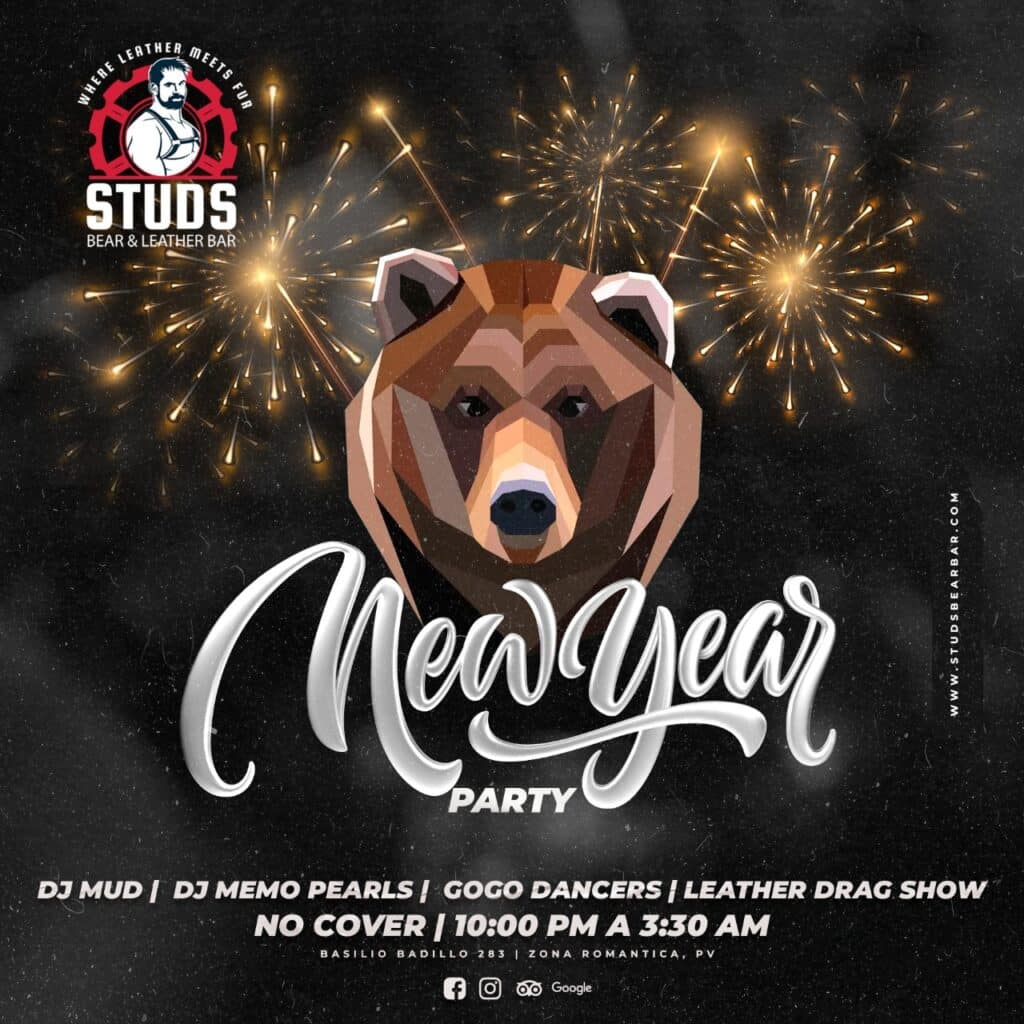 Studs Bear Bar will have a NYE party with DJ Mud, DJ Memo Pearls, go go dancers and a leather drag show! No cover, it all starts at 10 p.m. and runs to 3:30 a.m.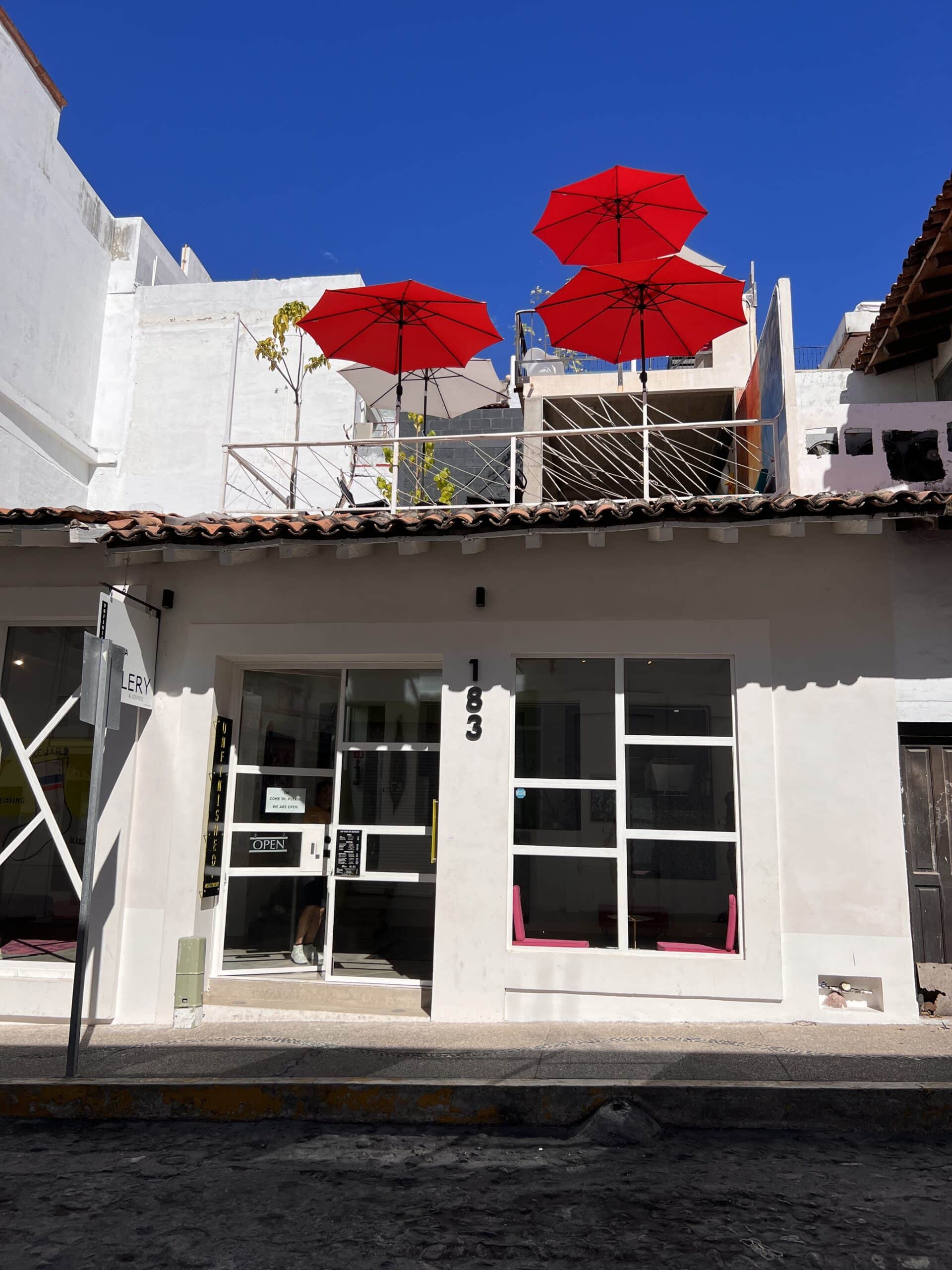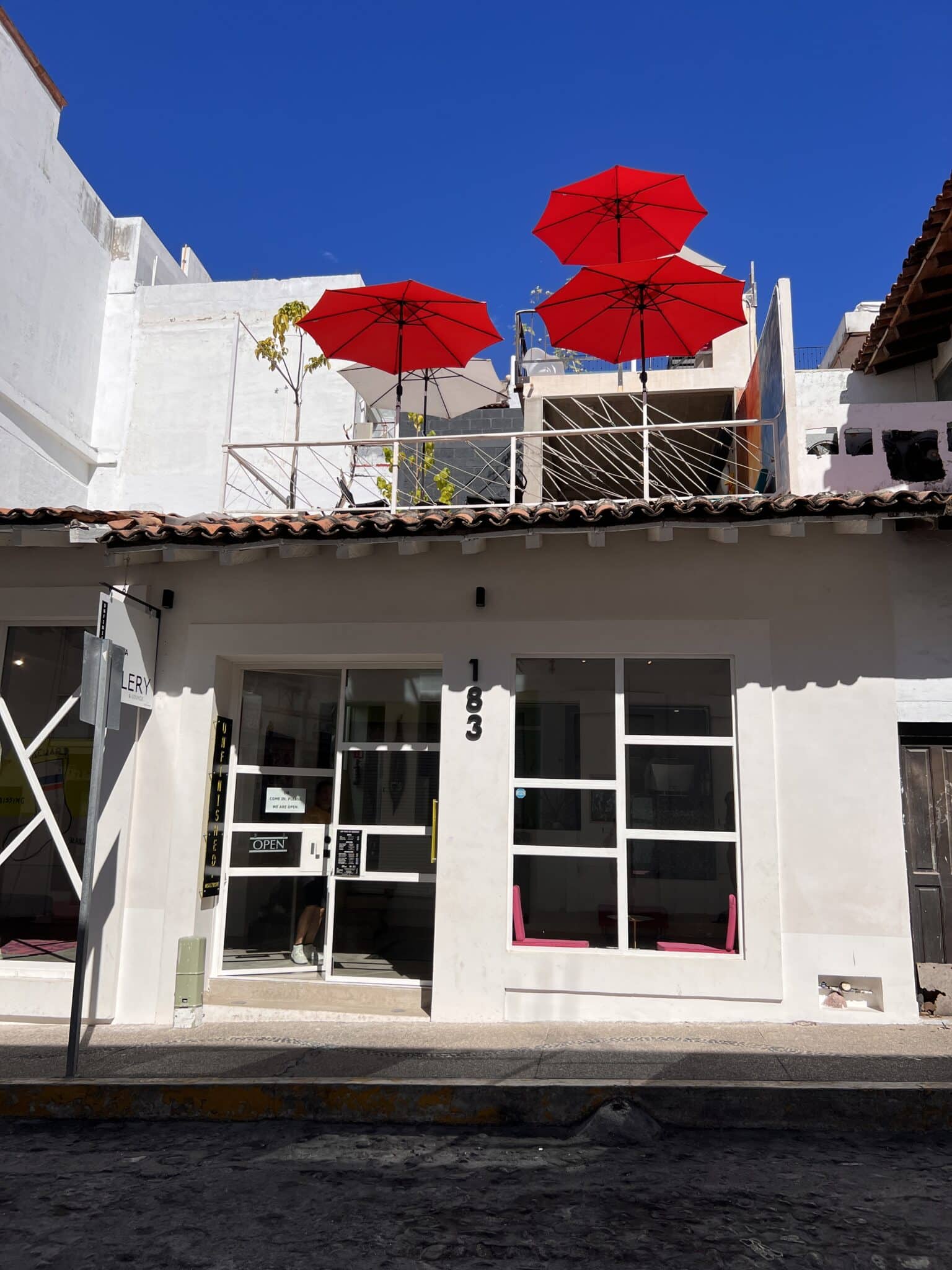 Unfinished Gallery and Bar, C. Mina 183, Centro, Puerto Vallarta, is offering reduced prices on drinks with light beer starting at $25 pesos. Watch the fireworks on one of their two outdoor terraces. Limited Space so arrive early. The gallery and bar will be open 11 a.m to 2 a.m.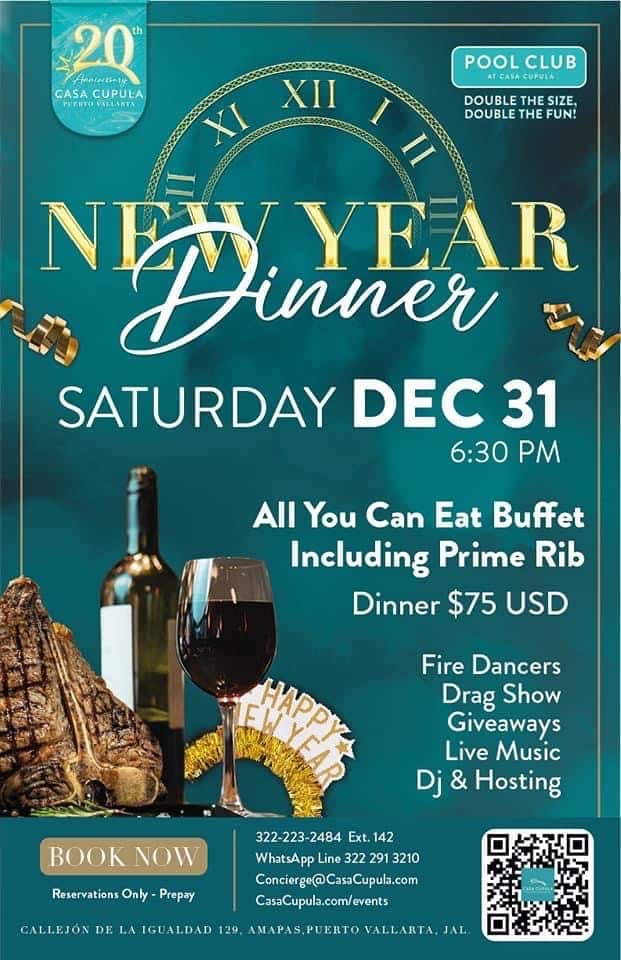 Casa Cupula is offering an all-you-can-eat elegant buffet including Prime Rib. Featuring entertainment by Drag Show & Live Entertainment, and fireworks. You'll be able to dine under the stars with splendid decoration and enjoy New Year's Dinner with your LGBT friends and family for $75 USD per person. Tickets available on EventBrite here. 6:30 p.m. to 11 p.m. If you are not interested in food, you can purchase a ticket to the show and fireworks for just $35 USD. Find those tickets here.
Mantamar Beach Club is pulling out all stops for a party that runs from Dec. 27 to Jan. 2. A total of seven different parties will be held, each with a different theme. Information is available here on their website.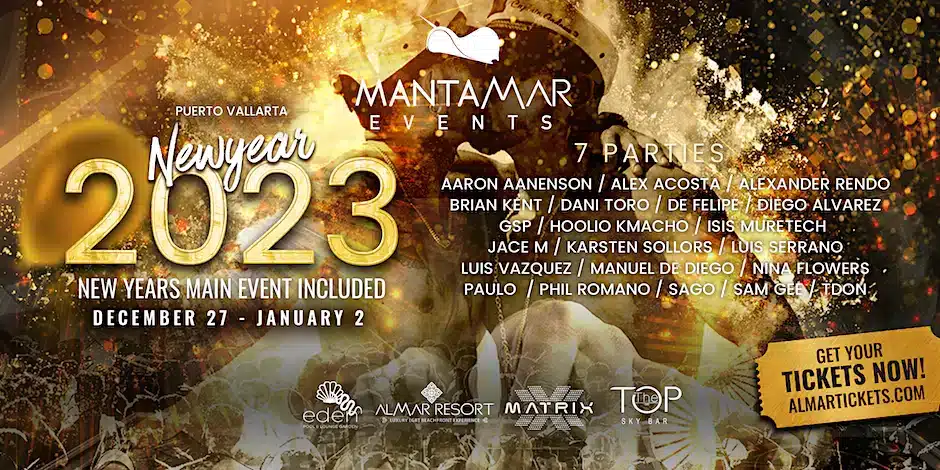 The Top Sky Bar at Alamar Resort has planned a five course menu where you can watch their spectacular drag show and enjoy dinner. $175 USD per person is the price, with a show at 8 and 10 p.m. (seatings at 7:30 and 9:30 p.m.). Tickets available on EventBrite here.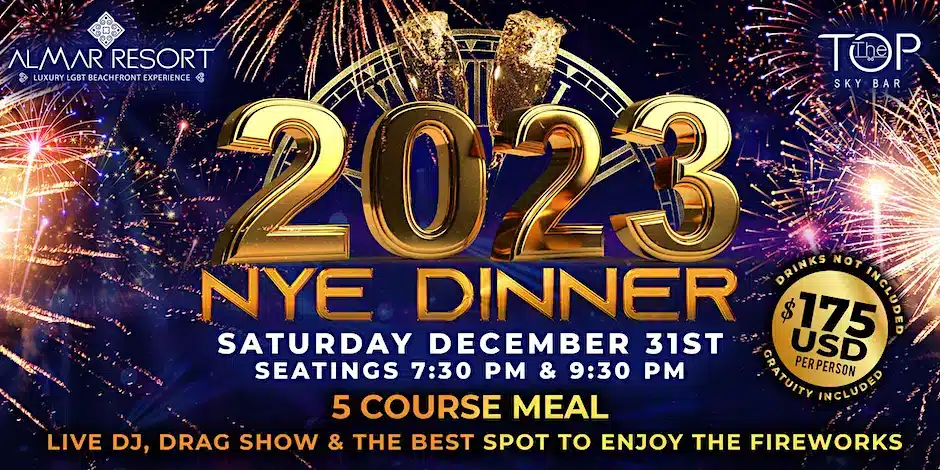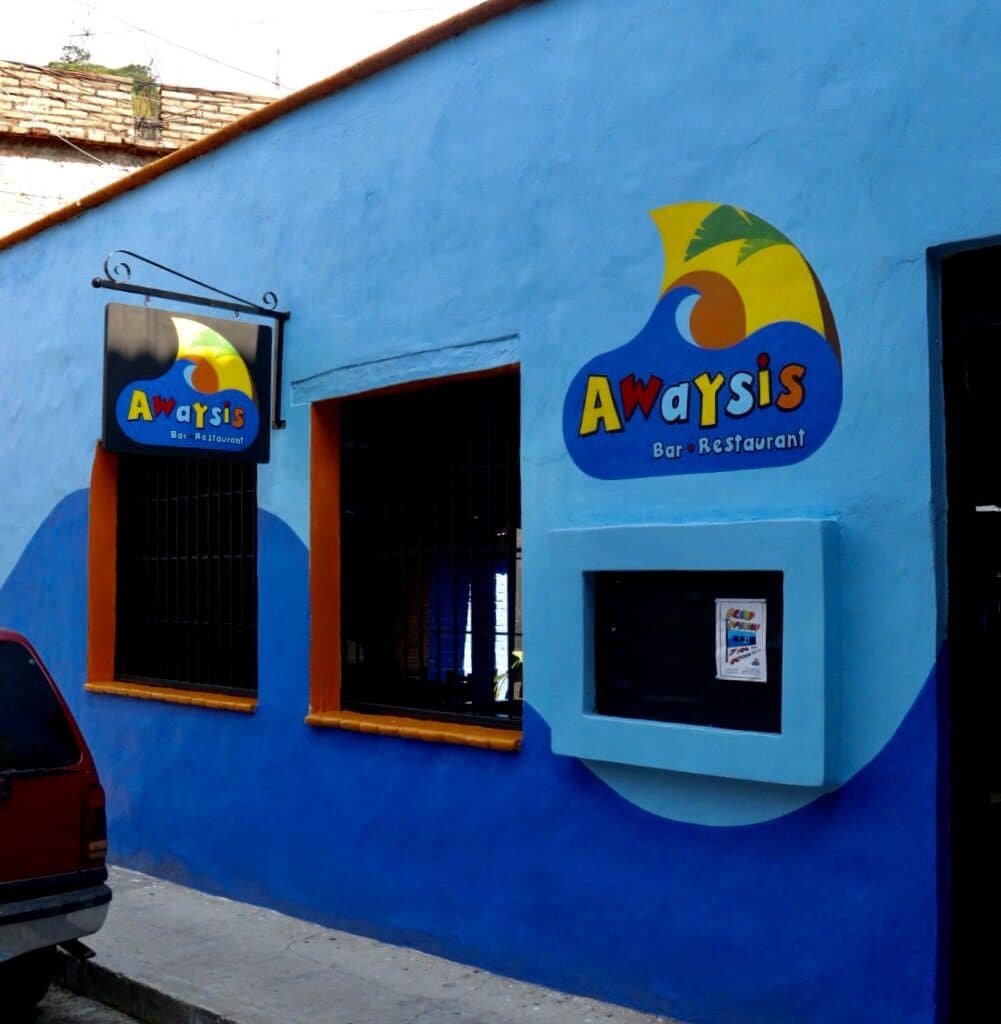 Awaysis is offering a NYE dinner special – Red wine pear nut salad.- Honey Glazed Ham, Baked potato stuffed, roasted garlic asparagus, French Bread. Cheesecake deserts. party favors and sparkling wine. Ready at 6 PM. Please call for reservation. $550 pesos per person.
The Swedes has the following special for NYE for $1850 pesos per person, and is almost booked.
Starter (choose one)
Fresh tuna sashimi with ponzu, pink ginger, avocado crema and wasabi
-or-
Duck breast with port and pear sauce, sauteed asparagus, Chinese peas, red pepper, red onion and raspberry vinegar reduction
Main Course (choose one)
Land & Sea
Filet Mignon wrapped with bacon topped with Madeira sauce, Jumbo shrimps topped with a white wine-butter reduction, gratin potatoes, baby carrot and zucchini
-or-
Salmon filet bathed in white wine sauce, black mussels on saffron portobello, mushroom risotto and roasted baby beets
Dessert (choose one)
Dark chocolate mint cake with homemade pistachio ice cream
-or-
Almond mousse with house lemon ice cream on marzipan crumble
Industry Nightclub has several parties planned for the week leading up to NYE. Starting on Dec. 27 and running through Jan. 2, they will have five top international DJs, nine top national DJs, gogo dancers and performers. Most events run from 11 p.m. to 5 a.m. Check out their listing on EventBrite here. Tickets start at $1998 pesos.
On Sunday, Jan. 1, Blue Chairs will host a NYD Drag Brunch, with tickets starting at $28.16 on EventBrite. From 9 a.m. to 2 p.m.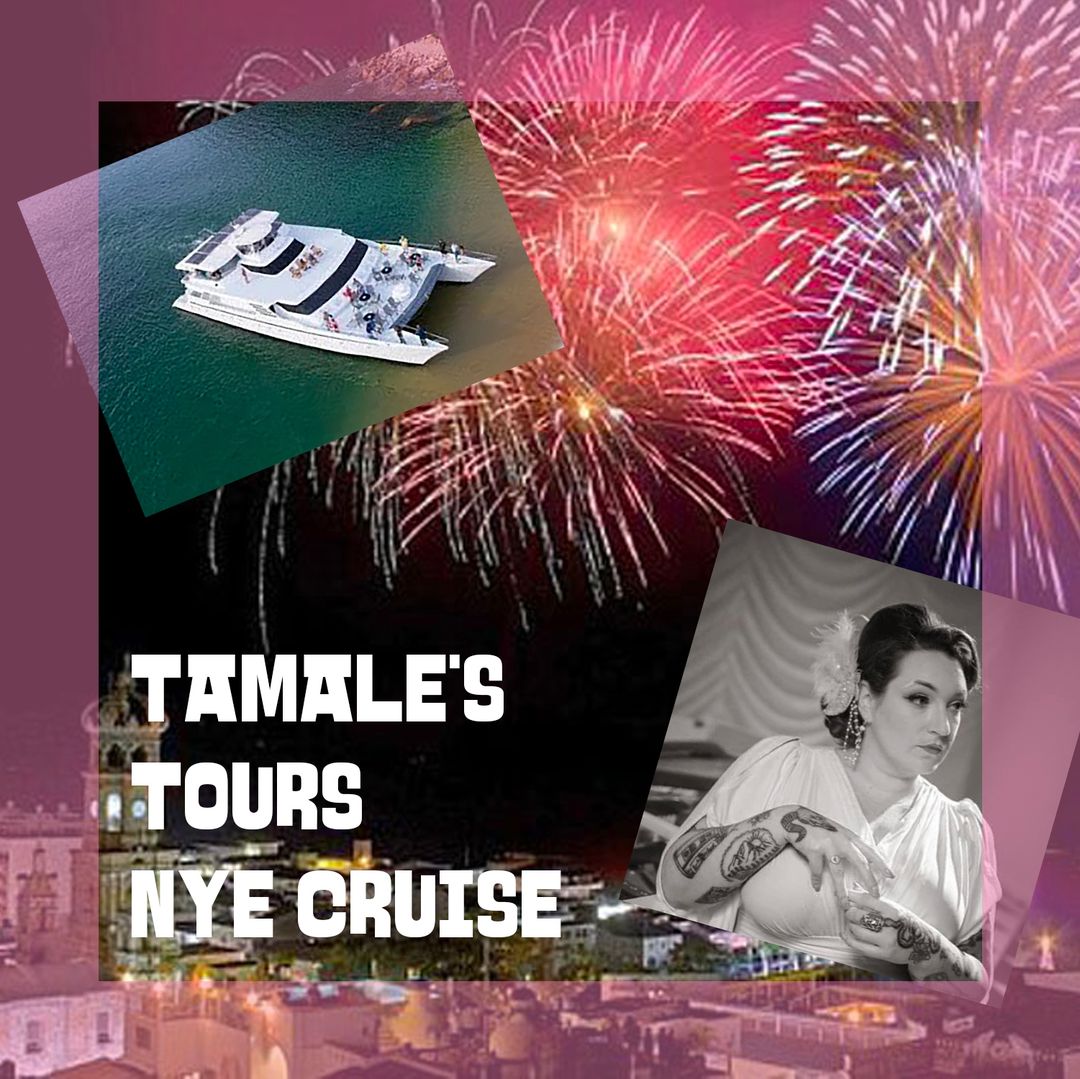 Tamale's Tours will host a NYE boat cruise. $5,000 pesos per person. You'll be out on a 100 foot catamaran called the Limousine of the Sea for a 9 pm to 1 am cruise. Departing from the Playa Los Muertos Pier, you can watch the entire Bay of Banderas fireworks show from the water. Appetizers will be served for the entire evening, along with a premium open bar. There will be a DJ for dancing and a show by Effie Passero. You can book and find out more here.
Incanto will have a NYE show starring Diane Villamonte, Kevin Anthony and Lady Zen. Show time is at 10 p.m., with a welcome cocktail, hors d'euves at 9 p.m. along with dancing and a countdown and NYE toast. Tickets available here.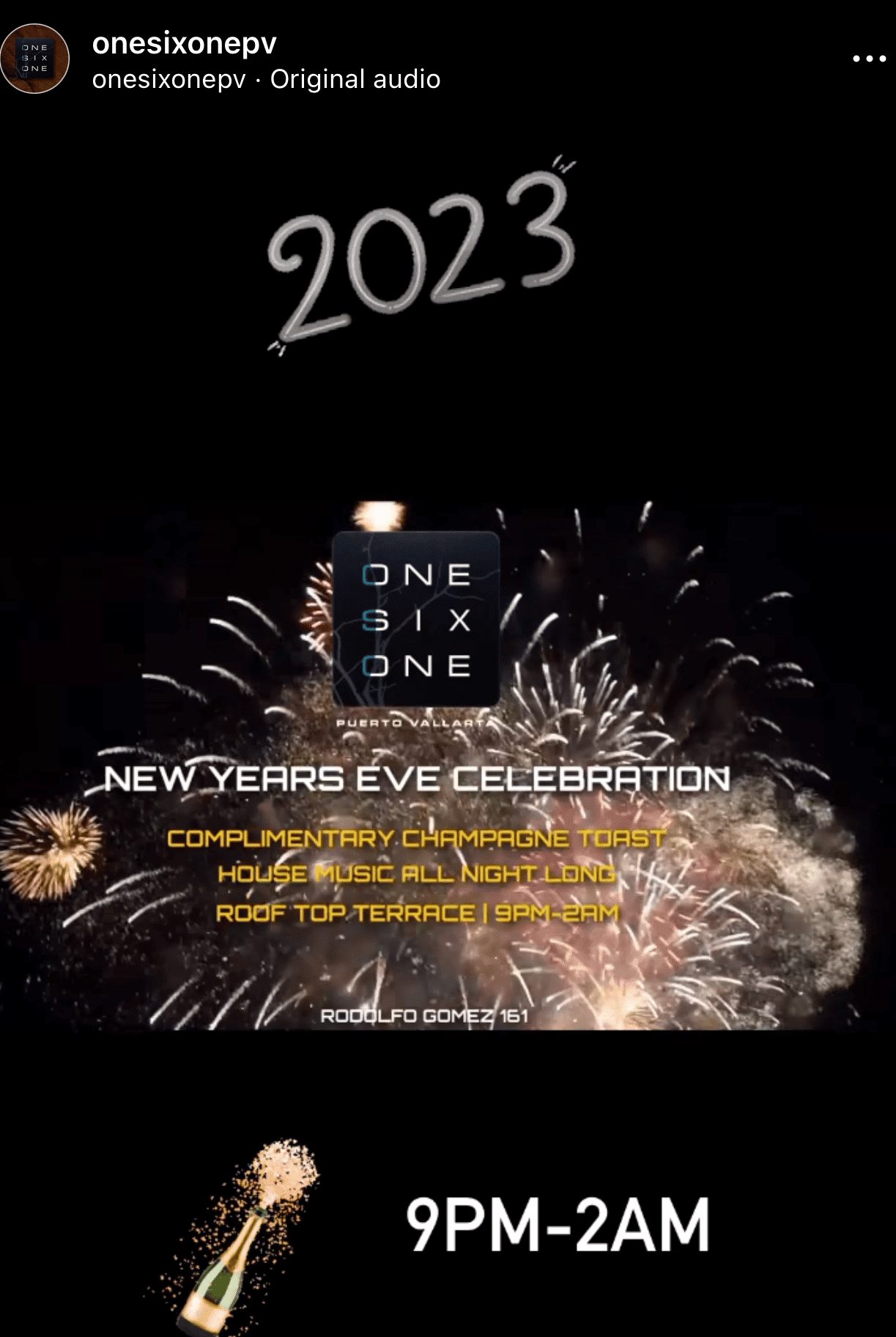 One Six One will have a NYE party from 9 p.m. to 2 a.m., that includes a complimentary champagne toast. Find out more here.
Si Senor Beach restaurant has planned a four course dinner where you can watch the fireworks from their beach location. $2,400 pesos per person. Reservaciones: 322 223 8238. More information here.
La Tienda Grande has a special six course menu planned for $1,200 pesos per person or you can get a dinner for six to take home for $3,600 pesos per person. Information available here. Book reservations at 322 291 7717.
Chachalacabar has a drag show planned for NYE starting at 8 p.m. and a midnight toast. Information on their Facebook page here.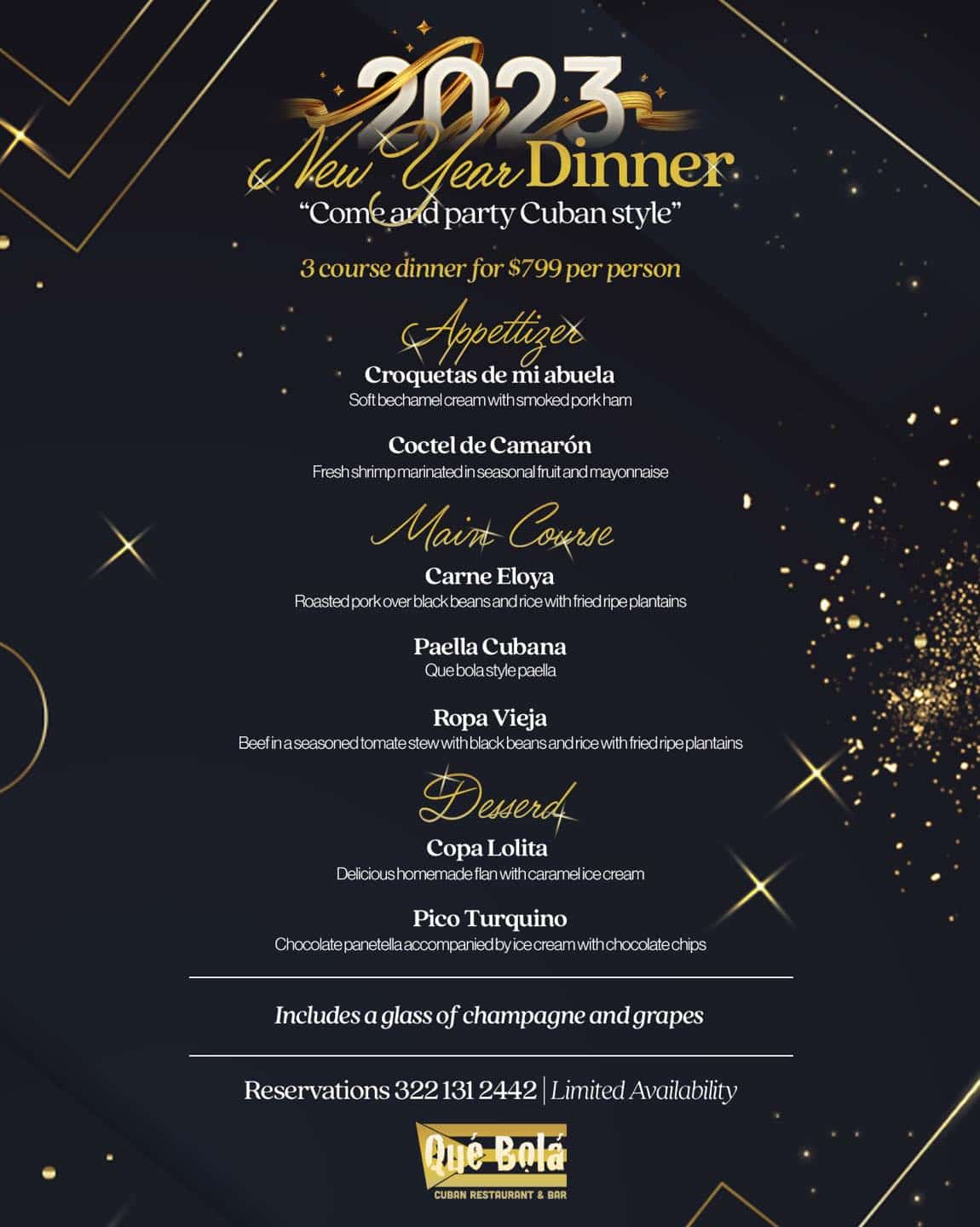 Que Bola Cuban Restaurant will offer a New Year's Eve dinner for $799 pesos per person. The three course meal includes a glass of champagne and grapes. Space is limited, reserve now at +52 322 131 244.
Serrano's Grill has a four course menu planned for $2,650 pesos per person. Reservations here.
Act2PV will have a NYE gala that includes a glass of champagne in the Cassandra Shaw Starlight Cabaret. The show includes a concert celebrating the music of the amazing Britney Spears, featuring Ximena Esparza. Starts at 8 p.m. Tickets Available At PVSHOWS.COM
La Cappella Bar and Lounge has a $100 USD special offer for the evening, available only at the bar. It includes a four course dinner. Reservations here.
Seasons PV has a three course menu for $590 pesos per person on NYE. More information here.
Layla's Restaurante PV is offering an open bar from 9 p.m. to 11 p.m. for $600 pesos, and you can order the NYE food specials or food off the regular menu.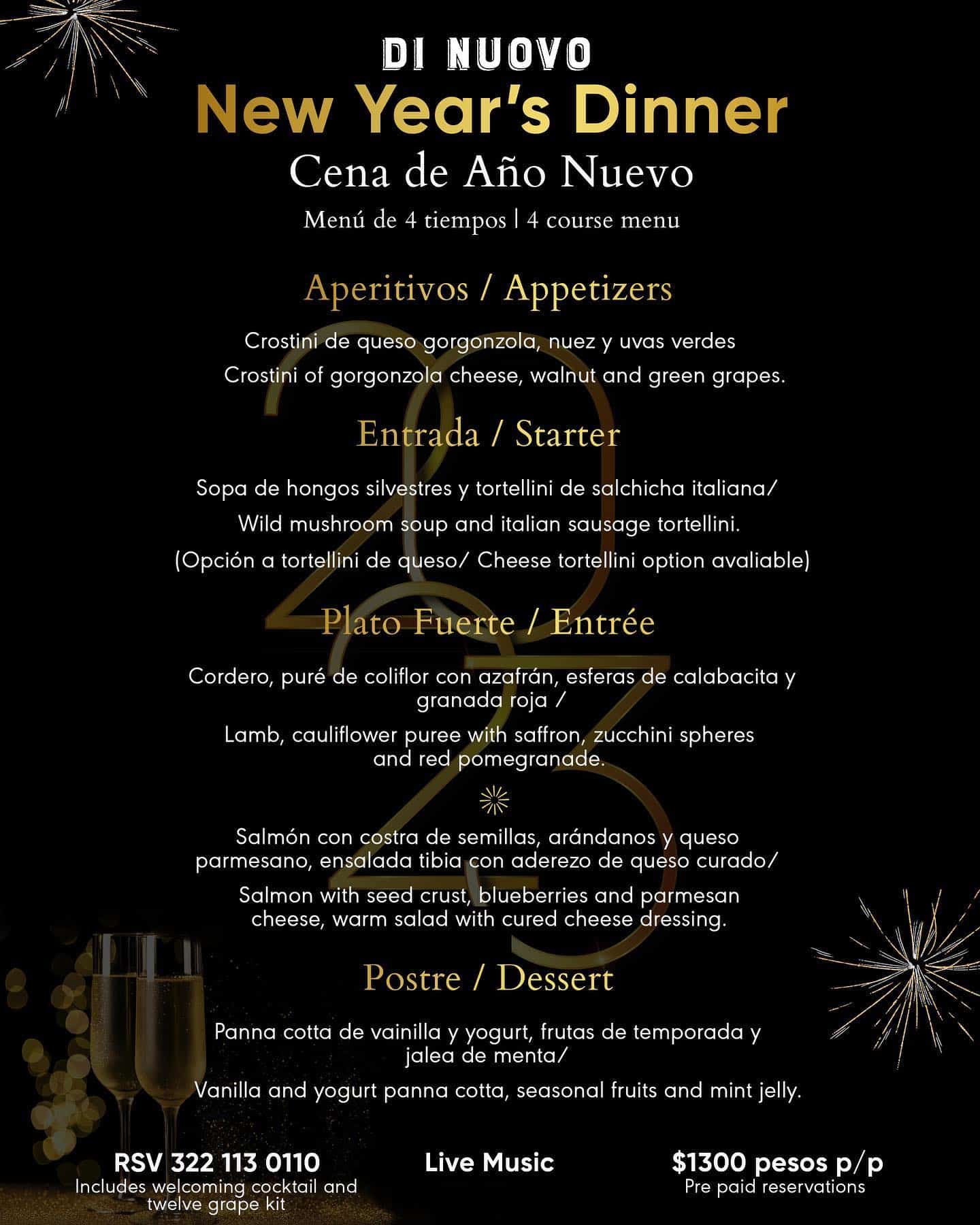 Trattoria Di Nuovo has a special NYE italian feast planned. The four-course menu is $1,300 pesos per person and will need to be prepaid. Includes a welcome cocktail and a 12-grape kit. Find out more here.
Cafe Bohemo has a NYE dinner with three seatings 5pm-7pm and 9pm – 4 course dinner $399 per person- reservations recommended. Information here.
Barrio Lindo Bar & Grill has a three cours dinner for $800 pesos per person, beginning at 8 p.m. Reservations are available at 322 327 6243.
CC Slaughters will have Miss Coco Montrese performing for their biggest party of the year. Information available here.
Pacos Ranch will open at 10 p.m. with drag shows at 12:30 and 3 a.m. Music by Carlos Hernadez, DJ Invitado and New Bass, DJ Residente.
DeCantaro is offering a NYE menu for $1,450 pesos per person. The three course menu includes a NYE kit. Information here.
El Brujo has a special for $950 pesos that includes three courses. Information available here.
Gaby's Restaurant has a three course menu for $1,350 pesos per person. It includes one glass of wine and 12 grapes. Reservations: (322) 222-0480 & (322) 223-1100.
River Cafe has a NYE dinner that is priced at $2,515 pesos per person. The four couse menu starts at 6 p.m. Reservations required. More information here.
The Blue Shrimp Restaurant has a three course menu for $2,400 pesos and requires a 50% deposit with reservation. 322 222 4246.
Qulture is offering a NYE dinner with 5 p.m. and 7:30 p.m. seatings. $980 pesos per person for Prime Rib/Lobster or $550 for turkey or $700 for vegan. Reservations via WhatsApp at 322 688 6944.