This post is also available in:

Español
Whitaker was Alias in Puerto Vallarta, Wyatt Maxwell is Legal Name
Popular Puerto Vallarta entertainer Louis Whitaker was indicted by a federal grand jury in Kansas City, Mo., on 2/7/2023.
"The indictment as returned under seal, but was unsealed and made public at his initial court appearance in Santa Anna, CA," said Don Ledford, Public Affairs Officer, U.S. Attorney's Office, Western District of Missouri. "He will now be transported by the U.S. Marshals Service to the Western District of Missouri."
Whitaker faces five counts that all involve child pornography, the making or selling and the transportation of a minor for the purposes of making pornography. If convicted on all five counts, he could spend the rest of his life in prison.
The charges against him include actions between July 31, 2020 and Feb. 1, 2021 that he engaged with a minor to produce porn. Another incident on Dec. 8, 2020, Jan. 24, 2021, Jan. 27, 2021 and Feb. 3, 2021.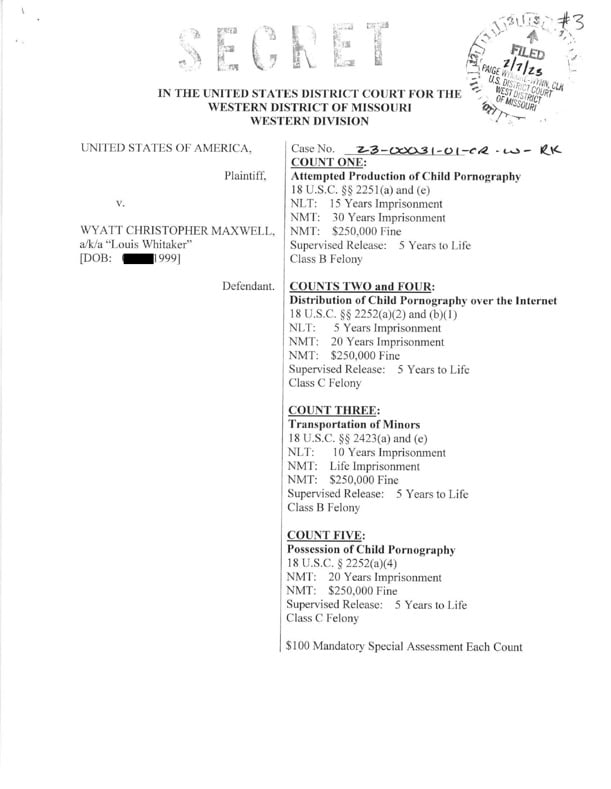 His sexuality has been very public – maintaining an Only Fans page (which has since been discontinued) and a twitter account. The last post on his twitter account was on Feb. 28, 2021, before he started his new life in Puerto Vallarta.
Whitaker was last seen in Puerto Vallarta on Feb. 14, 2023. He was arrested after one of his shows, loaded into a van by Mexican officials, and deported to Santa Anna, CA.
Whitaker's real name is Wyatt Maxwell. He has an old resume posted online under that name, as well as an old and outdated LinkedIn page that has that name and his photo. He also maintained a twitter account under that name and a Facebook page.
He first came to Puerto Vallarta in May 2021, and created his Lous Whitaker profile on Facebook in May 2021. His first photo and post on his Louis Whitaker FB page was May 17, 2021. His first check in on FB was at Act2PV on May 27, 2021. He first posted on his Louis Whitaker Instagram on March 29, 2021 and then May 22, 2021. In Oct. 2021, he launched his website, www.TheLouisWhitaker.com.
He apparently has been being investigated by federal authorities for some time. On March 25, 2022, he wrote on Facebook "After some rough sleep last night and time to think, I am feeling a little better. This last week I had to go get a new visa. But when I crossed the border I was detained, it was all so scary for me, I didn't know what was going to happen, after questioning me and running my passport they eventually let me go and I was able to come back into Mexico with no problems, but it left me very shaken, but also thankful to be safe at home, in Mexico! Thank you for all your love last night!"
An outdated resume that was posted and made public on Google Drive on Oct. 23, 2018 can be found at this link. It notes his involvement in acting, the theater and various social groups in High School.
While in Puerto Vallarta Whitaker (Maxwell) has been very visible and active in the community, the theater community and even as an entrepreneur businessman, starting the mobile popsicle business, Dicksicle.
The full indictment is below.