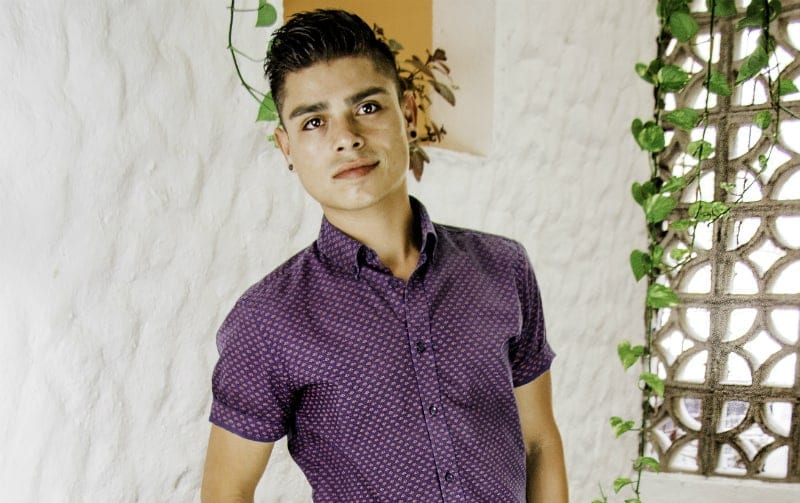 This post is also available in:

Español (Spanish)
Ernesto Romero, our Pride Guide cover model, works two jobs here in Vallarta. In the daytime he's based in Zona Romantica engaging concierges at local hotels on behalf of a couple restaurants, promoting their menu and ambience. In the evening he travels to Nuevo Vallarta as part of a group of performers employed by various vacation resorts and it is up there where he gets to dance. But as Neto tells the story, it can be exhausting.
"At some of the resorts, there are three sets," he said. "The first performers are musicians, and then dancers, and then acrobats, and then another artist. That's one set. And then again, the musicians, the dancers… three sets. It takes a long time."
"We have to be there at 6pm because the first set is a Mexican traditional show. And then we need to add the face paint because the next set is the Pre-Hispanic show. And then we need to take a shower because the next set is the Mexican traditional show again. I arrive at 6pm but I don't leave until 1 in the morning. That's every Sunday. Just Sunday. Every other day we have our time is 6:30 and we finish the show at 11 or 11:30."
The two styles of dance Ernesto performs are called Mexican traditional, which is sort of self-explanatory, and Pre-Hispanic. That is the one which requires the application of body paint and a wardrobe similar to what you see on our cover.
As a favor to us, and as acknowledgement of this month's Pride celebration, he adjusted the colors of paint across his chest to match those of the rainbow flag. Born and raised in Tepic, he told me that nothing exists similar to the events scheduled here this month for Vallarta Pride. "There is no pride festival in Tepic," he said. "There is a parade, but no festival. We have just a nightclub. Just one LGBT club there."
"The Pre-Hispanic show is hard," he said. "I jump, I run, all the time. So it's like 45 minutes dancing one by one, and it's hard. So on the day off, it's just sleep or go to the beach, something like that."
Ernesto hadn't considered himself the sort of person you'd find on the cover of a magazine before we approached him last month. A day before we took these photos I sent him an email with confirmation of the photographer's studio location and time we should meet. He replied, "I'm ready for tomorrow. I feel nervous."
I said, "Don't be nervous. It will all be fine."
On the day we met, I sent a reminder. He said, "I'm nervous but I'm ready!"
Yet from the moment he arrived and through the afternoon, it was as though he'd done this his entire life.
We needed three sets of photos, each of which required increased physical investment on his part. First, we captured the photos you see on this page. Second, we moved to the kitchen where—thank God—he didn't flinch when we asked him to wear just an apron and hold a birthday cake. (You'll have to wait for the Out & About Nashville June print issue to see that one!) And finally we moved on to the cover of this magazine. It required self-application of body paint, which the photographer and I figured would take a greater amount of time than Ernesto ultimately needed. As he explained to me, he brings a lifetime of experience to create these looks.
"I started dancing when I was seven years old at home with my mom," he told me. "And then in high school and college, university, everywhere, all the time I was in a dance group. Traditional Mexican dance." His first visit to Vallarta was as a university student. In order to graduate with a degree in tourism, he needed experience working in the industry. He discovered a lively entertainment scene here, one that can accommodate exactly the style of dance in which he excels, and so Puerto Vallarta seemed a logical place to plant roots upon graduation.
So for the past few years he has balanced two careers. Next month his dance group will travel to Europe—his first opportunity to travel off the continent—for 45 days where he'll perform both the Mexican traditional as well as the Pre-Hispanic dances for an international crowd.
But the tables will be turned slightly. This time, before and after the show he gets to play tourist in their country.