Esta publicación también está disponible en:

Español
When Roger Allen and Bryan Stocks gained ownership of Anonimo late last year, it was not necessarily the fulfilment of a lifelong dream.
"Our discussion was, how do we get to Puerto Vallarta before we're 65 or 70 years old?" said Bryan, "because everybody says come sooner rather than later. We weren't looking, but the opportunity just came to us and we took it."
"It's not an opportunity unless you take it," added Roger.
The two have visited the city for the past seven years from their home in Oklahoma and, after over two decades flipping houses, they'd just closed on their first custom-built home when the occasion to own a business here presented itself.
"We both had careers," Roger said. "I was a respiratory therapist for a hospital in Oklahoma City. I worked two days a week and was paid for the whole week so I ran my own interior design and event planning business. The last couple years I'd been coming here for five days every six or eight weeks, just because my job allowed it.
It was Roger who was present when the couple assumed ownership of the bar last November. Though they are quick to credit the previous owner for transferring a well-established and respected organization to them, the two immediately began learning the ropes and putting some of their plans into place.
"Our bartenders, David and Victor, were amazing helping me," Roger said. "They're very dependable. I'd figured out a lot of things myself but I couldn't have done it without David and Victor. They were great with the transition of ownership."
"We started immediately, when we took over, opening at 4pm instead of 8pm," added Bryan. "We knew that if we bought the bar that we were going to finish out the third floor. Dan, the previous owner, originally wanted to have a wine bar on the third floor. I don't know if his concept of the design of it was what Roger finished out when he arrived here, but we kinda took what he wanted to do for years and years and developed that into what we saw it being."
The expansion to the third floor, and its branding as a wine bar, has presented opportunities and challenges for the owners as it regards the identity of the two, at times seemingly discrete, spaces. "I met this couple one night at the door," Bryan said, "and they were probably in their 80s. I saw them kinda peeking in. I talked to them a little bit and then I was like 'you guys might wanna go upstairs.' So I took them to the top floor. They said 'this is really nice,' but then they came straight back downstairs! So I've stopped trying to judge where people might be comfortable. Over the next three or four weeks, they brought 10-15-20 people each time they came in. I think the last night they were here they brought 25 people here to sing karaoke."
And the planning and innovating has not stopped. The two are looking into renovating the well-adorned if nonetheless dormant second floor at Anonimo. Customers have suggested they consider turning it into a game room, with a pool table, or investing in salsa music, but as for now they're keeping their cards close to their chests.
"Food is what it was designed for," Roger said, referencing the kitchen space embedded into the layout. "What I've found is that people don't go to Anonimo to eat. I'm not saying food won't ever be served there. But I think if we expand the second floor with its own bar, the food will come later."
All of this addition has brought with it the need for two new bartenders. "Evan and Pedro are the newest," Roger said. "I see them staying with us for a long time. They're great guys. People like them and they feel like part of the family. In the past our customers have only known two bartenders, David and Victor, and they LOVE them! It's overwhelming how many people David and Victor know from around the world, and these people come in specially to see them. It's goes to show how great these guys are."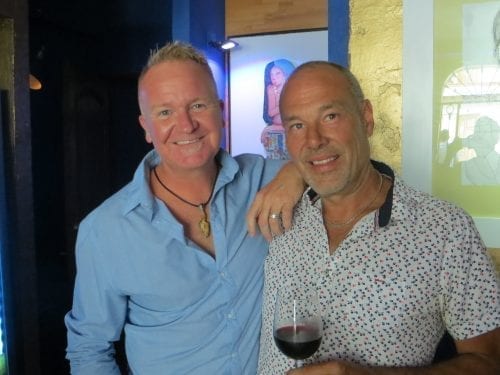 L-R: Pedro, Evan, David, Victor