Esta publicación también está disponible en:

Español
"Heir to a Misfortune" is a fun-filled comedy, the first play of the season opening this weekend at The Boutique Community Theatre.
The cast of local actors is Hans Jonasson, Carlo Gagliano, Ellie Frank, Bonnie Cretzman, Deb Barton, Candace Kepley, Ed Munoz, and Alice Averett Domeniconi. Playing Thursdays, Fridays and Saturdays for three consecutive weeks, starting at 6 p.m. Nov. 8.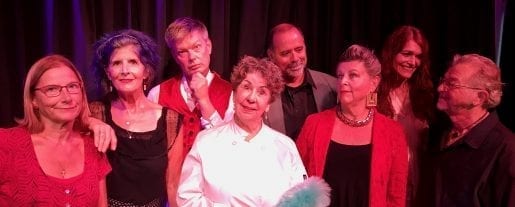 Making her directorial debut at The Boutique is the multi-talented Barbara Ann Renee, a popular PV personality, and veteran show-biz diva.
Renee describes the show as "a completely hilarious farce about a zany group of greedy, quirky characters. The show is something the audience will relate to, and laugh at. A couple of surprising twists will definitely make the audience roar … Get ready, Vallarta!"
---
"The Devil Wears Prada" will be enjoyed Nov. 19.
——-
Headliner Amy Armstrong brings her sell-out musical shows to The Boutique this season. Her shows will begin at 9 p.m., on alternating nights, from Jan. 5 to Feb. 4, 2019. Special guests will be joining her on stage. Armstrong is billed as having "the voice of an angel, with the mouth of a sailor."
——-
Other plays on the Boutique schedule are "Love! Valour! Compassion!" and "The Clean House."
Popular tribute artist Mikki Prost is back, as is the "Connect With Mexico" cultural discussion series by Carlos Navarro.
Also on the boards are shows starring entertainers Sol Rose, Sandi Lee, Mark Zeller, John Anderson, Kami Desilets, and the SYNG! Choir.
About The Boutique Community Theatre
The Boutique Community Theatre offers exciting evenings of dinner-and-a-show options.
The theatre is located upstairs at Nacho Daddy, 287 Basilio Badillo. Delicious three-course dinners are served at 5 p.m., with the shows at 6 p.m., for evening programs.
Dinner choices are Fillet Mignon, or Chicken Cordon Bleu, with mashed potatoes and a vegetable medley. A vegetarian option is also available. All dinners come with a fresh house salad, and dessert. Those who prefer dining later can have meals served after the shows.
Tickets are available online at btpv.org. For information call 322-728-6878.