This post is also available in: Español
Under the supervision of new chef Elvira Prado, Taste Restaurant at Casa Cupula is introducing a weekly Friday tasting dinner, a new Spa menu and expanding Taste's famous Sunday Brunch to Saturday. "This season, we want to ensure our guests have the most rejuvenating experience possible," says founder Don Pickens, "and what could be more rejuvenating than creative, fresh food?"
Chef Prado's background in old continent cuisine also brings a new level of sophistication to Casa Cupula's breakfast and lunch service, and refinements to our popular Pool Club menu.
The new Friday evening "cuisine d'auteur" menu offers Puerto Vallarta diners a one-of-a-kind culinary journey in our unique jungle ambiance, with plates that rotate seasonally to use only the freshest ingredients. Additionally, Casa Cupula will offer a new Spa Pool menu as it adds more spa services this season.  A mix of healthy and indulgent options for guests and visitors focuses on relaxation, balance, and wellness.
Casa Cupula has been offering Puerto Vallarta's most popular gay brunch for years, and now it is expanding to Saturdays. "Casa Cupula's Sunday Brunch has become so popular that we decided to add a Saturday brunch to accommodate even more visitors and our friends," Chef Prado noted. "We are adding many new and seasonal fresh items that will surprise and delight our diners."
About Chef Elvira Prado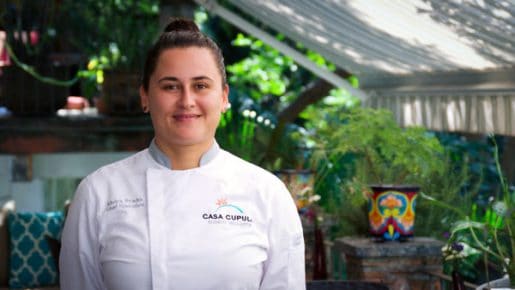 Originally from Puerto Vallarta, Chef Elvira Prado knew at an early age that expressing herself through her culinary creations was her calling. This insight was confirmed when she traveled to Canada at 21, where she worked for three years as a cook and a waitress. She then traveled to Spain to study gastronomy, first in Seville and then in Madrid, all while receiving practical training in some of the city's finest restaurants.
Elvira's ultimate accomplishment came when granted the opportunity to work alongside renowned Spanish chef Carmen Ruscalleda of Sant Pau, a three Michelin star restaurant in Sant Pol de Mar, near Barcelona, where reservations must be made over six months in advance to enjoy Ruscalleda's famed creations.
Wanting to give back to her hometown, Elvira returned to Puerto Vallarta, joining Taste Restaurant to provide Casa Cupula guests with outstanding culinary experiences at the boutique hotel's restaurant, Pool Club, and in the soon-to-be-inaugurated Spa. "My goal is to present culinary creations that best represent the region using readily available ingredients on any given season, rather than relying on imported goods," she explains. Aside from enhancing the experience for Casa Cupula guests, Elvira will create special cuisine d'auteur menus at Taste Restaurant on Friday evenings, when the restaurant opens for the general public.
About Casa Cupula
Casa Cupula is the finest luxury boutique hotel in Puerto Vallarta's Zona Romantica. Rated one of Mexico's top boutique hotels of any kind, we have a worldwide reputation for sophisticated luxury and relaxing hospitality. This indulgent hilltop retreat overlooking Banderas Bay is close to everything but secluded and private. An anchor of Vallarta's LGBT community, Casa Cupula's friendly staff embrace each guest as a friend, no matter who you are or where you come from. There's something for everyone, whether it's a romantic private dinner for two, or a high-energy DJ pool party. We offer a spa, gym, restaurant and pool club as part of our total resort experience.
CASA CUPULA BOUTIQUE HOTEL – Callejon de la Igualdad 129 – Colonia  Amapas – Puerto Vallarta, Jalisco Mexico 48399 – 322-223-2484 or US/Can 866-352-2511 email for restaurant reservations taste@casacupula.com