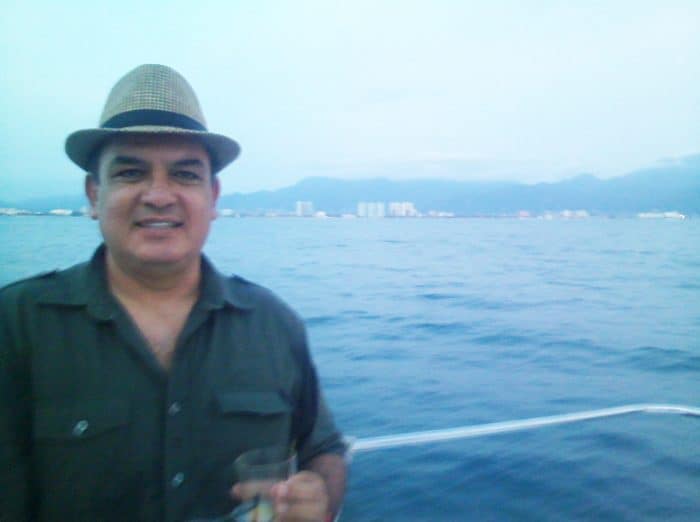 This post is also available in:

Español (Spanish)
The organizers of Vallarta Pride have elected to honor community organizer and social justice defender Hector Betancourt as this year's Ambassador of Vallarta Pride. It is an honor in recognition of his tireless work on issues of concern to the LGBT community of Puerto Vallarta. As head of the LGBT Vallarta Colectivo, Betancourt works to achieve an inclusive destiny, where there is equality, non-discrimination and respect for the human rights of all.
"For me it is a great honor and I feel that I do not deserve it," Betancourt said. "I accept it with humility and making a great commitment to continue working for the LGBT community, with more enthusiasm than I have done to date. It gives me more courage to continue in the defense of the rights of the LGBT population."
Armando Sanchez, the current president of ACT LGBT, enthusiastically endorsed his organization's selection of Betancourt.
"Hector, he's been here a lifetime," he said. "He's been an activist and also he's been in politics. So he knows how things work. He's maintained that he's been there in spite of the challenges, in spite of the same community not supporting or not thinking big changes are needed, he's maintained his course, and that's why when we evaluated the candidates we thought he needed to be recognized."
"He's very direct," Sanchez added. "And that has made changes in the community so we value that. He initiated same-sex marriage in Jalisco. He pushed it and we supported it, but it was him that started that pressure with the government. The connections with Guadalajara and Mexico City that he has, it's very important because it helped to make the change."
The organizers of Vallarta Pride wish to recognize Betancourt's achievements of the team he leads, such as equal marriage, the gender identity law, the promotion of a gay men's football team and currently the initiative for the creation of the Regulation to Prevent and Eliminate Discrimination in the Municipality of Puerto Vallarta, being undoubtedly a core part of the social advance so that we all have the same rights regardless of labels.