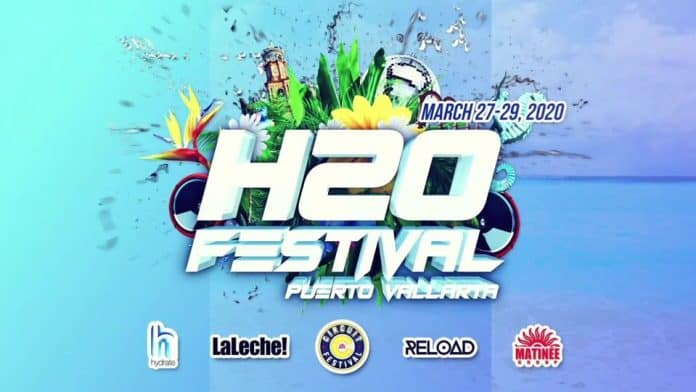 Esta publicación también está disponible en:

Español
The team at Hydrate Nightclub (Chicago) in conjunction with Matinée Group (Madrid), Reload (Los Angeles), Nocturnal (San Francisco) and Jubileo (Mexico) that originally bring a weekend of parties in PV from March 27th to 29th, rescheduled H2O Festival Puerto Vallarta for later this year.
Hydrate has been producing the popular outdoor dance party at Market Day's Chicago each year, as well as booking the biggest and best international DJ's for its dance floor for the past 17 years as well as Matinée Group, legendary for its international parties and offering pool parties at the Mantamar Beach Club. Reload, Nocturnal and Jubileo are legendary for the most popular after parties and their events were going to have place at Industry Nightclub the hottest dance venue in Puerto Vallarta.
After receiving the notice from the venues in Puerto Vallarta that the state of Jalisco, which contains Puerto Vallarta, has begun to restrict social gatherings in the state, closing schools, etc. they have had lengthy meetings with the ownership of the venues and have agreed that it would be prudent in light of the evolving guidance from the CDC and WHO, as well as the increasing effort by local government authorities to restrict gatherings, to reschedule H2O Puerto Vallarta for later this year.
After reviewing the options available, the teams posted on social media that they were happy to announce the reschedule of H2O Festival to the weekend of November 20-22nd. "We are excited about this weekend as it leads into the Thanksgiving Holiday week, allowing people to potentially expand their stay in Puerto Vallarta to enjoy Thanksgiving in Mexico, as well, we will be exploring organizing possible dinner options for Thanksgiving and sharing that information through our social media and website, as well." they said.
All tickets purchased for H2O Festival will be revised with the rescheduled dates of the event, and more information regarding using your tickets will be shared going forward.
The Almar Resort Luxury LGBT Beach Front Experience is going through the process of setting up the code for H2O hotel reservations for our new dates, and H2O team will send out notice when this is ready. "We will be updating our web pages and social media with any lineup changes that we will have to make to accommodate this change, as well and we are committed to retaining as much of our original line-up as possible, promise that any changes that must be made due to artist scheduling conflicts will reflect our goal of bringing the best and most exciting lineup to Puerto Vallarta for H2O Festival Weekend!" they said.
TRAVEL CHANGES
The airlines are allowing free changes to reserved travel prior to the end of the month. Tickets are valid for their full value for future purchases up to 1 year from the original date of issue or through December 31, 2020, whichever date comes first.
The H2O team encourage you to reach out to your airline and begin the process of rescheduling. "For those of you who may still decide to travel to Mexico during our original March dates, please let us know. We will share information from the hotel and venues regarding their plans and activities that may be of interest to you." they explained.